Let's face it, sometimes, you get stuck in a rut and need to read some adventure quotes to inspire you. You feel like the whole weight of the world is on your back. Don't worry, it happens. Since we've committed ourselves to a life of travel, we've discovered that no matter how low you are in life, travel has a way of turning things around. It picks you up, brings back inspiration, and just makes you more thankful for the little things in life…like a hot shower and a cozy bed. So start reading, get inspired and start living the life you were meant to live. Here are a few of my adventure quotes which has inspired me to live a life of travel and adventure.
Editor's Note: Pin each quote by either hovering or clicking on the image. Enjoy!
1."Jobs fill your pockets, but adventures fill your soul." – Jaime Lyn
2."Attitude is the difference between an ordeal and an adventure" – Bob Bitchin

3."Spontaneity is the best kind of adventure"
I love these first three adventure quotes because they serve as a great reminder that adventure is also a matter of perspective and outlook. I could continue to work for money and be financially rich which would ultimately mean nothing. Speaking from experience, one of the reasons why I choose to live nomadically is because I want to live a life full of adventure. Sure, I could be earning 10x more compared to what I do now but would I really be happier? Every day, I wake up to a life full of spontaneity and I honestly wouldn't have it any other way.
Read: How Starting a Blog Changed Our Lives
4."Don't die without embracing the daring adventure your life was meant to be." – Steve Pavlina
5."Life was meant for good friends and great adventures"
6."Then one day, when you least expect it, the great adventure finds you." – Ewan Mcgregor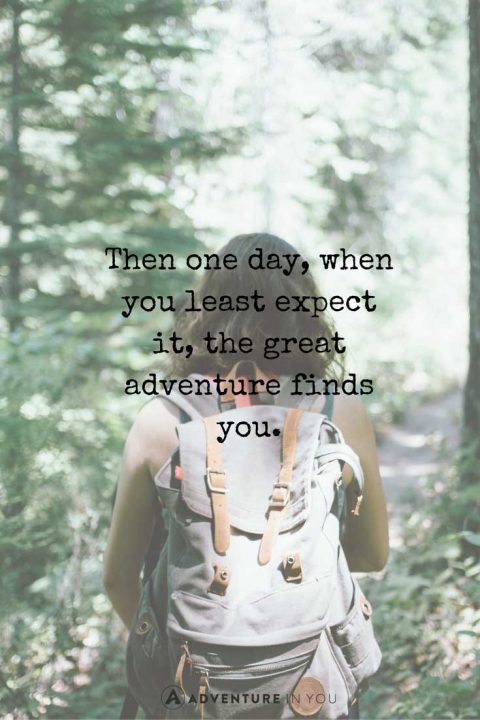 I have been traveling non-stop for almost three years now and while it hasn't always been rainbows and butterflies, it has also allowed me to follow my true passion and calling in life. To write, to explore, and to inspire people along the way. I found my adventure in the oddest of places, deep in the sand dunes of Mu Nei, Vietnam when I met my partner Tom. Since then, it has been a rollercoaster ride of traversing through five continents and starting a business together.
Editor's Note: If you're loving these adventure quotes, we also have 100 of the best inspiring travel quotes for you!
7."Adventure Awaits, Go find it."
8."You must go on adventures to find out where you truly belong." -Sue Fitzmaurice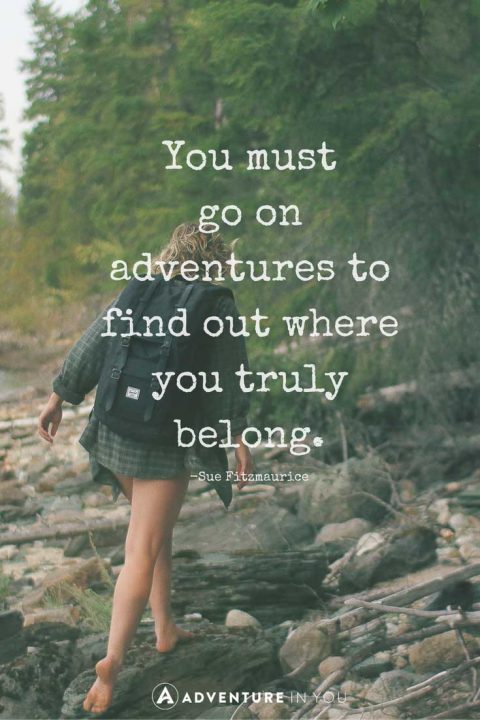 9."It's time for a new adventure"
When first deciding to take the big leap to travel or pursue something different, the same types of questions and trepidation fill our minds. What if I fail? What if I get into an accident? What if I end up hating it? Let me tell you one thing. Fear of the unknown is normal. It is perfectly normal to be scared, excited, and nervous all at the same time. As soon as you take the first big step, that is when you will be reminded that adventure is out there. That there are a million and one new things to see and discover and you are just getting started.
10."The greatest adventure is what lies ahead."
11."Fill your life with adventures, not things. Have stories to tell not stuff to show."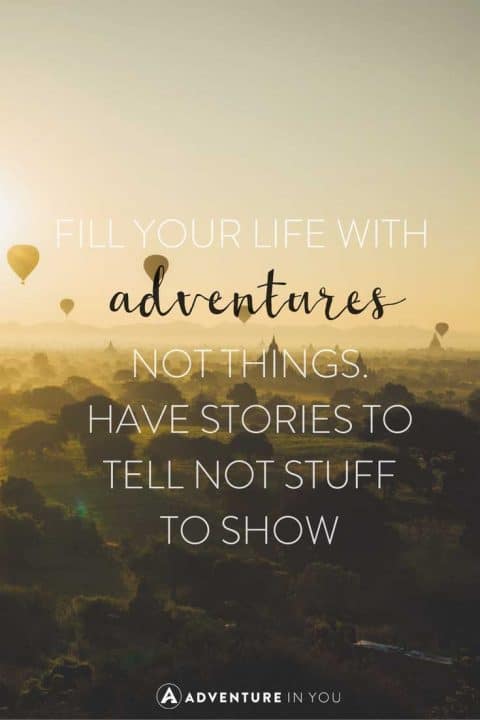 12."One way to get the most out of life is to look upon it as an adventure."
The quote fill your life with adventures, not things is one of my all-time favorite adventure quotes. This simply sums up what I try to do in my life. Currently, everything I own fits into one 12kg backpack. While this idea may seem crazy to some, it works for me. I can go wherever the wind takes me, I have no physical ties to any place, and I can decide to travel and live wherever I want to. Despite my love for my nomadic lifestyle, I know that this isn't for everyone. Some people can't just pick up everything and go. But that is the beauty of travel. Whether you are going on a year long trip or even just a two week holiday, every experience is worthwhile and is worth celebrating.
A lot of my friends think I am crazy but I have honestly never been happier. I work, I travel, I meet amazing people, I get to immerse myself in different cultures and most of all, I grow. On a daily basis I challenge myself to learn new things, to broaden my perspective, and to experience a new way of life. This has ultimately shaped my view on the world and has helped me become a better person.
13. "Adventure isn't hanging on a rope off the side of a mountain. Adventure is an attitude that we must apply to the day to day obstacles in life." – John Amatt
Related: Things I Learned from Being a Solo Woman Traveler
14. "If happiness is the goal – and it should be, then adventures should be top priority." – Richard Branson
15."Do more than just exist"
The first time I read the adventure quote above, I was immediately dumbfounded. Wow! It made me think of my life, what I was doing, and what I wanted to do. Coming from a third world country, I know by experience that travel is a privilege.  I worked hard for my degree, I hustle between one freelancing job to the next, and I work endlessly on this blog all because I want to keep doing what I do. I want to be more and do more. Most of all, I want to be happy. Since early on, I've figured out that traveling and going on adventures is what really makes me happy, I found a way to create a lifestyle so I can do what I love.
However, despite the fact that I promote and speak a lot about this lifestyle, I know that it isn't for everybody. I know that some people have families or other obligations. Choosing a life of travel isn't the only way to be happy. Nor am I saying that it's the only way to live life. Everyone can choose their own adventure.
16."As soon as I saw you, I knew an adventure was about to happen." -Winnie the Pooh
17. "What is life but one grand adventure?"

18. "Life is an adventure. Take risks."
One of the biggest risks that I took was starting this blog. After my partner and I met, we decided to start this because we wanted to stay connected to something that we loved, traveling. We both had jobs and I had just finished a master's degree. However, we blindly took a leap and quit everything we knew to be normal and set off for a life of travel. Despite not knowing how to run a blog properly, nor how to make money along the way, we both just took this leap. Two and a half years later, we are still going. The bottom line is, take risks. Whether it is regarding your work or everyday life decisions.
Related: How to start a Travel Blog
19."Adventure is worthwhile." -Aristotle
20. "Live, travel, adventure, bless, and don't be sorry." – Jack Kerouac
So there you have it folks, a few of my favorite inspirational adventure quotes which strike a cord with me every time I read them. It somehow puts things into perspective, inspiring me to never forget to grab life by the balls!
Do you want to get paid to travel the world (like we do!)? Join our FREE course below and we will teach you how to make money from travel blogging.
---
Want more inspiration? Check out a few of our favorite photo diaries
Inspired? Pin it!