Located off the coast of Cancun, Isla Mujeres is well-known for its beauty. Palm trees, white sand beaches, rocky coastlines, and a hoard of flora, fauna, and nature, this island paradise is absolutely worth a visit if you're in Mexico's Riviera Maya.
The island may look small but it packs a punch, especially if you're a nature-lover. Most people visit on a day trip and you can see quite a bit in a day… but for a true island escape, we suggest dedicating a few days to Isla Mujeres if you can!
Top 18 Things to Do in Isla Mujeres (2022)
Whether you're just here for the day or if you've decided on an extended stay, here are our recommendations for the best things to do in Isla Mujeres!
Soak in the Sun at Playa Norte
What's an island retreat without great beaches? Just 10 minutes from the pier lies the popular Playa Norte which is the main beach on Isla Mujeres.
One of the most beautiful beaches in Mexico, this sandy beach is framed by palm trees and gorgeous blue waters. Loved by locals and visitors, this is definitely the place to be to soak in those island vibes. There are beach clubs along the sand which is great for getting a comfy place to lounge plus a few cocktails and snacks.
The western end, near the ferry pier, is understandably more crowded as visitors off the ferry scramble to secure their spot in the sand. So, if you're looking for a bit more quiet, head down to the east end of the beach.
Zip Around on a Golf Cart
To explore the entire of Isla Mujeres, rent a golf car! There are very few cars on the island and so golf car rentals are the best way to get around — on top of being fun, of course.
You can easily rent one when you disembark from the ferry and it costs about $50 for the day. Do note that you need a valid driver's license to rent one.
Once you're on the road, just be mindful of safety. Follow basic road rules and keep an eye out for pedestrians. Then have fun zipping around the island and checking out the other spots on this list! It's an easy drive with one road circumnavigating the entire island so there's little room for getting lost.
Swim with Whale Sharks
Here's one thing to do in Isla Mujeres that you can tick off your bucket list: swim with whale sharks.
The waters around the island are part of the migration route of whale sharks. And from May to September, you can get in the water and get up close with these gentle giants.
On a whale shark tour, you'll get to snorkel with these whales, two people at a time. It's pretty neat to see these creatures in their natural habitat! Tours from Isla Mujeres are around the $125 price point and they all go to roughly the same area, so take some time to shop around for the best deal and find an official operator you like.
Get Your Snorkel On
If being in the water with whale sharks sounds a little too extreme for you, a normal session of snorkeling in Isla Mujeres is still tons of fun. You can easily rent snorkel gear from the many dive shops dotting the beaches.
To go out further into the water, you can opt for a snorkeling tour that'll take you out onto the Caribbean and to some of the nearby reefs and snorkeling hotspots. Just hop into the nearest dive shop and find out if they run any tours.
Learn About Sea Turtles at La Tortuga Granja
The island is home to a turtle farm called La Tortuga Granja and a visit here is definitely one of the fun things to do in Isla Mujeres.
Sea turtles are an endangered species and this farm is dedicated to protecting their eggs and being a safe breeding ground for these cute creatures. The farm also cares for injured and albino turtles. Even if you're not particularly fond of sea turtles, La Tortuga Granja might change your mind!
And if your visit is during August to October, you might be lucky enough to see them releasing baby sea turtles back into the wild!!!
Editor's Note: Located somewhere in the area of the turtle park is another tourist attraction where you can swim with Nurse Sharks. These sharks are kept in captivity and this is something we recommend you AVOID doing while in Isla Mujeres.
Stroll Down the Pedestrian Street of Miguel Hidalgo
For a fun time on land, discover the charms of the pedestrian street of Miguel Hidalgo in "downtown" Isla Mujeres. Other than the town square, this is another spot where you can just enjoy the lively ambiance of the island.
Yes, it is a bit touristy… but really, that's part of the charm. Quaint little shops, restaurants, tour operators: there's a little bit of everything on this avenue. The best time to visit is in the evening, once the heat cools down and the ambiance lights up.
Tip: The restaurants here are catered towards tourists and are slightly more expensive. However, with that being said, the quality of the meals we had there were great! If you're on a budget, I'd suggest eating elsewhere and popping by here for a post-dinner stroll. There are also some bars with live music for a fun evening.
Do Some People-Watching at the Zocalo (Town Square)
The town square in Isla Mujeres may not seem particularly special during the day time… but things definitely heat up once the sun sets!
The Zocalo is bordered by City Hall on the west, a Catholic church on the south, and a small children's playground on the east side. In the evenings, this square becomes a bevy of excitement with dancing, celebrations, and events often happening here.
This is also the spot to see both locals and tourists having tasty treats from the street vendors, hanging out, and just enjoying life. Being here is a fun way to feel like you're part of the action!
Check Out the Isla Mujeres Artist Fair
If you're on the island on a Thursday, you're in luck because the Isla Mujeres Artist takes place on this day. From 4.00pm onwards, the Zocalo is transformed into an art haven with local and visiting artists setting up shop to display their work.
It's a real festive atmosphere as there are food vendors as well as local non-profits sharing their talents. There's everything from painting to sculptures and sketchers and also cultural arts performances, dance, and music.
Look for the Sea Wall Murals
For a dose of art and activism, go on a hunt for the sea wall murals on Isla Mujeres.
These gorgeous pieces of ocean-themed art were created by a group of internationally-acclaimed artists (including three Mexican artists) who wanted to raise awareness about important issues such as sustainability, ecotourism, and whale shark conservation.
They're scattered around the island so keep an eye out for them as you wander around.
Pssst, you can see the map of murals here so that you can make sure you see all of them!
Explore Punta Sur
Zoom over to Punta Sur on your golf cart, if you're looking to get away from all the other tourists. The south end of Isla Mujeres may not be on the tourist radar but it's still worth a visit. This point is said to be the first spot in Mexico that the sun lights up during sunrise.
The dramatic rocky cliffside is very picturesque and is a different side of Isla Mujeres to discover. The whole area is quite open so we suggest to bring water as it gets really hot, especially during the middle of the day.
If you need a break, there is a restaurant on-site and it's a great place to have a cold beer after the walk.
If you want someplace a bit more comfy to park yourself, head to Garaffon de Castilla which is like a modest beach club. For a small fee, you can get some sun in the lounger chairs, snorkel, and have access to their facilities.
Editor's Note: Garaffon de Castilla is next to Garaffon Reef Park which, unfortunately, we don't recommend going to. They have captive dolphins and we do not support such unethical animal encounters. Other attractions like Dolphin Discovery should also be avoided! If you want to know more about why you shouldn't support any place that keeps dolphins captive, click here to read more.
Go Beach-Hopping
You're on an island paradise so beach-hopping should absolutely be on your list of things to do in Isla Mujeres!
Playa Norte may be the most popular spot on the island but it's not the only beach worth visiting. To get away from the crowds, you can head to Playa Posada. The water here is not as clear or shallow but it's still a lovely place to visit.
There are other secluded beaches on the west of the island that you may want to go to: Playa Paraiso, Playa Indios, and Playa Lancheros. These beaches have good amenities and you can easily spend a relaxing day at one (or all!) of them.
Feel Like a Local in Mercado Municipal
One of the best places to get the pulse of a town (other than the town square) is the local market. Mercado Municipal was recently remodeled but the stalls are still as local and authentic as ever.
Whether it's cheap eats, fresh juices, or fresh produce, you'll find almost everything you need here. Come with an empty stomach, explore the different stalls, and try a bit of everything! If you prefer a more leisurely sit-down meal, there are four open-air restaurants outside the market that serves regional food.
Try Your Hand at Fishing
Did you know that Isla Mujeres is a fishing paradise? Whether you're an experienced fisherman or a newbie, fishing in Isla Mujeres is a great way to spend the day.
You can venture out to the Caribbean Sea for deep sea fishing or opt for inshore or bottom fishing trips. Typically fishing excursions will include fishing equipment including bait and tackle.
What can you catch? It ranges from marlin and dorado to snapper, grouper, and even tuna and mahi-mahi, depending on the season.
Get Centered at a Yoga Class
If you have more time on the island and are visiting for longer than a day trip, a yoga class is a great way to spend some time on Isla Mujeres.
Build on those relaxing island vibes with a yoga practice that will have you feeling peaceful and centered.
All you early birds can start your day with a morning session at Treehouse Yoga. Set right by Playa Norte, a session at this covered outdoor studio is a good way to start your day. Prefer an evening practice? They also have sunset yoga classes!
Other yoga spots on the island are Red Buddha Yoga (on Avenida Juarez) and Casa IxChel Hotel which offers free classes to guests.
Wander Around the Mayan Ruins, Ixchel
When you're in Punta Sur, one thing you definitely shouldn't miss is Ixchel, the island's Mayan ruins. The name "Isla Mujeres" actually is a reference to Ixchel herself who was a Mayan goddess of moon, fertility, and happiness.
The focal point is the Mayan temple built to honor Ixchel, but there are other points of interest as well. On the path to the temple, you'll walk through an outdoor modern art exhibition by Mexican and international artists.
And at the endpoint of the park, you can take the winding path down the cliffside to access the beach. Plus, keep an eye out for the iguana statue and actual iguanas as well!
If you're interested in Mayan Ruins, check out our post on the best Mayan Ruins in Mexico to help you plan your trip accordingly!
Dive into the Island's Underwater World
While the waters of Isla Mujeres are beautiful, it's nothing compared to the wonders hidden beneath them.
Chock-full of diverse marine life, diving in Isla Mujeres is an unforgettable experience. Some choice diving spots in the area include the Manchones, Cuevones, and Banderas Reefs. Even for beginners, it's a good place to dive as the waters are calm and clear.
Advanced divers, you can look forward to night dives, wreck dives, and drift dives. Check out this reef diving excursion or opt for a night dive.
And if you're here during December to June, which is sailfish season, you could see something awesome: twenty or more sailfish in a feeding frenzy of "bait balls" made of sardine.
Check Out MUSA, the Underwater Museum of Art
Once you're done admiring the marine life at Isla Mujeres, it's time to go under again… but this time, for a completely different diving experience.
Take a dive to explore art underwater at MUSA (Museo Subacuático de Arte). This unique museum was designed to be an intersection of art and ecology. The museum can be viewed by snorkeling or diving, or by getting on a glass-bottom boat.
The galleries consist of sculptures placed at different heights and locations in the national park and over time, as the coral grows and there is more marine life, the appearance of the art will change as the ecology does.
This truly fascinating museum and experience is a must-see in Isla Mujeres.
Spend the Day at Isla Contoy
Just 30 kilometers from Isla Mujeres lies the tiny Isla Contoy. Though small in size, this island is worthy of a day trip.
Isla Contoy is so nature-rich that it's been protected by the Mexican government. Not only is Isla Contoy home to over 150 species of birds, it's also a nesting ground for sea turtles. It has pretty white sand beaches and the beautiful blue water that the Caribbean is known for.
Most day trips to the island will include some snorkeling, a tour of the island, and lunch. You'll also have enough free time to explore a bit on your own or simply lounge by the beach and take in the sunshine.
For more on Mexico, check out our Mexico travel tips!
Want to Travel the World Forever? ✈️
We've been traveling the world for the last 8 years thanks to our blog!

BUT, here's the thing...not all blogs make money. Tune in to our free workshop where we share HOW we profit from our passions and how you can do the same.
Where to Eat in Isla Mujeres
The quality of restaurants in Isla Mujeres is a HUGE plus compared to other smaller islands here in Mexico. During our time there, we had fantastic meals, all of which we can highly recommend!
Breakfast
North Garden Cafe has delicious bagels!

Polo's Mango Cafe is another must-not-miss. They have incredible mango eggs benedict and coconut french toast that are to die for!
Lunch
Mar-bella Seafood Market is a fantastic place located close to Punta Sur. Here, you can select your seafood and have them cook it how you want it. Their baked fish in garlic and parmesan was some of the best we had!
If you're by Playa Norte, the many beach bars located there serve delicious fresh ceviches and other Mexican staples.
Dinner
Fish and Gin is another fantastic seafood restaurant located in Miguel Hidalgo. The service, the food quality, and the cocktails spell out a perfect evening.
Javi's Cantina is a great traditional Mexican restaurant with live music! They have a lovely courtyard that's perfect for dining in the nights.
The 1 Thing We Never Leave Home Without...🙈
Coming from someone who has been traveling the world for the last 8 years AND has been in the hospital 2x, travel insurance is something everyone NEEDS to get. Click the button below to get a quote from the two companies we recommend.
How to Get To Isla Mujeres
You can get to Isla Mujeres by ferry. You first have to get yourself to Cancun which is the ferry departure point. Head to Puerto Juarez which is not too far from downtown Cancun. You can get there by taxi (it'll cost about 50 pesos) or it's a 20-minute bus ride on ADO's Ruda 13. Then look for the Gran Puerto Cancun (Ultramar) ferry dock.
Ferries to and from Isla Mujeres leave every half hour so you have lots of options. However, this is a popular crossing so be prepared for it to be crowded. For the latest ferry timetable and fares, check the Ultramar site.
If you're visiting Isla Mujeres on a day trip from Cancun or Riviera Maya, you can also opt for a guided trip that will take care of all the details so that you can sit back and relax.
Here are some tour recommendations:
Full-day Catamaran Tour

: Departing from Cancun, sail to Isla Mujeres in style on a catamaran. Your day will feature swimming, snorkeling, plus a buffet lunch is included. You'll have also free time to lounge on the beach.

Isla Contoy and Isla Mujeres: Paradise Islands Combo Tour:

This option includes pick-up from your hotel in Cancun or Riviera Maya and will take you to both Isla Mujeres and Isla Contoy. Aside from short tours of both islands, you'll also enjoy a 40-minute snorkeling session and lunch is included.
Isla Mujeres All-Inclusive Snorkel Trip

: If snorkeling is your jam, check out this snorkel trip to Isla Mujeres. You'll get 45-minute snorkeling at Punta Sam Reef and then another chance to snorkel at Playa Norte! Lunch is also taken care of.
Psst...Want in on a Secret? 🤫
We've scoured the internet for the best ALL-AROUND travel shoe and Tropicfeel wins by far. We've taken ours through rivers, jungles, and cities and they're still alive and kickin'. Check them out below.
Where to Stay on Isla Mujeres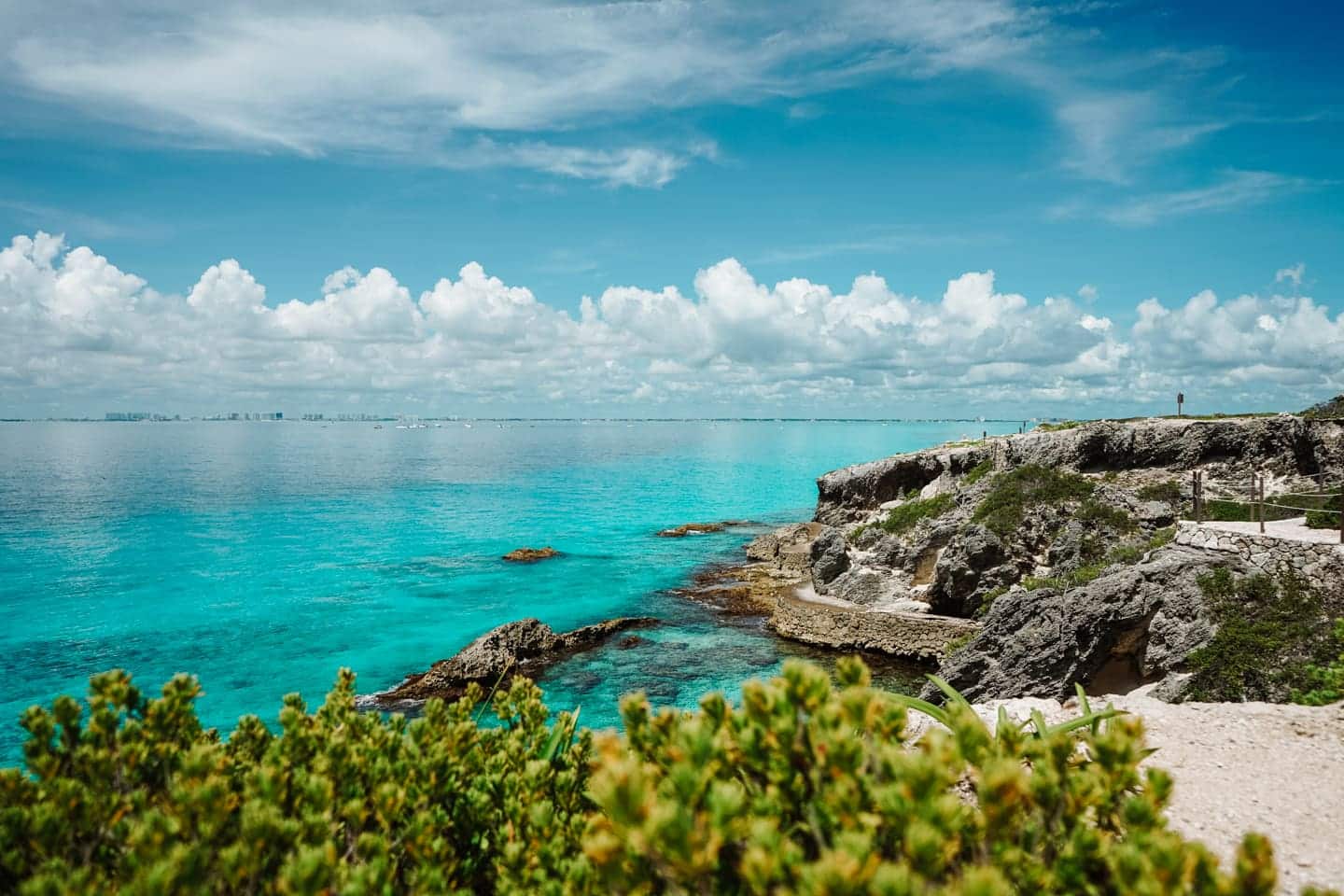 If you're staying on Isla Mujeres for more than a day, then you might be wondering where to stay. The accommodation options on Isla Mujeres vary widely… which is a good thing as there's everything from budget hostels to luxurious five-star resorts.
We found that Airbnb in Isla Mujeres is also a great option. We love staying in Airbnbs as they often offer great value and allow us an independent stay… and sometimes you can find a truly unique stay!
To check out Airbnbs in Isla Mujeres, check out our picks for the best airbnbs on the island.
Travel Must: At the risk of sounding like your parents, make sure you get travel insurance before hitting the road. Trust us, it's one of those things you don't want to leave home without. We recommend either World Nomads or Safety Wing, depending on the type of traveler you are.
---
Get Expert Travel Tips for Mexico 🌮
We spent a year eating our weight in tacos and traveling all over Mexico!

Check out our full Mexico travel guide where we share our expert tips on the best things to do, eat, and more.
Planning a trip to Mexico? Our guides can help!
Inspired? Pin this!
This article may contain affiliate / compensated links. For full information, please see our
disclaimer
here.