If you're trying to find the best way to get from Cancun to Isla Mujeres then look no further.
Our in-depth guide will provide you with all the info you need about transportation to Isla Mujeres, along with some ideas of things to do once you get there.
Isla Mujeres is Cancun's closest island, and if you have the time, this beautiful place is definitely worth a visit. It's not hard to see what makes this stunning island so popular with both tourists and locals alike. From its beautiful white sand beaches and turquoise waters to the colorful coral reefs below the surface, Isla Mujeres is not to be missed.
Quick Answer: How to Get from Cancun to Isla Mujeres
There is more than one way to get from Cancun to Isla Mujeres, though some options are more favorable than others. It all depends on whether you're looking to stick to a budget, or simply wanting to get to the island as quickly and conveniently as you can.
The most popular ways to get to Isla Mujeres from Cancun are:
Ferry from Puerto Juarez

Private boat charter

Day trip tour
If you keep reading, I will discuss each one in detail and how to go about booking your trip.
Want to Travel the World Forever? ✈️
We've been traveling the world for the last 8 years thanks to our blog!

BUT, here's the thing...not all blogs make money. Tune in to our free workshop where we share HOW we profit from our passions and how you can do the same.
Cancun to Isla Mujeres: Transportation Guide
Ferry from Puerto Juarez to Isla Mujeres
Trip Length: 30 minutes
Approximate Cost: $20 roundtrip for adults and $15 for children
When traveling to Isla Mujeres from Cancun, the most common mode of transportation is the ferry. There's a reason that this is the most popular option – it's the easiest and cheapest way to go.
The ferries leave from Puerto Juarez, just 10 minutes away from downtown Cancun. Both Ultramar and Naveganto are good options, and these high-speed ferries take around 30 minutes from start to finish.
Although both companies will get you to the island swiftly and safely, Ultramar is better known and has been around a lot longer. It also has food and drinks available on board, and although the journey is fairly short this added convenience is hard to beat.
Both the Ultramar and Naveganto ferries provide air conditioning, along with bathrooms, a coat check, and indoor and outdoor seating. If you're looking for the cheapest fare, Naveganto has it, though the price difference is minimal.
Once onboard, you'll find porters (or "maleateros" in Spanish) ready to load your luggage. This is a common procedure and absolutely safe, so be sure to throw a small tip their way!
Before you leave Cancun, you can stock up on all the beach day necessities like sunscreen, hats, sunglasses, and more at the modern Puerto Juarez terminal. You'll also find an OXXO (the Mexican version of a 7/Eleven), bathrooms, and a cafe.
The ferry usually starts from 6:30am to 10:00pm.
How to Get to Puerto Juarez from Cancun
From downtown Cancun, Puerto Juarez is an easy 10-minute drive. The best way would be to take a taxi as the public bus can be a little cramped. Just make sure you agree on a price before getting in the cab. From downtown, this should only be around $100-150 MX pesos.
Ferry from Cancun Hotel Zone to Isla Mujeres
Trip Length: 30 minutes
Approximate Cost: $31 roundtrip for adults and $27 for children
If you're staying in the Cancun Hotel Zone, you'll find a few alternative locations from which to take the ferry, though the crossings from this area are less frequent and more expensive.
Ferries from the Cancun hotel zone to Isla Mujeres depart from these three locations:
Playa Tortugas
Playa Caracol
El Embarcadero
While the price difference is not huge, if you are traveling as a large group, we recommend to take a taxi to Puerto Juarez. Please also note that the ferry schedule from Cancun Hotel Zone is less frequent so definitely take the boat schedules into consideration.
Private Boat Charters
If you're looking to splurge a little on your trip from Cancun to Isla Mujeres, then you could always arrange for a private boat charter. This luxury option usually comes in the form of a luxury yacht, and you can expect to pay a pretty penny for this type of travel.
If you're staying in an upscale hotel in Cancun, you may find that the resort provides private boat crossings to Isla Mujeres, and oftentimes it may be included in your hotel rate. Be sure to check the fine print ahead of time to see what your accommodation offers.
You may also come across some small boat charters in your search for the best way to get from Cancun to Isla Mujeres.
If you are purchasing any form of private travel, be sure that the boat you take is fully insured and equipped with all the proper safety gear.
Day Trips to Isla Mujeres
If you only have a day to spare, then the best way to get to the island may be by booking a Cancun to Isla Mujeres day trip. It might even save you a bit of cash when you factor in the price of the taxi and the ferry to the island and the cost of transportation and activities once you arrive.
Get Your Guide is a great tour company to travel with and by far and away their most popular excursion from Cancun to Isla Mujeres is the Catamaran Tour with Lunch and Open Bar. During this 10-hour excursion, you'll be transported to the island as you enjoy amazing sea views, and from there a day at the gorgeous beaches of Isla Mujeres awaits.
The tour includes a snorkeling session at one of the coral reefs, a lunch buffet, and an open bar, and if you're staying in the Cancun hotel zone, pick-up and drop off is provided.
You can also check this all-inclusive Catamaran tour which includes snorkeling, a wander around Isla Mujeres downtown, lunch, and a sunset sail back.
To get the most bang for your buck and the most out of your time in Cancun, you could book the Isla Contoy and Isla Mujeres Combo Tour and explore two islands in one day. Start your day by taking a speedboat out to the Mesoamerican Barrier Reef where you'll enjoy a 40-minute snorkeling session, and then continue on to Isla Contoy National Park where you'll take a guided tour of this verdant island.
You'll get to enjoy a delicious lunch and a quick swim break before heading out to Isla Mujeres, where you'll spend the remainder of your day wandering around the charming streets before heading back to Cancun.
The 1 Thing We Never Leave Home Without...🙈
Coming from someone who has been traveling the world for the last 8 years AND has been in the hospital 2x, travel insurance is something everyone NEEDS to get. Click the button below to get a quote from the two companies we recommend.
How To Get from Cancun Airport to Isla Mujeres
If you're looking to head straight to Isla Mujeres from the Cancun Airport, you have a few options, all of which will get you to Puerto Juarez where you can take a ferry out to the island.
The least expensive way to get to the ferry terminal is by taking the ADO bus into downtown Cancun, and you'll pay about 6 USD for a ticket. You can purchase your ticket in advance, or simply head outside after you collect your luggage and look for the large red ADO sign. The bus has around 70 departures daily and takes about 35 minutes to get into town. Personally, we recommend booking a private transfer or shared shuttle.
You'll be dropped off at the downtown bus station, and from there you can take a taxi to Puerto Juarez (usually around 5 USD). If you're feeling adventurous and not carrying much luggage, you can opt for a ride on the R1 bus. Although cheap (around 40 cents USD), this is certainly not the quickest or easiest route you can take.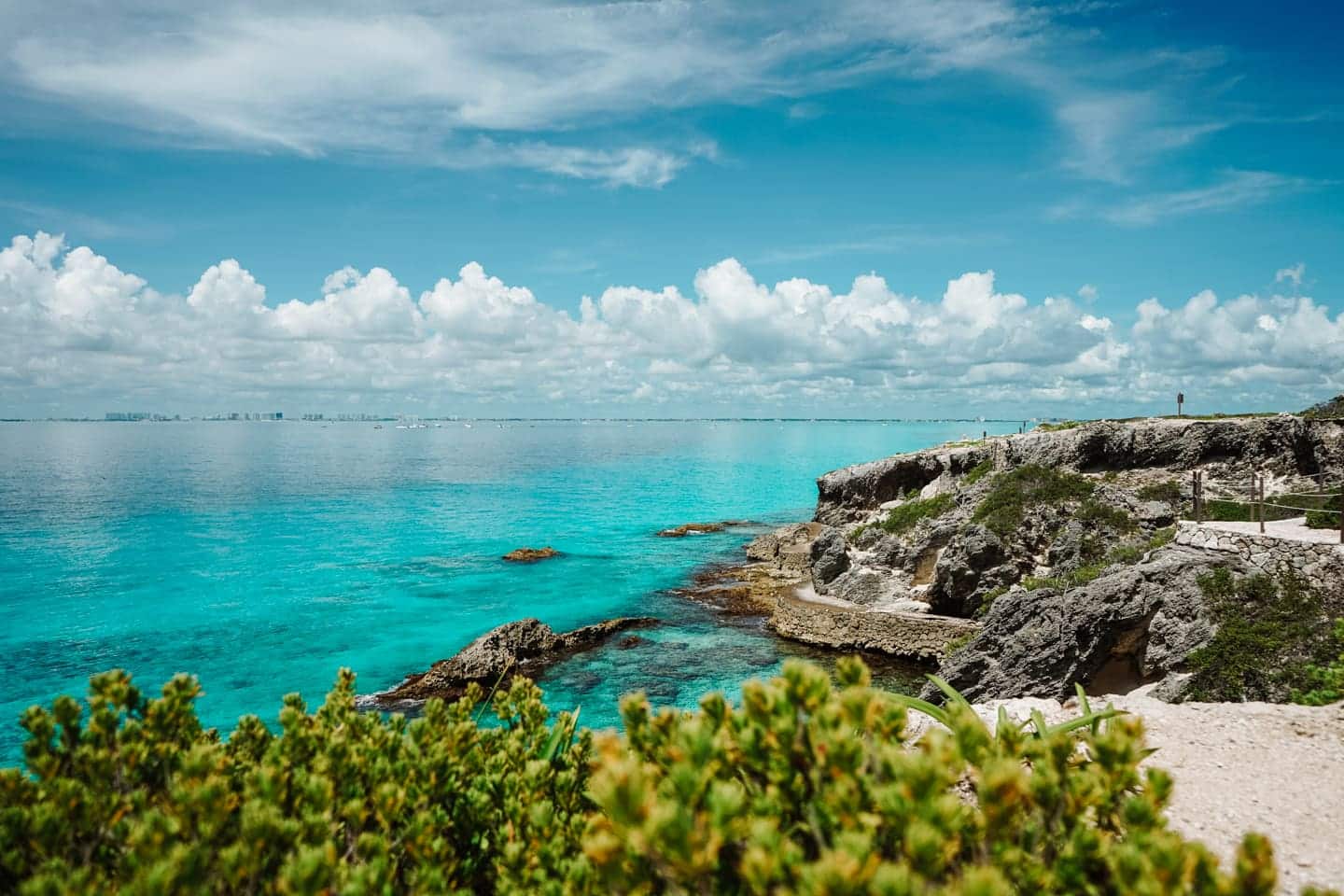 For a more comfortable journey, you can book a shared shuttle from the Cancun airport to Puerto Juarez. Although marginally superior to the ADO bus, you may be kept waiting a bit longer, as the shuttles don't leave until they are full.
There are also fewer departures during the day, about half that of the bus. The real perk with the shared shuttle is that you will be dropped off right at Puerto Juarez, though you will likely have to drop off the other shuttle passengers first and you'll pay a bit more as well (anywhere from 7-15 USD depending on which shuttle service you select).
There are also shuttle and ferry options readily available for those who want it all prebooked.
If you're willing to pay, you could always take a private car or taxi from Cancun Airport to Puerto Juarez, and this is definitely the most convenient way to go. You can expect to pay around 35 USD for a private transfer and at least 70 USD for a taxi, but you can also look forward to air conditioning and a more luxurious ride.
Click Here to See Transport Options
Need a place to stay in Isla Mujeres? Check out these stunning rentals in Isla Mujeres for an awesome stay!
Psst...Want in on a Secret? 🤫
We've scoured the internet for the best ALL-AROUND travel shoe and Tropicfeel wins by far. We've taken ours through rivers, jungles, and cities and they're still alive and kickin'. Check them out below.
FAQ: How To Get from Cancun to Isla Mujeres
How do I get to Puerto Juarez?
As mentioned, the Puerto Juarez ferry terminal is just a few miles (3.5 kilometers) from downtown Cancun and can be reached either by taxi or bus.
If you take a taxi, be sure to negotiate a price before getting in – it should cost no more than 100 MXN (around 5 USD) if you are coming from downtown.
Those who are feeling adventurous (or low on cash) can take the bus via line R1, just ask for Puerto Juarez. This may take a bit longer than a taxi, but it will cost you about a tenth of the price. If you're coming from the Cancun hotel zone, look for "the white bus" – it's the only one with air conditioning.
How long does the ferry take?
Both the Ultramar and Naveganto ferries are high speed ferries and take around 30 minutes to get from Cancun to Isla Mujeres (and another 30 minutes back).
How often do the ferries depart?
The Ultramar ferries depart at least once an hour (sometimes twice an hour) and have trips available from Cancun to Isla Mujeres daily from 6:30 am to 10:00 pm. The Naveganto ferry has just four departures a day from Monday through Saturday at the time of writing, though this information is subject to change.
How do I get my tickets for the ferry?
You can purchase your tickets ahead of time by purchasing them right at the terminal when you arrive. Unfortunately, you cannot buy tickets for the Naveganto ferry in advance.
If you are visiting during the high season, we recommend booking your tickets ahead of time to avoid long lines and ensure your spot on the ferry.
Alternatively, you can use this site which we recommend to check and book your tickets in advance.
Can I take my car to Isla Mujeres?
Although you CAN take your car from Cancun to Isla Mujeres, it is not recommended. Parking is hard to come by here, and there's plenty of other ways to get around the island.
If you do decide to take the car, there is a car ferry from the Punta Sam ferry terminal, located a few kilometers north of Puerto Juarez. There are just a few departures each day, so be sure to check the Punta Sam to Isla Mujeres ferry schedule in advance.
Check out this Mexico travel guide for awesome tips on where to stay and what to do!
The Ultimate Travel Backpack!
If you're looking for a SOLID backpack to travel and work with, we recommend the Nomatic Backpack. This baby has been around the world with us for the last three years and we couldn't be more impressed. It's sleek, stylish, and has awesome functionality! Check it out below or read the full review.
BONUS: Isla Mujeres Travel Guide
Transportation on Isla Mujeres
You won't need a car to get around Isla Mujeres, and there are a few different options available for island transportation.
If you're staying overnight, you'll likely need to take a taxi from the ferry port to your hotel, especially if you have any luggage. There is a taxi station right outside of the ferry port on Isla Mujeres, so you should have no problem finding a ride.
You could also arrange a private hotel transfer with your hotel ahead of time, most have no issue arranging this kind of service for you, though it may cost you a bit more.
Once you're unpacked and ready to see the island, the best way to explore is by renting a golf cart. This is a popular way to travel on Isla Mujeres, and it's a lot of fun, too.
That being said, daily rental rates can be upwards of 50 USD, so if you're just planning to work on your tan on the beach, you may be better off taking a taxi from point A to point B.
Travel Must: At the risk of sounding like your parents, make sure you get travel insurance before hitting the road. Trust us, it's one of those things you don't want to leave home without. We recommend either World Nomads or Safety Wing, depending on the type of traveler you are.
Things to do in Isla Mujeres
Although the island is small, you'll find plenty of things to keep you busy for hours (or days) on end. From the crystal clear turquoise waters and the flora and fauna that live beneath it to the charming town and the Mayan ruins, Isla Mujeres has a little something for everyone.
If you need some inspiration for island activities to round out your trip or recommendations on where to eat and sleep, check out our full Isla Mujeres Travel Guide.
---
Get Expert Travel Tips for Mexico 🌮
We spent a year eating our weight in tacos and traveling all over Mexico!

Check out our full Mexico travel guide where we share our expert tips on the best things to do, eat, and more.
Planning a Trip to Mexico? Read these Guides
Inspired? Pin it!
This article may contain affiliate / compensated links. For full information, please see our
disclaimer
here.