Medieval towns make me tick. I love going to places that are full of old castles and chateaus, cobblestone pathways that are oozing with charm, and mystery.
My sister and I spent a few days couchsurfing in Feldkirch, Austria a while ago. Being a medieval town in Vorarlberg, it's a good place to visit, with not many tourists. In fact, we hardly saw more than a handful during our time there, except in Marktgasse.
If you ever find yourself in Austria, here are ten things to do in Feldkirch that I recommend.
Visit Schattenburg Castle
Built in the 12th century, this castle is now a museum showcasing a lot of local history and architecture. For more than 200 years, it was the residency of Earls of Bregenz, followed by the Habsburg's for 300 years, among others. It was a short 10-minute walk from the main bus stop, maybe about a mile or so. The castle is situated at the top of a staircase which is perfect for those who want a bit of exercise.
The entrance fees are minimal, and after viewing the museum you can stop for a bite at the Castle restaurant which serves pretty good quality food. Only beware, some claim to have had spooky interactions in the castle at night.
✨The 1 Thing We Never Leave Home Without…✨
Coming from someone who has been traveling the world for the last 8 years AND has been in the hospital 2x, travel insurance is something everyone NEEDS to get. Get a quote below!
Explore RadioMuseum Feldkirch
Right below the Schattenburg is the RadioMuseum Feldkirch. While the entrance is free, it is only open on Tuesdays and Wednesdays 1 pm to 4 pm.
Although it looks ordinary on the outside, once inside, you can take a trip back in time to the time of gramophones and tape recorders. It also has old receivers, radios, televisions, and electronics from different periods of time. Good for the techy historian!
Go Up the Drei Schwestern Mountain
During your visit to Feldkirch, consider going up The Drei Schwestern or Three Sisters mountain marks the natural and geographical border of Austria with Liechtenstein. It's called the Three Sisters because of its three peaks, all at a height of more than 200 meters above sea level.
It's perfect for hiking and rock climbing and has many routes with different difficulty levels to suit any palate. The views of Lake Constance from the top make for a perfect reward for the trek.
Psst...Want in on a Secret? 🤫
We've scoured the internet for the best ALL-AROUND travel shoe and Tropicfeel wins by far. We've taken ours through rivers, jungles, and cities and they're still alive and kickin'. Check them out below.
Eat at the Schützenhaus
Said to be one of the best local food eateries, the Wirtschaft zum Schützenhaus has been serving both locals and tourists since 2003. If you want to be surprised and have a good appetite, go for the Katz im Sack (Cats in a Sack), a three or four-course surprise menu that always changes.
Walk Around the Old Town
For some old world charm, one of the top things I recommend doing in Feldkirch is walking around the Old Town quarter which is locally known as Heiligkreuzl.
The Heiligkreuz Bridge is a panoramic touristic picture opportunity, and the parks nearby are good for a short picnic. Further in town are small alleyways lined with a variety of stores and quaint eateries. Marktgasse is also lined with a number of vendors displaying their wares, including fresh flowers on the pavement, somewhat akin to a flea market.
By the bay, Monfort Haus in Feldkirch town serves as a tourist center and gives you all the info you need about Feldkirch and the neighboring areas.
Related: Unreal Fairytale Towns in Europe

Visit Johanniterkirche and Dom St. Nikolaus
Johanniterkirch or St John's Church in Feldkirch was built in 1218 by Count Hug of Montfort. It was previously a hospice for the Order of Saint John and now serves as an exhibition center for contemporary art.
One of the beautiful churches in Vorarlberg is the Dom St. Nikolaus or St Nikolaus Cathedral. It's also the largest Gothic cathedral in Vorarlberg. It was built around 1200 with Roman architecture and damaged in multiple fires before being rebuilt in 1478 with a gothic design.
Editor's Note: Check out our Packing List Guide for Europe
Take Photos of Katzenturm and Other 'Turms
The Katzenturm or Cats Tower is part of the old fortifications of Feldkirch, built from 1491 to 1507. It was later converted to a bell tower in 1665. We hoped we could go in and up to see the bell, but it was closed. No notices or signs saying anything about when and if it's open.
So, all we could do was take pictures of us tiny humans staring up at the 40 meters tall tower, hoping to miraculously catch a glimpse of the Katzenturmglocke, Austria's sixth largest bell. This bell is rung every Friday at 3.00pm, at the hour of Christ's death.
Other towers that remain from the old fort include the Wasserturm and the Pulverturm.
Drive to Bregenz to See the Bodensee and Pfänder Mountain
Not far away from Feldkirch is the tourist town of Bregenz that borders Lake Constance, also known as the Bodensee.
Why Bodensee? Because it borders three countries – Germany, Austria and Switzerland; and more importantly because it's made of three water bodies – the Seerhein, Untersee, and Obersee. Other than touristic activities such as eating local food, beer, and eating roasted chestnuts for 2 Euro, the lake is also a great place for boating, cycling and flying in a zeppelin.
While in Bregenz, you can also take the cable car to the top of the Pfänder Mountain at around 1064 meters. The view from the top is remarkable and you can almost see all corners of the Bodensee, and also the Alps. Or is that just imagination 😉 Either way, it's awesome.
If you're up for some adventure in Bregenz, canyoning in Kobelache is just the heart-pumping activity for you!
Tip: If you'd like to explore the areas surrounding Feldkirch, I recommend renting a car for a day or two so that you can make the most of your time!
Visit the Rheindelta in Bodensee
A must-visit part of the Rheindelta is where the Rhine flows into the Bodensee in Vorarlberg.
With its woodlands and marshes, it covers around 2000 hectares of the nature reserve which houses over 330 species of birds. This also serves as a breeding ground for these birds. The nature reserve is perfect for bird watching and can be explored either by biking around or just walking.
Get into Liechtenstein and Get Stamped
Liechtenstein, officially a Principality, is one of the smallest nations on the planet, covering hardly 160 kilometers of this great big planet.
From Feldkirch, there's a bus that goes to Vaduz, the capital of Liechtenstein every half an hour. We got to Vaduz, and the first thing on our itinerary was to find the Postage Stamp Museum and get the infamous 2 Euro stamp on our passports. Once proof of our presence was done with, we browsed the museum which has quite a decent stamp collection.
The Cathedral of St. Florin is a good site to visit, along with the nearby Liechtensteinisches Landes Museum aka the National Museum of Liechtenstein. The National Museum was said to be a princely tavern dating back to 1438 before it was purchased by the state and converted to a museum in 1967.
Other attractions that are a drive away include the ruins at Schellenberg and Schalun Castle. If you're planning on spending the night in Liechtenstein, be prepared to fish out more dough than in Austria. That's probably why staying at Feldkirch and doing just a short trip to Liechtenstein is a pretty good idea.
Anyway, back to Feldkirch. There's probably a lot more to do if you stay a bit longer. Tell me what else I should have put on this list?
Adventure In You Recommendation: Where to Stay in Feldkirch
When in the area, you can opt to go local and try out couchsurfing. Otherwise, there are quite a few places to stay in Feldkirch from large hotels to small family-run guesthouses.
Here are some suggestions on where to stay in Feldkirch.
Airbnb Travel Tip: If you prefer to stay in apartments or private homes, we recommend Airbnb. Check out our full article on how to get $45 coupon code for your booking or simply click here to get our coupon code to apply on your next booking.
Jugendherberge Feldkirch
For those on a budget, this youth hostel could be ideal for you. Housed in a building that dates back to medieval times, it's located near the train station and it's only a short walk to the Old Town.
Guests rave about the ambience of the house, modern bathrooms, and the clean facilities.
Check availability and compare prices: Booking.com | Agoda
Landhaus Maria Grün B&B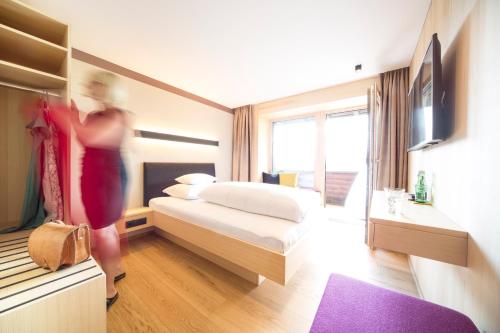 If you're in search of some peace and serenity in Feldkirch, check out this bed and breakfast. Located in a peaceful area of town (yet not too far from the center of town), the Landhaus Maria Grün B&B will you in a relaxed state in no time. This B&B has modern furnishings and comfortable beds that will make your stay.
After a day of exploring, head back to the B&B to enjoy views of the valley from your private balcony, and indulge in a lovely dinner on the restaurant terrace.
Check availability and compare prices: Booking.com | Agoda
Hotel Garni Bären
Want to be in the thick of it all? Choose Hotel Garni Bären, which has a great location — just minutes from the Old Town and the train station.
This family-run establishment offers accommodations that are a charming mix of classic and modern. But that's not all — guests compliment the warm service of the staff and the excellent buffet breakfast.
Check availability and compare prices: Booking.com | Agoda
---
Looking for other things to do in Europe? Check out a few of our best articles
Inspired? Pin it!