Bangkok is one of those legendary cities that is just so full of life. Its busy streets, chaotic markets, and unusual and cheap street food. For first-timers, Bangkok may be a tad bit overwhelming. Don't worry, as soon as you ease into it, you will actually find the hustle and bustle quite amusing.
Between its bright lights, exotic food, along with a myriad of different places to see and things to do, here are 10 awesome things to do in Bangkok.
Eat Thai Street Food
No one in their right mind would come to Bangkok and skip out on its amazing street food. Just the thought of a steaming plate of pad thai along with some cold mango sticky rice is enough to make me hop on a plane. Oh did I mention that most meals from the street are only $1? Although its hard not to get delicious street food, our recommendation is to head to Sukhumvit Soi 11, a street in downtown Bangkok whose streets get lined up with street food vendors. Alternatively, you can also check out Yaowarat, Bangkok's own version of China Town for some great street eats.
If you want to learn how to cook your own Thai food, we recommend taking cooking classes while in the area. The cooking classes in Bangkok are out of this world with heaps of choices and varieties! Check out the link above to see the various cooking classes available.
Insider Tip: When in Sukhumvit Soi 11, check out Cheap Charlie's, a popular dive bar which always has good happy hour prices.
Read: What to Eat in Thailand | Street Food You Shouldn't Miss When in Thailand
Shop at the Chatuchak Market
Explore and get lost in the maze-like Chatuchak Weekend Market which has about 15,000 vendors. Even if you're not looking for anything in particular, chances are you will go home with something in tow. From cheap clothes, gadgets, to even exotic animals, Chatuchak Market is a sight to see. There is also a massive eating area which has loads of cheap and delicious street food.
Get lost wandering around the seemingly never-ending maze of stalls. If you can't stand the heat but you still want to shop, check out many of Bangkok's famous shopping centers like Pratunam, Siam Square, Siam Paragon, Central World, and MBK.
Pre-Travel Information: Before traveling to Thailand make sure you understand the visa situation. Most people are able to get a Thailand online visa and some on arrival. Either way, make sure you do your research.
Related: If you're looking for another type of souvenir to take home with you, you can look at Getting a Sak Yant Tattoo in Bangkok.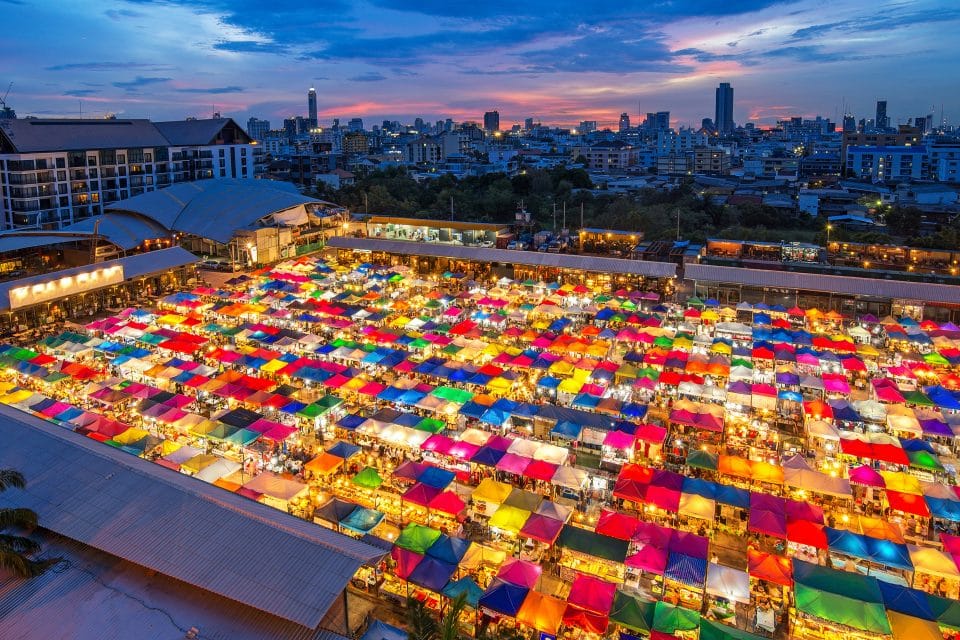 Go Explore Some Temples
Bangkok is home to many impressive temples which are not to be missed. If you're a big temple fan, this is the place for you. If you just want to see the highlights, don't miss out on the Grand Palace and Wat Phra Kaew which are located in the same compound. Here, you can marvel at their intricate craftsmanship and architecture.
To see the iconic reclining and gold Buddha, head over to Wat Pho where you can wander around their massive compound. This place was also where the first Thai massage was created. Lastly, don't forget to visit Wat Arun which is also known as the Temple of the Rising Sun. Other temples worth visiting are Wat Traimit, Wat Saket and the Golden Mount, and Wat Kalayanamit. Please note that you have to observe proper attire when entering the temples. Shorts and sleeveless tops aren't allowed. Also, wear socks when entering. There are booths outside where you can get sarongs to cover up.
Related: For a quick guide to the city, discover the best of Bangkok with Expedia's tourism guide.
Read: Guide to Planning Your Dream Trip to Thailand 
Go People Watching at Khao San Road
Known as the backpacker hub, Khao San road is an interesting area lined with people, food stalls, bars, and hostels. Soak in the hustle and bustle of Bangkok by sitting in one of the many street bars and watch the world go by.
If you're traveling alone, Khao San Road is a great place to meet other travelers. Do take note that it is BUSY. We wouldn't recommend staying there as the hostels can get a bit loud, but do yourself a favor and check it out at one point. If you're looking for something a little bit quieter, Soi Rambuttri has a similar vibe without being over the top chaotic.
Related: 10 Things I didn't know before Traveling Southeast Asia
Marvel at the Floating Market
Not too far away from the city are Tailing Chan or Khlong Lat Mayom, home of the floating markets in Thailand. Tailing Chan is located only 12 km from downtown Bangkok, making it an ideal place to visit unlike the larger markets like Damnoen Saduak which is a lot farther. You can hop on a small longtail boat cruise to see the sights as you watch the locals trade, sell, and bargain various items. There are loads of food for sale but the markets can also get very busy so best to head there in the mornings to skip the hoards of tour groups.
Because these places are easily accessible by public transport, we recommend avoiding a tour group. Experience it for yourself and you might even make a local friend or two. Other floating markets are Amphawa, Bang Nam Pheung. If you want more information, check out this article for a list of the best floating markets in Bangkok.
Watch a Muay Thai Fight
For those people that have been living under a rock for the last few years, Muay Thai is a Thai combat sport that is very popular in the country. It's quite similar to MMA, but still, has some differences which make each one stand out. The city has two national stadiums, Ratchadamnoen or Lumpini which has regular Muay Thai fights. Try to score tickets to these matches and you will find yourself highly entertained! The ambiance, the fight, the spectators, oh and of course, the beer and other stadium snacks all contribute to the overall experience. 
Go for a Boat Ride in the Chao Phraya River
Take a break from the business of Bangkok and peacefully sail down the Chao Phraya River. Rather than booking a tour, just ride a local water taxi. You get to see the same things without the steep price tag. During your river ride, you will see hotels, wooden shacks, old colonial buildings, and temples. The local water taxi will also allow you to interact with the locals in comparison to the ones just for tourists.

Pamper Yourself with a Thai Massage
After a busy day of sightseeing and walking around, there is no better way to end your day than a massage. I mean, seriously! Now given that you are in the place where Thai massages originated, there is no shortage of spas and massage places. For an affordable treatment, head on over to Ruen Nuad by Convent Road.
Here, you can avail of a no-frills massage with a simple menu composing of a Thai massage, foot massage, and one with aromatic oils. Another well recommended and popular spa is Health Land. Despite being a chain, they come well recommended and gives good value for their massages (2 hours for 500THB ($14)…Unreal!) 
See Bangkok from the Sky
One of my favorite things to do in a city…even if I'm not a city person is to see the skyline of the city at night. We did this when we were in Chicago, New York, and even in Manila. In Bangkok, the Moon bar at the Banyan Tree Hotel is our pick! They serve amazing cocktails, with the most amazing view to match. Trust us, a visit here is a must! 
Chill Out at Lumpini Park
If you're looking to escape the busy streets of Bangkok, head over to Lumpini Park where you will find both locals and tourists strolling around. The park itself is more than half a million square meters big, and the home to different kinds of plants and flowers. Strolling around there is highly entertaining as there is always something going on. People laying on mats taking naps, doing various fitness activities, and even live music performing during the weekends. Naturally, there are also lots of food vendors near the gate of Rama VI statue, making instant picnics possible!
There you have it, folks! A good mix of sightseeing, culture, shopping, and relaxation. Having been to Bangkok on multiple occasions, I can attest that every time I go, I find something about it that completely enamors me, over and over again.
Related: Need more inspiration check out these 20 Fun Things to do in Bangkok.
Related: What to Pack for Thailand
---
Day Trips From Bangkok
If you're looking to get outside Bangkok on a day trip, check these adrenaline-filled activities which are just two hours away from the city. From canopy tours to bungee jumping, these activities are things you won't regret trying!
Where to Stay in Bangkok
Naturally, there are literally thousands of places to stay while in Bangkok. A few things that you would have to consider when choosing a place would be the location, distance to the things you want to see, and budget. Check out our article which has multiple places to stay, varying from budget hostels to nice splurges for hotels. Best Places to Stay in Bangkok
Transportation
After Bangkok, whether you're heading to the Thai Islands or up to Northern Thailand, save time by booking your bus, train, and ferry schedules ahead of time. Click here to see transportation schedules.
---
Looking for Adventurous Things to do while in Thailand? Check out these reviews!