Located in the Swiss Alps south of Zurich, Lucerne, Switzerland lies waiting to be discovered. A combination of nature and city, there's no shortage of things to do in Lucerne, whether you're visiting for culture and history or simply to eat and enjoy yourself (as one does on vacation!).
To help you see the best of this one-of-a-kind city, we've put together this list of 22 of the best things to do in Lucerne. There's something for everyone here, so be sure to give it a read to see all that's waiting for you in this Swiss paradise!
Marvel on Mount Pilatus
As soon as you arrive in Lucerne, you'll be faced with an unparalleled view of this majestic mountain. Standing 2,128 meters high above the city, Mount Pilatus is nicknamed "Dragon Mountain" due to folklore claiming that dragons with magical healing powers lived at the top.
A visit to the summit is a must-do in Lucerne, and it's rather accessible even if you left your hiking boots at home. During the summer you're able to take a Golden Tour that will take you by paddle steamer from Lucerne, and then you'll climb aboard the steepest cogwheel railway in the world. 
Once you reach the top and take in the sights, you'll be able to take a cable car back down, enjoying the stunning view the entire way.
If you want to see Mount Pilatus from a different angle, you can even take a helicopter flight over this mountain and nearby Mount Rigi!

Whichever way you choose to bask in the glory of this mountain, it is certainly a top thing to do in Lucerne.
✨Want to Have a More Local Experience While Traveling?✨
Avoid cookie-cutter tours made for mass tourism. Wherever we are, we love going on local Airbnb Experiences as they have unique experiences around the world.
Click the button below to find a local experience near you.
Boat or Bask at Lake Lucerne
Another Lucerne landmark that simply cannot be missed is Lake Lucerne. Situated right in the middle of the city, you can enjoy views of the pristine water by walking along the banks or hopping aboard a historic paddlewheel steamer.
The entire time you're near the lake, you'll have stunning views of the surrounding alps and the distinct city that seems within an arm's reach.
Top Tip: Want to explore Lake Lucerne with a dash of luxury? Hop aboard a panoramic yacht that'll take you around the lake on a 1-hour cruise. If you have time to spare, go for the gourmet lunch cruise, which offers both full of delicious food and amazing views. Seeing Lucerne from the water is splendid!
Stroll around the Old Town
The Old Town is a staple of Lucerne, so be sure to head there to enjoy some medieval architecture, wander through narrow streets, and of course pick up souvenirs to bring back home with you. You'll also find some of the best places to eat in Lucerne in Old Town so be sure to stop for some lunch!
While exploring the Old Town, don't forget to stop by the Church of St. Leodegar (also known as Hof Church by locals) for some culture and the Town Hall for some history. The Town Hall is easily identified because of its unique architecture and the large clock town that stands out even from a distance. 
Insider Tip: If you're looking for more things to do, check out this 2 day Lucerne itinerary!
Explore Hofkirche
One of the dominant features of the Lucerne skyline is the twin church spires rising up above the rest of the city. These spires belong to the Church of St. Leodegar, or Hofkirche, a Roman Catholic place of worship built in the 1630s.
Hofkirche is one of the most important Renaissance churches in Switzerland, so it draws people from far and wide to revel in the building's glory.
When you enter the church, you'll be faced with gold alters, high curved ceilings, and lavish decor throughout. There are beautiful carvings and paintings depicting scenes from history, as well as arcades that house tombs belonging to old Lucerne families. 
If you're visiting in the summer, be sure to check the church's schedule because there are often concerts played on the church's organ!
Sleep in a Castle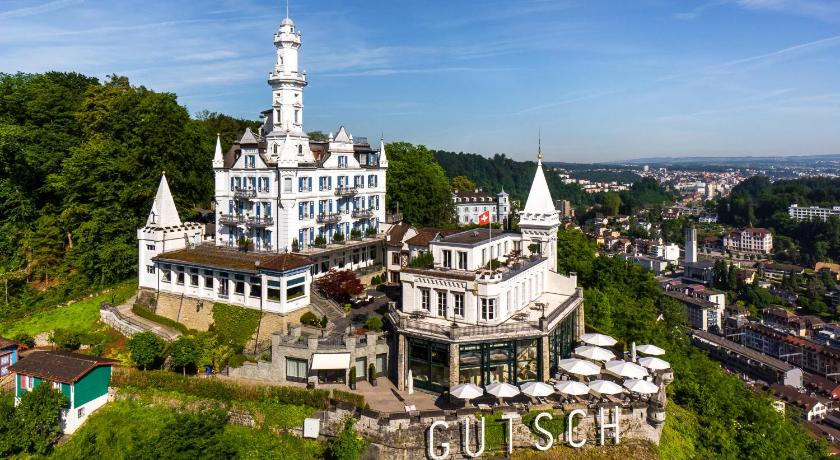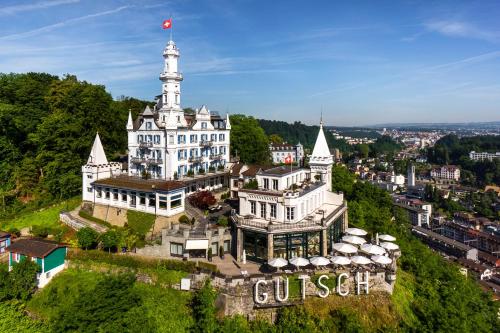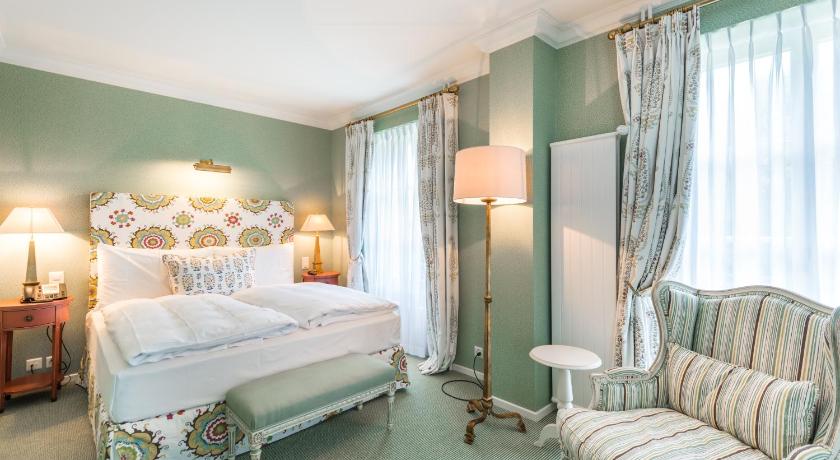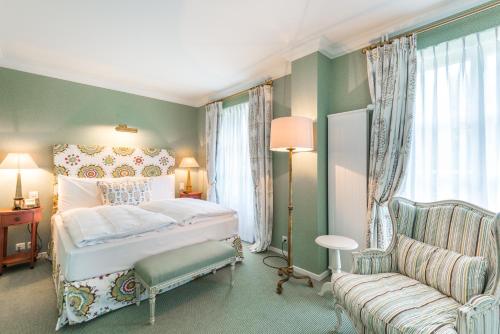 If you're looking for accommodation in Lucerne, Château Gütsch will give you a taste of what it's like to be royalty.
A true 19th-century castle, the interior of this chateau was renovated to give guests the ultimate royal treatment. Enjoy rooms that look out directly over the town, lake and surrounding mountains, while relaxing in your cushy, spacious suite.
Visit the Jesuit Church
Built right after Hofkirche, the Jesuit Church in Lucerne is also an attraction worth stopping in when you traverse through the city.
A Baroque-style structure, the Jesuit Church was built over the course of the 16th and 17th centuries, and was the first of its kind north of the Alps. Inside, you'll find a beautiful and light atmosphere, with paintings on the ceiling and a lavish altar accented with gold.
Located right on the river bank, this is a nice place to spend an afternoon getting some culture and sunshine at the same time. 
Traverse the Town Walls and Towers
While you're in the Old Town, be sure to walk around the Old City Walls that were constructed over 600 years ago.
Along the walls, you'll find nine tall towers with pointed tops. Four of these towers are still accessible to visitors, so get climbing to take in views of the city and surroundings. This is one of the best viewpoints in Lucerne! 
The four towers that are accessible are Schirmer, Zyt, Wacht and Mannli. Zyt is particularly special because of the clock in the tower that chimes one minute before the rest of the clocks in the city. I guess there are some special perks that come with being over 600 years old! 
Wander across Chapel Bridge
The Chapel Bridge is another historic must-see when making your way through Lucerne.
Built in 1333, this covered bridge creates a crossing over the Reuss River. It's actually the world's oldest truss bridge that's still standing!
On the ceiling of the bridge's cover, you'll find several paintings depicting Lucerne's history. Unfortunately, in 1993, there was a fire that destroyed most of the masterpieces that make the Chapel Bridge so special. However, there are still 30 of the originals that have been restored and are ready to be viewed by eager visitors. 
Besides the historic significance this bridge holds, you'll be faced with glorious river views while walking across it. This is definitely a marvel worth visiting! 
Fly over the Alps

If you want to see Lucerne and its surroundings from a bird's eye view, take an aerial tour over the Swiss Alps.
This scenic flight takes off right next to the lake and flies over plenty of highlights in the region. But if you'd like to see something specific, you can even ask your pilot to steer you there! 
The route isn't set, so you're able to have a customized experience soaring over Lucerne.
Take a Trip to the Lion Monument
Lion Monument is a Lucerne staple and features a gorgeously carved lion in a sandstone cliff. While it may not seem like much, Lion Monument can be described as a small oasis in the hustle and bustle of the city.
Built in the early 1800s, the monument pays homage to the Swiss Guards who defended King Louis XVI during the storming of the Tuileries in 1792. It's a beautiful area with a pensive atmosphere. The statue itself is wonderfully detailed, and the lion's expressiveness is as lifelike as the real thing. 
It won't take long to visit the Lion, so it's definitely worth checking out. There's a lot to do in the surrounding area, so this is a lovely peaceful break during your stay in Lucerne!
Travel Must: We love renting cars whenever we travel- it just gives you so much freedom to explore at your own pace. Click here to compare car rental prices You'll be surprised at how affordable it is!
Gallivant through Glacier Garden
If you think the 1800s was a long time ago, swing by Glacier Garden to witness potholes formed in the last Ice Age. We're talking 20,000 years ago! 
Located right next to Lion Monument, Glacier Garden features interactive exhibitions and multimedia presentations to help you understand this archaic phenomena.
Besides the natural wonder, it also has a mirror maze inspired by the Alhambra in Granada. It's made of 90 mirrors and creates endless illusions as you make your way through the twists and turns. Just think about all the Instagram-worthy moments!
After wandering around for a couple of hours, head to the park next door for a picnic lunch and to bask in the Swiss sun. 
Roam around a Nuclear Bunker
The Swiss are prepared for anything and it's evident that the people of Lucerne were not messing around when it came to being equipped for a nuclear attack.
Lying below the city sits the giant, unused Sonnenberg Bunker. It was built in the 1970s during the Cold War and can hold 20,000 residents of Lucerne. At one point, this bunker was the largest one for civilians in the world!
Every last Sunday of the month, visitors are given the opportunity to descend into the bunker to explore this underground facility. You can also book a private tour for your group in advance!
While wandering, you'll come across emergency equipment for hospital and decontamination use, as well as more generic items like washing machines and bunk beds fit for an entire city. If you love quirky experiences, this is a one-of-a-kind visit!

Soar over Lucerne

Looking for some adrenaline during your stay in Lucerne? There's no better way to get your blood pumping than skydiving over Lake Lucerne!
First, you'll fly 4,000 meters high, enjoying views of your entire surroundings. Then you'll jump out of a plane attached to a qualified instructor who will guide you through the Swiss Alps and over the pristine lake.
Catch a glimpse of the city as you rush towards the ground, only to be greeted with a soft landing upon returning to earth.
Out of all the ways to see Lucerne, this is certainly the most exciting.
Not sure what to expect in a skydive? Read Tom's experience skydiving in Interlaken!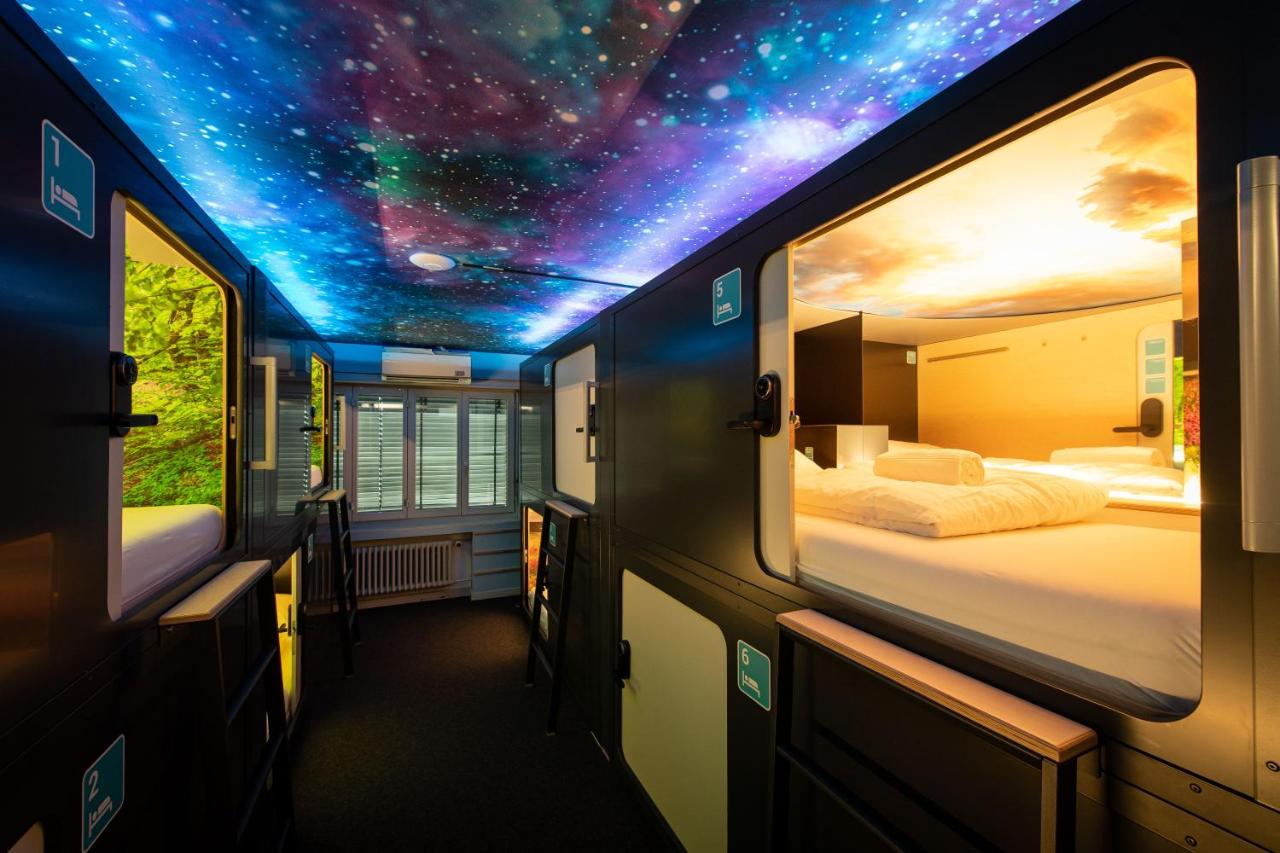 It should come as no surprise that Switzerland is a pretty pricey country. That said, you can still find some options for accommodation that won't completely break the bank.
One of our favorite budget options is the Capsule Hotel that's located right in the heart of Lucerne. Not only will you be paying a reasonable price per night, but you'll have a unique sleeping experience and be right in the city center.
The capsules at this particular hotel look rather futuristic so when you tuck in for a good night's sleep, imagine you're aboard a spaceship. Who knows, you may just wake up next to Spock!
Get Cultured at the Rosengart Collection
Art fans rejoice! Sitting in the middle of Lucerne is a post-Impressionist collection that simply cannot be missed. 
The Rosengart Collection is considered to be one of the most outstanding collections of modern art in all of Europe, featuring works from artists such as Monet, Matisse, and Chagall. If those names don't impress you, I'm sure that you can certainly be enticed by a marvelous Picasso and Paul Klee as well. 
While walking around the gallery, you'll be able to immerse yourself almost 300 pieces of art that are sure to WOW!
Immerse Yourself at the Bourbaki Panorama
A final destination for all the art lovers visiting Lucerne is the fantastic panorama painted in 1871. This 10-by-112 meter scene wraps around a building and depicts the winter of 1871 when 87,000 French soldiers sought refuge in Switzerland during the Franco-Prussian War.
Besides just being a painting, this panorama incorporates sculptures as well to really make the scene come to life. It's an immersive experience that will really round out any trip to Lucerne.
Learn at the Swiss Museum of Transport
Paintings, not your thing? Well, Lucerne is also home to the Swiss Museum of Transport, which is the most visited museum in all of Switzerland! 
Here, you'll find retired aircrafts, trains and cars stacked so high on top of each other they nearly reach the ceiling. The entrance of the museum itself is something to behold as it's constructed from past highway signs guiding you through the country. While walking around, you'll be faced with more than 3,000 displays!
There's something for everyone at this museum, whether you're interested in history, technology, or of course different modes of transportation.
Insider's Tip: Want to save some time? Skip the line by buying your ticket online!
Indulge at a Cheese and Chocolate Tour

It wouldn't be a trip to Switzerland without gorging yourself on the ever-famous Swiss cheese and chocolate.
During this all-inclusive tour, you'll get to visit a cheese factory inside of a monastery. Learn how cheese is made, and then have the chance to fill up on fondue or raclette. After that, you'll get to wander the Aeschbach chocolate factory for dessert. You'll even have the opportunity to make your own chocolate bar!
I'm not sure it gets any better than cheese and chocolate…
Sip Wine Next to Lake Lucerne

Okay, I know I said it doesn't get much better than cheese and chocolate, but what if you add wine into the equation?
While in Lucerne, take a trip to the most traditional winery in the region for a tour of the vineyards. Imagine enjoying a tasting with flawless views of Lake Lucerne!
The outing begins with a 30-minute cruise on Lake Lucerne, followed by a leisurely stroll to the vineyards. You'll be able to enjoy stunning sights, sip on local wines and snack, while surrounded by majestic mountains. You're on vacation, afterall, so you may as well enjoy yourself!
Make a Toast at Brauerei Eichhof
More of a beer person? Don't worry, Lucerne has just the thing for you. 
Brauerei Eichhof is a 180-year old brewery that makes, sells and serves up ice-cold ones all day long. They a local favorite, so you'll see their beers while you're out and about in the city. But what better place to have one than where it's made?
With a visit to Brauerei Eichhof, you'll have the chance to take a guided tour to see exactly how their famous beer is made and then have the chance to sample it all!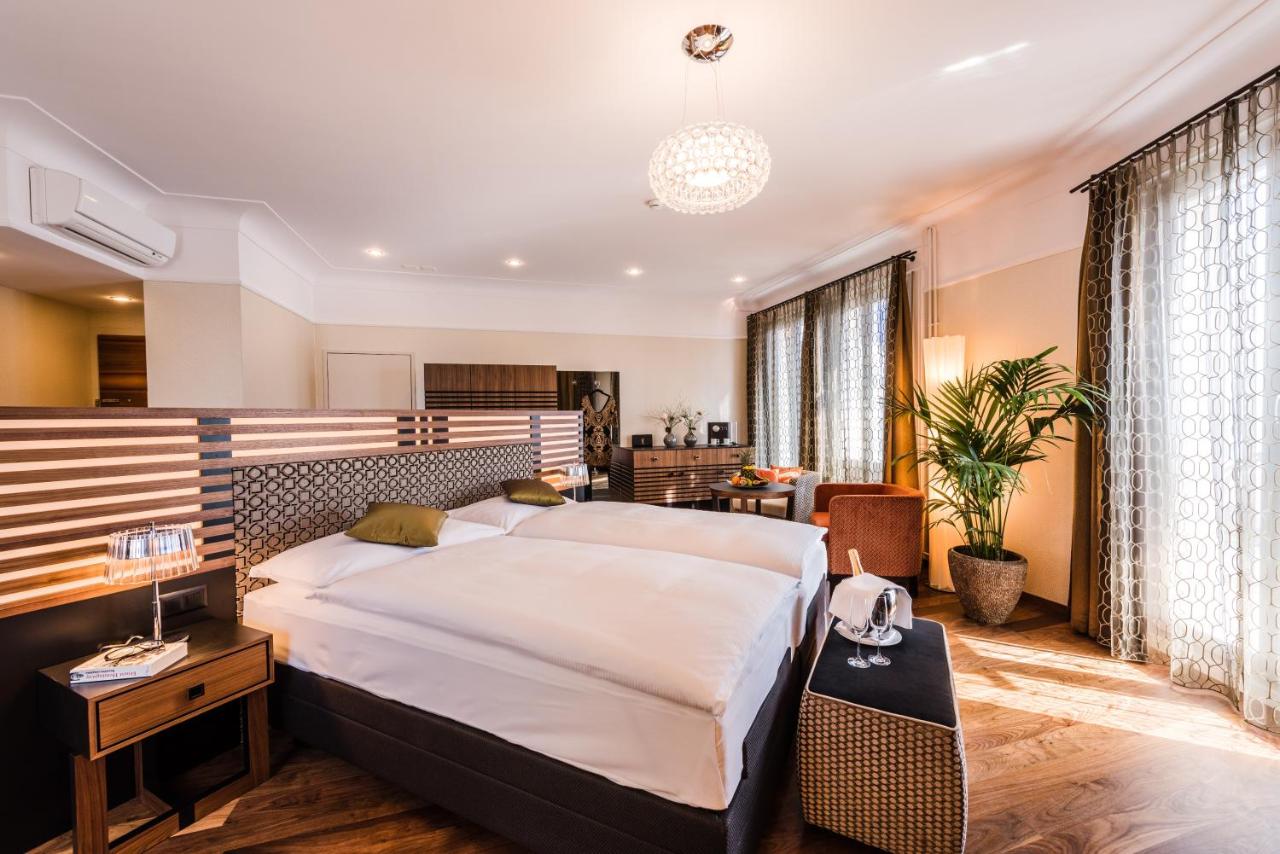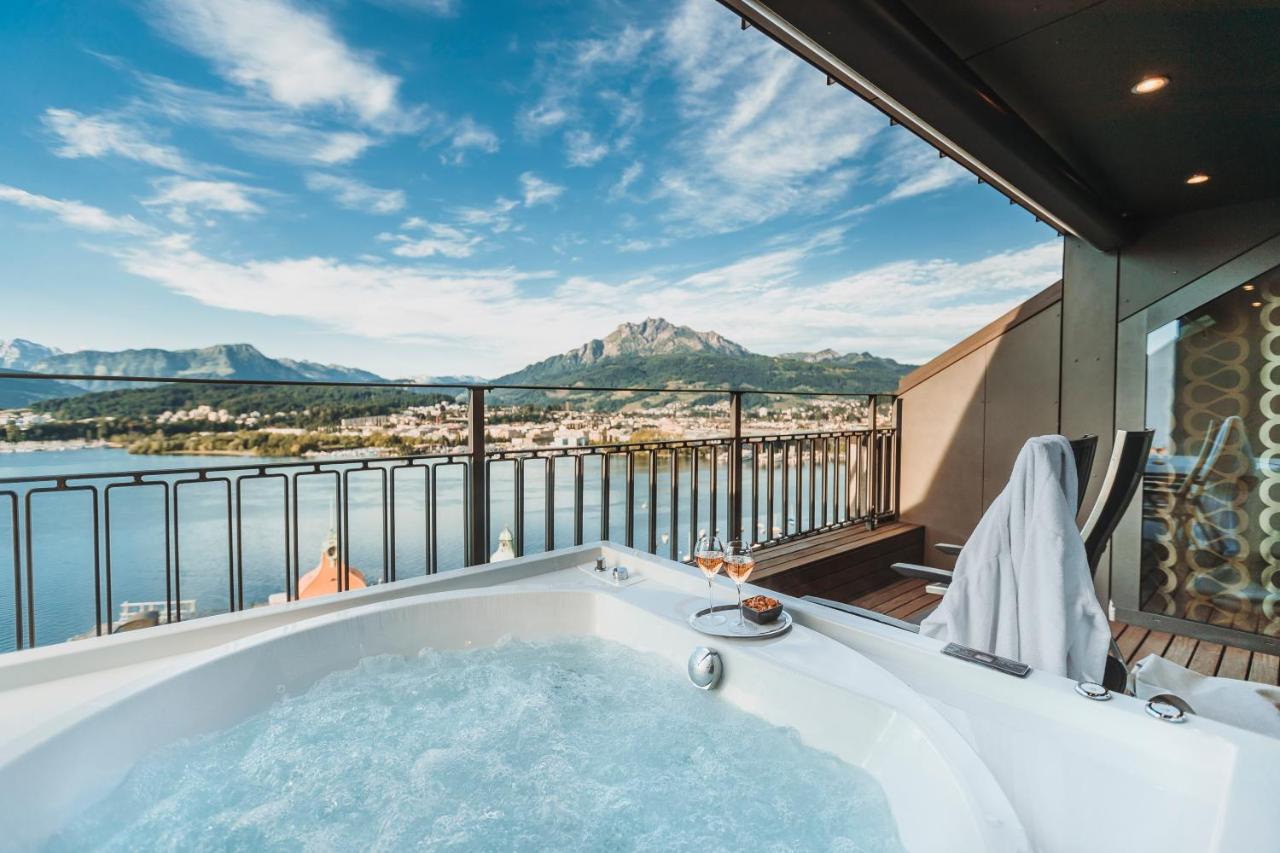 If you're looking for luxury accommodation, there's no better option than booking the Penthouse in the Art Deco Hotel Montana.
From these stunning rooms, you'll be able to fully immerse yourself in panoramic views of Lake Lucerne, Old Town, and of course the Swiss Alps. If you're after more than just nice sights, each Penthouse suite includes a hot tub on a private rooftop terrace.
Talk about living large!
Summit Marvelous Mount Rigi
To end this list, we'll finish off the way we started: with a mountain.
Mount Rigi is nicknamed the Queen of the mountains as she looms over Lucerne with a watchful eye.
Either hike to the summit or take the mountain railway to enjoy views of the alpine and beyond. Watching the sunset from the top is an experience that's sure to last you a lifetime. 
Insider's Tip: One of the best ways to see Mount Rigi is via the Classic Rigi Route! Take a combination of boat, rack railway, and cable car as you traverse from Lucerne to the mountains. This self-guided, full-day excursion gives you the best of Mount Rigi. Get more details here.
For any upcoming trip to Lucerne, you should have plenty to do. From exploring the natural wonders of the region to strolling old city streets, activities are plenty and entertainment abundant. 
This lovely Swiss town is a memorable place to learn about history, indulge in Swiss specialties, and have the visit of a lifetime.
Is there something you loved in Lucerne that we didn't mention? Let us know in the comments below!
Check out this Switzerland travel guide for awesome tips on where to stay and what to do!
Airbnb Experiences in Lucerne
Looking for things to do in Lucerne during your time there? Check out some of these local Airbnb experiences in the area that we recommend.
Hike Fjord-Like Lake with a Boat Ride and Cheese
Snowshoeing Tour into Paradise with Lunch
Paragliding Over Lucerne with Shuttle Service
Where to Stay in Lucerne
Airbnb is an awesome option while visiting Lucerne as it's super versatile to meet your unique needs. Whether you're traveling solo, on a romantic getaway, or with a huge group, you'll be able to find tons of suitable options at a range of price points.
Plus, you'll have tons of added perks and personal touches to make your trip that much better.
Here are some of our favorite Airbnbs in Lucerne for an epic stay!
Charming Baroque Style Tiny Home Near Town
Bright Apartment in the Historic Eden Haus
Stylish Designer Loft with Unique Amenities
---
Planning a Switzerland trip? We've got you covered!
Inspired? Pin It!