This article may contain affiliate / compensated links. For full information, please see our
disclaimer
here.
Looking for places to stay in Switzerland? After numerous trips to the country (and spending countless hours looking up places to stay, here is my travel guide detailing all the best places to stay in various locations all over the country.
Home of the famed Alps mountain range, charming medieval towns, sparkling lakes, endless greenery, delicious chocolates, and warm-hearted people, Switzerland is a great place to go on your next vacation at any time of the year.
Regardless if you're on a budget or plan to live it up while you're in the land of cheese and chocolates, here's a guide on a few of the best places to stay in Switzerland.
Where to Stay in Montreux
Famous for its two-week-long Jazz Festival, the town of Montreux is located along the Lake Geneva shoreline just at the foot of the Swiss Alps. Although Montreaux's biggest crowd drawer is its music festival, the town's sights and attractions will make you wish you could stay longer.
Airbnb: Le Paradis sur La Riviera
Quick Info:
Type: Entire Home (1BR, 1B)
Location: 4 km from the center of Montreux
Superhost: Yes
Price: $$
Soak in stunning views of Montreux's landscape from this Airbnb. Located not too far from the center of town, this one-bedroom apartment is the perfect spot for your stay in Montreux.
This cozy home has two floors, with the living area and kitchen on the ground floor and the bedroom on the upper level. Styled in a modern, contemporary way, your stay here will surely be comfortable.
The highlight of this apartment is the private terrace that offers a breathtaking view of the lake and surroundings.
It's best to have a rental car if you choose to stay here, but the absolute serenity you'll get here will be worth it.
Although small, La Rouvenaz is not something to be overlooked. The rooms at this hotel are larger than usual in the area. There is no air-conditioning, but you can pop a window open for the cool lake breeze to complement your portable fan.
Continental breakfast is offered and comes with adequate choices enough to fill your stomach. Otherwise, you can check out the trattoria-style restaurant on site and order some Italian specialties like cured meat, seafood, and cheese with wine. It's also super close to the lake shore, the train station, and the Montreux convention center.
Set in a 19th-century building, the pet-friendly Hotel Splendid offers panoramic views of the nearby lake, of which you could view via a balcony or terrace of some of the hotel's many rooms. Because it is in a historical building, there is no air-conditioning. This isn't a problem though as the temperature in Switzerland tends to be cool all year round.
This being said, the rooms are comfy and spacious enough. The restaurant and the cafe at the hotel serve delicious international and Swiss cuisine, so that's something to think about. Hotel Splendid also has free public transport, which is great if you do not wish to walk to popular tourist attractions in the area.
This hotel may be a bit of a walk, as it is located up on the hill from the main area of Montreaux. But Tralala Hotel Montreux is a great choice for people looking to stay in the old part of the town. Majority of the rooms offer a view of the lake, and each is designed to pay homage to the town's artists.
You can also avail the hotel's breakfast spread for free or enjoy the Tralala bar's wide selection of Swiss wines from the Vaud and Valais cantons. Do check out the nearby Chillon Castle waterfront by foot or bike rental, which you can arrange at the hotel.
Where to Stay in Jungfraujoch
If you want to visit the popular tourist destinations of Jungfraujoch or Lauterbrunnen, Wengen is a popular pick amongst visitors and is popular with skiers and winter sports enthusiasts.
Wengen is a car-free town, so people either walk or avail the electric vehicle transfers some hotels in the area offer. Most of the lodging options are in boutique hotels or log chalets. Its location makes it ideal for touring the famous Roof of Europe and the waterfall-laden valleys of Lauterbrunnen.
Airbnb: New Apartment in Wengen
This modern and stylish apartment in Wengen is a top spot to base yourself to explore the Jungfrau region. The furnishings in the apartment are simple but comfortable, in black and brown with copper accents. There's a fully functional kitchen that provides you everything you need to prepare meals during your stay.
With three bedrooms, there's more than enough room for a family or group of friends traveling together.
From the private terrace, you can enjoy the gorgeous views of the mountains while having breakfast.
The Hotel Jungfraublick is a pet-friendly option nestled in a quiet, elevated hillside area of the Jungfrau region. Only 5 minutes away from the Männlichen cable car station and 10 minutes from the Wengen train station, the hotel is pretty convenient, especially for newcomers.
You can also arrange a pickup and luggage transport with the hotel for a fee. At the hotel, you can view the Jungfrau mountain and the Lauterbrunnen valley from your room or enjoy delicious meals at the in-house restaurant.
Hotel Silberhorn Wengen is perhaps the epitome of a perfect winter vacation hotel. Located just right next to the Wengen Station, all rooms at this hotel provide amazing views of the surrounding mountains.
Guests can avail the hotel's many facilities and services, including the spa and wellness area, hairdresser, a laundromat, and the onsite bar with a fireplace. There's even a skiing school where you can enroll for a quick lesson. The cable cars that would take you to the Kleine Scheidegg and Männlichen Ski Areas can be reached by foot in a minute.
If you are looking for a hotel that can offer less active activities, do consider the Hotel Victoria Lauberhorn. The hotel, which is set on an 18th-century property in the Bernese Alps, has The Alpine Spa – a top-notch spa facility that comes with a gym, 33-degree salt-water bath, swimming pool, a sauna, a steam bath, and massage showers. It is HEAVENLY.
Otherwise, you have the option to lounge in your room or dine on contemporary wares at the hotel's pasta restaurant with a terrace. Nonetheless, you can engage in activities like curling, skating, tennis, and mini golf at sports facilities that are minutes away from the hotel.
Editor's Note: Check out our Switzerland Travel Guide to see our suggestions on the best things to do
Where to Stay in Lake Geneva
Lake Geneva is a crescent-shaped body of water shared by Switzerland with France. Travelers head to the Swiss city of Geneva, which is just at the southern tip of the lake, for city walks and luxury retail therapy.
Lake Geneva is also close to the French resort Évian-les-Bains and the Swiss Riviera, which covers the northern shore of Lausanne through Montreux. Apart from being very scenic, Geneva is super beautiful and is a place I highly recommend visiting.
Airbnb: 50m2 Centre of Geneva
For a touch of indulgence in Geneva, check out this luxury serviced apartment in the heart of the city. Located just a two-minute walk from Lake Geneva, you'll feel pampered during your stay here.
The apartment is cozy and just nice for a couple on holiday. There's a comfortable living room area, with a table for dining as well as a functional kitchen. Just further in is the bedroom with its ensuite bathroom that comes with a bathtub.
If you're up for exploring, the Old Town is just a 10-15 minute walk away and there are lots of food options in the neighborhood.
Located in the heart of the city of Geneva, Sagitta Swiss Quality Hotel is convenient for travelers looking to explore the historical city center. The Jet d'Eau and the lakefront are just under 10 minutes, while the Natural History Museum, Cornavin Train Station, and the airport are nearby.
The hotel is pretty basic but comfortable enough in consideration of your wallet. Sagitta Swiss Quality Hotel serves a great pot of tea, which you can enjoy over an adequate breakfast spread. The rooms have a kitchenette, so you have the option to prepare your own meals.
Ibis Genève Petit Lancy is your typical business hotel – it has minimalist rooms with streamlined furnishings, a 24-hour bar, bistro-style restaurant, and business services. You can also dine at the hotel's breakfast buffet for a fee.
The best part about this place is its convenience. You can reach the tram stop from the hotel in 3 minutes, but it can be a bit of a drive to the other points of interest like the old town, Geneva Airport, and the United Nations' Palace of Nations complex.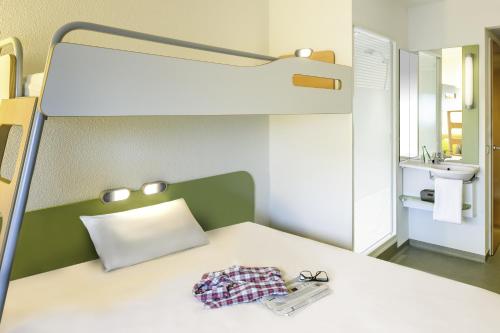 Guests who have checked in at Chez Maman claim this hotel is of the best value for money in the area. The rooms are air-conditioned, soundproofed and come with modern furnishings. You'll also love the in-house restaurant, which has live music from Tuesdays to Saturdays, and offers free drinks during happy hour every Friday and Saturday.
If you have your own rental car, there's free private parking provided to guests. Cornavin Train Station is only 3 kilometers away from the hotel. If you're looking for a lively hotel, this place is one of my top picks.
Heading to Interlaken? Check out our full guide on where to stay in Interlaken!
Where to Stay in Lucerne
Despite the geographical size, Lucerne is a major tourist destination in Switzerland as there's so much to do, see, and experience. Just across Lake Geneva from Aldorf, the city has several preserved medieval buildings and structures worth visiting, including the colorful Altstadt (Old Town) and the 870-meter Museggmauer (Musegg Wall), a 14-century rampart.
Airbnb: Central & Modern Penthouse
This penthouse in Lucerne offers great value for money. Located not too far from the Chapel Bridge and the Old Town, this Airbnb in Lucerne has two bedrooms and lots of space for a comfortable stay.
Decorated in a modern style in white and gray with teal accents, this stylish apartment can sleep up to six persons, making it a good spot for families or groups traveling together. The bedrooms are roomy and cozy, but the real star are the common areas.
You'll love hanging out in the comfortable living room and there's a kitchen and dining table for enjoying your meals. There's also an outdoor terrace with a lounge and seating area – the best spot to take in the stunning views.
A room at The Tourist City & River Hotel can give you picturesque views of Mount Pilatus, the Titlis Mountain Range, and the Reuss river. It is also quite near the famed Musegg Wall, which you should definitely check out. The staff can also help you out plan your tour, get laundry service, and among other special requests.
The breakfast buffet is adequate to satiate your stomach, with free coffee and tea that you can take advantage of. For a hotel set in an old building, The Tourist City & River Hotel actually has a lift to help transport guests to the floor where their rooms are in.
Cascada Swiss Quality Hotel is centrally located by the Lucerne Train Station, Just a few minutes' walk from Lake Lucerne and the old town, Cascada Swiss Quality Hotel is a great option for people wanting to stay near the Lucerne Train Station. You can also put in a request for a room facing the hotel's inner courtyard or on the upper floors that face the Bundesplatz which is amazing.
Guests also love the hotel's Bolero restaurant, which serves Spanish and Mexican staples, and the onsite bar for its selection of cocktails and wines. You'll also receive a free entry ticket to use the fitness center that's in front of the hotel, and bus passes and maps to explore Lucerne.
Want to live like royalty? Check in at the pet-friendly, grand Château Gütsch, which is set in a 19th-century castle. The property overlooks Lake Lucerne, the Rigi Mountain, and the very town of Lucerne, so you'll definitely love the views from this hotel.
The rooms are quite opulent, with some furnished with elegant four-poster or canopy beds, clawfoot tubs, and a private balcony or terrace. If you came with a rental car, there's free private parking at Château Gütsch. Guests can also look forward to the onsite restaurant's Mediterranean and regional menu and the wines and cocktails at the bar. Previous guests recommend getting a transport pass from the hotel to reduce the commuting costs.
Where to Stay in Zermatt
Zermatt is popular with tourists thanks to the mountainous town's location and the après-ski scene. Zermatt is located below the iconic Matterhorn peak and has an elevation of around 1,600 meters.
Travelers head to Zermatt for climbing, hiking, skiing, ice skating, and curling. Bahnhofstrasse, the town's main street, is lined with several shops, hotels, and restaurants.
Airbnb: Penthouse 2 Level Space Matterhorn View
Take in the wonder of the Matterhorn throughout your stay in this Zermatt Airbnb! This two-level penthouse apartment has gorgeous views of the mountain from its terrace.
Designed with both style and comfort in mind, this four-bedroom apartment is absolutely perfect for families or friends traveling together. The living room is cozy with a huge comfy couch, and there's a full kitchen and dining room where you can take your meals.
The terrace faces the south of the Matterhorn, and it's an awesome spot for breakfast, drinks, or just relaxing at any time of the day.
While it is situated a little bit out of town, this bright and airy apartment is a great place to stay for a relaxing mountain getaway.
Youth Hostel Zermatt is a functional hostel that offers magnificent views of the Matterhorn. You can bunk in with other guests in their dormitory-style rooms with private or shared bathrooms. There are also family rooms available for groups and small families, and have facilities retrofitted for disabled guests. The town's city center and ski lifts are 10 minutes away by foot. Guests can also avail the hostel's large lockers.
Hotel Bahnhof is 100 m from Zermatt Train station and comes with clean rooms featuring wooden floors and furniture. Some of the rooms have a private balcony, which you can use to view the hotel's perspective of the town and of the Matterhorn mountain.
Shared kitchen, a laundry room, and a ski storage room are also available at the hotel. If you are looking for a place to eat, the restaurants in the area are five minutes away.
Tradition Julen Hotel has rooms decked in traditional Alpine interiors but comes with modern amenities. The rooms also have private balconies, where you can enjoy the hotel's perspective of the mountain city, including Matterhorn. The hotel has a 3-story large spa center where you can enjoy the fitness room, indoor swimming pool, steam baths, solarium, and sauna, perfect after a long day of walking in the city.
Technogym products are in the fitness room. The restaurant at Romantik Julen Hotel serves international and local dishes. For a nightcap, you can head out to the hotel's bar, which has an open fireplace. It is one of our favorite places to stay in this area.
Hopefully, this article has given you an overview of the different places to stay all over Switzerland. Whatever you do, make the most out of your time there and enjoy everything that this beautiful country has to offer.
---
Excited about your upcoming trip to Switzerland? Here are more articles for inspiration and great tips!
Inspired? Pin it!