It doesn't matter that more and more people are jumping out of a plane every day, skydiving is still a high adrenaline adventure that most would never dream of doing. Interlaken, Switzerland is known for its outdoor and adrenaline filled adventures so when we came across Skydive Switzerland, we knew we had to get in touch. I'm sure skydiving is amazing wherever you do it but doing it over the Swiss Alps has got to be one of the BEST PLACES on Earth. This was what I thought of when I first decided to do it and now after experiencing it first hand, I can safely say my thought process was right.
When you get to Interlaken in Switzerland, you can easily be overwhelmed with the choices of adventure activities. My advice, think about your budget, what you really want to do and then do some research, before setting out to find the best deal. As an adventure junkie, I wasn't going to miss out on skydiving!
Editor's Note: Looking for where to stay in Interlaken or Where to Stay in Switzerland? Check out our article for our recommendations on hotels and hostels.
The Switzerland Skydiving Package
I opted to do the Tandem Airplane Skydive from 13,000 feet above sea level (11,000 feet above land). We contacted Switzerland Skydive because they were highly recommended to us by Balmer's Herberge, the hostel we stayed at. The full package included pick up/ drop off at our hostel, training and the skydiving jump itself.
Related: How to Plan Your Dream Euro Trip
Skydiving in Switzerland Experience
I started the morning feeling nervous as expected. Despite it being my second skydive, I still had those thoughts like, "What happens if the shoot doesn't open?", "What if this… what if that?", creeping into my head. I quickly got over this then the excitement then started to build up.
It was a perfect day for skydiving, bright blue skies with minimal clouds. We hopped in the van and had a quick 20-minute scenic drive to the drop zone. At the drop zone, we were introduced to one of the skydive instructors and he gave us a welcome brief.


The team at Switzerland Skydive didn't mess around. They were professionals and knew what they were doing. The guy giving the brief went through what we would be doing, the gear we would be wearing, the positions we would need to adapt during the day. They also dabbled on what not to do and addressed any questions we had. Soon as the brief was done, we were getting into our jumpsuits and storing all our belongings in the lockers provided.
We were then introduced to the Skydive Instructor who I would be jumping with and told what group we were in. My Skydive Instructor turned out to be the first guy who greeted us at Balmer's. His name was Tim and as cheesy as it sounds, as soon as he shook my hand, I knew I was in safe hands. It was game time! I was in the first group going up and was the first one jumping..lucky me. My partner in crime Anna was joining me on the flight to film/ photograph me but mainly to check out the stunning views of the Swiss Alps from 11,000 feet. Together with 3 other jumpers and their instructors we boarded the plane and began take off.
The flight lasted around 15 minutes and the views you get are out of this world. Snowy mountains, rolling clouds, green fields and a blue sky equals something you will never forget. I got a couple of checks in the flight with Tim to make sure I was secure and feeling good, then it was goggles on, door open and show time.
Read: 8 Epic Places to Go Skydiving and 7 Reasons Why You Should Go Skydiving At Least Once in Your Life
When the door first opened, I felt my heart rate rise, I could see the ground beneath me and couldn't help but think, "Oh Sh*t".
The wind noise got louder and I could feel the cold air rushing in. Tim told me to swing myself around and now my body was leaning half out of the plane. I got into the position I was told earlier, Tim shouted some words but to be honest, I had no idea what was being said and then I felt it…. Time seemed to slow down for a split second as my body started to tumble forward and leave the plane. The next few seconds went by quickly. I flipped and turned as my speed increased to match the speed of gravity.
After those few seconds, I reached max velocity and began free falling. Tim tapped me indicating that I could open my arms and that was it, I was flying. That was when it hit me. The initial fear I had was gone and now all I felt was pure excitement. The air rushed past me. The ground was getting closer and closer. I started shouting out of excitement and making different faces/ hand gestures for the camera in front of me. I took in the views around me and couldn't help but smile, then 3, 2, 1…pull. My body jerked slightly as Tim released the parachute and then when it opened up in the wind, we quickly slowed down.
Read: What Kind of Traveler are You?
Overwhelmed with what just happened over the last 40 seconds or so, I realized I was still hundreds of feet in the air. Now I was gliding and had time to take it all in. Tim gave me a high five you, asked if I was okay as he gently pulled his cords around me. I was still feeling adventurous so I asked Tim if he could pull some fancy spiral turns before we landed. A few minutes ago the plane door was opening at 13,000 feet above sea level and now I could see the ground rushing closer and closer. I was told to get in the landing position, which in this case was legs raised high. Then before I knew I was landing softly on my butt.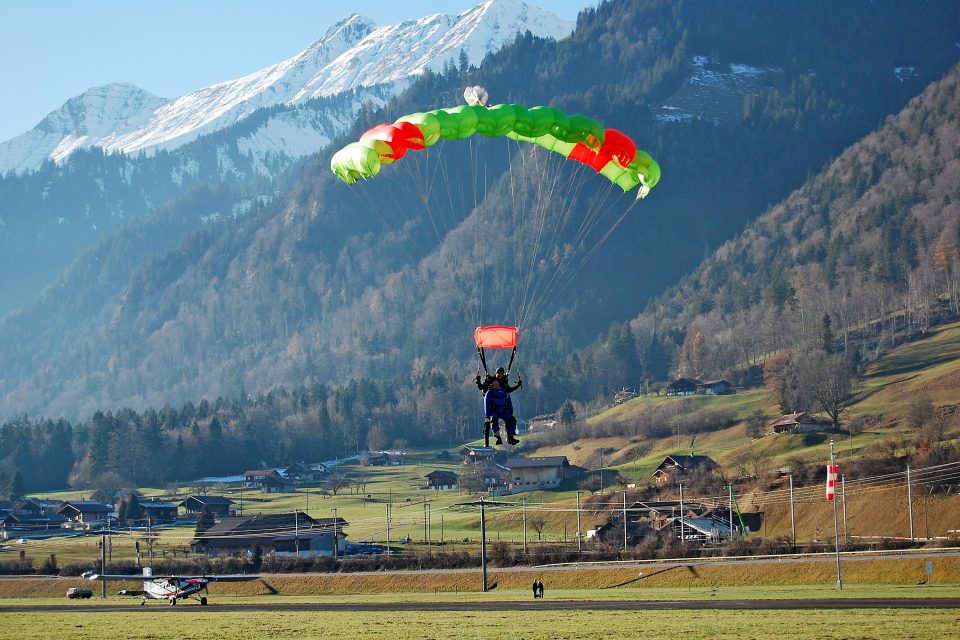 The Program at Skydive Switzerland
Pick up at hostel in Interlaken at midday
20-minute drive to the dive site named Reichenbach
Safety briefing and ground training
Skydive
Return to Interlaken
Duration of the whole trip 2-3.5 hours.
Related: The Top 10 Adventure Playgrounds in Europe
The Cost: How much does this Skydive set you back?
The cost of the Tandem Airplane Skydive from 13,000 feet above sea level (11,000 feet above land) starts from CHF 395.
You get options of adding professional photos, video or both to your package.
For up to date prices head on over to the Skydive Switzerland website.
Overall, It was my second skydive and I loved it just as much, if not more than my first. Nothing can compare to the views you get when falling from the sky. The swiss alps, the free fall, the whole experience will blow you away. There are loads of adventure activities around Interlaken and I will most likely join Skydive Switzerland a few more times during the next few years!
Where to Stay in Interlaken, Switzerland
When it comes to choosing where to stay, there are loads of options from awesome hostels, all the way to luxury hotels and chalets. Our advice? Check out hostels and hotels in Interlaken on Hostel World or Booking.com. We personally stayed at Balmer's Herbage which turned out to be one of the best hostels we stayed at in Europe.
Also feel free to use the Booking.com search engine below:
Please note that despite receiving complimentary services from Skydive Switzerland, all opinions are ours and remain completely unbiased.

---
Traveling around Europe? Check out these other articles to help you plan
Inspired? Pin it!