This article may contain affiliate / compensated links. For full information, please see our
disclaimer
here.
If Switzerland is on your bucket list but you don't know where to start, Interlaken is the perfect destination for any traveler eager to visit the Alps.
Interlaken is full of things to do, whether you're interested in exploring the unique landscape and quaint villages, visiting historic castles, or getting your blood pumping with adventurous activities.
To help you understand all that Interlaken has to offer, here are 21 things to do on your next trip to this Swiss gem! It is my personal favorite spots in Switzerland and is a place that has no shortage of incredible things to do!
Enjoy Panoramic Views from Harder Kulm
One of the attractions that draws the most visitors in Interlaken in Harder Kulm, the "house mountain" of the area. Either take an easy hike up or ride the funicular (cable car) for panoramic views of the city, lakes, and surrounding Swiss Alps.
When you reach the top of Harder Kulm, you can take in all the sights from the viewing deck that has a glass floor (!!!), and then grab a delicious local lunch from the restaurant located right next door.
Get Your Chill On by Lake Thun
Another one of Interlaken's natural splendors is Lake Thun, which features deep blue waters and a strong breeze blowing off the surrounding mountains.
When visiting in the summer, relax on the banks of the lake or take a dip in the clear water. If you're feeling adventurous, this is a prime spot to windsurf and sail as well!
When you've finished up at the lake, hop on a steamboat to visit the town of Thun to check out the castle and stroll around streets that have a rich history.
Explore Lake Brienz via Kayak

Speaking of lakes, Lake Brienz is another gem in Interlaken.
To make the most of your visit, take a kayak tour of the lake to revel in mountain scenery, explore cliffs, and discover hidden beaches. Suitable for even for beginners, this half-day excursion is a unique way to take in the beauty of Lake Brienz.

Either go during the day for sunshine on the water, or opt for an evening tour where you'll get to watch the sunset from the comfort of your kayak as you paddle along.
Ride the Highest Railway in Europe to Jungfraujoch
Take a trip on the highest railway in Europe and end up at a mystical paradise once you reach the top.
When you arrive at the final station, you'll be enveloped in breathtaking views that are positively unworldly. At 3,454 meters above sea level, you'll have the chance to experience a natural high while looking out at the snow covered mountains and distant lands.
Hitch a ride at the Interlaken Ost railway station. Once you reach the top, you'll be able to grab a bite to eat at one of the restaurants and explore attractions like 360° views from the observatory!
Travel Tip: Want to beat the crowds? You can book your round-trip train tickets (including admission to Jungfraujoch) online! Then you simply redeem your voucher at the Interlaken Ost, Grindelwald, Lauterbrunnen, or Wengen train stations, and you're set to go. Get more details here.
View Interlaken from Above in a Hot Air Balloon

Love the idea of viewing Interlaken from above? Consider taking a hot air balloon tour over the majestic Swiss Alps and the cities below. You'll weave between forests, view pristine meadows, soar over lakes, and of course immerse yourself in the mountains and glaciers as you travel by air over this beautiful place.
To make the experience even more special, this half-day excursion begins super early in the day — this means you'll be able to view the sun slowly rise up over the Alps. It's bound to be a breathtaking sight!
If you'd like to wake up to views of Interlaken's splendid landscape, look no further. The ever-luxurious Lindner Grand Hotel offers guests views of either the Alps or the Aare RIver right from their beds.
When you're not soaking in the sights from your bedroom, you can take a dip in the pool, visit the spa, or dine at the world class restaurant.
Only a 5-minute walk from the Ost train station, you'll get to live large in the heart of Interlaken in this castle-like hotel.
Bungee Jump in the Swiss Alps

If a thrilling holiday is what you're after, take the opportunity to bungee jump in the Swiss Alps!
Bungee jumping in Interlaken is a once-in-a-lifetime experience. Imagine the exhilaration of free falling in one of the most beautiful places on earth. After riding 132 meters up a mountain in a gondola, you'll jump towards Lake Stockensee, where you'll be carefully lowered into a waiting boat below when you're finished flying.
How amazing does that sound?
Visit the Fairytale-Like Village of Grindelwald
While the village of Grindelwald has nothing to do with Harry Potter (where my fans at?!), it has a magical atmosphere that will simply sweep you off your feet.
Take a stroll through this charming village to escape the tourists, see how the locals live, and take in outstanding sights. You'll get to see turquoise lakes surrounded by mountains and glaciers, with a small town sitting right at the banks.
This is a must-see if you're looking to escape the hustle and bustle of the city center!
Paraglide through the Swiss Skies

Paragliding is a super popular activity in Interlaken due to the hefty winds, unbelievable landscape, and plethora of certified instructors. Take a tandem paragliding adventure with a professional who will guide you through the air, where you'll enjoy panaromic views of the mountains and lakes.

You'll gently soar through the air while taking in all of your surroundings. Imagining how unique it'd be to see Interlaken from a bird's eye view! A "classic flight" will give you 5 to 10 minutes of airtime, but if you top up a little bit for a "sensational flight", you'll spend 12 to 30 minutes in the sky.

Is there a better way to see a place?
Take a Trip to Trummelbach Falls
Love waterfalls? Well, here's your chance to see multiple falls located inside a mountain!
When visiting Trummelbach Falls, you'll have the opportunity to explore ten waterfalls that are fed by glaciers.
To get there, you'll take a tunnel-funicular that was built in 1913. You can also wander around the stairs and multiple viewpoints to get optimal views of nature at work.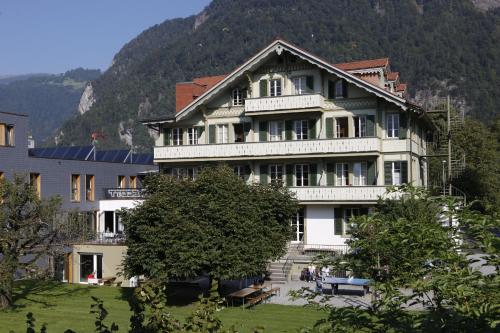 Switzerland is notoriously expensive, but that doesn't mean you can't find banging budget options for accommodation.
Perched at the forefront of a massive mountain, the Chalet Hostel @ Backpacks Villa is a fairly inexpensive option if you're looking for a quality place to stay in Interlaken.
Stroll through the property gardens, relax in the lounge, or set off on one of the many hikes nearby with other backpackers visiting Interlaken.
You'll have a mountainous experience while sleeping in the dorms of a chalet. What better place to meet other budget travelers?
Stroll around the Town Center

Looking for some souvenirs to bring home with you? Hit the town center and walk along the main street to find shops filled with chocolate, Swiss Army Knives, and more.
You're sure to be one of many tourists here, so if you're not keen on pushing through the crowds, try out the streets that lead to the river. You'll find a more local experience here with craft shops, flowers, and lots of color. Not to mention a glorious view of the water!
Traverse through St. Beatus Caves
It must be clear by now that Interlaken is full of natural wonders that are bound to blow your mind. Included in those wonders are the St. Beatus Caves, which are in the heart of a mountain.
Walk more than a kilometer in caves to marvel at the stalactites and stalagmites that have been forming for millions of years!
When you've finished your cave walk, stop by the Cave Museum to learn more about these incredible formations. You'll also get the story behind St. Beat, the monk who discovered these caves on the hunt for a mythological creature in the 6th century.
Who says history can't be fun?
Hike through the Marvelous Swiss Nature
I hope by now you realize that Interlaken, Switzerland is a place full of natural wonder. With so many mountains, greenery, and trails around, there is plenty of hiking to do in this area. Plus, it's an awesome way to see the landscape and reach wild viewpoints!
Climb Niderhorn Mountain or Niesen, Brienzer Rothorn, Mannlichen or Stockhorn. The list of places to hike in and around Interlaken can go on forever.
If you want the mountain experience but aren't one for strenuous physical activity, many mountains offer a cable car ride up to the top! What's not to love?
Jump out of a Helicopter over the Swiss Alps

By now, it's pretty clear that Interlaken is a dream location for adventure lovers. So why not go for the ultimate thrill?For the most adventurous of travelers, use your trip to Interlaken as an opportunity to skydive from a helicopter.
After traveling up, up, up, you'll have the opportunity to jump from a helicopter at up to 14,000 feet in the alps. Enjoy the snowy landscape as you race through the air. But don't worry, you'll be attached to an instructor so you'll be safe and sound for the duration of your dive.
This is definitely one for all of the adrenaline junkies out there who are seeking the ultimate blood-pumping experience in Interlaken.
Want to know what skydiving in Interlaken is really like? Check out Tom's account of his skydiving experience!
Make Your Way across the Sigriswil Suspension Bridge
Stretching between Sigriswil and Aeschlen lies a 340-meter long suspension bridge that offers panoramic views of the magnificent surroundings of Interlaken.
Walk along the bridge to admire the sights of the 182-meter deep Gummischulucht gorge, surrounding mountains, and the ever famous Lake Thun.
If you're feeling extra active, this bridge can be combined with different hikes in the area so you can work those legs while viewing the landscape from an unbeatable vantage point.
Dive into the History of Schlosskirche
It should come as no surprise that there's some beautiful architecture in Interlaken.
One of the best places to see an old-time building is Schlosskirche. This building was erected in 1133 (talk about ancient history) to serve as a monastery, but was later converted to a private castle.
On a visit to Schlosskirche, you'll be able to feast your eyes not only on the astounding construction of the building, but also revel at the stained glass windows and the rich history this site has to offer.
Indulge at the Funky Chocolate Club
It wouldn't be a trip to Switzerland if you didn't gorge yourself on world-famous Swiss chocolate, now would it?
Funky Chocolate Club is the ultimate place to visit if you're interested in eating, drinking, and learning about Swiss chocolate. They offer workshops in their special Chocolate Laboratory where you'll learn all about the chocolate-making process. You'll learn about the different components, tastes and origins of chocolate as well.
Prepare yourself for this one — you're going to get chocolate wasted!
Feel Like Royalty with a Visit to Oberhofen Castle
Castles peak your interest? If so, Oberhofen is one of the most beautiful (and famous) in the region.
Sitting on the banks of Lake Thun, this castle looms over the deep blue waters. In true fairytale style, it's surrounded by spires, bridges, medieval walls and gardens (because what castle is complete without a lavish garden?).
Dating back to the 13th century, visitors are able to wander around the castle grounds and through the different rooms that were once used by nobility. You'll find multiple points from different towers to get an unreal view of the lake, as well as the surrounding village.
Travel through Forests, Waterfalls and Gorges while Canyoning

For anyone looking to experience nature with a thrilling twist, consider canyoning in Interlaken.
On this excursion, you'll visit Saxeten Canyon where you'll be strapped in and let free to jump and slide down through a forest and waterfalls (obviously under the watchful eye of certified guides). For those who really like an adrenaline rush, you can even take an optional 7-meter jump to round out this wild adventure as you travel through the narrow gorges and lush greenery of Swiss nature.
You don't need to have any experience for this canyoning outing, so if you're looking to tick this wild ride off your bucket list, Interlaken is the place to do it!
Check out this Spain travel guide for awesome tips on where to stay and what to do!
Warm up with Winter Activities
Much of what's on this list can be enjoyed year-round, but it wouldn't be a trip to the Alps without a little bit of snow. If you're visiting in wintertime, you'll be faced with a glorious winter wonderland that's just ready to be taken advantage of.
Ski, snowboard, snowshoe, or ice climb. The options are endless in Interlaken! A winter trip is the perfect time to see this place in all of its snowy glory.
There is so much to do in Interlaken, you'll never be bored. The only question is how to fit so much into a single trip! From mountains, to lakes, to castles and caves, you'll really enjoy yourself while traveling through the Swiss paradise that is Interlaken.
Enjoy your travels and eat some chocolate for me!
---
Headed to Switzerland? Check out our articles
Inspired? Pin It!