A stunning archipelago composed of a vast array of about 17,000 islands, Indonesia is a perfect getaway for nature enthusiasts and outdoor lovers. Known for its many volcanoes, lush jungles with elephants, tigers, and Komodo dragons to name a few, this island archipelago offers diverse scenery that everyone can enjoy.
Relax in one of their many stunning beaches or adventure and traverse up mountains and volcanoes — whatever it is, soak up the experience and enjoy everything that this wonderful country has to offer.
Best Places to Stay in Indonesia
The prices of accommodation in Indonesia are very affordable. Apart from Thailand, it is probably one of the countries in Asia where you can get an entire villa (with a pool) for around $50 a night. The value for money here is pretty ridiculous!
In lesser-known areas in Java and Sumatra, expect to pay around $8 to $10 a night for a private room in a local guesthouse, good for two people. Air-conditioned rooms run from anything from $15 to $20 a night for a private room. Places like Bali are naturally a bit more expensive but finding cheap places to stay is totally doable.
Listed below are our personal recommendations on where to stay in Indonesia.
Where to Stay in Bali
Also known as the "island of the gods", Bali is truly one of the most beautiful places on earth.
Endless beaches, rolling waves, deep jungles, and a rich culture that's the beating heart of the island make up Bali. And upon first glance, it's easy to understand why so many people have fallen in love with this place.
When it comes to accommodations in Bali, you can find just about everything. From inexpensive family-run guesthouses to modern villas with their own private pools, Bali caters to crowds of all different budgets and needs.
Here are the best places to stay in Bali.
Lokal Bali Hostel – Kuta
Sitting in the heart of Kuta, Lokal Bali Hostel is a 10-minute walk to the beach and near restaurants, grocery stores, and the airport.
The dorms here are modern and clean, with wooden bunks (not the rickety kind!), fresh sheets, and privacy curtains. All the beds have a designated locker which is also tastefully wooden and large!
Lokal Bali Hostel's property is nothing short of stunning, with a swimming pool surrounded by sunbeds, shaded pavilions, and grassy lawns. Inside there's also a shared lounge area and communal kitchen, but if you don't feel like cooking, grab a meal from the on-site restaurant.
This is a great spot in Kuta for those on a budget.
To see prices and read reviews, check: Booking.com | Agoda
Kashantee Village – Seminyak
Just steps from the beach in Seminyak, you'll find Kashantee Village, a glorious hotel compound located parallel to the famous Petitenget Street. There are plenty of places to grab a meal or get your drink on nearby, but once you see this place, you'll probably never want to leave.
Guests have their choice of rooms or bungalows here, but honestly, you can't go wrong either way. The rooms are clad with wooden floors, walls and furniture and come complete with huge French doors that open out to your own balcony.
The bungalows are equally as impressive, with ultra-high roofs, giant windows, and modern bathrooms.
At Kashantee Village, guests are able to enjoy the large pool (with a swim-up bar!), a massive garden, and a delicious restaurant. You can also rent a bicycle from the property if you want to explore the neighborhood!
To see prices and read reviews, check: Booking.com | Agoda
INAYA Putri Bali – Nusa Dua
Nusa Dua is home to all things luxury in Bali, and the perfect example is the INAYA Putri, a five-star hotel sitting right by the ocean.
The rooms here are simple but inviting, with plush beds, a sitting area, and a balcony overlooking the garden. You can even book a room that has direct access to a deluxe pool!
What's really dreamy here are the villas that come with a private pool, surrounded by lush greenery with your own deck. And did I mention they also have an outdoor bathtub? Yes, this is what heaven on earth looks like!
Even if you book a standard room here, INAYA Putri has plenty of amenities to enjoy like a massive outdoor pool, spacious grounds, a spa, a restaurant, and a tour desk.
To see prices and read reviews, check: Booking.com | Agoda
For more great accommodation in Bali, check out this guide!
Where to Stay in Canggu
A surfers haven, Canggu is a chic, hip little town in the south of Bali. It draws in a unique crowd who's seeking to bask on the shores, eat at the trendy restaurants, and spend sunsets at the beach clubs overlooking the ocean.
Here, there are lots of little boutiques and beachy eateries with a banging nightlife scene centered around the beach. The main vein of Canggu is Batu Bolong, but there are several streets that run perpendicular to this one with the same sorts of small shops and cafes.
While Canggu largely caters to tourists, it's still managed to retain some of its local charm, with lush green rice paddies minutes from the most popular breakfast spots.
You'll find lots of little guesthouses in Canggu where you can get to know the local side of things. Or, on the other hand, rent an entire villa to spread out in for your stay.
Check out these amazing places to stay in Canggu, Bali.
Wina Echo Beach Guest House
The Wina Echo Beach Guest House is my absolute favorite place to stay in Canggu. I originally booked for two nights but adored it so much that I ended up staying for nearly a month! It's located at the top of Batu Bolong, one of Canggu's main drags, but in a quieter part surrounded by lots of cafes.
Wina Echo has amazing private rooms for budget prices, with large beds, private bathrooms, and air conditioning. They're super simple but do the trick if you're looking for your own space. They also have a large quadruple room with four beds, if you're traveling with friends and looking for somewhere cheap to stay.
The best part about Wina Echo is the family who runs it. They're absolutely delightful and will make you feel right at home during your stay. I can't recommend it enough!
To see prices and read reviews, check: Booking.com | Agoda
Tapa Tepi Kali by Pramana
A beautiful mid-range hotel in Canggu, Tapa Tepi Kali is up the road from a quieter section of Echo Beach and is next to lots of restaurants and shops. This hotel is so beautiful, with plants hanging over balconies, tall palm trees, and a swimming pool in the center.
You'll love the rooms here! They're bright, with marble floors, wooden furniture, and double doors leading out to the balcony. The bathrooms are outfitted with modern appliances like glass showers and pristine vanities — and yes, plenty of fluffy towels too!
Breakfast is served every morning at the hotel and the staff can also arrange yoga and cooking classes for guests, at an additional cost.
To see prices and read reviews, check: Booking.com | Agoda
COMO Uma Canggu
If you're looking for a luxury hotel in Canggu, you'd be hard-pressed to find anything as magnificent as COMO Uma. Sitting just on the shores of Echo Beach, the hotel overlooks the ocean and is steps from the bustle of town too.
COMO Uma offers a combination of guest rooms, suites, and residences, all positively glamorous and fit for royalty. Possibly the most amazing place you can stay in all of Bali, the Penthouses come with three bedrooms and an infinity pool in a circular enclosure (an architectural dream) overlooking the ocean. You've got to see it to believe it!
The property has a large outdoor swimming pool for guest enjoyment as well as a banging restaurant (trust me, I've eaten there), wellness center, and world-class service.
For an indulgent experience in Canggu, this is definitely a top pick!
To see prices and read reviews, check: Booking.com | Agoda
Get more Canggu recommendations in the article linked below!
Airbnb Travel Tip: Prefer to book an Airbnb for your stay? Check out our full article on how to get $45 coupon code for your booking or simply click here to get our coupon code to apply on your next booking.
Where to Stay in Ubud
To experience the Balinese jungle, there's no better place to visit than Ubud. While this little dot on the map rose to great fame with "Eat, Pray, Love", its dense forests and rolling rice terraces offer visitors so much more.
Ubud is a haven for yogis, the outdoorsy types, and anyone looking for a little bit of peace and quiet during their trip to Bali. While the main village and central sites are largely touristy, the rest of the area has an authentic charm.
Stays in Ubud largely center around wellness, so you can bet that wherever you stay will have yoga or meditation classes and healthy food at the restaurants. It's a great place to unwind for a little bit and see some of Bali's wondrous beauty – certainly worth adding to your itinerary!
Here are some of the best places to stay in Ubud.
Puri Garden Hotel & Hostel
A charming hostel and a great place to meet other travelers, Puri Garden Hotel & Hostel is nestled in the foothills of Ubud. It's a quick 600 meters from the Monkey Forest and next to a yoga studio, making it a convenient place to stay no matter what you're in Ubud for.
The dorms are clean and air-conditioned, with bunks outfitted with privacy curtains, an outlet, a reading light, and a small shelf. The bathrooms are absolutely huge, allowing for less waiting and more showering.
Puri Garden also has private rooms with their own bathrooms. Some have beautiful views overlooking the garden and others have direct pool access.
When you're not chilling out in your room, sprawl out on a beanbag or a hammock on the grassy lawns, take a dip in the pool, or catch a movie in the cinema. At Puri Garden, there are also free yoga classes every day, an all-day restaurant, Happy Hour drinks, and a 24-hour front desk.
To see prices and read reviews, check: Booking.com | Agoda
Ulun Ubud Resort
Ulun Ubud Resort sits in the lush Balinese jungle, overlooking the Tjampuhan River and surrounded by rice terraces. Located in the Sanggingan Village, it's just a quick ride away from iconic Ubud sights like the Monkey Forest and the Bali Swing.
All of the suites here are beautifully designed with four-poster beds and traditional Balinese decorations. They're spacious while still being homey and comfortable, with patios and balconies. Some rooms even have expansive views of the rice terraces and private pools!
Ulun Ubud Resort has a large pool looking out over the jungle, as well as a restaurant, lounge, and bar. When you want to head into town, the resort has a shuttle or simply rent a bicycle to pedal around yourself.
To see prices and read reviews, check: Booking.com | Agoda
Pramana Watu Kurung Resort
An absolutely stunning traditional Balinese compound in the heart of Ubud, Pramana Watu Kurung Resort is situated just up the river from the famous Bali Swing. It's also a quick scooter ride away from the art museum and center of Ubud town.
This five-star resort offers an unforgettable stay, with sprawling villas complete with four-poster beds, outdoor space, and massive bathtubs. Some villas come with a terrace overlooking the jungle while others have their own private pool.
This is the place to be if you're hoping to enjoy a floating breakfast outside of your room!
If you opt for a villa without a pool, not to worry as the resort has a giant outdoor pool for guest enjoyment. There are also free bikes available for exploring the area, breakfast each morning, and a tour desk that's available to help you book outings and excursions.
If you're looking for a luxurious, peaceful escape, it doesn't get any better than Pramana Watu Kurung Resort!
To see prices and read reviews, check: Booking.com | Agoda
Looking for more recommendations? Read our Ubud hotel guide!
Where to Stay in Nusa Penida
Iconic Nusa Penida — there's nowhere else like it. Seen frequently on Instagram, the T-rex shaped Kelingking Beach is the main draw here, along with other enchanting sites like Crystal Bay, Broken Beach, waterfalls, temples in caves, and #views for days.
It's an easy day trip from Bali, but once arriving on the island, you'll quickly realize that you'll want some more time to explore everything.
There are plenty of places to stay around Nusa Penida, but don't expect anything too luxurious. Most are little guesthouses or dive hostels, with some bungalows and the occasional villa.
Below are some of our picks for the top places to stay in Nusa Penida.
Hostel Bukit Sangcure
An exceptional little hostel at an unbeatable price, Hostel Bukit Sangcure makes an ideal budget stay in Nusa Penida. Located in the northwest of the island, it's near the wondrous Crystal Bay and Kelingking Beach.
Dorms are simple with wooden bunks built into the wall. The best part is that the bunks offer guests a good deal of privacy during their stay. Each bunk has a privacy curtain as well as a reading light, a power outlet, underbed storage space, and a large locker, giving you pretty much everything you need for a comfortable place to rest.
Bathrooms are clean and spacious, with plenty of room for everyone so you won't have to worry about a long queue when you wish to shower.
Hostel Bukit Sangcure has a large lounge area as well as a massive shared kitchen if you're hoping to save money by cooking your own meals. You can rent scooters from the hostel, and past guests rave about the social atmosphere and the unforgettable view from the rooms!
To see prices and read reviews, check: Booking.com | Agoda
Tentacle Bali
Located in the center of the north coast of the island, Tentacle Bali is a great place to stay if you hope to visit both the east and west parts of Nusa Penida.
This charming hotel has guest rooms housed in double-decker bungalows set in a lush, jungle atmosphere. The rooms on the upper units have balconies overlooking the property, while the lower units have quaint terraces with a little seating area.
When booking, you have your choice of a single room or the option to book the entire cottage, which sleeps up to four. Each room is outfitted with simple and practical furniture, as well as a gorgeous outdoor bathroom.
Around Tentacle's property, you'll find plenty of places to relax whether it's poolside in a lounge chair or in the lovely garden. One of the best parts about this stay is the breakfast which past guests simply rave about!
To see prices and read reviews, check: Booking.com | Agoda
Kompyang Cottage
For a unique stay on Nusa Penida, Kompyang Cottage is the perfect place to stay. Conveniently located in the northeast of the island, this resort is just next to plenty of places to eat and drink, and it's a hop and a skip away from the Goa Giri Putri Cave Temple!
This unique hotel offers stays in wooden cottages with super high, curved bamboo roofs and all wooden furniture. Each cottage has huge double doors leading out into the garden and an outdoor bathroom with, of course, a bathtub.
The rooms here are one of a kind and shouldn't be missed on a trip to Nusa Penida!
When you're not curled up in your cozy cottage, take a dip in the property's pool, wander through the gardens or ask the staff for help with renting a scooter to explore the island!
To see prices and read reviews, check: Booking.com | Agoda
Transportation: We recommend downloading the Skyscanner App and using Bookaway or 12Go website to view bus, boat, and train schedules ahead of time. We've used these websites all over Asia and it saves us the hassle of lining up in travel agencies or bus stations.
The Best Villas in Bali
If you're looking for something a bit more private, renting a villa in Bali is SUPER affordable and can be done on a budget.
Check out a few of our top recommendations on the best villas in Bali, sorted according to neighborhood!
Where to Stay in the Gili Islands
The Gili Islands are nothing short of heaven on earth. The area is made up of Gili Trawangan, Gili Air, and Gili Meno, each with pristine white beaches surrounded by endless aquamarine water.
The Gili Islands are a tourist mecca for people already in Bali, offering getaways full of sea turtles, scuba diving, and lots of partying. The palm tree-lined beaches are more alluring than anywhere else on earth, and as soon as you reach the shores, you'll fall in love.
There are lots of hostels throughout the Gili Islands where you can meet other travelers, but plenty of hotels suited to a mid-range budget as well. If you don't mind spending a pretty penny, the luxury accommodation on the Gili Islands is mind-blowing.
The choice is yours!
Captain Coconuts Gili Air
Captain Coconuts sits on the west coast of Gili Air, minutes from the beach where you can enjoy water sports, surfing, snorkeling, and scuba diving. There are also plenty of restaurants and bars in the area surrounding the hotel, perfect for a quick bite after a long beach session.
Captain Coconuts offers dorms, private rooms, and villas, each comfortable and charming for a beach vacation. The dorms are housed in open-air bamboo structures, and instead of bunk beds, you get a single bed suspended from the ceiling. Yep, now's your chance to sleep in a hanging bed!
The private rooms are simple but stunning, as you'll be housed in your own little cottage. They have a beachy vibe to them, with turquoise and blue accents, grey-washed wood, and gauzy curtains around the beds. Talk about chic!
Last but not least, the villas are absolutely worth the splurge. They have an open-air plan, two bedrooms, large sitting areas inside and out, and a giant kitchen for cooking your own meals.
No matter which room you choose, you'll be able to enjoy the outdoor pool on the property, grab a healthy meal from the restaurant, and wander the spacious grounds.
To see prices and read reviews, check: Booking.com | Agoda
Seri Resort Gili Meno
Situated on the northeastern shore of Gili Meno, you'll find Seri Resort, a peaceful oasis right on the beach. It's only a 15-minute boat ride from the property to Gili Trawangan, making it the perfect location if you're hoping to island-hop.
Seri Resort offers suites, bungalows, and villas, each with unique characteristics that make them fantastic places to stay. The suites are large, simple rooms, with a private bathroom and balcony with a sun lounger to enjoy the view from. The bungalows are entire little modern huts, with floor-to-ceiling glass doors that let out into the garden and spacious seating areas to hang out in.
What's really remarkable at Seri Resort are the villas. They're essentially bungalows with their own private pools. These villas are perfect if you're looking for the classic Bali experience without breaking the bank. Order room service and enjoy eating poolside!
Besides the incredible guest quarters, the resort has water sports facilities on the beachfront, a large shared lounge, and a tour desk that will help get you anywhere you wish to go around the Gili Islands!
To see prices and read reviews, check: Booking.com | Agoda
Kuno Villas Gili Trawangan
Kuno Villas on Gili Trawangan is located on the north coast of the island near the beachfront and small restaurants. While there's not too much surrounding the property, you'll find that you won't want to leave when you see how splendid it is!
As the name suggests, Kuno Villas offers guest accommodations in traditional wooden villas, surrounded by tropical gardens and full of everything you could ever wish for on an island getaway. The interiors of the villas are all wooden and tastefully decorated. They're modern in style, with massive bathrooms and living spaces with direct access to the property's pool.
For a true splurge, book one of the villas with your own private pool! The best part about these villas? You get breakfast delivered to your doorstep every morning.
Besides the outdoor pool and five-star treatment, Kuno Villas also has daily yoga and a team of attentive staff eager to help you book cycling, diving, or horse riding excursions. This resort is also the perfect spot to enjoy the stunning sunsets here. Yes, this truly is heaven on earth!
To see prices and read reviews, check: Booking.com | Agoda
For more Gili Islands recommendations, click the link below!
Where to Stay in Labuan Bajo, Flores
As the perfect gateway to Komodo National Park, it's likely you'll pass through Labuan Bajo on the island of Flores on your way to see the infamous Komodo dragons.
This lively little town makes a great home base for exploring Komodo and enjoying all of the wild natural scenery spread throughout the islands.
Labuan Bajo has a whole host of accommodation, perfect for a range of budgets and preferences. It's a great place to spend a few days diving off the coast, trekking through the forest or admiring the islands from epic viewpoints!
Check out these amazing hostels and hotels in Labuan Bajo!
Seaesta Komodo Hostel & Hotel
Here's the perfect place to stay in Labuan Bajo on a budget or if you're making your way to Komodo! Seaesta Komodo Hostel & Hotel is a quick 10-minute walk from Wae Rana Beach and nearby restaurants, supermarkets and dive centers.
At Seaesta, you have your choice between a private room and a bed in a dorm, all for pretty reasonable prices. Dorms are modern, and the bunks have a unique design, with a large space behind the bed for storing personal items – aka what we've been dreaming of every time we've stayed in a hostel! Each bunk also has a privacy curtain, light, a power outlet, and a locker.
The private rooms are simple but comfortable, with pops of blue and a beach vibe to them. Plus, they each come with a private bathroom.
The entire hostel is beautifully designed, with an open-air plan and lots of space to lounge around. There's a pool that overlooks the ocean and a restaurant serving up unmatched cuisine. When the sun goes down, the hostel comes to life, so be sure to hit the bar to catch up with other travelers!
To see prices and read reviews, check: Booking.com | Agoda
Puri Sari Beach Hotel
Puri Sari Beach Hotel sits right on the water, tucked away behind a long stretch of beach. It's steps away from tons of restaurants and bars while still remaining a peaceful environment set in a forest-like atmosphere.
The rooms here are simple but lovely, decorated with traditional Balinese design. They're quite spacious, with tiled floors and beds draped with mosquito nets. All the rooms have an exceptionally high ceiling, a sitting area, and a private bathroom as well.
Some rooms have their own balconies that look out into the garden.
There's plenty to do around Puri Sari Beach Hotel like grabbing a drink and sitting by the pool or having a delicious meal at the restaurant. If you were hoping to have some adventures while in Labuan Bajo, stop by the on-site tour desk so they can organize something for you!
To see prices and read reviews, check: Booking.com | Agoda
Plataran Komodo Beach Resort
A stone's throw away from Waecicu Beach, Plataran Komodo Beach Resort is the place to be if you're hoping to be just next to the ocean at an outstanding property.
Plataran Komodo Beach Resort offers stays in luxurious, traditional Balinese villas with truly everything you could need for an unforgettable time. The high-ceiling villas feature a wooden design, with huge beds draped with curtains, comfortable sitting areas, and massive, modern bathrooms (some inside, some outside).
If you're traveling with friends, opt for a two-bedroom villa. Honeymooners, you may want to spring for a beachfront villa with a private pool. No matter what you choose, you're in for a luxurious stay!
Besides the plethora of villas, Plataran Komodo Beach Resort also has a spacious outdoor pool for guest use, a lovely garden, and a world-class restaurant and bar. The staff is also happy to organize excursions like canoeing or snorkeling for guests so be sure to inquire during your stay!
To see prices and read reviews, check: Booking.com | Agoda
Check out more awesome Labuan Bajo hotels in our accommodation guide!
Where to Stay in Bukit Lawang
Nestled in the amazing Gunung Leuser Nationa Park, little Bukit Lawang is the place to stay for jungle trekking, nature exploration, and orangutan spotting!!! Tourists make their way to this tiny town ahead of expeditions through the wild that last for two or three days.
While there's not much in Bukit Lawang, it's extremely scenic and peaceful, making for a lovely getaway before heading out into the wild.
Accommodation here is simple so don't expect anything fancy but it's enough for a nice stay. And just about everywhere you stay will be able to help you book a trekking tour – win!
Check out these great places to stay in Bukit Lawang.
Sumatra Cheeky Monkeys
An ultra-peaceful guesthouse in Bukit Lawang, Sumatra Cheeky Monkeys is about a 15-minute walk to the main village. Surrounded by lush, green jungle, this is the perfect spot for a nature-filled getaway that's light on your wallet.
For less than $10 per night, you get your own room with a bed, mosquito net, plenty of windows, a private bathroom, and a little terrace. While the rooms are super simple, they're perfect for any budget traveler looking for basic accommodation in Bukit Lawang.
Sumatra Cheeky Monkeys has a ginormous garden, perfect for strolling around for fresh air, and some of the most friendly staff in the world. Past guests have raved about the tours booked through the guesthouse, especially the jungle trek!
For an easy holiday in Bukit Lawang with everything you need on a budget, this is the place to be.
To see prices and read reviews, check: Booking.com | Agoda
Green Travelodge Bukit Lawang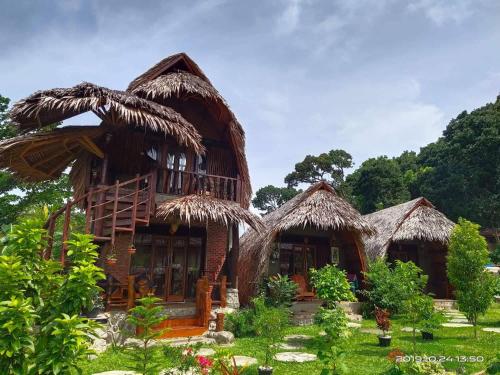 If you're hoping to stay in the heart of the forest in jungle-like accommodation, look no further than Green Travelodge in Bukit Lawang. This charming property specializes in sustainable tourism and organizes responsible jungle treks to see orangutans!
It's right next to the river that runs through town, perfect for a quick swim or to enjoy nature from.
Guests have the choice of a basic room or entire suite at the Green Travelodge. The standard rooms essentially just have a bed and a private bathroom – all you need if you'll be spending most of the time exploring. But if you're looking for a step up, book a suite that comes with a larger bathroom, seating area, and breathtaking view.
On site, you'll find a lovely garden and a restaurant serving up delicious local and international fare.
To see prices and read reviews, check: Booking.com | Agoda
Jungle Inn
Sitting along a river in Bukit Lawang, Jungle Inn offers outstanding accommodation for anyone hoping for a mix of water and jungle during their stay. The hotel has its own little riverfront where you can relax. It's also next to different tour companies, eager to help travelers organize excursions around the area!
Rooms range from budget to deluxe, with amenities to match. The budget rooms are wildly inexpensive, with tiled floors, a bed draped with a mosquito net, and a large bathroom. The more upscale rooms are a bit higher in terms of price but are outfitted with large outdoor balconies with a hammock and larger bathrooms, too.
At Jungle Inn, there's a scrumptious restaurant for all of your eating needs, and you can also rent a bike or car right from the property!
To see prices and read reviews, check: Booking.com | Agoda
Want more top picks in Bukit Lawang? Check out this article!
Travel Must: At the risk of sounding like your parents, make sure you get travel insurance before hitting the road. Trust us, it's one of those things you don't want to leave home without. We recommend either World Nomads or Safety Wing, depending on the type of traveler you are.
---
Need help planning your Indonesia trip? Check out these articles
Inspired? Pin It!