Made up of 7,107 islands, the Philippines is home to some of the most beautiful beaches in Southeast Asia. It's definitely still a hidden gem as it's often overlooked by most travelers due to the fact that it isn't connected to the rest of the region by land. And the best places to stay in the Philippines are scattered throughout the country, tucked away on different islands, close to the beach, mountains, and city centers.
Backpacking culture in the Philippines is slowly booming as seen in the influx of new and hip hostels opening all over the islands. For those with a bigger budget, there are also many luxury hotels, resorts, and villas to choose from for the ultimate island getaway.
From mountains to rice terraces, caves, underground rivers, a whole lot of beaches and wildlife, the Philippines is definitely a country worth discovering.
Keep reading to discover our personal recommendations of the best places to stay in the Philippines!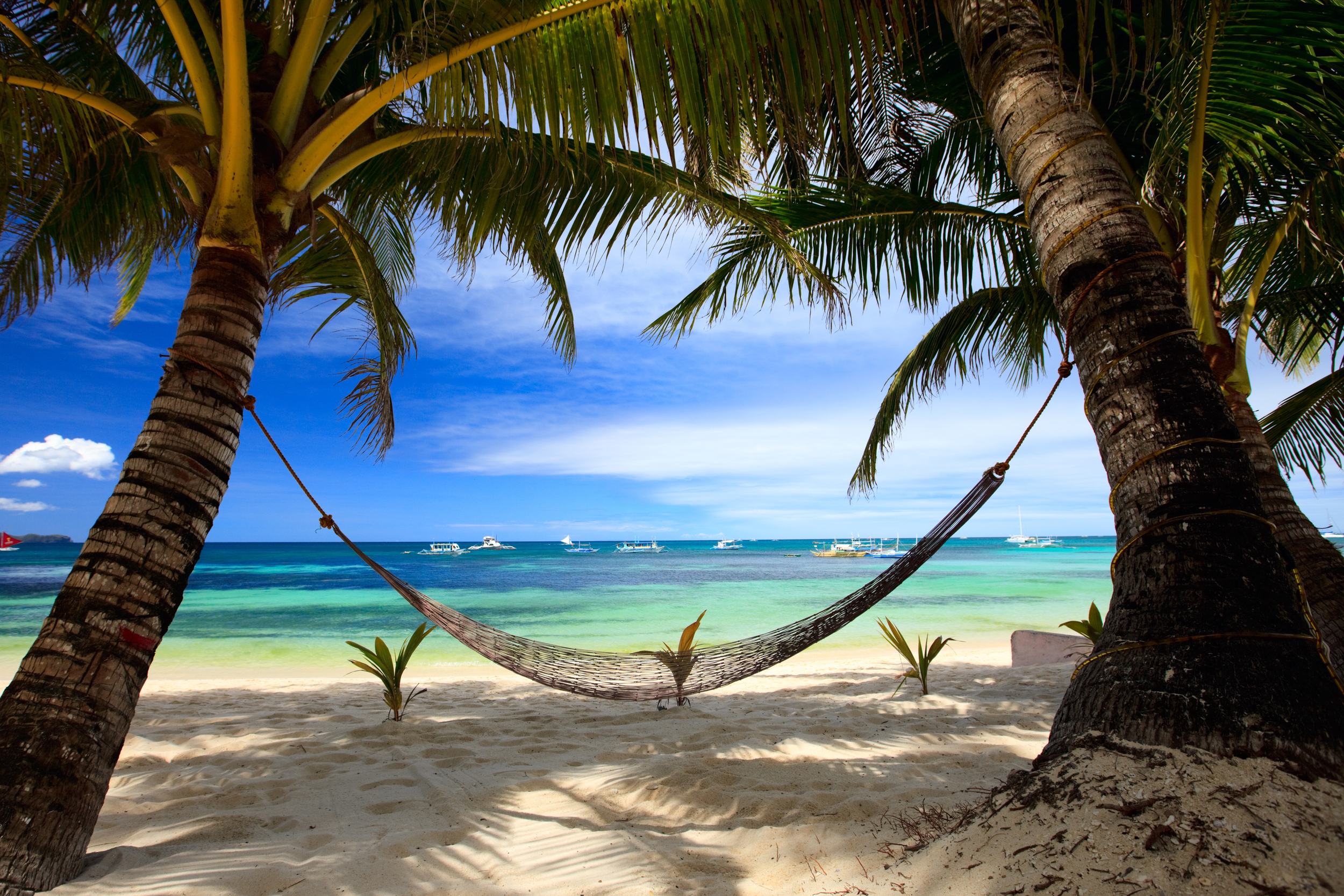 Best Places to Stay in the Philippines: What You Should Know
As the Philippines isn't as popular amongst backpackers, there are limited hostels with dorm beds to stay in. While the larger tourist hotspots are slowly joining the hostel trend, guesthouses and small private rooms are still more popular.
The main tourist hotspots typically have loads of choice ranging from budget-friendly $15 a night basic rooms all the way to fancy hotels.
In more secluded places, you can get a bungalow right by the beach for two for around $20-25 a night. Relax in bed with the waves lulling you to sleep as the ocean breeze blows. Sounds perfect? It does to us!
Remember, the busier and more touristy a place is, the more expensive the accommodations can get. Don't be afraid to haggle and ask for discounts, especially if you're staying for a longer period of time.
Listed below are our personal recommendations for the best places to stay in the Philippines for every type of travel budget. From cheap and fun hostels to luxurious hotels, check out our top picks!
Transportation: We recommend downloading the Skyscanner App and using Bookaway or 12Go website to view bus, boat, and train schedules ahead of time. We've used these websites all over Asia and it saves us the hassle of lining up in travel agencies or bus stations.
Where to Stay in Manila, Philippines
As the capital of the Philippines and the gateway to the other 7,107 islands in the country, it's nearly inevitable you'll end up in Manila at some point or another.
Soaring towers, huge commercial districts, endless neighborhoods, and Filipino culture coursing through the streets, Manila is an impressive Southeast Asian city with loads to offer.
While I wouldn't recommend staying here long-term, a day or two in Manila is enough time to check out the city before you move on to your next leg of paradise.
For those quick stopovers, here are our recommendations for the best places to stay in Manila!
Z Hostel
Located in Makati City in Manila, Z Hostel offers minimalist budget accommodation for a killer price.
At Z Hostel, you have your choice between shared dorms and private rooms, all with stylish decor and a homey environment. The dorms only accommodate between four to eight people, so you won't have to worry about being crammed into a room with loads of others (because let's be real, no one wants to sleep in a dorm with 20 different people!).
In the shared rooms, guests are each provided with sheets and a towel, as well as a locker with ample storage space. Each of the dorm beds has a reading light, power outlet, and little shelf so you can charge your electronics overnight.
The private rooms have their own private bathroom and plenty of space when it comes to spreading out.
Besides guest rooms, Z Hostel has a common lounge area where you can get to know other travelers as well as an on-site cafe for a quick meal. The staff here are super friendly and happy to help book tours, store your luggage, and even assist with car rentals!
Check out our full review of Z Hostel here.
To see prices and read reviews, check: Booking.com | Agoda
The Picasso Boutique Residences
Simply put, the Picasso Boutique Residences is in an absolutely excellent location. Just a two-minute walk from the Salcedo Saturday Market, everything in Makati is easily accessible from this hotel, including plenty of restaurants, bars, and sightseeing attractions!
The Spanish-themed rooms here are modern and stylish, with pops of color and plenty of space to lounge about. Some rooms even come with added perks like a balcony or simple kitchenette for cheffing up meals.
You'll never be bored with a stay at the Picasso Boutique Residences as located in the hotel are an art gallery, a two-storey fitness center, and a 24-hour lounge. There's also a salon offering beauty treatments, a deli for a casual bite and a full restaurant for a meal.
When you feel like getting out and about, the hotel offers free shuttles to the Ayala Mall and the Makati Central Business District if you don't feel like making the 15-minute walk on your own.
To see prices and read reviews, check: Booking.com | Agoda
Edsa Shangri-La
The Shangri-La is well known throughout the world for its lavish properties and five-star treatment; the Edsa Shangri-La in Manila is no exception.
Tucked away in the Mandaluyong City's financial and commercial district, if you can ever pull yourself away from this stunning hotel, you'll be in close proximity to shopping, dining, and small streets for getting lost in.
With floor-to-ceiling windows, plush beds, and fully-stocked bathrooms, the guest rooms at Edsa Shangri-La are nothing short of marvelous. The premier rooms offer sprawling views of the city and the suites have a massive living space and a substantial work desk.
When you're not snuggled up in the ultra-soft beds or lounging in your bathrobe, get your tan on at the outdoor pool, sweat it out at the fitness center, get a treatment at the spa, or eat at one of the six (yes, SIX) restaurants. There are also twin tennis courts and a jogging path – whaaaat!
If you're after the celebrity treatment while in Manila, it doesn't get much better than the Edsa Shangri-La!
To see prices and read reviews, check: Booking.com | Agoda
Looking for more options in Manila? Read our full accommodation guide!
Where to Stay in Palawan, Philippines
As far as natural beauty goes, Palawan looks like it's straight out of the movies. Crystal clear turquoise waters, white-sand beaches, towering rock formations jutting up out of the water, and the starriest skies you've ever seen once the sun goes down… It truly doesn't get much better than this magical island.
Palawan is one of the best places to visit in the Philippines, without a doubt. The most popular areas on the island are El Nido, Puerto Princesa, and Coron, but no matter where you end up, you'll be blown away by the immense beauty of the place!
Here are our top picks for places to stay while visiting this paradise on earth.
Spin Designer Hostel
For a cozy stay near the beach in El Nido, Spin Designer Hostel is the place to be. While the property is surrounded by forest, Caalan Beach is a mere 650 meters from the property and the town center is a quick stroll away.
Spin Designer Hostel draws people in from far and wide with their small dorms and private rooms. While the dorms are actually quite spacious, they only accommodate four guests at a time, so you'll be comfortable rather than cramped during your stay.
Each guest gets clean linens and a towel during their stay, with toiletries provided as needed. Some of the rooms have air conditioning, while others have a fan, so choose your bed wisely!
Spin Designer Hostel is a really fun place to stay and a great place to meet other travelers as well. There are always organized events going on like movie nights, beer pong, and barbecues. And even when there isn't something on, catch up with others in the game room, terrace, or in the shared kitchen.
Spin Designer Hostel has everything you need for a totally comfortable stay in Palawan!
To see prices and read reviews, check: Booking.com | Agoda
Canvas Boutique Hotel
Tucked away in Puerto Princessa, you'll find the Canvas Boutique Hotel in a perfect location for exploring a new city. It's a one-minute walk from the Pasalubong Center and close to the Palawan Museum, as well as a stone's throw from the airport, making bouncing between the islands a breeze. Plus, there's even a free airport shuttle, which will get you to your flight on time!
Rooms here have a pop of color on the headboards, as well as in the colorful murals above the beds, creating a fun ambience throughout the hotel. Each room is spacious, air-conditioned and fully equipped with everything you need for a comfortable stay like clean sheets, a private bathroom, and plenty of fluffy towels.
The hotel has an outdoor pool for guest enjoyment, as well as a restaurant serving up local and international cuisine. The staff at Canvas Boutique Hotel are particularly helpful, assisting guests with organizing tours around Palawan and accommodating special requests.
To see prices and read reviews, check: Booking.com | Agoda
Two Seasons Coron Bayside Hotel
Overlooking the Coron Bay, Two Seasons Hotel offers luxurious stays in Palawan. It's a quick walk to the Coron Seaport and a short ride away from the Coron Public Market and famous hot springs, as well. While it sits on the edge of town, you'll relish in celebrity treatment with a stay at Two Seasons Coron Bayside Hotel!
The rooms here are quite large, with wooden detailing, tiled bathrooms, and a balcony. That's right, each room at this hotel has its own private outdoor space where you can look over the ocean or town.
Spring for a room with deck access and hop in the pool as soon as you wake up in the morning! But the most magical room to book here? The Panorama Suite with each wall lined with windows boasting magical views of the ocean and islands beyond. Can you say dreamy, or what?
Two Seasons has an outdoor infinity pool with a spacious deck area overlooking the ocean, which is simply breathtaking. If that's not enough, there's also an in-house restaurant, 24-hour front desk, and a gift shop.
To see prices and read reviews, check: Booking.com | Agoda
For more hostels and hotels in Palawan, read our guide!
Where to Stay in Cebu, Philippines
One of the main islands in the Philippines, Cebu welcomes a large number of visitors from all over the world due to how much there is to do. Whether you're interested in diving, hiking, or just laying on the beach, there's something for everyone in Cebu.
Cebu City is a fantastic mix of new and old, with 16th century Spanish buildings combined with a fiery Filipino flair. Once you get out of the city, you're met with splendid sights of mountains, canyons, and the wide-open ocean.
Cebu can't be missed on a trip to the Philippines. Check out our top picks for places to stay!
Mad Monkey Hostel Cebu City
Mad Monkey Hostels are known throughout Asia as party central and a great place to meet fellow travelers. Mad Monkey Cebu is no exception; it provides fun stays for anyone looking to get a little down and dirty on their trip to the Philippines.
There's a fair mix of dorms and private rooms here, giving guests the option of privacy for an exceptionally low price.
Dorms have modern bunk beds with clean sheets and a large window, while the private rooms range from slightly cramped to large and spacious.
Mad Monkey has a swimming pool and lounge area for guest enjoyment as well as a billiard table, bar, and tons of beanbags set up outside to enjoy views of the city. People who stay here love the social atmosphere of the hostel and fellow travelers they've met!
To see prices and read reviews, check: Booking.com | Agoda
Tepanee Beach Resort
For a tropical beach getaway, it doesn't get much better than Tepanee Beach Resort in Malapascua Island. Sitting right on the water with a small private beachfront, this place is nothing short of magic, surrounded by turquoise ocean and lush greenery.
Choose from a room or splurge on an entire cottage where you'll have the ultimate private vacation. Both the rooms and cottages are fully outfitted with bamboo furniture, floral decorations, and brightly colored walls for a pop of fun.
Bathrooms are simple but fully functional, with very clean facilities and warm showers. I mean, what more can you ask for?
To enjoy some outdoor time, step out onto the private balcony that accompanies both rooms and cottages, or lounge around on one of the beach beds set up on the sand. The resort also has a spa with a spa bath for more R&B. But if you prefer some action, there are plenty of tours offered whether you want to go snorkeling, diving, or island hopping.
When you get hungry, have a fantastic meal whipped up by the in-house Italian chef and grab a drink while you watch the sunset!
To see prices and read reviews, check: Booking.com | Agoda
Mövenpick Hotel Mactan Island
A five-star hotel sitting on Mactan Island, Mövenpick Hotel offers stunning stays right along the beach. While it's set a bit further away from Cebu City, this is a great place to stay to get away from the hustle and bustle and to just kick back and relax.
Guest rooms are nothing short of elegant at Mövenpick, with beach-colored accents (think sand and ocean colors on the drapes and furnishings) and large, fluffy beds. Each room has its own balcony overlooking the hotel courtyard or ocean, along with a shower and a bathtub – how's that for luxury?
For the ultimate splurge, go for the Executive Oceanfront suite where you can wake up to views of the turquoise water as soon as you open your eyes!
Mövenpick Hotel doesn't skimp on the amenities, as their property is full of fun for everyone. There's a huge outdoor swimming pool with lounge chairs and hammocks over the water, a poolside bar, a private beachfront, spa, and a variety of restaurants to choose from.
The hotel is also home to the Ibiza Beach Club where you can grab a bite to eat throughout the day or dance your butt off once the sun goes down.
If that doesn't sound like the perfect vacation, I don't know what does!
To see prices and read reviews, check: Booking.com | Agoda
Our Cebu accommodation guide has more awesome hostels and hotels for you!
Where to Stay in Boracay, Philippines
A pristine tourist mecca, Boracay has risen to great fame among travelers in recent years and it's no wonder why. Soft white-sand beaches lined by palm trees and the expansive ocean. Mountains in the background. Beach huts, sunsets, and quiet coves… Boracay has it all!
To make the most of your time on this island, picking the perfect place to stay should be a top priority. As such, we've put together a list of our recommendations for where to stay in Boracay!
Frendz Hostel Boracay
Sitting steps away from White Beach in Boracay you'll find Frendz Hostel, an unmatched budget accommodation option on the island.
Charming, social, and clean are some of the main things Frendz Hostel has going for them, with a mix of dorms and private rooms for travelers who don't want to break the bank. All of the rooms are air-conditioned, and the private ones come with private bathrooms.
One of the best parts about this hostel is that most of the dorms have twin beds rather than bunks, so you don't have to worry about hauling yourself up and down a ladder every time you need to use the bathroom.
The atmosphere at Frendz Hostel is what really makes this place so special. Past guests have boasted that this hostel was the best part about their travels through the Philippines, and with events every night, it's easy to see why. From BBQs to karaoke to pasta nights, Frendz Hostel goes above and beyond to provide social experiences for their guests.
Who knows, you could find your next best friend at this hostel!
To see prices and read reviews, check: Booking.com | Agoda
Ferra Hotel and Garden Suites
Ferra Hotel and Garden Suites is located right in the middle of Boracay, a five-minute walk from White Beach. It's close to a walk street full of shops, restaurants, bars, and the water. What more could you ask for?
This mid-range hotel gives us major luxury vibes with its modern decorations and five-star amenities. The guest rooms are stylish, outfitted with big, plush beds, spacious bathrooms, and pops of teal and gold everywhere.
If you're looking for the next level of comfort, book a suite! It not only has a ton of extra space but also an attached bathroom with a bathtub in a garden! Talk about dreamy.
Our favorite part about this hotel is the rooftop pool, which makes for the ultimate sunset spot with super modern lounge chairs and a bar for refreshments. Ferra Hotel and Garden Suites also has an on-site restaurant serving up a buffet breakfast every morning and exceptional staff dedicated to making your stay a pleasant one.
To see prices and read reviews, check: Booking.com | Agoda
The Lind Boracay
For the ultimate beachfront retreat in Boracay, make a beeline for The Lind, a five-star hotel right on White Beach.
The Lind offers guest rooms with views #for #days, studios and suites, all with plush furnishings to make your stay the most comfortable one ever. The basic rooms are anything but basic, with balconies overlooking the garden or the pool, huge fluffy bathrobes, and plenty of space to lounge about.
But the real luxury lies in the studios and suites which are essentially mini-apartments that overlook the garden or the sea. They have large balconies to enjoy breakfast on, and some even come with a private pool and a daybed – how amazing is that!
You'll also love the rest of the amenities the hotel offers like an outdoor pool the size of a small town (okay a bit of an exaggeration, but it's huge), a spa, fitness center, and a complimentary shuttle bus between the hotel and the airport.
To see prices and read reviews, check: Booking.com | Agoda
For more recommendations, read our guide to the best places to stay in Boracay!
Where to Stay in Bohol, Philippines
Providing a much-needed break from the cities and beaches, Bohol offers visitors something else entirely… the jungle!
Bohol is a green paradise, with endless forest areas waiting to be explored. Here's where you should be if you're looking for a little adventure. Go waterfall hunting, zip-lining, explore caves or take a river cruise –the choice is yours!
Bohol is the perfect place for a getaway, Philippines style. Here are our recommendations for the best places to stay for a scenic and peaceful island escape!
Water to Forest Ecolodge
Water to Forest Ecolodge is a fun and rustic accommodation option in the southwest of Bohol along the Loboc River. It's scenic, it's quiet, and it's just on the edge of the forest, making for a nature-filled escape on your trip to the Philippines.
The Ecolodge is a blend of dorms and private rooms, all housed in bamboo treehouses with thatched roofs. They come fully equipped with fans to keep you cool and a view of the river and surrounding forest — you'll practically feel like you're in Tarzan!
The dorms are really charming with low beds on the floor sectioned off with curtains, keeping it breezy and private, practically a dream in terms of hostels. The double rooms are also really special, as you'll get the entire treehouse all to yourself.
On site, there's a restaurant with amazing food and fresh breakfast every morning, a bar, garden and a terrace where you can enjoy some outside time. If you feel like getting out and about, you can paddleboard on the river or rent a scooter to explore the surrounding area!
This is without a doubt one of the best places to stay in the Philippines.
To see prices and read reviews, check: Booking.com | Agoda
Island World Panglao
A cozy yet elegant resort, Island World Panglao has everything you need for an outstanding stay at a mid-range price. While it's set back a bit from town, Island World is 700 meters from Alona Beach – and if you don't feel like walking, they have a shuttle!
Choose between a room, apartment or bungalow for your stay. Each is outfitted with air conditioning, a balcony, and an outstanding view. The rooms are modern and minimalist, with wooden floors and detailing and simple bathrooms.
If you go for an apartment, you'll get some more space, with a kitchenette for cooking up meals, a dining area, and a large outdoor space. The bungalows are the real showstoppers, with a massive patio and a spa tub in the outdoor bathroom! #islandgoals
All of the rooms at Island World center around a long, crystal blue pool, surrounded by grass, palm trees, and plenty of sun loungers. The hotel offers massages throughout the day and has a continental breakfast served every morning. If you need anything beyond that, the staff is happy to assist with whatever it is.
To see prices and read reviews, check: Booking.com | Agoda
South Palms Resort Panglao
If you're looking for a luxury stay to cozy up while in Bohol, it doesn't get much better than South Palms Resort. Sitting a stone's throw away from Bolod Beach, the location is perfect for a sun-filled holiday in Bohol.
All the guest rooms have floor-to-ceiling windows and sliding doors, with direct access to the garden, pool or the beach, so you'll get the sea breeze first thing in the morning. Each room is also air-conditioned with a private bathroom, flat-screen TV and bright pops of color.
For the ultimate splurge, spring for one of the villas that sit right on the beach, with a massive seating area and a bathroom of dreams with a spa tub and a shower!
The amenities at South Palms Resort are as grand as the rooms, with a spa, gym, and spacious outdoor pool. There's not one but two pool bars, as well as a restaurant serving fresh local and international seafood dishes when you need a bite to eat.
You will certainly feel right at home at South Palms Resort!
To see prices and read reviews, check: Booking.com | Agoda
Looking for more Bohol recommendations? Read our "Where to Stay" article!
Where to Stay in Siargao, Philippines

Beach bums and water babies unite — Siargao is the place for you! This island is where you want to be to catch some serious waves in the Philippines as it's the surfing capital of the country. It's also an ideal place for snorkeling, diving, and island hopping – dreamy!
In and around Siargao, you'll find pristine coral reefs, alluring lagoons, expansive forest reserves, and plenty to keep you occupied for the duration of your holiday.
Siargao is also a great place to meet other travelers, so if you're making your way through the Philippines solo, your next best friend could be waiting for you on this island!
Check out our top picks for places to stay below.
Hiraya Surf Hostel
You'll find awesome budget accommodation at Hiraya Surf Hostel in Siargao, located in the southeast of the island, just next to General Luna Beach. It's also just minutes away from the Cloud 9 Surfing Area, if you're hoping to catch some waves during your trip!
The hostel offers dorm beds starting at $10 a night, which is outstanding considering how charming the place is. The dorms are co-ed but very spacious, with wooden bunks with storage space underneath.
Past guests rave that this is one of the best places to stay in Siargao due to the friendly staff and ultra social atmosphere. There are always people hanging out in the common lounge or around the pool, sharing meals together or playing a game of beer pong.
If you want to get out and about, the staff at Hiraya Surf Hostel can help you with renting a motorbike, organizing tours, and even booking a surf lesson! You'll quickly find that at this hostel, you'll never be bored.
To see prices and read reviews, check: Booking.com | Agoda
Casa Bianca Siargao
A homey guesthouse with a modern vibe, Casa Bianca is a stylish place to stay in Siargao. It's a seven-minute walk from General Luna Beach and a 12-minute walk from the Cloud 9 Surfing Area. Although it's set a little bit outside of town, you can rent scooters from the guesthouse to get anywhere you need to go!
The suites here are nothing short of lovely, with plush beds, tile floors, and a spacious balcony overlooking the garden. No matter which suite you choose, you'll be met with plenty of room (both indoor and outside) and sincere touches that make the guesthouse feel like home (hammocks anyone?).
The staff is super friendly and accommodating. The 24-hour front desk can help with your enquiries anytime, and there's also a bar on-site for enjoying a drink in the garden.
This is the perfect choice if you're looking for a nice tropical getaway in Siargao.
To see prices and read reviews, check: Booking.com | Agoda
Isla Cabana Resort
Located in a bustling area of Siargao on the beachfront of General Luna, Isla Cabana is a luxury resort surrounded by bars, restaurants, and plenty of shops.
The resort sits right on the beach and offers rooms and villas for those looking for some celebrity treatment while in the Philippines. The standard rooms are spacious with a large desk and seating area, but you'll simply melt once you see the villas.
Isla Cabana Resort has the most out-of-this-world villas with thatched roofs and wooden floors, humongous tile bathrooms, and deep bathtubs perfect for a long soak. They have outdoor shows, balconies… and best of all, a private pool looking out over the beach. What could be better?
If you can ever manage to pull yourself away from your room, Isla Cabana Resort has a private beach area, infinity pool just on the beach, a spa, restaurant, and a whole host of activities to choose from like snorkeling, cycling, fishing and more!
To see prices and read reviews, check: Booking.com | Agoda
Check out our accommodation guide for more of our top Siargao picks!
Travel Must: At the risk of sounding like your parents, make sure you get travel insurance before hitting the road. Trust us, it's one of those things you don't want to leave home without. We recommend either World Nomads or Safety Wing, depending on the type of traveler you are.
---
Need more tips for the Philippines? Check out our top articles!
Inspired? Pin it!