This article may contain affiliate / compensated links. For full information, please see our
disclaimer
here.
Interested in scuba diving in the Philippines? In this article, I will walk you through some of the best dive destinations in the country including what you can see in each one.
Home to over 7000 islands (7,107 to be exact), the Philippines is a dream destination for avid divers. Apart from having notoriously picture-perfect beaches, the Philippine seas are also part of the Coral Triangle, which is more or less the center of marine biodiversity.
The Coral Triangle spans out to other countries including Indonesia, Malaysia, Papua New Guinea and more. To prove its diversity, this area is home to 76% of all known coral species in the world.
Apart from these incredible figures, it all boils down to a simple fact. In the Philippines, the waters are warm, the marine diversity is incredible, and the people are some of the nicest in the world.
While I could go on and on about the how great diving in the Philippines is, instead, let me give you a walkthrough of some of the best dive sites and the general diving conditions in the country.
Best Scuba Diving in the Philippines
To quickly answer your question, listed below are some of the best dive sites in the country. Later on in this article, I will walk you through the highlights of each one, including information on the best dive sites in each country.
Tubbataha Reef
Cebu (Moal Boal, Malapascua)
Palawan
Apo Island
Puerto Galera
Apo Reef
Best Time to Scuba Dive in the Philippines
Like most places in Southeast Asia, you can scuba dive all year round in the Philippines however, April to June is usually the warmest season. If you're going there just to dive, November to May would provide you with the best visibility.
Rainy season which is known for typhoons usually occurs from June until October.  One of the main attractions of diving in the Philippines is that the water remains relatively warm all year round which is always a perk!
Types of Diving in the Philippines
Wreck Diving
Wreck enthusiasts will love exploring the WWII shipwrecks located all over Coron, Palawan. Swimming through in and out of the shipwrecks is an unreal feeling and is something I highly recommend doing if you're in the country.
Muck Diving
If you love small critters, the Philippines has some pretty amazing much diving which showcases loads of nudibranch, frogfish, and more. Anilao and Dauin in Dumaguete boast of pretty impressive creatures and is perfect for those who want to practice their underwater photography.
Large Pelagics
If you like big creatures, the Philippines doesn't disappoint either as it is home to some pretty amazing creatures. Scuba diving in the Philippines gives you the opportunity to swim with thresher sharks, whale sharks, large tuna and more.
Top Dive Sites in the Philippines
Given the number of islands, as you can imagine, the variety of dive sites are as plentiful. While choosing the best dive sites is an incredibly difficult feat, here are our top picks to help you plan your next diving adventure.
Tubbataha Reef
Location: Southeast of Palawan, Sulu Sea
Tubbataha is arguably the best dive site in the Philippines as it is incredibly well preserved due to its remoteness and is often only accessed via liveaboard boats.
Divers from all around the world flock to this 97,030 hectare Marine Protected Area in Palawan which is made up of two huge coral atolls, the North and South Atoll as well as the Jessie Beazley Reef around 20 km away.
Home to about 90% of all the coral species in the Philippines, a trip to Tubbataha is indeed a once in a lifetime experience. The Tubbataha Reefs can only be explored through liveaboard boats so unlike most popular dive sites, you will have most of the reef and ocean to explore without running into other divers.
Apart from being secluded, you will see walls covered in whip coral and gorgonian sea fans.
Highlights: When diving in Tubbataha, you can see eleven different species of sharks, over 479 species of fish, and large pelagics such as jacks, manta ray, tuna, and whale sharks. It also has the highest population density for white tip reef sharks so a shark sighting is pretty common while you're here!
Best Dive Sites in Tubbataha Reef
While choosing between all the dive sites are hard, a few of the best sites in Tubbataha are Amos Rock (Southwest Rock), Shark Airport, and Washing Machine. In Amos Rock, prepare to marvel at the stunning whip and gorgonian corals as you drift in the dive site as you spot gray reef and whitetip sharks, large groupers, and mackerels.
Shark Airport is a wide plateau like shelf is home to hawksbill and green sea turtles as well as white tip sharks who cruise along the drop-off edges. Lastly, the Washing Machine who as you can tell from the name has incredibly strong currents that shift often.
Naturally, where there are currents, there are also large pelagics and animals drifting close by. The currents are all pretty strong in Tubbataha so a good level of skill and expertise is encouraged.
Malapascua Island
Location: Cebu City, Negros
Experience diving with one of the most fascinating creatures ever, the elusive thresher sharks who are frequent visitors in the Malapascua area. In fact, it is probably the only place in the world where you can see a thresher shark daily.
Home to over 20 dive sites, Malapascua is a dream for divers as it boasts of warm tropical water conditions, unbelievable diversity, and stunning landscapes.
Highlights: Seeing the graceful thresher shark swim across the water. Close encounters with these creatures are also very common as they don't tend to be very shy.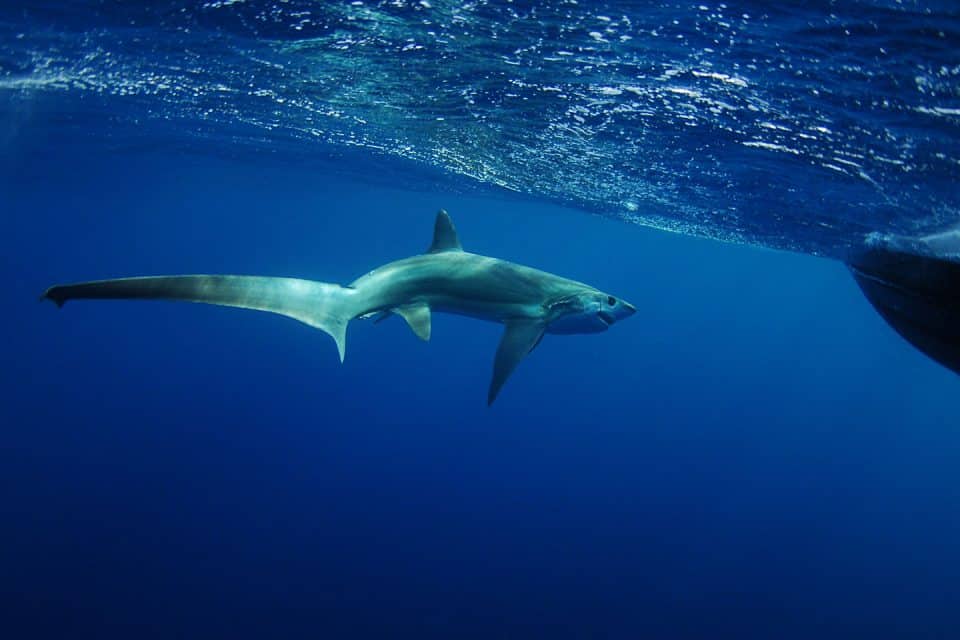 Best Dive Sites in Malapascua
The Monad Shoal is a submerged island with a steep 200m drop off home to threshers, manta rays, devil rays, and over varieties of sharks. The cave or "the tunnel" is another site which shouldn't be missed.
Home to a 30m tunnel which has loads of fish and more importantly, white tip shark who circle near the exit. This site is recommended for more experienced divers. Kimod Shoal is another site which features a sunken island who attracts schools of about 200 hammerhead sharks which are regularly seen between December and May.
Read: Where to Stay in Cebu
If you want to try scuba diving in Malapascua, check out this scuba diving with thresher shark dives as well as this discovery dive in Malapascua.
Moal Boal
Location: Cebu City, Negros
Memorable to me because this is the place where I first began discovering the beauty of the underwater world, Moalboal is a beautiful place with stunning house reefs and playful turtles. However, what makes this place so exciting is the large school of sardines which call this place home.
Often, large pelagics attracted by the food grace the diver's presence as you get to watch an unbelievable show of cat and mouse as the sardines move and change shapes. Right by the shore of Panagsama Beach in Moal Boal town, you can find a school of around one million sardines who you can choose to either dive or snorkel with.
While snorkeling can be loads of fun, from down below, you can sit quietly and watch the school of sardines transform into various shapes.
Highlights: Apart from the incredible experience of swimming with the sardines, the other house reefs in Moal Boal are equally as stunning with lots of jacks, sharks, and playful turtles.
If you're not a certified diver just yet but you want to enjoy the underwater world in Moal Boal (including the sardines), check out this sardine snorkeling tour as well as this discovery freediving classes.
Best Dive Sites in Moal Boal
Take a 15-minute boat ride and soon, you will find yourself in by Pescador Island, which is famous for its cathedral cave.
This spectacular swim through starts at around 30 meters deep and has various exits at around 18 meters. There is also an artificial plane wreck that you can visit while you're diving in the area.
Apo Reef
Location: Occidental Mindoro
Considered as the second largest atoll reef in the Philippines, Apo Reef is a must for avid divers. While most of the reefs are submerged, the reefs are marked by three islands namely Apo Island, Apo Menor, and Cayos del Bajo.
This 34-kilometer reef has a narrow channel running East to West which divides the reef into two lagoon systems (north and south). Liveaboard journeys have all opened up to this area, making it even more accessible and convenient to explore.
Highlights: Apart from the stunning beaches, you are also bound to see large schools of pelagic fish like barracuda and groupers. You will also see a varied species of sharks and manta rays.
Best Dive Sites in Apo Reef
Shark Ridge is popular for its black and white tip reef sharks as well as the many shallow caves where you can find eels, lobsters, and large groupers.
Apart from this, Apo 29 is also a popular site known for its swift currents where you can possibly site thresher sharks, hammerheads, and other large reef sharks.
Palawan
Home to many stunning reefs and wreck dives, Palawan is one of my favorite places on earth. Between the WWII shipwreck swim-throughs, and crystal clear waters and lagoons, not only is Palawan beautiful, but it also has a diverse and abundant marine life.
As Palawan encompasses a large area, dive sites are spread all over El Nido and Coron. Here, expect to see a number of shipwrecks, some of which you can only fully explore after two full dives. With each wreck promising you fantastic swim throughs inside large engine rooms as you swim alongside turtles and large groupers.
When I was last there, one dive boat was lucky enough to see a whale shark simply hanging around one of the wrecks.
Highlights: Apart from the wreck dives, the visibility is pretty fantastic and the amount of fish and corals are great. In some areas, you can also see some dugongs or sea manatees.
Best Dive Sites in Palawan
Although Barracuda Lake is not visually striking due to the lack of marine life, if you're looking for an out of the world experience, dive in Coron's famous barracuda lake.
Here, you can swim through large caves and cathedral as you dive through an almost alien-like world full of underwater rock formations.
Other sites that are great for exploring are Destacado Reef, The Dilumacad Underwater Tunnel, and North Rock.
Read: Where to Stay in Palawan
Other Popular Diving Destinations in the Philippines
Apo Island
If you enjoy swimming with turtles, head on over to Apo Island, home to some spectacular hard corals and turtles who endlessly graze and swim around. At present, the island is home to over 650 documented species of fish and around 400 species of corals. Most of the Philippines' 450 species of coral can be found here. This spot was also included in one of the top 100 dive sites in the world.
Yapak
Located on the northwest side of Boracay Island is the popular dive site Yapak 2 where you can find sharks rays, barracudas, tuna, and other large schools of fish. Lucky divers can also chance upon whale sharks while in the area.
Apart from the vibrant marine life, the site has a deep wall which starts at 30 metres/100 feet which plunge straight down.
Currents can be very strong so only experienced divers are encouraged. When in the area, you will be rewarded by seeing large marine life such as gray and whitetip reef sharks, snappers, and triggerfish. If you want to see check it out for yourself, take a look these discovery dives in Boracay.
Dauin
Popular for the two sunken Volkswagen which sprung into a fabulous artificial reef and also a great spot for macro and muck diving.
Puerto Galera
One of the very first established diving destinations in the Philippines which is frequented by many. Due to its location, diving here is very rarely affected by weather conditions and has many dive spots worth exploring.
Balicasag
Home to a marine protected area, you will be treated to beautiful coral gardens, turtles, and large schools of reef fish.
Subic Bay
Known to have the most number or wreck dive sites all within minutes away from all the dive centers. While not known for large pelagics or great visibility, a lot of people go here to explore the wrecks and to do some technical diving.
Diving Conditions in the Philippines
Visibility
Generally speaking, you can get pretty amazing dive conditions in the Philippines if you are there during the correct time and season. Visibility can range from anything between 5-45 meters (15-150 feet) with the water temperature being warm all year round.
Around 10 years ago, the Philippines went through a terrible crisis, unable to control illegal fishing and other overfishing in the country. While marine restrictions have already been placed, there are areas whose corals are still recovering. However, with that being said, most of the dive sites named above all have generally healthy reefs with plenty to see.
Season
While you can dive all year round, December through March is the northeast monsoon that can bring strong winds. February through June is usually dry with warm days and little wind and is a good time to go for those who want only sunshine and clear skies. July through November is the southwest monsoon, bringing you a little bit of rain.
Scuba Diving in the Philippines
If you want more information on the scuba diving in the Philippines, check out this video by PADI featuring some of the awesome things you can see in the area.
Diving Safety in the Philippines
Generally speaking, the scuba diving in the Philippines is pretty safe. Just make sure you research dive companies beforehand to get an idea on their safety reputation. As always, make sure you have diving insurance before you go underwater. We recommend World Nomads as they have fantastic coverage for activities like this.
Liveaboard Diving in the Philippines
Generally speaking, as the Philippines is composed of many islands, flying from one island to the next would be the best way to reach all the different dive sites. However, for avid divers, to make the most out of your experience, joining a liveaboard while in the Philippines is definitely the way to see it.
Through the Philippine liveaboards, you're able to see and discover the best dive sites within the area. So whether you're there to enjoy a few fun dives or are there to purely explore the best of the underwater world, diving in the Philippines boasts of some of the best in the world and is worth checking out.
One of the best things about liveaboard diving is you're able to access remote dive sites that are generally hard to reach. If this is something you want to do, take a look at our full article below which compares all the various liveaboard boats in the Philippines.
So whether you're there to enjoy a few fun dives or are there to purely explore the best of the underwater world, diving in the Philippines boasts of some of the best in the world and is worth checking out.
---
Looking for more articles about the Philippines? Check out our articles below
Inspired? Pin it!