Disclaimer: Adventure In You is a participant in the Amazon Services LLC Associates Program, an affiliate advertising program designed to provide a means for us to earn fees by linking to Amazon and affiliated sites at no additional cost to you. Please note we only link to products & services we personally use or trust.
One of the biggest questions that went through my mind when we started planning our Everest Base Camp Trek was what the heck do I pack? Having spent most of our time in warm tropical countries like Thailand and Bali, Tom and I were definitely not prepared to traverse through -20° weather.
To help you plan your Everest Base Camp Trek, here's our complete packing list guide for both men and women featuring a list of travel essentials that you need for the trek. Throughout the article, we have listed recommended products and brands which we have used.
Having been to Nepal before, I know that the streets of Thamel or Namche Bazaar are lined with vendors selling trekking gear. While most of these knock-off products are great, just remember that the quality of these products might be different compared to those that you buy before your trip. When it comes to gear, there are a few things that I am not willing to have sub-par gear for like a good jacket and trekking shoes which is why I advise you to purchase these ahead of time.
Read: Everest Base Camp Trek Review
Pre Everest Base Camp Trek Preparations
Before you go, one of the main things you need to make sure you have is travel insurance. Whatever company you go with, read the fine print as most insurance companies charge you an extra fee for medical evacuations higher than a certain altitude. We personally recommend World Nomads as their baseline coverage includes all this and more.
Every day, we saw at least 2-3 helicopter rescues a day due to altitude sickness. The minimum price for a medical evacuation starts at $5000 so reading the fine print to make sure you're covered in any policy that you get is highly recommended. Use the widget below to get a quote for your Everest Base Camp Trip.

Clothing
Although you might get tempted to bring everything that you have to keep you warm, I recommend being strategic about what you take with you as you really don't need much apart from a few key items.
Naturally, what you will bring will totally depend on when you are going. If you're planning on trekking up to Base Camp during the months of November or December, bring warmer clothes to help you with the cold.
FACT: You will only take about 1 shower (if you even bother) throughout the 12 days of trekking. You are also bound to get sweaty, dusty, and generally dirty. It is also really really cold which means that you won't really fuss about what you're wearing as long as it is warm and comfortable.
Trekking Footwear
Getting good footwear is arguably the most important piece of gear that you can take with you to your Everest Base Camp Trek. If there is one piece of advice I can give you…it's to make sure that the boots that you bring are broken in. We saw one dude who bought a brand new spankin' pair of boots in Kathmandu only to suffer with an insane amount of blisters on his feet afterwards. Invest in a good pair of boots and you will have them for life!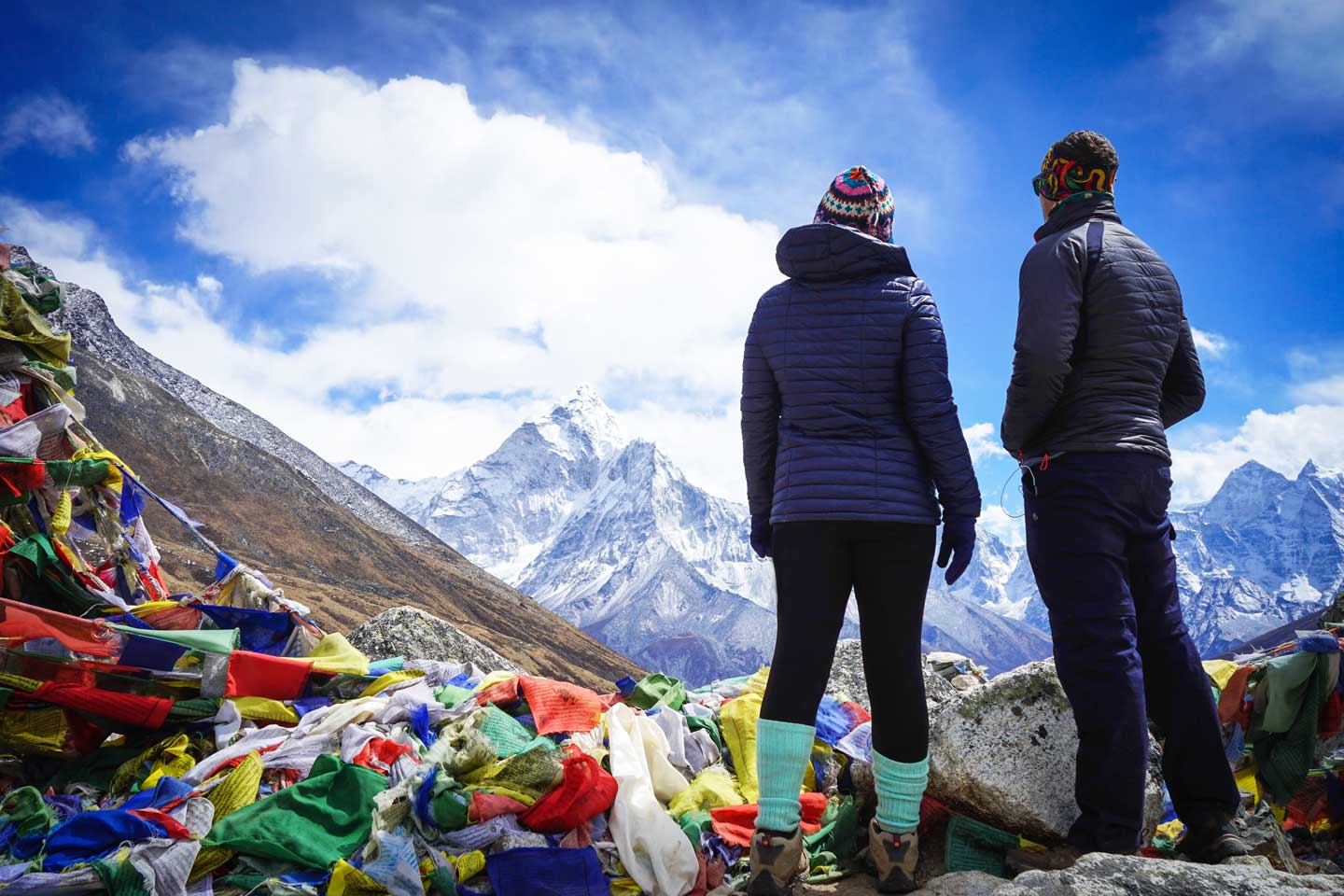 Trekking Accessories
While a lot of these are obviously optional, we highly recommend getting them as they will help you during your trek. Investing in a good pair of sunglasses is something that I am really happy we did as we used them every day.
Polarized Sunglasses
Other Trekking Essentials
Bags
If you are carrying your own bag (without using a porter), you will have to get a slightly larger backpack to fit all your gear. For those who are making use of a porter and a guide, we recommend getting a day pack to carry all your travel essentials and a waterproof duffel bags for the porters to carry. Whatever bag you get, make sure you also get a good raincover for protection.
If you are carrying your own bag, I don't recommend taking anything bigger than a 40L as you really don't need anything more. We even know of some people who trekked with a small day pack but had their sleeping bags attached on the outside. We recommend taking the Osprey Farpoint which is a fantastic bag which we love (you can check out our Osprey Farpoint Review here). If you're only packing one bag, make sure that you put your essentials like cameras, music, etc. in an easy to reach place.
If you are getting a porter to carry your bag, most of them will ask you to get a waterproff duffel bag so that they can easily pile them on. The porters usually tie them together so the weight is equally distributed. If you know you are getting a porter, you can preorder a duffel bag and use it to carry all your gear for the trip. Otherwise, there are loads of these duffel bags available in Kathmandu. I would stick to a medium sized one as the flight to lukla charge you for extra baggage. (Baggage Restrictions are: Weight allowance 12kg for your main bag and 3kg for your day bag)
Trekking Electronics & Essentials
As we were technically "working" during our trip up to Everest Base Camp, we carry more electronics than the average traveler. Here's our minimal list of things to bring during this trek which includes cameras, spare batteries, and more.
.

Aside from our camera, we also had our trusty GoPro with us to record quick moments throughout the trip. If you have a long selfie stick, you can also take some pretty cool shots with the GoPro featuring interesting angles from the suspension bridges.
Medications
If there is one thing you need to make sure of, it is that you bring with you a well stocked med kit. I got really ill during our trek and having an arsenal of medicines helped me a lot as after all, you are in the middle of no where! Here are a few essentials that I recommend you take with you.
Diamox (Read up on this and research if it is something you want to do. Diamox is a pill taken as a preventive for altitude sickness which you are meant to start at least 2 days before your trek. Some get side effects so take it at your own risk.
Headache Tablets- Due to the altitude, both Tom and I had nightly pounding headaches so having some sort of tablets to help you combat this is recommended.
Sunscreen
Chapstick / Lip Balm
Electrolyte Powder
Bandaids
Blister Kit or Moleskin
Cold Medicine
Moisturizer
Vicks Vaporub
Immodium or any anti-diarrhea
Hand Sanitizer
Baby Wipes (A LOT OF IT!)
Sunscreen
chapstick
anti nauseant medicine
Immodium
band-aids | blister bandaids or moleskin
eye drops
advil cold and dinus
nasal moisturizer – altitude causes nasal cavities to be very dry, nasal moisturizer was very helpful.
Q-tips
tweezers
tiger balm
Aside from these items, other things that you need to remember to bring are your travel documents, permits, and a lot of cash. There are no ATMs past Namche Bazaar so make sure you have enough with you. We also brought A LOT of snacks. In fact, thinking back, I am rather ashamed of the absurd amount of snacks that we brought with us which is why I won't list them down here. However, I recommend picking up a couple chocolate and energy bars to help you get through the trail! Although chocolate bars are available in most tea houses, they tend to be quite pricey. We recommend picking up all your snacks at Shop Right Supermarket in Thamel as they will have everything that you need.
---
Discounted Trekking Package
If you're interested in using the same company (read our full EBC Trek Review here) which we did during our trek and avail of our AIY readers discount, inquire directly at the bottom of this post or from our sidebar for exclusive discounts.
---
Looking for more articles on Nepal? Check out a few of our best ones
Inspired? Pin it!