One of the things that I love about full time traveling is the fact that everything I own fits in one backpack. While the sheer thought of this is enough to scare others from this nomadic lifestyle, I personally love it! It forces me to really think twice before buying things I don't need. However, despite the size limit, I've found that you still tend to accumulate things depending on the size of your pack. We left our base in Thailand with a large backpack stuffed with random items. That was when I decided it was time to go even smaller and just stick with one carry-on sized bag.
Osprey Farpoint 40L
After doing a lot of research online, I found one of the lightest travel packs from the Osprey Line, the Farpoint 40L bag. When I initially saw it, the bag looked incredibly small- making me question my purchase. However, as soon as I started using it, I realized that the bag had an incredible amount of space, especially if you use travel packing cubes to help keep things organized. The Farpoint ticks all the essentials which I have decided I needed in a bag. Despite being a backpack, you can still open it like a suitcase which is a big plus for me. Apart from that, it also has internal laptop sleeves, mesh pockets in the front, well-made paddings and hip straps to help even out the load. To those who want to get a bit more technical, here are a few of the specs:
Farpoint 40L Specs:
Weight: 1.44 kg (M/L)
Maximum Dimensions (cm): 54 (l) x 35 (w) x 37 (d)
Main Fabric: 210D Nylon Mini Hex Diamond Ripstop
Read: The Ultimate Carry-On Packing List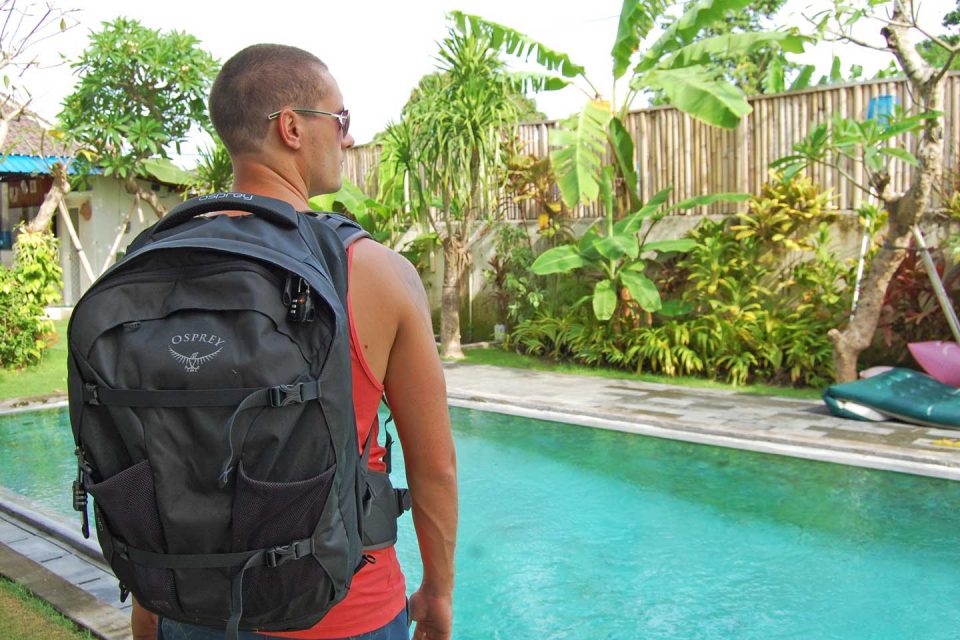 What I love about the Osprey Farpoint
After receiving the Osprey Farpoint 40 from the mail, I immediately packed it and took it for a test run around the UK. I have also since packed up everything I own (again) and took this bag with me to Bali, Indonesia with the aim to travel indefinitely. After a few months of traveling around with it, here are a few of the features which I love.
Size: If I wanted to, I could use this bag as a carry on as it conforms to the maximum carry on size. This is a huge deal for me as I love the thought of being able to dart in and out of airports. My previous 60L bag was too big for me to check it in so I always had to wait around in the airport which was a hassle especially when we had a connecting flight to a different airport.
Compartments: Apart from the electronics compartments, I love all the other zippers and mesh pockets which help keep things organized. The padded laptop sleeve is great, putting my mind at ease when storing my laptop along with other camera accessories. Apart from the main compartment, there is also a part that is zippered off which I can use to keep my dirty laundry separate from all my other clothes.
Read: Check out our Packing List for Europe and Packing List for Southeast Asia

Back Support: It's no secret that Osprey is one of the best backpacking brands out there so regardless if you take one of their larger packs or the smaller ones like this one, they use the same mesh hip belt and harness along with the lightweight peripheral frame, giving your back more support when carrying your bag for longer periods of time.
Versatility: Apart from the standard backpack look, you can easily hide the straps and carry the Farpoint 40 similar to a duffel bag using an attachable long strap. Meaning, if I ever wanted to dress up my standard "I'm a backpacker" look, I could easily do so.
While I am raving about this bag, I do wish that it came with a rain cover as well as a built-in lock system to help secure my belongings. However, with that being said, that problem was easily solved as I just bought a travel padlock and rain cover to take with me before leaving the UK. I would also love to have pockets on the hip pads. Although that's not a huge deal, it's definitely a plus to have.
Read: Osprey Hiking Packs Review
Overall Thoughts on the Farpoint 40L
All in all, this is a solid bag that I cannot recommend enough. I've always been a fan of Osprey products and their brand. Plus the fact that they have been in the business since 1974 says a lot about their bags, overall durability, and brand. Before purchasing any of the Osprey bags, they have an app which you use to input your measurements so you can get a bag that fits you perfectly. The bags come in two sizes S/M and M/L. Apart from the full guide to help you select which size to get, the fact that they deliver a bag that is perfectly suited to your height, waist, and overall build is pretty impressive.
If you think 40L is too small for you, Osprey also has the 55L bag which is as good- but isn't carry on size. While some people think that 40L is too small, especially for long-term travelers, I actually would beg to disagree. However, as I tend to carry a lot of camera gear, I would probably get one of their smaller bags as well like the Osprey Daylite to keep all my gear and valuables. What's great about Osprey is that their bags are durable (they even have a guarantee for their products), and affordable. Buying one of their bags won't cost you an arm and leg, giving you unbelievable value. I have been pretty happy with my bag and have tested it for both weekend and long-term travel, allowing me to conclude that I may have really found the best carry-on travel bag.
Products Information
Disclaimer: This Osprey bag was sent to us to try out but as always, our opinion is solely ours. We will always be 100% honest with all our reviews.
---
Looking for more gear related articles? Check out some of our other articles
Inspired? Pin it!