Northern Thailand has a lot to offer. If you haven't ventured to this part of Thailand, you are seriously missing out. Nestled in the middle of rolling hills and waterfalls is a popular hippie village named Pai. Although Pai is slowly becoming very touristy, it doesn't mean that it's not charming. Between its lush greenery, quaint shops and bars, and of course, the ever so popular "hammock culture" that everyone is part of, Pai is definitely a place where you can unwind and relax. Given its popularity, traveling from one place to the other is pretty common. Here are few options on how to get to Pai from Chiang Mai.
Editor's Note: Heading to Pai? Check out our guide on where to stay in Pai for top recommendations!
Chiang Mai to Pai by Plane
Although the road between the two is a mere 3 hour drive, some people opt to fly instead of traveling by land. We have never personally flown to get there but if this option is something that you are consider, Kan Airlines offers short flights from Chiang Mai to Pai. The local airport of Pai (PYY) is about 2km north of the town itself. The flight itself takes only 30 minutes and is the fastest way to get from Chiang Mai to Pai. You do have to note that the flights don't run every day so it would be best to go directly to the airline to check their schedule.
More information: Sometimes you can also Check flights here
Cost:  Roughly around $50-60 (2,100 BAHT)
Trip length: 30 minutes
Bus from Chiang Mai to Pai
Aside from flying, you can also take the public bus which runs for around 4 hours, depending on the traffic. There are roughly about 5 trips every day which run from the Arcade Bus station which is located in the North-eastern part of Chiang Mai. Unlike the minibuses, there is no need to book your tickets in advance but do beware of holiday and peak seasons. We generally like to get to the bus station at least 30 minutes before hand to ensure that we are able to get tickets. Due to the size of the buses, they tend to go a lot slower but they often are crowded as taking a bus to Pai is one of the cheapest options to travel to the area. Bus tickets for Pai (and other destinations on the Mae Hong Son route) are sold from their own dedicated ticket counter to one side of the main bus station so ask around if you can't find it.
More information: Check bus times here
Cost: Anything from 80- 100 BAHT
Trip Length: 4 hours
Chiang Mai to Pai by Mini Bus
Vans or mini buses are the most common way for people to get from Chiang Mai to Pai. You can book a trip here from almost every travel agency. If you're feeling extra lazy, you can even ask your hostel or guesthouse and they will happily oblige. There are two different kinds of mini buses. One that is air-conditioned and government run and the other is a tourist van. Both vans can get quite cramped and due to the zig zagy nature of the roads, a lot of people get car sick for this journey. Unlike the government mini buses, the tourist van offers a pickup service from your guesthouse in Chiang Mai. One company which offers this is AYA Bus Service. They will pick you up from your hotel in Chiang Mai's Old City anywhere from thirty minutes to one hour before your set departure.
Insider Tip: If you easily get dizzy, do yourself a favour and take any type of motion sickness pill. The windy roads and cramped conditions can get the best of you.
More information: Check mini-van times here
Cost: Government mini bus: 150-180 BAHT, Tourist Bus: 180-200 BAHT
Trip Length: 3 hours- 3 ½ hours
Our Chiang Mai to Pai Top Choice: Renting a Motorbike
Now comes our favorite means of transportation. Renting a motorbike and traveling from Chiang Mai to Pai is one of the best ways to do it. The scenery, combined with the thrill of driving down this bendy road is an exhilarating feeling. Tom has driven this route multiple times and enjoys the experience each time. It is best to go this route only if you have a bit of experience as the turns in Route 1095 can be quite unforgiving with all its 762 bends. I'm not even kidding you. The scenery during this route is pretty unbelievable and is definitely worth doing!
Read: Riding the Mae Hong Son Loop Review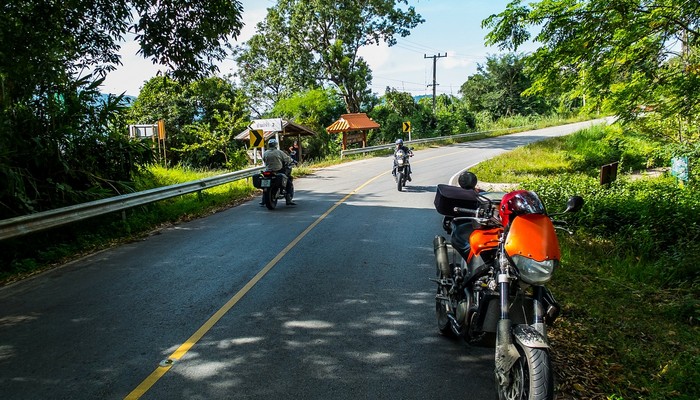 Trip Length: 4 hours with stops
Cost: Price really depends on what type of bike you rent.
Insider Tip: For those looking to rent a bigger bike for this epic road trip, we recommend getting it from Tony's Big Bikes in Chiang Mai. There bikes are in top notch condition and the whole business is very professional run. The owners are lovers of riding and adventure as well so don't be afraid to ask them for their insider's tips on the best roads.
Directions: From the old city of Chiang Mai take the north exit out and head north towards 107. Follow the signs for Mae Rim and then the signs for Pai. After about an hour you will see a sign for 1095 (Pai), turn left and follow road 1095 all the way.
Things to Remember when Renting a Motorbike in Thailand:
Always wear your helmet
Bring identification with you (an international license is the best)
Be mindful of your gas (and be aware where you can fill up)
Always let trucks and buses pass you- don't be a stuntman!
Cover up- we've seen way too many road rashes and scrapes.
For a more comprehensive guide on renting bikes, check out: Renting a Motorbike in Thailand
No matter how you choose to travel from Chiang Mai to Pai, after your arrival, the only thing left to do is grab a cold Singha, lay on a hammock, and enjoy the next couple of days. Happy Travels!
Read: Guide to Planning Your Dream Trip to Thailand
---
Looking for more activities to do in Thailand? Check out these fun articles
Inspired? Pin it!