Looking for where to stay in Marbella? Keep reading this article to find out our top recommendations.
When it comes to destinations on Spain's Costa del Sol, it's hard to beat the resort town, Marbella. Located less than hour drive away from Malaga this is an insanely popular beach destination among party-goers, celebrities and curious travelers alike. There's something for everyone in Marbella.
Whether you want to bask in the strong Spanish sun, explore the charming Old Town, play a few rounds of golf, or dance the night away at a beach club, this quaint little seaside city is the place to be.
When planning a trip here, nothing is more important than where to stay in Marbella. As it's a huge resort town, there are tons of high-rise options along the beach. But what if you're looking for something a little more classic? Something that retains Spain's old world charm with modern amenities for comfort?
Well, you're in luck, because no matter your budget or where you'd like to be, there are plenty of hotels, hostels, guesthouses ,and apartments for rent in Marbella that will lead to a lovely stay.

✨The 1 Thing We Never Leave Home Without…✨
Coming from someone who has been traveling the world for the last 8 years AND has been in the hospital 2x, travel insurance is something everyone NEEDS to get. Get a quote below!
Where to Stay in Marbella: Neighborhood Guide
Marbella is made up of several small districts, each unique in its own right and offering visitors something different. While a couple of the districts may be out of Marbella proper, they're still considered part of the city and have great accommodation for anyone visiting the area.
Here's a breakdown of the four main neighborhoods in Marbella and what each one has to offer!
Marbella Old Town
While most of Marbella is a giant resort, Old Town retains some of the original charm that drew people into this city in the first place. Not only is Old Town is full of scenic attractions, it is still partially surrounded by an old city wall, a relic that transports visitors to a time long ago.
Much of Old Town has been re
novated and refreshed to accommodate eager visitors traveling to Marbella. It's full of hotels, hostels and rental apartments, as well as delicious tapas bars, small boutiques, and other shopping options.
Just one walk along the cobblestone streets and you'll understand why this is one of the most charming coastal towns!
Recommended Hotels in Old Town Marbella
Downtown Marbella
Downtown Marbella is determined by the area's proximity to the bustling Avenida Ricardo Soriano, the main street that runs through the city. This avenue is stuffed with hotels and other accommodation options, tons of restaurant options, and local markets. The entire street lasts for miles, finally ending in the heart of the city.
Regardless of being "downtown," this area is in close proximity to the beach and the Paseo Maritime promenade which makes for a lovely after-dinner stroll.
Recommended Hotels in Downtown Mabella
Puerto Banus
A little bit further out, Puerto Banus is where things start turning luxury. Located about four miles from the center of Marbella, it is home to Costa del Sol's most important harbor, so you're bound to see some lavish yachts docked and celebrities wandering about.
This area is full of villas that make for a glorious vacation, and to top it off, Puerto Banus is surrounded by nearby hills that set a gorgeous backdrop.
You'll find plenty to do in this area (although, you better be prepared to drop some serious money), from fancy dining to high-end shopping and even gambling at the casino. Furthermore, the nightlife in Puerto Banus is particularly noteworthy as the abundance of clubs and cocktail bars are open until the wee hours of the morning.
Recommended Bars Near Puerto Banus Marbella
Marriott's Marbella Beach Resort
The Oasis by Don Carlos Resort
San Pedro de Alcantara
Finally, just a bit farther, San Pedro is eight miles from the center of Marbella, situated close to the nearby Puerto Banus district.
This area is another bustling section of the city that's in close proximity to the beach, making it the ideal destination for those looking to get some sun on their Spanish holiday. If you're not one for laying on the sand, San Pedro is one of the best places in the area for water sports like surfing and windsurfing!
Besides the beach, San Pedro has a worthy history with Roman ruins to show for it, so there's plenty to explore when you're finished with sun bathing. But besides the old, the center of the small Marbella town is completely redesigned and appealing to both travelers and locals.
Editor's Tip: Traveling around Spain and the rest of Europe? Check out our Europe Packing List Guide for tips on what to bring!
What's the Best Area to Stay in Marbella?
The best area to stay in Marbella is completely dependent on what you're hoping for on your visit to this city.
For those looking for a mix of culture and tradition, a stay in Old Town is the place to be.
You'll have all of the main Marbella attractions a few steps from your door, and there's nothing quite as romantic as taking long strolls on narrow cobblestone streets. There's plenty to see and do in Old Town, and you'll just be a stones throw from both downtown and the city beaches, getting a little bit of everything that Marbella is best for.
Downtown provides a more poppin' holiday setting than Old Town. While Old Town is pretty laid back, Downtown is where the main hustle and bustle is. For late-night living, yummy dining, and a look into the center of Marbella, this is the place to be.
If luxury is what you're seeking, a stay in Puerto Banus is the obvious direction to take. All-inclusive resorts, wide expanses of beach, and the most upscale dining and shopping in the area… It'll cost you a pretty penny, but you'll be living it up in style with a stay in Puerto Banus.
Finally, for the best beach vacation in Marbella, stay in San Pedro. San Pedro sits entirely on the water, but instead of being a sleepy beach town, it's a more than lively place to stay. Spend your days basking on the sand or doing adventurous water sports. No matter your preference, there's something for everyone in San Pedro!
Marbella is a hotspot of fun activities so choosing where to stay will mean you are closer to some than the others. Check out the link below to see the activities available in Marbella!
Psst...Want in on a Secret? 🤫
We've scoured the internet for the best ALL-AROUND travel shoe and Tropicfeel wins by far. We've taken ours through rivers, jungles, and cities and they're still alive and kickin'. Check them out below.
Best Places to Stay in Marbella
Now that you have the general layout of the city, here are some of the best places to stay throughout Marbella, for all budget types!
Best Budget Accommodation in Marbella
For a place with such glitz and glamour, Marbella sure does know how to do budget accommodation right.
Room Type: Standard double with terrace | Standard twin with terrace | Superior room with terrace | Superior double with terrace
Pool: Yes
Location: Downtown
Wifi: Yes
Price Range: €49 – €94 per night
Sitting a quick two kilometers from the city center, NH Marbella is in the perfect location for dining, shopping, beaching, and exploring Marbella — at an unbeatable price.
While the rooms may be on the budget end, the NH Marbella doesn't skimp when it comes to providing guests with top-of-the-line service, accommodation, and amenities. Each room is spacious with its own bathroom and outdoor terrace, complete with all of the fluffy towels you could dream of.
If you can ever pull yourself out of the most comfy room, the hotel also has a fitness center, outdoor pool, bar, and multiple restaurants if you don't care to venture out into the city.
This hotel has pretty much everything you could dream of for a classy stay in Marbella at one of the best price tags on the market!
Compare prices and check availability: Booking.com
Room Type: One-bedroom standard apartment | Superior one-bedroom apartment | 2-bedroom apartment | Superior two-bedroom apartment | Two-bedroom deluxe apartment | Three-bedroom apartment | Superior three-bedroom apartment | Four-bedroom apartment | Superior four-bedroom apartment
Pool: Yes
Location: Downtown, on the beach
Wifi: Yes
Price Range: €86 – €354 per night
If you prefer to have a little bit more space on your holidays, opt for an apartment at Coral Beach!
This "Aparthotel" is a collection of high-scale, multi-room apartments that are available for short-term rent. This means that besides the basic bedroom and bathroom that you'd find in a hotel, you'll also get a kitchenette for the price you pay — and an unbeatable view as well.
You have your fair choice when it comes to apartment options, as you're able to choose from a one, two, three, or four-bedroom apartment, all with the option of a standard or superior model. While they go up in price as you add more rooms, one of the coolest options here is the two-bedroom deluxe apartment that comes with an outdoor jacuzzi overlooking the ocean!
Sitting directly on the sea, a relaxing vacation is in store when you stay at Coral Beach.
Compare prices and check availability: Booking.com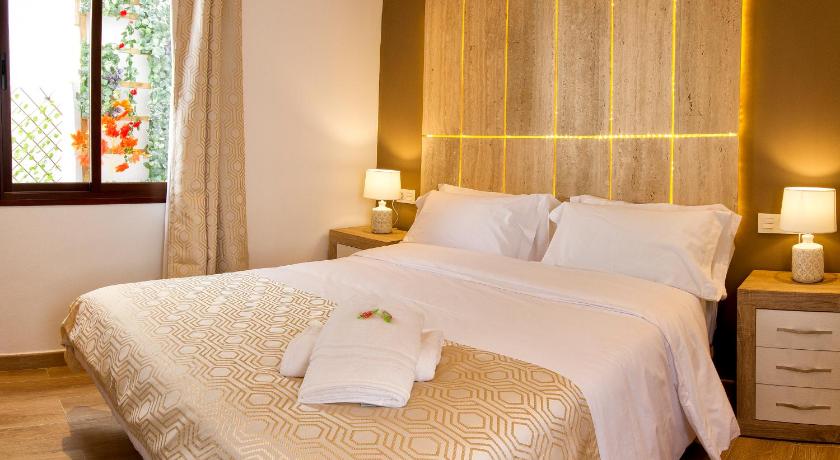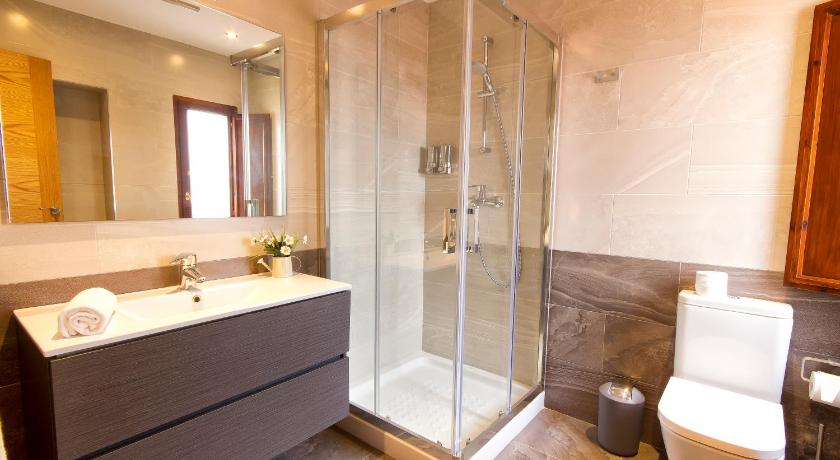 Room Type: Standard double room | Deluxe double room | Superior queen room
Pool: No
Location: Downtown, on the beach
Wifi: Yes
Price Range: €48 – €63 per night
A last budget option is this sweet little guesthouse that offers super low priced stays right in the center of Marbella.
Lucero 12 is conveniently located, just a quick walk from all of the city's main attractions. It's also right near the beach, so no matter what you're looking for during your stay, you'll be able to find it with ease from Lucero.
While it doesn't have all the pizazz that come with other Marbella hotels like a fancy pool or decks that are sky high, you'll certainly find this little place charming, personal, clean and warm in the modern style rooms and bathrooms!
Compare prices and check availability: Booking.com
Best Mid-Range Hotels in Marbella
As your budget expands a bit, so do the hotel options. In fact, at a mid-range budget, hotels start to look an awful lot like resorts in Marbella, with plenty of amenities to further stretch your dollar.
Here are some of the best accommodation options for a mid-range budget. You'll be shocked at how gorgeous these stays are at such a price point!
Room Type: Economy twin room | Economy double room | Comfort double room | Superior double room | Deluxe double room | Luxury double room
Pool: No
Location: Old Town
Wifi: Yes
Price Range: €95 – €318 per night
A frequenter on lists of this kind, La Villa Marbella is without a double one of the best places to stay in Old Town.
Inspired by different cities in Asia, each room in La Villa offers different surprises for each guests. With gorgeously crafted decorations for a truly authentic Asian feel, you'll completely forget that you're in Spain when you've settled into La Villa for the night.
One of the best parts of staying here (besides the delightfully designed rooms) is that the service is unbelievably personal. Past guests rave about how kind and accommodating the staff is, making for an even more delightful stay.
Compare prices and check availability: Booking.com
Room Type: Budget double | Standard room | Superior double | Junior suite | Superior junior suite | Deluxe junior suite | Suite | Standard triple | Family room
Pool: Yes
Location: Puerto Banus
Wifi: Yes
Price Range: €102 – €397 per night
A mega-hotel in the Puerto Banus area, guests are able to enjoy a wide variety of luxury treatments for a solid-mid range price at Gran Hotel Guadalphin Banus.
There's a huge outdoor pool with a hot tub and sauna, a fitness center and spa. And that's just on site! Gran Hotel also offers a variety of off-site activities like snorkeling, fishing, diving, hiking, horseback riding, and water sports for those looking to get out and about during their stay.
Besides free WiFi throughout the entire property, the rooms here are simply divine, with plenty of space and gorgeous views of the beach below.
Compare prices and check availability: Booking.com
Room Type: Superior single room | Double room | Superior double | Deluxe double | Superior family room | Junior suite
Pool: Yes
Location: San Pedro
Wifi: Yes
Price Range: €111 – €294 per night
For those seeking a mix of sunshine and relaxation, Barceló Marbella is an awesome choice for all of the above. Sitting right in San Pedro, you'll be near the beach but without all the commotion of Puerto Banus.
You have your choice of amenities to take advantage of at this hotel, whether it's a dip in the giant outdoor pool, a soak in the on-site Turkish bath, or a trip to the golf course to play a few holes.
When you return from a day packed with activities, you'll love collapsing on the plush bed in your lovely room or dining at one of the on-site restaurants serving up local and exotic cuisines.
Compare prices and checking availability: Booking.com
Best Luxury Stays in Marbella
If you're looking to stay in Marbella in style, spring for a luxury stay at a resort or other high-end property. You'll be blown away by the five-star service, endless on-site amenities, and the most comfortable rooms imaginable!
Room Type: Classic room | RedLevel room | Premium double room | Superior room | RedLevel supreme room | Junior suite | Grand suite | Presidential suite | Penthouse suite
Pool: Yes
Location: Don Pepe Beach
Wifi: Yes
Price Range: €205 – €1,256
Sitting just next to Marbella's Don Pepe Beach, Gran Melia will make for quite the memorable stay. Not only is it in a killer location (just steps from Old Town, without sacrificing ocean views from your room), it has impeccable service that will make for the vacation of a lifetime.
The hotel itself has three outdoor pools, a poolside bar, a spa (with Turkish baths!), tennis courts, and multiple restaurants serving up any kind of cuisine you can think of. Each spacious room has a view of either the ocean, mountain, or garden so you will never miss the insane Marbella landscape.
So whether you're going to spend your days kicking back in a poolside cabana, exploring Old Town, or hitting the beach, it's best done from Gran Melia Don Pepe.
Compare prices and check availability: Booking.com
Room Type: Deluxe room | Junior suite | Deluxe suite | Studio with terrace
Pool: Yes
Location: Between Downtown and Puerto Banus
Wifi: Yes
Price €300 – €516 per night
No one does luxury quite like Nobu, who's best known for exorbitantly lavish sushi restaurants around the world.
The Nobu Hotel doesn't stray far from the brand's reputation with this property, but rather emboldens it with the chic rooms, top-notch service,e and expansive grounds that make a stay in Marbella one for the books.
The rooms here are bright, airy, and impeccably designed with small touches that will make it seem like the room was made specifically for you. With wide open terraces attached to the rooms, you'll never really have to leave, unless you want to pop downstairs to the hotel nightclub.
A stay at Nobu also comes with a private beach, outdoor swimming pool, spa, large garden, fitness center, tennis courts, and 11 show stopping restaurants. For a resort stay in Marbella, it doesn't get much better than the Nobu Hotel.
Compare prices and check availability: Booking.com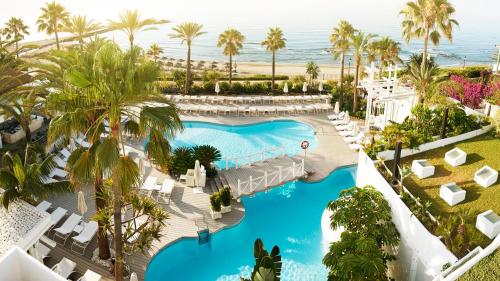 Room Type: Double | Junior suite | Deluxe junior suite | One-bedroom suite | Deluxe suite | Three-bedroom villa | Four-bedroom suite | Five-bedroom villa with private pool
Pool: Yes
Location: Between Downtown and Puerto Banus
Wifi: Yes
Price Range: €281 – €3,710 per night
If money is little to no object when it comes to a Marbella stay, splurge for a room (or entire villa) at Puente Romano in between downtown and Puerto Banus.
This hotel has a whole lot of style, offering guests unbeatable facilities and luxury accommodation beyond any doubt. When hanging at the hotel, swim in the giant pool (complete with a bridge to cross on land), lounge on one of the sun beds, enjoy a drink in the garden, or take a quick trip to the spa.
You can also indulge in a tennis match on-site, eat at one of the 12 (yes 12) restaurants, or play billiards in the lounge. Seriously, there's little reason to leave the property when staying here!
What really makes Puente Romano stand out in terms of luxury accommodation is the option to choose to stay in a three or five-bedroom villa. It certainly costs more, but Bali or Spain? It's hard to tell with this hotel.
Compare prices and check availability: Booking.com
After seeing all of the accommodation options in Marbella, doesn't a trip here feel so much more attainable?
You don't have to spend crazy amounts of money for a cozy and comfortable stay at many of the properties in the area. In fact, you don't have to spend a ton for the likes of a pool on-site or terrace attached to your room either!
Hopefully, these suggestions have helped you find your dream vacation stay in Marbella, whether you're hoping to relax on the beach the entire trip or wander the cobblestone streets, exploring hidden Spanish secrets. Either way, you can't go wrong with a stay in Marbella!
---
Planning a trip to Spain? Check out these articles!
Inspired? Pin It!