One of the most popular vacation destinations in Europe, Mallorca is the perfect place to holiday if you're seeking expansive stretches of white sand, mountainous landscapes, gourmet dining options, and plenty of relaxation. 
Mallorca draws in travelers of all kinds, whether it's the group of young friends who want to party spring break away, the professional couple looking for a quiet getaway, or a family bringing the kids to the ocean. As such, you'll find that there's an extremely wide range of accommodation options on the island. 
From budget rooms to boutique hotels to five-star resorts, Mallorca has it all. Keep reading to find out where to stay in Mallorca!
Where to Stay in Mallorca, Spain: Neighborhood Guide
As the largest Balearic Island, you'll quickly find that there's a great deal of diversity when it comes to Mallorca. Every area of the island has a unique identity and something different to offer visitors, whether it's a massive beach, small hidden coves, art and culture, or poppin' nightlife. 
Here's a breakdown of some of the main areas in Mallorca and what you can expect from each!  
Palma de Mallorca
Palma de Mallorca is the capital of the island, and you can find more than just resorts here. This is the place to be if you wish to admire Mallorca's architecture, visit museums, shop along the store-lined boulevards, and relax by the beach.
Besides the cultural pull, Palma de Mallorca also has a fabulous dining scene and very fun nightlife. You'll find everything from super luxurious hotels to budget accommodation options, so there's something for everyone in Mallorca's capital.
Alcudia
While Palma is Mallorca's capital, Alcudia is the island's Old Town.
A beautiful taste of old Spain, Alcudia is lined with cobblestone streets and soaring city walls dating back to the 14th century. This town has a distinctly medieval feel to it, with the traditional houses and watchtowers along the walls. This is the perfect area if you want to be near the beach but still experience some of Mallorca's history.
A few kilometers from town, you'll find Port d'Alcudia, a gorgeous stretch of white sand surrounding the Bay of Alcudia. It's a stunning place to relax, if you're staying in town and are craving a day full of sunshine. There's a cute little center just next to the port filled with yummy restaurants and small beach bars to keep you full and happy in between sunbathing. 
Hotels in Alcudia tend to be on the smaller side, as most are housed in traditional buildings and are built in boutique style, while those around the Port tend to be resorts. That being said, there are plenty of apartments for rent around Port d'Alcudia as well!
Port de Soller
Port de Soller has a little bit of everything. For starters, there's a lovely beach with soft golden sand, perfect for kicking back and relaxing. Behind the beach, you'll find tons of quaint restaurants and cafes and the occasional bar as well. 
Besides the beach, Port de Soller is popular with those looking for an active holiday as the area is home to some of the best hiking and cycling trails on the island. 
There are lots of fun things to do around Port de Soller which has made it a popular destination among couples, families, and anyone looking for a quieter holiday. Take a ride on the vintage train called the Orange Express or book a boat trip from the port.
No matter what, you're sure to find accommodation suited to you and your budget as this area has a huge range of options to choose from.
Cala Millor
Soft white sand, a calm sea, and plenty of space for everyone, Cala Millor is one of the best places to be if you want the beach to be the center of your Mallorca holiday. The wide stretch of sand is dotted with umbrellas and lounge chairs, set to a backdrop of high-rise apartments and mountains behind them.
There's a long beachfront promenade where you can find everything from beach stores selling towels to restaurants and bars for an afternoon sangria. 
There's a place for everyone in Cala Millor as the accommodation ranges greatly from hotels to rental apartments to entire villas. 
Cala d'Or
For sheer beauty, Cala d'Or makes a gorgeous place to stay. Sitting on the southeast coast of the island, this area is brimming with small little sea coves with clear crescents of sand, surrounded by pine trees and other island greenery.
The beaches in this area are definitely smaller than the ones attached to the giant resorts, but they're the perfect place to splash around and enjoy Mallorca's turquoise waters. 
Besides the sweet petit beaches, Cala d'Or is fairly built up so you'll find a fair share of restaurants, bars, and cafes catering to the tourist crowd. But thankfully, the little town still retains some of its original charm with small cobbled streets and whitewashed houses. 
You'll find loads of cute little B&Bs in this area as well as guest houses and the occasional apartment rental. 
✨The 1 Thing We Never Leave Home Without…✨
Coming from someone who has been traveling the world for the last 8 years AND has been in the hospital 2x, travel insurance is something everyone NEEDS to get. Get a quote below!
What's the Best Area to Stay in Mallorca, Spain?
One of the coolest things about Mallorca is there's a place on the island for everyone.
For those looking for big, all-inclusive resorts, Port de Soller and Cala Millor are the places to be. These areas have luxury hotels sitting right on the beach which will cater to your every need while you spend the day basking in the sun.
If you'd like to stay in a beachfront apartment (an awesome choice for more budget-conscious travelers), you'll find your fair share in Cala d'Or, Port d'Alcudia and Cala Millor. 
To get to know the true Mallorca, spring for a boutique hotel in Palma de Mallorca or Alcudia, where you'll find the largest cultural and historical centers on the island.
No matter where you choose to stay, Mallorca has a great bus network which links different parts of the island together. Regardless of where you choose to book accommodation, you'll easily be able to hop on a bus and ride over to the next port town, beach, or inland village that you'd like to see!
Where to Stay in Mallorca, Spain: Best Hotels and Hostels
No matter your budget, you'll be able to find a great stay in Mallorca. The accommodation here ranges from low-priced hotels to five-star resorts and everything in between. 
You'll quickly find that around the beaches, there are tons of apartments for vacation rentals. There are also all-inclusive resorts if you're looking for a package deal for your holiday. You'll find unique boutique hotels in the older parts of the island and modern stays along the coast. 
Here are our top picks when it comes to best places to stay in Mallorca!
Best Budget Stays in Mallorca 
A little can go a long way in Mallorca, so you'll be pleasantly surprised by how nice the budget accommodation options are on the Island. 
Hotel Antares
Room Type: Single Room | Double Room | Double Room w/ Extra Bed
WiFi: Yes
Near:  Cala Gran Beach, Cala d'Or Beach
Price Range: $39 – $72 per night
Set in Cala d'Or, just two minutes from the main beach, Hotel Antares offers modest stays, perfect for budget travelers in Mallorca who wish to be near the sea. The hotel is just steps away from bars, restaurants, and shops, so you'll have everything you could ever need just out the front door. 
Rooms at Hotel Antares are simple but cozy, with blue accents and a beachy vibe. Each room comes complete with a private bathroom and a balcony. How sweet is that?
The hotel has a dining room and a lovely terrace, perfect for enjoying a meal from the buffet or a drink from the cafe-bar. There's also a billiard and foosball table which guests are free to use whenever they're looking for a little bit of fun.
One thing we love about Hotel Antares is that the front desk can help you hire a car or bicycle so you can travel around the island with ease. They also offer an airport shuttle for a small fee. 
To see price and read reviews, check: Booking.com | Agoda
Mar Brava
Room Type: One-Bedroom Apartment w/ Two Sofa Beds
WiFi: Yes
Near: Can Picafort Beach
Price Range: $78 – $90 per night
Along the northeast coast of Mallorca in Can Picafort, you'll find the peaceful Mar Brava with modern apartment rentals right on the beach. Located only 100 meters from Can Picafort Beach, you'll have sandy toes and salt-tinged hair the entire time you stay here.
These air-conditioned apartments can accommodate up to four people, which makes it a great choice for couples, families, and small groups. There's everything you need here from a fully-equipped kitchen to a large sitting area, as well as a comfortable bed to curl up in after a long day in the sun. Plus, each apartment has a large bathroom with a bathtub and a personal balcony.
When you're not hanging around the apartment, head to the bar for a drink, hop in the pool for a dip, or enjoy a meal on the terrace. 
This is an awesome choice for travelers who want a bit more of an independent stay.
To see price and read reviews, check: Booking.com | Agoda
Eix Alcudia Hotel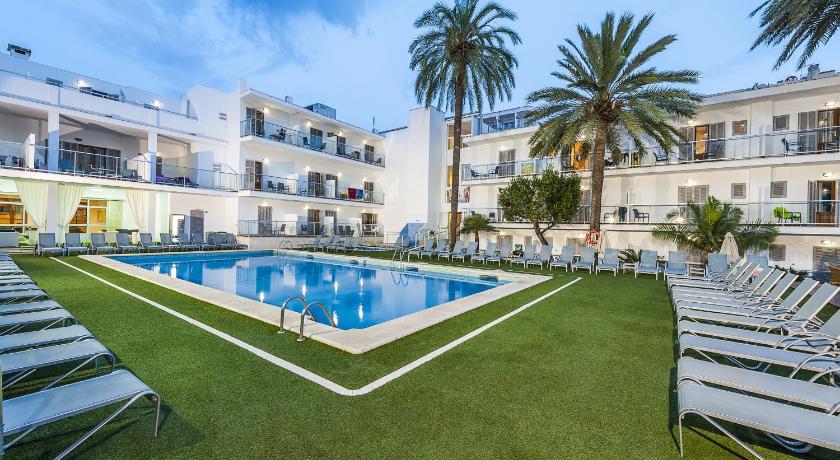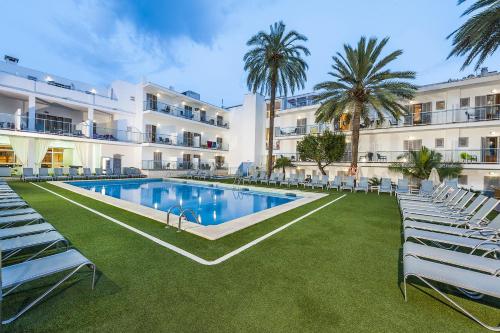 Room Type: Single Room | Twin Room w/ Pool View | Twin Room | Junior Suite
WiFi: Yes
Near: Port d'Alcudia
Price Range: $63 – $127 per night
For an adults-only escape, it doesn't get much better than Eix Alcudia Hotel, which is located just 200 meters from Port d'Alcudia Beach. From the hotel, soak in views of the crystal clear water or take a short walk to explore the medieval town of Alcudia.
Rooms here are a decent size and certainly comfortable, with contemporary-style decor and furnishings. If you book a double room, you'll also have your own private terrace with a view of the pool!
When you're not catching some z's, head to the huge outdoor swimming pool surrounded by sun loungers and a breathtaking view. And the best part? Your stay comes with a fabulous buffet breakfast with a wide variety of delicious foods. Plus, the warm and friendly service from the staff will put a smile on your face.
You'll have a hard time pulling yourself away from the hotel, but if you do, the beach is just steps away.
To see price and read reviews, check: Booking.com | Agoda
Best Mid-Range Hotels in Mallorca
If you're willing to spend a little more on your accommodation in Mallorca, you'll find that you can have a swanky stay for a pretty reasonable price. A lot of boutique hotels in Mallorca are in the mid-range category, and many resorts are, too! 
Here are our picks for best stays in Mallorca for a mid-range budget.
Fonda Llabres Boutique Hotel
Room Type: Double Room | Deluxe Double | Twin Room w/ Spa Bath | Double Room w/ Disability Access | Deluxe Double or Twin w/ Mountain View | Superior Double or Twin w/ Terrace | Deluxe Junior Suite
WiFi: Yes
Near: Constitution Square, Museu de Soller, Mercat-Municipal
Price Range: $90 – $181 per night
This stunning boutique hotel in the heart of Alcudia offers the perfect place to stay if you're interested in exploring Mallorca's past. Located in Constitution Square, you're really smack dab in the center of Alcudia, so it's quite easy to get to anywhere you wish to go.
Fonda Llabres is run by a lovely family and has bright, airy guest rooms. Everything is decorated with white, cream, and yellow, making the rooms feel quite large and welcoming, with impressive bathrooms and massive bathtubs. Views from the room are either of the bustling square or the sea, so you'll be waking up to stellar views, either way.
Besides the guest rooms, this hotel has a rooftop terrace, perfect for taking in views of the ancient town below or enjoying an ice cold drink. There's an outdoor lounge area as well, with cabanas and sun chairs, ideal if you want to crawl out of bed and get your tan on.
The restaurant at the hotel serves up Mallorcan, Spanish and international foods, and even has homemade pastries every morning… Yum!
To see price and read reviews, check: Booking.com | Agoda
BQ Alcudia Sun Village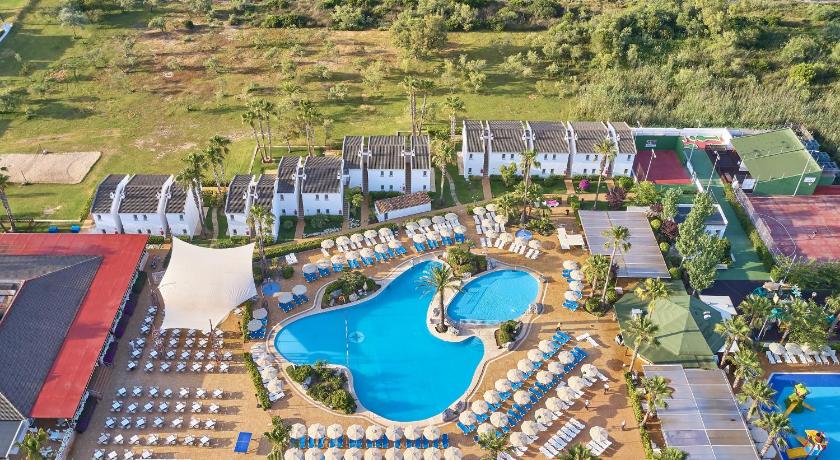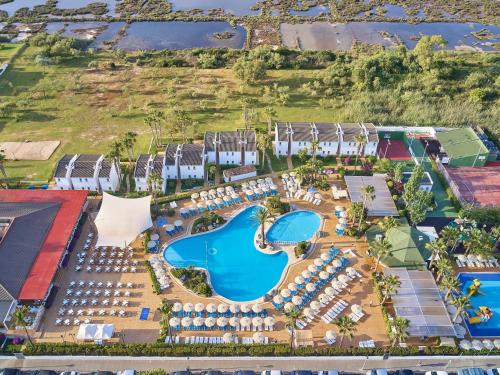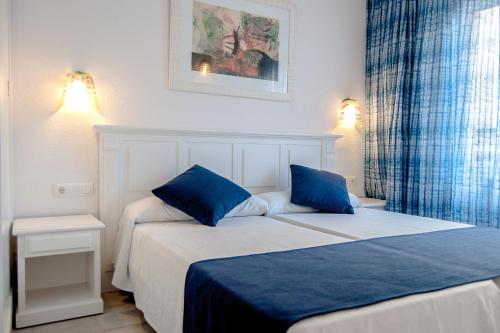 Room Type: Double Room | One-Bedroom Apartment
WiFi: Yes
Near: Playa de Muro Beach
Price Range: $99 – 198 per night
An excellent option just south of Port d'Alcudia is BQ Sun Village, a resort sitting just minutes away from the beach and set against a wildfowl reservation.
Here, you have your choice of hotel rooms or apartments, all for an unbeatable price. The hotel rooms are quaint, with tile floors, comfortable beds and pops of blue to give the space some color. Rooms have private bathrooms as well as their own balconies so you can enjoy some sunshine in the comfort of your bathrobe.
Apartments are slightly more expensive but give guests a small kitchenette with a stove top, fridge, and all you need to cook. There's also a dining area and a couch in the common areas.
Other facilities for guests at BQ Sun Village are a game room with darts and billiards, a tennis court, mini golf course, gym, swimming pool, and a restaurant serving international cuisine. There's also an on-site tourist information center that's open 24 hours, where guests can coordinate car rentals, currency exchange, and massages.
Basically, BQ Sun Village has everything you could ever need for a comfortable vacation. Our favorite thing about this resort is that you can stay without the all-inclusive package and choose to add it on later in your stay.
To see price and read reviews, check: Booking.com | Agoda
Ca n'Alexandre-Turismo de Interior
Room Type: Double Room | Double w/ Terrace | Superior Double | Superior Double w/ Terrace
WiFi: Yes
Near: Place Major, Museu Fundacion, Parc de les Estacions
Price Range: $148 – $223 per night
For a stay in the island's capital, Ca n'Alexandre-Turismo de Interior is an absurdly beautiful property offering comfortable stays right in the center of town. The hotel is minutes from Es Molinar Beach, the Palma Yacht Club, and Passeig del Born Avenue where you can find plenty of restaurants, bars and shopping.
You'll be extra comfortable in your rooms here as they're minimalist but chic, with plush beds, artful furniture, wooden accents, and exposed brick. Bathrooms come complete with everything you need for a comfortable stay, and if you're willing to spend a little more, spring for a room with a private terrace!
Besides the 24-hour front desk who's happy to help with anything you may need during your stay, you can enjoy a delicious meal at the on-site restaurant or a cold drink at the bar. But if you feel like venturing out, you'll have Mallorca's finest establishments sitting just outside the front door. 
To see price and read reviews, check: Booking.com | Agoda
Best Luxury Hotels in Mallorca 
Mallorca is best known for its luxury accommodation, with five-star resorts lining every coast of the island. From spa deals to all-inclusive packages, luxury stays in Mallorca don't come cheap but are certainly worth every penny.
Here are our recommendations if you're looking to splurge in Mallorca. 
Es Princep
Room Type: Standard Double Room | Superior Double | Premium Double | Deluxe Double w/ Sea View | Junior Suite
WiFi: Yes
Near: Palma Port, Palma Beach, Catedral de Mallorca
Price Range: $248 – $584 per night
A hotel just on the edge of Palma overlooking the sea, Es Princep is the perfect luxury stay for anyone looking for a mix of beach and city. The hotel is just 550 meters from the closest beach and within walking distance to the center of town. In terms of location, it truly doesn't get much better than this.
When it comes to rooms at Es Princep, you're sure to be delighted as they're beyond comfortable and have everything you could ever wish for during your stay. The beds are known for being extremely comfortable, there's a small desk for getting some work done, plus a sitting area for curling up with your book.
Rooms have either a city or ocean view, and the suites come complete with gigantic tubs, perfect for a soak after a long day.
Besides the rooms, the rooftop terrace is the real highlight of Es Princep. It offers you a gorgeous place to kick back, sip on a drink, and relish in the ocean views. It's also the perfect place to catch some rays without getting sandy from the beach.
There's also an outdoor pool on the property, a spa center, a full service restaurant and a 24-hour front desk, so you'll be well taken care of for the duration of your stay.
To see price and read reviews, check: Booking.com | Agoda
Fontsanta Hotel Thermal & Spa
Room Type: Double Superior w/ Patio | Double Superior w/ Terrace | Junior Suite | Deluxe Junior Suite | Suite w/ Terrace | Luxury Suite w/ Terrace
WiFi: Yes
Near: Salinas d'es Trenc
Price Range: $309 – $612 per night
If you're looking for something a little bit different, Fontsanta Hotel Thermal & Spa is the perfect option for anyone looking for the ultimate relaxing vacation in Mallorca. Set in a more remote part of the island and away from the crowded tourist centers, Fontsanta is an adults-only paradise.
Rooms are large, luxurious, and thoughtfully-designed with cushy beds and all the fluffy towels you could ever dream of. The more deluxe rooms include a giant living area, massive bathtubs, and a private terrace, as well.
But what's really special about Fontsanta is all of the services available for guests to take advantage of. On the property is a thermal spa which has a Turkish bath, thermal pools, and a sauna for relaxation and resetting. There's also a full gym, outdoor pool, and gourmet restaurant happy to cater to special diet requests.
One final aspect we love about this hotel is that there is free bike use available to guests, which is perfect for exploring the nature-laden areas surrounding the property. 
To see price and read reviews, check: Booking.com | Agoda
Jumeirah Port Soller Hotel & Spa
Room Type: Superior Double Room | Deluxe Double w/ Mountain View | Deluxe Double w/ Sea View | Grand Deluxe Double w/ Mountain View | Grand Deluxe Double w/ Sea View | Junior Suite w/ Mountain View | Junior Suite w/ Sea View
WiFi: Yes
Near: Port de Soller Beach, Mallorca Muntanya (Hiking Area)
Price Range: $347 – $948 per night
For the ultimate five-star stay, splurge for a room at Jumeirah Hotel & Spa located just north of Port Soller. The property is perched high on a hill overlooking the Port de Soller Bay, with breathtaking views in every direction. Mountains, sea, small coves, and lush greenery… You can see it all from this hotel.
Each room is large in size, with its own private balcony and stunning views thanks to the floor-to-ceiling windows. There are flat screen TVs, marble floors, large sitting areas with velvet furniture, and modern appliances for pure comfort. 
There are three restaurants at Jumeirah, serving everything from tapas to sushi to local cuisine, sure to satisfy any craving. There are also two poolside bars where you can get your drink on while soaking in the sun.
Need some extra relaxation? The spa on-site has a hammam suite, heated hydropool, and thermal area. Spend a perfect afternoon of relaxation here before heading down to the golden sand beach below. 
To see price and read reviews, check: Booking.com | Agoda
It truly doesn't get much better than a vacation in Mallorca, especially if you find the perfect place to stay. From the turquoise waters to some of the softest sand in the world, once here you'll be tempted to stay forever!
Need help figuring out your Mallorca plans? Check out our guide to the best things to do in Mallorca.
---
Headed to Spain? Check out these other articles!
Inspired? Pin It!