Although Madrid and Barcelona typically grab the headlines when it comes to talk about Spain, the third-largest city is trundling along in the background with so much to offer. I'm talking a thriving art, cultural, eating, and nightlife scene, strikingly futuristic buildings, massive green parks, stretching sandy beaches, and an Old Quarter full of character.
Overall, Valencia is a wonderfully charming city teeming with life and famous for rice dishes like paella. What more could you want?
With so much to do and see, regardless of the time of year you travel here, here is a list of our top favorite things to do in Valencia.
Visit the City of Arts and Sciences
A must-see for any visitor, the City of Arts and Sciences in Valencia is an amazing place consisting of a group of futuristic buildings designed by local architects.
Containing 6 district zones or buildings, you can fill so much of your time exploring the L'Hemisferic, El Museu de les Ciències Príncipe Felipe, L'Umbracle, L'Oceanogràfic, El Palau de les Arts Reina Sofía, and L'Àgora.
Insider's Tip: Keen on discovering what the City of Arts and Sciences has to offer? Save some Euros (and time spent in line!) by buying a combined ticket that provides entry to your chosen sites. If you're more interested in the design and architecture of the area, a Segway tour is a fun way to explore and see these intriguing buildings in a different way.
✨Want to Have a More Local Experience While Traveling?✨
Avoid cookie-cutter tours made for mass tourism. Wherever we are, we love going on local Airbnb Experiences as they have unique experiences around the world.
Click the button below to find a local experience near you.
Admire Valencia Cathedral and The Holy Grail
Visit the Cathedral just to drink in the atmosphere of this lovely old quarter or opt to explore it all!
You can climb to the top of the Miguelete Bell Tower and experience sweeping views of the city. There are two Goya paintings in the San Francisco de Borja chapel to admire.
And don't forget to feast your eyes on the city's claim to fame: The Holy Grail that Jesus drank from at the last supper.
Gaze at the Palace of the Marquis of Dos Aguas
One of the top sights in Valencia, don't leave the city without admiring the Palace of the Marquis of Dos Aguas, home to a Valencian noble family.
As well as having the most beautiful marble entryway, this luxurious residence has also been fully restored and retains much of its original furniture and decoration. It's also home to the González Martí National Museum of Ceramics and Sumptuary Arts.
Take a food or wine tour
One of our favorite ways to experience the true culture of a new city is to take a food or wine tour with a local.
Not only does this give you an insight into their cuisine, but it is always incredibly fun and delicious. Plus, you usually end up learning about all the best local hotspots and making friends for life.
Top Tip: Don't leave Spain without experiencing their glorious tapas culture! A tapas tour is a excellent way to taste some of the best tapas in Valencia. Visit three delicious tapas spots for some yummy food, and learn more about Spanish food culture along the way. Check out the tapas tour here.
Go plaza hopping
There are so many squares in Valencia where you can fill your boots with history and your faces with food. So, if you have the time, consider visiting them all.
The main plazas to see include:
Plaza de la Virgen, home to the Turia Fountain and lined with iconic historic buildings
Plaza del Ayuntamiento, the Town Hall Square
Plaza de Toros de Valencia, one of the largest bullrings in Spain
Get your camera ready and pose for some pretty snapshots for your Instagram!
Bathe in the Admiral's Baths
The only ones of their kind left in this seaside city, the Baños Arabes del Almirante are the remnants of 14th-century Valencia when it was under Muslim control.
Open Tuesday through Sunday, you can get a peaceful and relaxing glimpse into the city's curious past.
Relax at Café Negrito, one of the most popular hangouts in the city
You heard us right and Café Negrito is one of the most popular hangout spots for a reason!
With a cozy interior and a large terrace, you can enjoy a cold beer or creative cocktail here with friends for an hour or two or long into the night. The lively atmosphere is quite infectious so if you go once, you may want to squeeze in time for another visit!
A restaurant highly recommended by all, Restaurante Navarro is particularly known for its fantastic paella.
Boasting first-class service, an ambient terrace, and delicious food paired with top-notch sangria or wine, trust us when we say you'll be visiting this place again before you leave Valencia.
Stroll around the Jardines del Real
Previously a part of the Royal Palace, you can expect extravagant gardens maintained to perfection at the biggest park in the city.
Enter through a beautiful entrance lined with palm trees and stroll through the grounds full of monuments, fountains, viveros (greenhouses), birdhouses, and cafes. Perfect way to spend a relaxing afternoon!
Explore the magical world of L'Oceanogràfic
An oceanarium located in the east of the city, L'Oceanogràfic is well worth a visit while you're in Valencia.
Not only can you spend hours here gazing through the glass at a range of exotic animals in their natural habitats, but you can also walk through the largest glass water tunnel in Europe, watch majestic sharks swimming a few meters from your face, and witness amazing dolphin displays.
Insider's Tip: If you're planning to visit the L'Oceanogràfic, the Hemisfèric, and the Principe Felipe Science Museum, a combo ticket in the way to go. Valid for three days, this ticket grants you entry to all three sites. So convenient, and saves you some money too! Get more details here.
Get a glimpse of Plaza de Toros
Whether you're a fan of bullfighting or not, a quick visit to the Valencia bullring is worth adding to your sightseeing list.
Get a glimpse into the deep roots of Spanish culture by admiring this neoclassical-style and undeniably impressive arena.
Go blob jumping
Yes, it is as fun as it sounds!
Invented by bored American soldiers on a rubber fuel tank, blob jumping has since turned into this ridiculously fun and fast-growing adrenaline-fuelled activity. Get propelled into the air by jumping on giant blobs, and we'll bet you'll land in the water with the biggest smile on your face!
Drink craft beer at Birra and Blues
One of the best craft breweries in Valencia, Birra and Blues attracts those who appreciate high-quality and natural award-winning beer. With no artificial additives or preservatives, you can take a guided tour of the facilities by the master brewer or just enjoy the finest of beer right by the sea.
Wander around the Barrio del Carmen neighborhood
If you want to experience the true soul of this Spanish city, a visit to Barrio del Carmen in the Ciutat Vella (Old Town) will do the trick.
A coastal city sandwiched between the 11th-century Muslim wall and the 14th-century Christian wall, you can imagine that this pocket-sized place is rich with history.
Be amazed by the amazing L'Umbracle
Walk through this truly magnificent sculpture garden, an outdoor garden full of plants native to the area all under unique arched structures.
As well as the landscaped walk, L'Umbracle also has a modern bar (Terraza L'Umbracle) which features a relaxing lounge area and lively dance floor in the evening, all within this beautiful setting.
Stay a night at the Hotel Las Arenas Balneario Resort
Want to sleep with sea views  and just a stone's throw away from a stretching sandy beach? Yearning to relax in the spa and take a short stroll along the beach boardwalk into the old city? Dreaming of eating breakfast in a luxury terrace overlooking the Mediterranean Sea?
If this sounds like heaven to you, why not stay a night (or two, or ten!) in this luxury 5-star deluxe hotel? The most popular of its kind in the whole of Valencia, Hotel Las Arenas Balneario Resort is the ideal choice for a high-end stay in this city.
Planning Your Dream Trip to Spain? Here's our Spain guide for you!
Hang out with locals at La Taberna Reina
We all love a good tavern, so head to this local favorite and soak up the Valencian sun with views of the Cathedral.
Eat your fair share of tapas and pintxos, paired with a beer or two, and relax with locals in this informal and bustling environment.
Hit the shops or one of the many malls in the city
If you have the time or if you're in need of retail therapy, Valencia has you more than covered.
Not only does every area have its own street market once a week, the city also has a plethora of malls where you'll find most major brands.
Hit the high street shops, discover local independent stores, and make your way to the giant Centros Comerciales (shopping malls) such as Nuevo Centro, El Saler, BonAire, Parque Ademuz, Aqua, or the high-end mall of Galería Don Juan de Austria.
Get right in the middle of the hustle and bustle of Valencia's Central Market
Central markets are always teeming with unique sights, sounds and smells that are  indicative of the city's history and culture. Valencia's Central Market is no exception.
Wander around this incredible food market, and you'll get a much closer look into the daily life of a Valencian. It's also a good idea to try some local food and savor their delicacies, so go ahead and try whatever catches your eye!
Cycle the old Turia riverbed
Once a wide and powerful river that split the city in two, the River Turia was redirected elsewhere after it flooded the city after a horrendous storm in the 1950s. Now what is left is a stunning park in the center of the city stretching as far as you can see.
Walk, cycle, or lounge here for a few hours. If you rent bikes, you can pick them up from one end and drop them off at the other.
Discover Albufera Natural Park
Head to the south of Valencia to experience Albufera, home to the country's largest lake and most scenic wetlands and lagoons.
Take a traditional boat ride to experience the full biodiversity of this park. You'll get a glimpse of a variety of animals in their natural habitat and local fishermen working on the shallow waters, and see first hand how the rice from your paella is grown.
Grab a local meal at Bocadella Tapas
Affordable, friendly, and delicious, Bocadella Tapas offers genuine Spanish delicacies.
With such high praise from locals and tourists alike, it's amazing that this gem of a place isn't bursting at the seams with the number of people who seek it out. Found under the lush trees just outside of the center, this restaurant is a must-visit for foodies who seek an authentic tapas experience.
Go on a via ferrata excursion
You may be in a city, but not far away is an adrenaline experience just waiting to be had!
Take a half trip away from the sights and head into the mountains for a thrill with a via ferrata excursion. Ascend the rocks in these fixed climbing routes until you hit the peak! Suitable even for beginners, this outing will make your trip to Valencia an unforgettable one.
Stand at the foot of the Torres de Serranos
Imagine the whole of Valencia surrounded by old medieval walls in the 14th-century when you stand at the foot at all that remains of them: the Torres de Serranos.
Look up at these towering twin stone gates and climb to the top of them for city views. While you're up there, imagine this being the city's main exit for traders passing through to Barcelona and Northern Spain.
Spend the day catching rays at La Malvarrosa Beach
Valencia has many unspoiled beaches along its impressive coastline so you are in no way short of places to sit down with your toes in the sand and chill.
For a wide beach with clean soft sand stretching for miles, head to the most popular one in the city: La Malvarrosa.
Get trendy at the hip district of Ruzafa
"Why is this place hip?", we hear you say. Well, it's because of where Ruzafa sits on the coolness scale.
Full of small art galleries, indie boutiques, organic food shops, coffee shops, American-style bakeries, cafes with sun terraces, burger bars, fusion restaurants, and late-night bars and clubs, this district is full of vibrant people doing interesting things.
Make your stay by lodging in Casual Vintage Valencia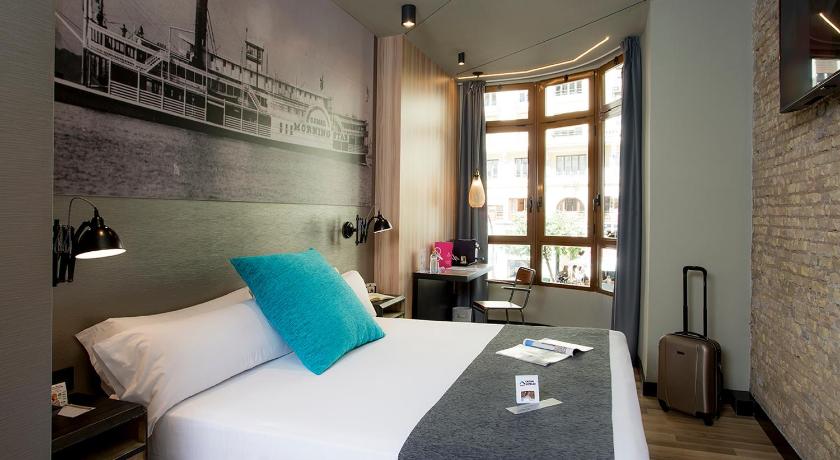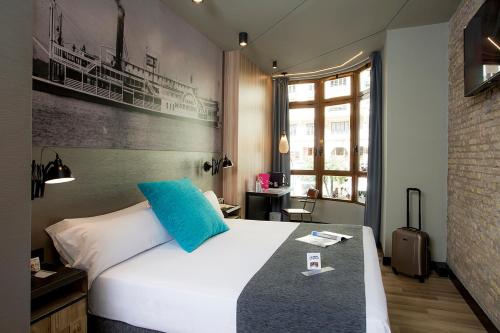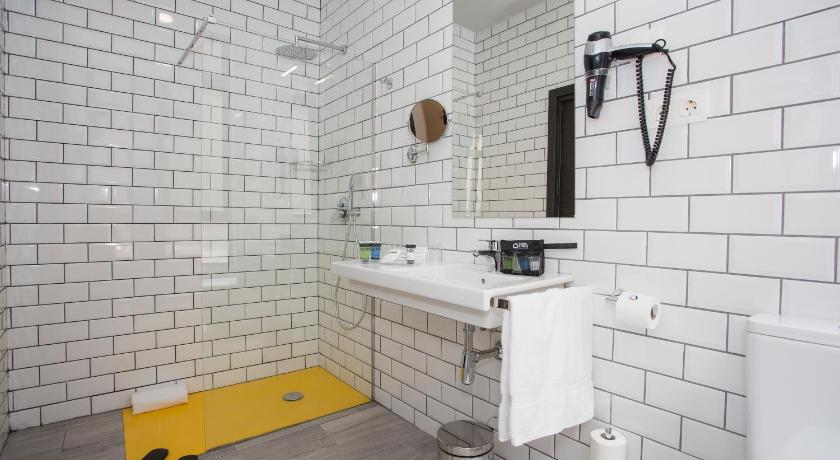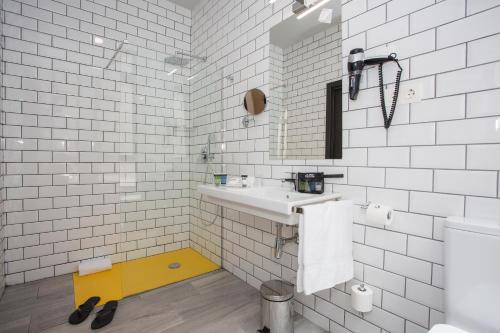 Although "casual" is in its name, Casual Vintage Valencia doesn't slack on service or amenities.
Located in the city center, you can enjoy a comfortable and stylish room decorated in a retro-game theme, a filling breakfast every day, exceptional service 24/7, and a prime location close to everything you need.
Experience the weird and wonderful Fallas Festival
We absolutely love traveling somewhere when they have a traditional festival or celebration going on, so consider heading to Valencia to experience the spectacle that is the Fallas Festival.
The weirdest, loudest, and most elaborate fiesta, the whole week involves parades of large and exuberant statues and people letting off firecrackers and fireworks 24 hours a day.
Try something different like a canyoning tour
If you're looking for adventure on your city break, take a day out from sightseeing and head towards the nature that surrounds the city.
A canyoning adventure is sure to thrill! Full of waterfalls, pristine pools of water, and smooth winding canyons, feel the rush of excitement as you spend the day exploring, climbing, abseiling and cliff jumping until your heart is content.
Get your geek on at the science museum
Forming part of the City of Arts and Sciences, this bright and modern museum is a visitor favorite.
The Museu de les Ciències Príncipe Felipe will stimulate curiosity and critical thinking with its variety of interactive exhibits and workshops, so head there if you want to fill your brain with science.
Take a day trip from Valencia
If you have a few days, you can always venture outside of the city to experience Valencia in its entirety.
From adventure trips and nature trips to castle visits or exploring smaller surrounding towns, you can make your Valencia experience your own by choosing an activity you love.
Travel Tip: Not sure how to spend an extra day in Valencia? Check out tours and activities that are available in the city, and you just might find something that you didn't even know you could do! Whether it's a cooking class, a jeep adventure, or a flamenco show, you'll surely find something that catches your fancy.
We hope this extensive list of things to do in Valencia will help you discover the ins-and-outs of the city so that you get a full-on awesome Spanish experience. And if you need help figuring out where to stay, read our guide to the best places to stay in Valencia.
What are your favorite things to do in Valencia? Share with us in the comments!
---
Planning a trip to Spain? Our guides can help
Inspired? Pin it!