Looking for tips on where to stay in Tarifa? In this article, I will walk you through our top recommendations.
Situated on the southernmost tip of Continental Europe, Tarifa makes an ideal place for a warm and sunny vacation. Hotels in Tarifa are abundant and it's easy to find somewhere to stay no matter if you're visiting for sightseeing, to lay on the beach or even to catch the ferry over to Tangier.
Regardless of your budget, it's easy to find a place to stay in Tarifa that's value-for-money, beautifully constructed, and in close proximity to anywhere you may wish to go.
Keep reading to check out our recommendations for the best places to stay in Tarifa!
Where to Stay in Tarifa, Spain: Neighborhood Guide
While there's a small town center in Tarifa, most of the life in this city surrounds the beach areas. Here's a brief overview of Tarifa's neighborhoods where you'll find most of the accommodation options.
Old Town Tarifa
Filled with old city gates, cobblestone streets, whitewashed buildings, and plazas-a-plenty, Old Town Tarifa is filled with ancient charm. This is where most of the city's sightseeing attractions are located, as well as a huge abundance of tapas restaurants, small bars and pubs, and accommodation options.
Since Tarifa isn't particularly large, Old Town is in close proximity to everything, as it sits at the center of the city. This means that the beach is just a quick walk away, as is the port that takes visitors down to Morocco.
To be in the middle of it all, book a stay in Old Town!
Recommended Hotels in Old Town Tarifa
Los Lances
Los Lances is the main stretch of beach in Tarifa, spanning down the coastline with warm, golden sand. The beach is more than 7,000 meters long so there's plenty of space for everyone to stretch out.
You'll find lots of hotels and hostels, catering to different crowds. Smaller hostels draw in travelers interested in watersports (Tarifa is the place to try your hand at wind or kitesurfing!) and the larger, more luxurious hotels cater to those looking for a relaxing seaside vacation.
Unlike lots of beach towns, there's not really a premium to stay near Los Lances, so if you're hoping to wake up and hop straight in the water, this is the place to be!
Recommended Hotels in Los Lances
La Marina
Outside of Old Town and set back from the beach, you'll find the charming La Marina neighborhood, a residential quarter of the city with a local atmosphere.
If you're interested in booking an apartment or vacation home, it's likely located in the La Marina neighborhood!
While there's not much going on in this area, it's just a five to ten-minute walk from the beach and a quick stroll into Old Town as well. You'll find some sweet local hot spots to grab a bite to eat or a coffee in the morning and enjoy a chilled out feeling here!
What's the Best Area to Stay in Tarifa, Spain?
If you want a little bit of everything, book a stay in Tarifa's Old Town. This is certainly where the center of life is, as well as all of the city's historic sites, the best restaurants, and the place to be in terms of nightlife. It's a bit more expensive to stay here, but it's completely worth it as you'll have all of Tarifa's best right at your doorstep.
If you want to be near the ocean, find accommodation around Los Lances! Since the beach is so massive, it stretches all the way up the coast with plenty of hotels and hostels along the way. There are also plenty of cafes and restaurants lining the beach, so staying around the shoreline is a safe bet to be near whatever you may need!

Finally, to break away from the tourist crowds and live as the locals do, find somewhere to stay in La Marina. As it's mostly residential, there isn't a ton of hotels and hostels, but there are loads of vacation rentals and apartments so it's a great option if you like to have your own space while on a holiday.
Best Hotels in Tarifa, Spain for Any Budget
Wondering where exactly to stay in Tarifa? To help you find the ideal place, here are our picks for best hotels in Tarifa!
Best Budget Stays in Tarifa
Tarifa, Spain has loads of budget stays available to eager travelers headed to this seaside town. Whether you're interested in a hostel dorm bed or a private room, it's all within budget in Tarifa.
Ohana Tarifa
If you're traveling to Tarifa on a budget, basic accommodation can be found at Ohana Tarifa for an outstanding price. Sitting on the edge of Old Town and a five-minute walk from Los Lances Beach, Ohana Tarifa is in a great location for exploring the area and soaking up the hot Spanish sun.
Full of modern-style dorm rooms, each bunk bed is encased in wood with a reading light, power outlet, and clean linens for a good night's sleep. There are also large lockers under the bed for storage and hooks for towels or jackets at the end of each bunk – a small but meaningful detail most hostels are lacking!
Each dorm has a shared bathroom, and many also have a kitchenette with a microwave and a fridge so you can heat up leftovers or cook a quick ramen after a long day. And if you're looking for a hearty meal, Ohana Tarifa offers an a la carte breakfast every day.
One more thing we love about this hostel is they offer bicycle rentals on the property so you can easily cycle anywhere you wish around Tarifa!
To see prices and read reviews: Booking.com
Tarifa Watersports Residence
Tarifa Watersports Residence sits just 200 meters from the beach and a quick stroll away from Old Town. It's the perfect place to stay if you're in Tarifa for some watersport action or just looking for somewhere charming and peaceful to stay during your holiday.
This place is located in the La Marina neighborhood, so it's certainly in a quieter area of town but you'll still find plenty of restaurants, bars, minimarts, and coffee shops nearby!
They offer one small dorm and private rooms for travelers, many of which have views of the sea. Bathrooms are shared, but you'll feel right at home here with the large lounge areas, spacious balconies, BBQ grill, and massive kitchen. Whether you want to cook your own meals, catch up with other travelers, or watch an insane sunset, this is the perfect place to do it!
If you're a watersports enthusiast, Tarifa Watersports Residence is the place for you. They have dedicated special storage for kitesurfing, windsurfing, and other watersports equipment, as well as fantastic staff who are available to help you with anything you may need.
To see prices and read reviews: Booking.com
Hostal El Asturiano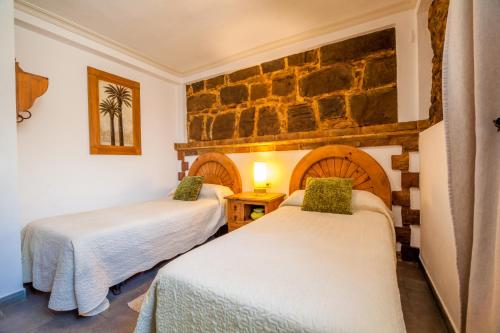 Sitting just on the edge of Old Town, Hostal El Asturiano is built into Tarifa's ancient city walls and offers private accommodation on the budget end of the spectrum.
Each room is classic in style, with a private bathroom, air conditioning, and free WiFi, boasting either a view of the city or the sea. The larger rooms have exposed stone walls and tiled bathrooms, giving off an air of old-time Spanish charm.
Every morning, Hostal El Asturiano serves up a scrumptious breakfast (complete with freshly-squeezed orange juice), and there's a lovely terrace from which to enjoy it. As the sun goes down, head to the bar on-site for a drink before making your way out for the evening.
The staff here are beyond gracious and are willing to help book tours or point you in the direction of local hot spots.
To see prices and read reviews: Booking.com
Best Mid-Range Hotels in Tarifa
If you don't mind spending a little more money, you can end up with a charming stay at a mid-range price. Here are our favorite picks for the best mid-range hotels in Tarifa!
La Casa de la Favorita
Smack in the center of Old Town, you'll find La Casa de la Favorita, perfect for a mid-range stay close to everything in Tarifa.
This hotel lies in a mansion dating back to 185o which has since been renovated but retains most of its original charm. Located in a pedestrian square, La Casa de la Favorita offers a lively stay next to plenty of bars, restaurants, and shops.
The rooms here are simple but lovely, with brown and white accents, fresh flowers and charming decorations. If you spring for one of the larger rooms, you'll also get a kitchenette with everything you need to whip up a quick meal.
Some of the rooms have private terraces where you can enjoy views of the city and sea, and each room also comes with a private bathroom.
This is an ideal place to stay if you want to sightsee in Tarifa, but it's also just a ten-minute walk to the port, so it's a great location if you're hoping to hop over to Tangiers, as well!
To see prices and read reviews: Booking.com
Malabau Beach House
If you like having your own space when you travel, consider booking one of the chic apartments offered at Malabau Beach House! Located just next to Los Lances Beach and a three-minute walk from Playa Chica, you'll be in seaside paradise with a stay here.
Choose from a studio or loft apartment, both of which are bright, airy and spacious. Everything is in beautiful shades of white and cream, with wooden accents and fully functional amenities. Each apartment has a kitchen complete with everything you need to cook for yourself on your holiday, and the private bathrooms have warm showers and fresh towels.
Perfect if you're traveling as a couple or small group, Malabau Beach House is an awesome mix of private and functional that will really round out your trip to Tarifa. The best part? The units are pet-friendly, so go ahead and bring your furry friends along.
To see prices and read reviews: Booking.com
The Riad
Located in a stunning 17th-century building in Old Town, you can really feel the Spanish charm at The Riad, an adults-only hotel. It's minutes away from the Puerta de Jerez City Gate, a five-minute walk to Tarifa's port and just 600 meters from Los Lances Beach — so yes, you really have it all in terms of location!
You'll love the stylish rooms here! They're fully furnished, with Morrocan-style decorations within the exposed stone walls, creating a beautiful fusion of Spanish and North African vibes. The rooms are really quite remarkable in their design and will completely transport you.
Each room comes complete with a private bathroom and air conditioning. The rooms also boast views of either the inner courtyard or the city below. Larger rooms have a balcony or terrace and the junior suites have a massive sitting area, perfect for curling up with a book or enjoying the views.
At The Riad, you'll find a hammam offering traditional Moroccan treatments and massages, a wonderful staff willing to accommodate your every need and a fabulous breakfast every morning.
To see prices and read reviews: Booking.com
Best Luxury Hotels in Tarifa
For a taste of luxury, book a stay at one of Tarifa's spa hotels, or even opt for an entire vacation home! No matter what you choose, you're sure to be wowed by the high-end accommodation options available to you in Tarifa.
Hotel & Spa La Residencia Puerto
Situated just above one of Tarifa's ports, La Residencia Puerto is a four-star hotel that's a one-minute walk from the beach. It's also in close proximity to some of the town's best restaurants and bars, as well as Old Town if you're hankering for some sightseeing.
The rooms here are simply stunning and nothing short of luxurious with stone, wooden and turquoise accents. The design is a fusion of Spanish and North African with patterned bedspreads, unique fixtures, and lit concrete cutouts behind the beds, fit for royalty.
If you don't mind splurging, opt for a room with a sea view, or even better, a junior suite with a spacious living area and balcony with a stellar view of the water.
In terms of hotel amenities, La Residencia Putero's are top-notch with a heated outdoor pool overlooking Tarifa, spa area, and a gorgeous courtyard with a shallow pool running through the middle of it.
Each morning, a continental breakfast is served and in the evening you can grab a bite to eat and a drink at the bar and restaurant. For a romantic seaside getaway, you'll love a stay at La Residencia Puerto.
To see prices and read reviews: Booking.com
Casa Maldo
If you're traveling with family or a group of friends and looking for a stellar place to call your own in Tarifa, Casa Maldo is a fantastic vacation home just outside of Old Town. Just an eight-minute walk to Los Lances, it is in a local residential area with a laid-back atmosphere.
With three bedrooms, two bathrooms, a huge kitchen, and a spacious living and dining area, there's not much more you could ask for in a vacation home. Plus, the place is gorgeous, outfitted with all-wooden furniture, a big plush couch, and stone archways throughout the house.
It can accommodate up to six guests, ideal for a group vacation by the sea!
The best part about Casa Maldo is its massive rooftop deck, perfect for having breakfast outside in the morning, lounging around in the afternoon, or catching a sunset in the evenings.
To see prices and read reviews: Booking.com
Hotel The Tarifa Lances
Want a taste of luxury by the beach? Located a mere five-minute walk from Los Lances Beach, this beautiful hotel has everything you could ever dream of for a luxury vacation.
You'll be wow-ed the funky rooms with modern furniture, raw wooden details, sparkly light fixtures, and stone-laden bathrooms. Many of the rooms also feature unique artwork and have a spunky design that will make spending time in the space a true pleasure.
The best part about the rooms at Hotel The Tarifa Lances is each one comes with a private terrace for enjoying outdoor time! Many of the rooms also face the sea and offer stunning views.
When you're not in your room, head to the on-site spa or take a dip in one of the two outdoor pools – one of which is on the roof, boasting amazing views of Tarifa. If splashing around starts to tire you out, grab a drink from the pool bar or have a meal at the restaurant. Breakfast is served daily at the hotel, and there's also a fitness center available for guest use.
When you feel like making your way into town, rent a bike from the front desk and cycle right into Old Town or along the beach! Sounds like quite a dreamy vacation to me…
To see prices and read reviews: Booking.com
No matter why you're visiting Tarifa, be it for a full-fledged vacation or just a stopover on your way somewhere else, you'll be met with a wide range of hostels, hotels and vacation rentals to make your stay that much more comfortable!
Once you're done booking your hotel in Tarifa, plan your stay with our recommendations on the best things to do in Tarifa!
---
Planning a Spanish getaway? Our guides can help!
Inspired? Pin It!