Looking for the best places to stay in Madrid? In this article, I will walk you through our top picks including which neighborhoods to choose from.
Madrid is one of Europe's most vibrant capitals, with bars full of music, amazing food, and life coursing through the streets at every turn.
There's tons to do in all areas of the city and plenty to appease even the pickiest of travelers. Made up of lots of little neighborhoods or barrios, you'll find a fair amount of exploring to be done, with each area of the city offering something different!
One of the best parts about Madrid is there's something for everyone's budget. Whether you're a thrifty traveler looking to spend as little as possible or someone's who's off on a luxury vacation seeking five stars at every turn, you'll find something suited to your interests (and your budget).
To help you find exactly what you're looking for, here's a breakdown of some of the main neighborhoods in the city as well as the best places to stay in Madrid!
Where to Stay in Madrid: Neighborhood Guide
Madrid is a fairly big city – it is Spain's capital after all – and it's full of lively neighborhoods just waiting to be explored.
Each area of Madrid offers visitors something different, whether it's divine food, unbeatable shopping, or a rich cultural experience.. But no matter where you end up, you won't be disappointed.
Here's a breakdown of some of the most popular areas in Madrid and what you can expect from each of them.
Centro
Centro is exactly what it sounds like: the center of Madrid. In the heart of the city, you'll find lavish Spanish architecture, sprawling avenues, and boulevards, and an endless array of tapas bars and fine dining.
Centro is home to some of Madrid's most famous attractions like Plaza Mayor, Gran Via, and the Jardines de Sabatini, so a stay in this area means you'll be just steps from some of the city's greatest sights.
You'll find that Centro has a wide range of accommodation options, which is special considering most city centers only offer luxury hotels. However, in Centro, you'll find hip hostels, five-star hotels, and everything in between!
Recommended Hotels near Madrid Centro
La Latina
Another great walking neighborhood in Madrid is La Latina, which sits to the south of Centro. A mishmash of traditional and modern, La Latina is best known for having some of the best tapas in the city. It's also home to the largest flea market in Madrid every Sunday morning!
If you're a foodie, eating your way through La Latina's Calle Cava Baja is a must as it's positively lined with tapas bars ready to be conquered.
There are also some great city plazas, ideal for an afternoon coffee, and chic boutiques for shopping.
La Latina is full of accommodation options, most on the mid-range and budget end of things. This makes it a great option for backpackers visiting Madrid.
Recommended Hotels Near La Latina Madrid
The name of this neighborhood may sound familiar as it is shared with Madrid's largest park. Most people staying in Madrid don't wander further than Retiro Park, but if you make your way to the east of the lush, green oasis, you'll find a lovely residential neighborhood, making for a quiet city stay.
The Retiro neighborhood is a super authentic area of Madrid, where locals run free. You'll have the most authentic tapas here, along with charming streets, perfect for an after dinner stroll.
Salamanca
One of the chicest neighborhoods in Madrid (not to be confused with the nearby city sharing the same name), Salamanca is heaven for any avid shopper. The entire area is brimming with long streets filled with high end shops, international designers, and brand names that are sure to add 20 or 30 pounds to your suitcase.
Salamanca is certainly a more upscale neighborhood, as is the accommodation that's found here. Most hotels are on the luxury side of things with four or five stars to their name.
The one downside to staying in this neighborhood is that it's not as walkable as areas closer to the center of the city. That said, Centro and Retiro are only a couple of metro stops away!
Recommended Hotels Near Salamanca
Chueca
For a taste of hip and young Madrid, Chueca is the place to be. This neighborhood is the epicenter of LGBT life in the city, which means it's ultra welcoming and accepting to anyone who sets foot in the area.
Besides the rainbow flags waving freely throughout the district, you'll also find trendy dining options, narrow streets, and popping bars and clubs. This is a great area for nightlife, so if you're staying here you better have brought your dancing shoes!
Chueca is in the perfect location for getting around Madrid on foot. So if you plan on seeing the city by walking, this is a great place to stay!
Recommended Hotels Near Chueca
Malasana
Just to the west of Chueca, you'll find Malasana, another one of Madrid's most exciting neighborhoods. This is the best area to find Madrid's young crowds, as they populate the many outdoor terraces and tapas bars throughout the district.
However, just because it's filled with young people today doesn't mean that there isn't plenty of past history in Malasana! In fact, this area is home to one of the most famous battle sites in Madrid, where madrilenos defeated Napoleon's men at Plaza Dos de Mayo in 1808.
Malasana is a great place to meet other young people traveling, and there are tons of hostels and budget hotels that make this easy.
Recommended Hotels Near Malasana
Lavapies
Finally, Lavapies is a neighborhood in Madrid that simply can't be missed. A true melting pot, this district is home to a giant immigrant community in Madrid, with more than 88 different nationalities represented here. This multicultural aspect is truly a sight to behold and shows you how ethnically diverse Spain can really be.
Lavapies is a great place to visit if you're looking for food beyond traditional Spanish fare and a taste of how people beyond typical Spaniards live in Madrid.
The area is much less gentrified than other neighborhoods in the city, so you can see the cultural fabric that weaves through the area in a way that can't be seen anywhere else. There's also a great deal of street art and murals painted on the side of buildings giving a fun pop of color in unsuspecting places!
As Lavapies was once a low income neighborhood, there are still tons of budget accommodation options everywhere in the area. And what's more, all of the international food tends to be way low-priced. Talk about a total win for the cash-strapped traveler!
Recommended Hotels Near Lavapies
✨The 1 Thing We Never Leave Home Without…✨
Coming from someone who has been traveling the world for the last 8 years AND has been in the hospital 2x, travel insurance is something everyone NEEDS to get. Get a quote below!
What's the Best Area to Stay in Madrid?
If it's your first time visiting Madrid (or Spain in general), spring for a stay somewhere around Centro. It's really worth it to stay right in the thick of things for any novice.
Everything is within easy walking distance and there's something to see everywhere you turn. A stay in the heart of Madrid is nothing but exciting, so if you're looking for a true taste of everything, this is where you want home base to be.
If you're traveling on a budget, there are more than enough options for you to choose from. Neighborhoods like La Latina, Chueca, Malasana, and Lavapies are all filled with hostels and cheap hotels that will make for a cozy but inexpensive stay.
Plus, these neighborhoods are all great places to walk around and offer visitors a unique experience outside of Madrid's Centro.
If you don't mind spending a little more for an ultra cushy stay, seek accommodation in the Salamanca or Retiro area. Both places are full of luxury hotels that will give you the full five-star treatment.
These areas are also a bit quieter as they're mainly residential, so if peace and relaxation is what you're after, this is the place to be!
Read More: Best Day Trips from Madrid
Best Places to Stay in Madrid
Without further ado, here are the best places to stay in Madrid broken down by budget type! Whether you're looking for the cheapest thing you can find, the most high end hotel available, or something in between there are plenty of options available for your booking!
Psst...Want in on a Secret? 🤫
We've scoured the internet for the best ALL-AROUND travel shoe and Tropicfeel wins by far. We've taken ours through rivers, jungles, and cities and they're still alive and kickin'. Check them out below.
Best Budget Accommodation in Madrid
Budget travelers rejoice! There is so much accommodation in this city that even those with the tightest wallets can have a high quality, comfortable stay. Here are our top picks for accommodation on the lowest end of the price spectrum.
Room type: 4-Bed Mixed Dorm | 8-Bed Mixed Dorm | 6-Bed Female Dorm
Wifi: Yes
Location: Next to Plaza Mayor (Centro)
Price Range: $24 – $34 per night
A very stylish and modern hostel (that is actually run on biomass!), The Hat is a perfect choice for every type of traveler. Only 150 yards from Plaza Mayor, this accommodation is right in the center of everything, including the incredible nightlife in the La Latina District!
Besides the killer location, the atmosphere in the hostel is also great. There's a real social vibe while still having your own space if you want it. With a trendy rooftop bar offering city and sunset views, this is the ultimate place to stay the night before heading out to the town.
Finally, the dorm rooms at The Hat are spacious and bright — and with a price that can't be beat!
Compare prices and check availability: Booking.com
Room type: 4-Bed Mixed Dorm | 6-Bed Mixed Dorm | 6-Bed Female Dorm | 8-Bed Female Dorm | Double Room | Triple Room | Classic Family Room
Wifi: Yes
Location: Next to Puerta del Sol (Centro)
Price Range: $30 – $279 per night
Also located in central Madrid, Toc Hostel is just around the corner from the popular Puerta del Sol. In fitting in with its surroundings, the hostel itself is a very lively where you can play pool in the games room in the day and attend a themed party at the on-site bar at night.
The hostel is very modern with light furniture and stylish décor, but it's the rooms that make this place unique. The bunk beds are almost embedded into the walls and half of the room is separated by a partition, so you get a lot more privacy and comfort. What's even cooler is that your fingerprint is your room key — whaaat!
As the hostel offers a variety of private rooms as well as dorms, you get the benefits of a hotel experience at a crazy affordable price!
Compare prices and check availability: Booking.com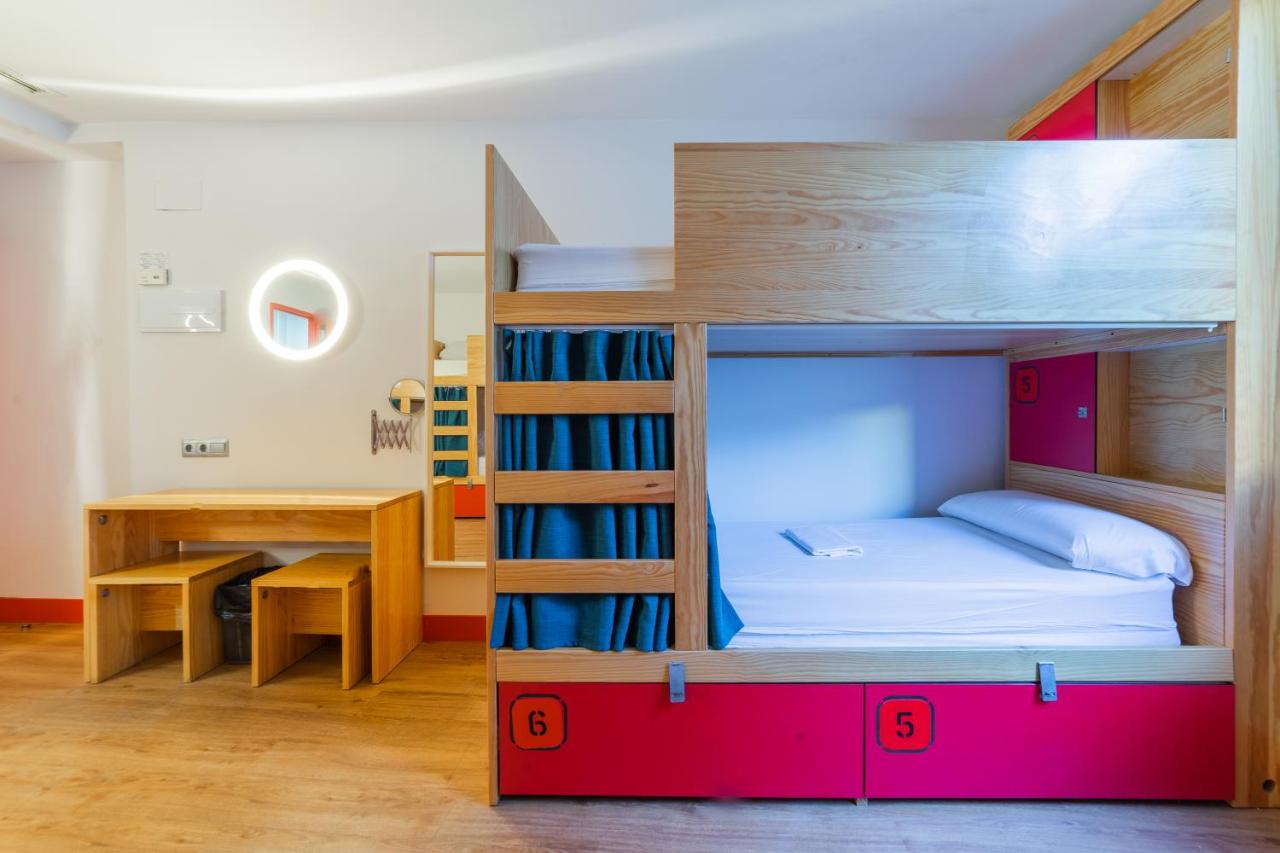 Room type: 4-Bed Mixed Dorm | 6-Bed Mixed Dorm | 4-Bed Female Dorm | 6-Bed Female Dorm | Single Room | Double Room | Deluxe Room | Quadruple Room
Wifi: Yes
Location: La Latina
Price Range: $24 – $121 per night
Perfectly located near multiple Metro stops, main plazas, bars and restaurants, Ok Hostel is the ideal choice for sightseeing by day and experiencing the best of Madrid's food and nightlife by evening.
At Ok Hostel, you can expect an ultra social atmosphere, with the friendliest staff you've ever met. There's a massive hang-out area downstairs where you can cook, eat and drink together. Plus, the hostel organizes tons of activities like free walking tours and bar crawls for guest enjoyment.
Like the rest of the hostel, the rooms are modern and minimalist whilst being very comfortable. A stay at Ok Hostel is more than ok!
Compare prices and check availability: Booking.com
Best Mid-Range Accommodations in Madrid
If you don't mind spending a little but don't want to completely break the bank, here are some unbeatable mid-range accommodation options!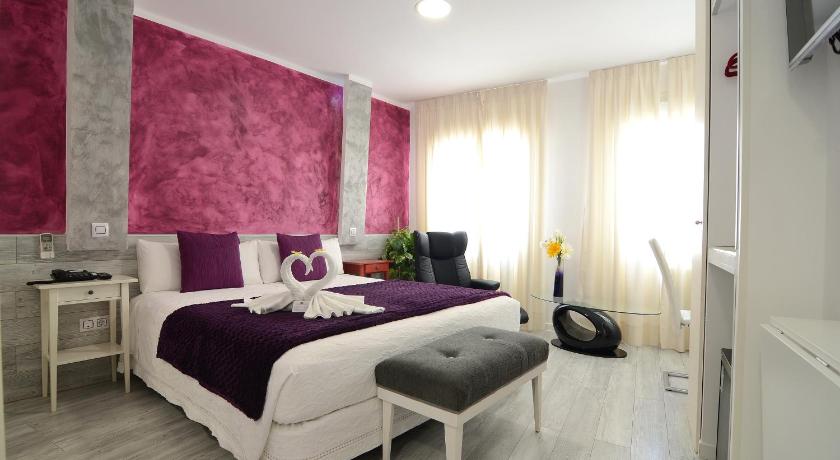 Room type: Single | Basic Double | Double | Superior Double | Premium Double | Classic Suite | Superior Suite | Romantic Suite (with round bed)
Wifi: Yes
Location: Next to Puerta del Sol (Centro)
Price Range: $77 – $128 per night
In the heart of Madrid, you can easily find great places that will give you value for your money, but none will be as friendly as Hostal Alexis.
The staff here are renowned for being incredibly amicable and helpful. The receptionist especially is known for being very approachable, drawing you maps of the best sites and giving you the best local advice for places to eat. Who needs a tourist office when you stay here!
Perfectly located near Plaza Santa Ana, you won't have to venture far to find great cafes and restaurants with stunning outdoor terraces. You can then crash in the evenings in your comfortable and homey room after taking a much-needed rain shower. Bliss!
Compare prices and check availability: Booking.com
Room type: Budget Single | Single | Double | Standard Twin | Small Double | Basic Triple
Wifi: Yes
Location: Northeast Centro
Price Range: $45 – $91 per night
If you want to stay in a place with some character that isn't miles away in the middle of nowhere, then stay at the charming Hostal Go Inn! It has a very much country-meets-the-city feel, with its quirky furnishings and warm feel, all while maintaining a modern vibe.
Probably the best location in Madrid, the hotel is walking distance from Plaza del Sol, a range of shops, restaurants, and bars, and has a Metro stop opposite to take you anywhere else (including the airport!).
The spacious rooms follow the same pattern as the hotel, with posh countryside decor and wooden flooring. My favorite thing about this hotel is that breakfast is served in a quirky little Spanish café next door! How Spanish can you get?
Compare prices and check availability: Agoda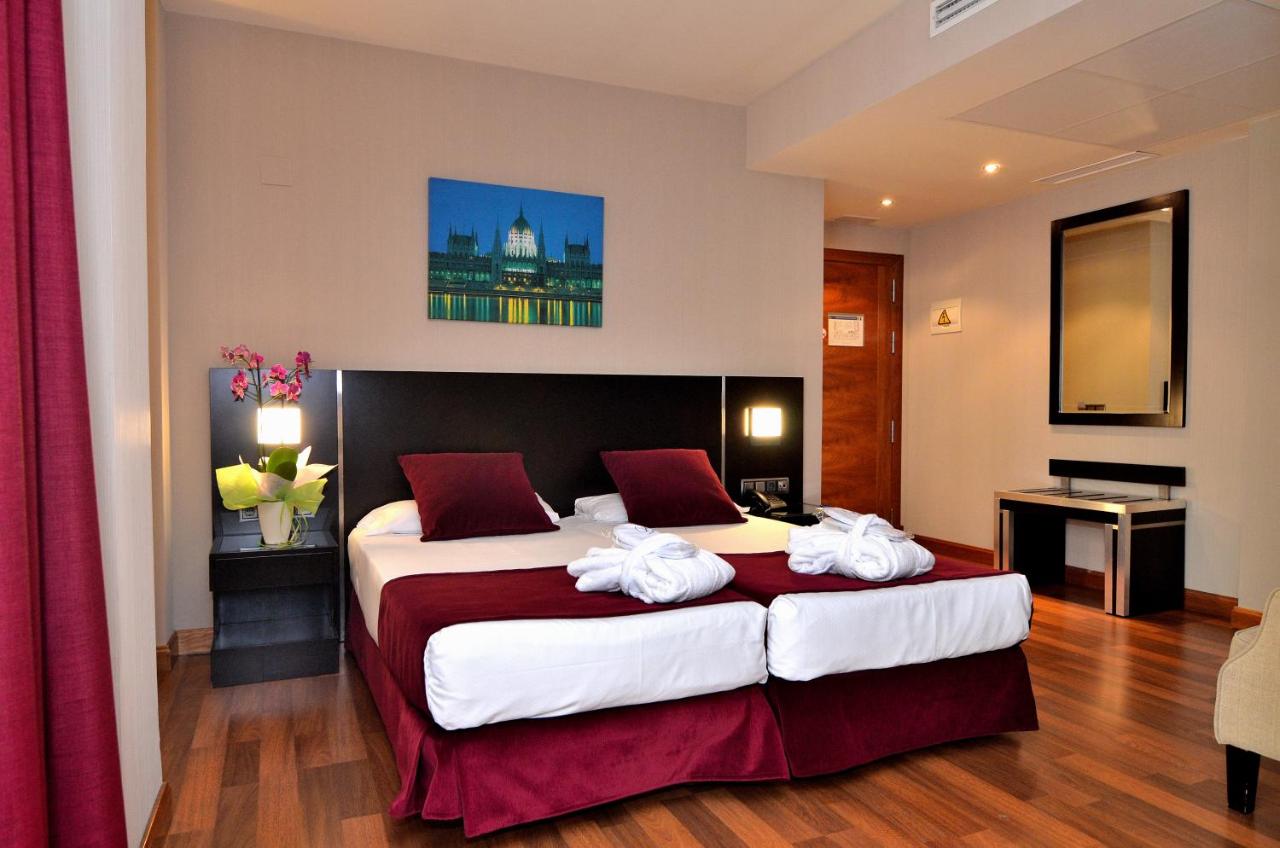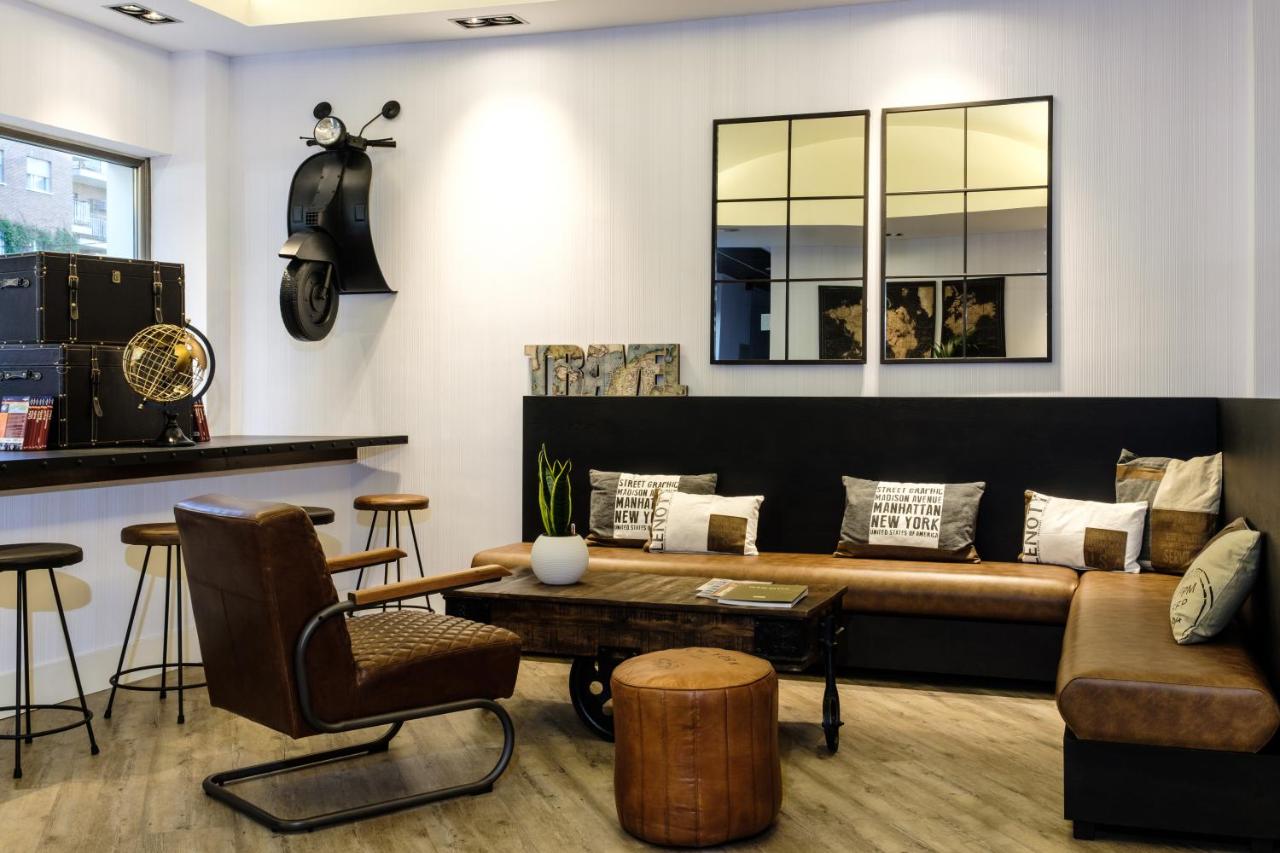 Room type: Double | Twin | Single | Comfort Double | Comfort Twin | Superior Double | Superior Twin | Classic Quadruple
Wifi: Yes
Location: Barajas, Near Airport
Price Range: $132 – $198 per night
This hotel's main appeal is for a convenient overnight stay close to the airport. However, Clement Barajas is an ideal and affordable choice for anyone who wishes to stay slightly outside of the city.
Although not in central Madrid, the Barajas area is a lovely typical Spanish suburb full of interesting architecture. It also has a great little square full of local shops and restaurants.
The hotel reflects the relaxed vibe of Spanish culture, full of calm neutral colors in the rooms and dark and warm furnishings in public areas.
With a free shuttle to the airport and access to a Metro stop that'll get you to the city, you can have the best of both worlds in Clement Barajas.
Compare prices and check availability: Booking.com
Best Luxury Hotels in Madrid
Looking for the chicest stay possible? Here are three luxury hotel options for any five star trip to Madrid!
Room type: Standard | Double | Twin | Executive Double | Triple | Family Room | Suite | Triple | Quadruple
Wifi: Yes
Location: Barajas
Price Range: $97 – $260 per night
The newly renovated Hotel Maydrit is a great modern and luxury option outside of the busy Madrid center. Located in the residential area of Barajas, you are just a short walk away from the stunning Juan Carlos I Park which is a perfect place to escape the midday heat. This area is also popular for its incredible architecture and history.
The contemporary rooms at this hotel are spacious and extremely comfortable. There's also an à la carte restaurant serving international cuisine, a tapas bar, a gym, spa and outdoor pool. Seriously, people who use this hotel as a layover regret not staying here longer.
What makes this place even more perfect is the free 24-hour transfer service to Barajas Airport. This is so handy when you have really early or late flights.
Compare prices and check availability: Booking.com
Room type: Single | Double | Twin | Superior Double | Superior Twin | Double with Terrace | Family Room
Wifi: Yes
Location: Next to Plaza Mayor (Centro)
Price Range: $118 – $285
Ideally located between Sol and Ópera, Francisco I Hotel is close to main sites such as the Royal Palace and Prado Museum, whilst also being close to metro stops to navigate to the rest of the city. It is so convenient to get around that Madrid is literally your oyster!
This little piece of luxury in the heart of Madrid is immaculately kept, yet it still manages to maintain a warm and comfortable feel. The same goes for the big elegant rooms, with their stylish décor and private balconies.
Start off your mornings the right way with a delicious buffet breakfast in the country-style dining room!
Compare prices and check availability: Booking.com
Room type: Double | Twin | Superior Double | Superior Double with Terrace | Family Room | Triple
Wifi: Yes
Location: Next to Prado Museum (Centro)
Price Range: $143 – $269 per night
Sometimes luxury accommodation is a little outside the center, but not Catalonia Atocha! This hotel is in the heart of Madrid on the main Metro line and close to the train station, making it the perfect location for taking day trips outside of the city.
The hotel has incredibly elegant rooms with massive bathrooms and also offers traditional Spanish cuisine.
If you need a chill day, the hotel has an amazing roof terrace complete with a bar, sun loungers, and giant hot tub. How perfect is this to watch the sun setting over Madrid?
Compare prices and check availability: Booking.com
There you have it folks, the value for money for accommodations in Madrid is surprisingly good compared to other major cities in Europe.
Hopefully, this list will help you find the perfect place to stay in Madrid so that you have a great base for exploring the city and getting a good night's sleep!
Once you're figured out where to stay in Madrid, plan your itinerary with the help of our guide to the best things to do in Madrid and our suggested Madrid itinerary.
If you're looking for places to stay all over Spain, check out our complete guide on where to stay in Spain which includes places such as where to stay in Barcelona and Seville.
---
Want more on Spain? Check out these articles
Inspired? Pin It!