This article may contain affiliate / compensated links. For full information, please see our
disclaimer
here.
Formerly known as Burma, Myanmar is a country in Southeast Asia that is slowly gaining popularity amongst tourists. Due to good accessibility from land borders, travelers from Thailand and the rest of its neighboring countries in Southeast Asia often frequent these lands in search of off-the-beaten-path adventures.
Although not very large, there are still heaps of places to visit in Myanmar. Incredible historical sites, beautiful natural landscapes, and a wide array of cultural landmarks, Myanmar is a country that I urge everyone to place on their bucket lists. Here's a list of destinations in Myanmar (Burma) that are worth visiting.
Bagan
Popularized by the many sweeping pagodas and stupas, Bagan is a cultural delight and is considered a must visit by everyone who comes to this country. With over 2000 ancient ruins, you can spend a few days traveling around the area hopping from one archaeological site to the next. If you're looking for a magical experience, we highly recommend riding a hot air balloon over the temples during sunrise. The sun glimmering as it rises on top of these ancient ruins is a sight to see and is something that is worth doing during your time there.
If you're interested to find out the best temples and pagodas in Bagan, check out our full article. Apart from seeing the ancient ruins, a visit to Mount Popa and the monk monasteries are also adviced.
Kyaiktiyo Pagoda
Mt Kyaiktiyo is a popular pilgrimage site for devout Burmese Buddhists is often filled with devotees who travel from around the country to pay homage to this religious site. From Yangon, this golden rock is accessible by bus or train. 
The pagoda itself is made up of a large gold boulder which is balancing at the edge of the cliff. We recommend paying a visit during sunset as the golden rock glows, even more, when the sky turns into different shades of orange and purple. Although it is a religious site, it has also become very commercialized but none the less, a sight to see.
Mandalay
In comparison to the quiet and subdued streets of Bagan, Mandalay is a big city teeming with life. Busy streets filled with an assortment of tea shops, wonderful Pagodas, and many tourist attractions make this one of the most popular places to visit in Myanmar. Out of all the attractions, climbing Mandalay Hill is probably a big crowd favorite as it allows you to sweeping views of the city and the Irrawaddy River gleaming from afar.
The U-bein Bridge and Kuthodaw Pagoda is also a pretty popular attraction and is a great place to observe the culture of the locals.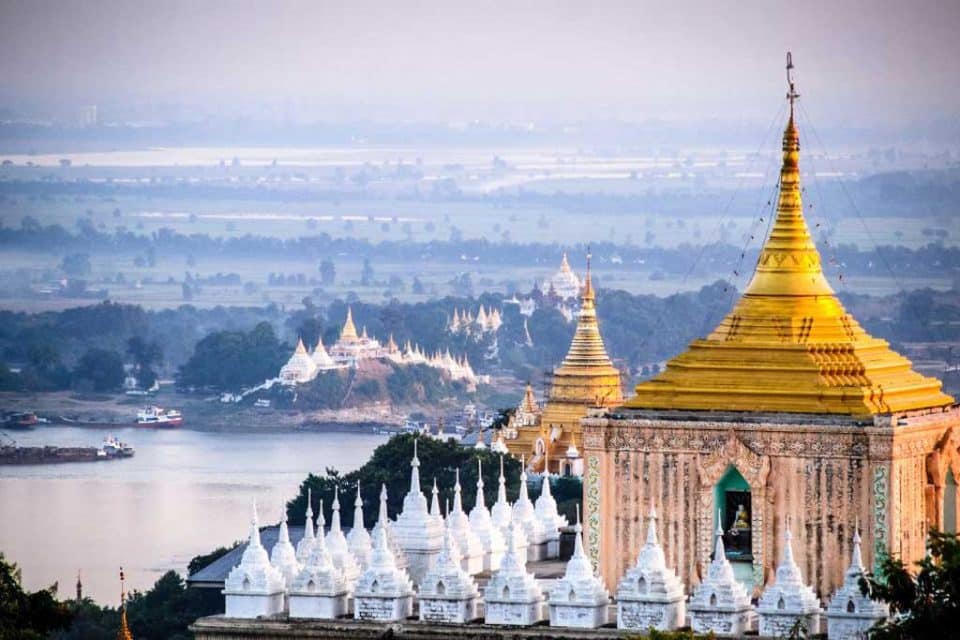 Hsipaw
Located by the Shan state, Hsipaw is a sleepy village that is pretty well known for its trekking. From Hsipaw, you can head to either Namhsan and Kyaukme. Namhsan is known as the tea capital of Myanmar so expect to see lots of local life. Although the treks are not difficult, some parts are still restricted to travelers so it is best explored with the guidance of a tour operator.
Inle Lake
Up to this date, the trek from Kalaw to Inle Lake is something that my partner raves about, sighting it as one of his favorite things to do in the region. Although the trek boasted of barren landscapes for some parts, the entire experience of staying with local families made it a trek to remember. If you have a few days to spare while in Inle Lake, this trek is definitely well recommended. Apart from that, a visit to the many stupas in Kakku is also considered as a must!
Apart from trekking, seeing how the locals in Inle fish using conical sphere like nets as they steer their boat with one foot is also rather amusing to watch.
Ngapali Beach
If you're looking to relax by a seaside destination, head to Ngapali Beach which is one of the most well-known beaches in Myanmar. Located on the Bay of Bengal coast, this palm-fringed island has a few resorts set amidst fishing villages giving you a great contrast of both. Surprisingly, there is a vast amount of activities to do in this area with scuba diving, snorkeling, boat tours, and kayaking. If you wish to head here, you will have to catch a flight to Thandwe airport. We recommend using Flymya.com for flights and tours within Myanmar.
Yangon
The capital city of Myanmar, Yangon is growing to be a busy metropolitan city where old colonial buildings meet ancient pagodas. One of the main things to do in Yangon which I suggest for people to do is to start with a free walking tour. There are a few hotels and hostels offering this and is a great way to get to know the city. After that, you have sights like the Shwedagon Pagoda which is one of the most important historical sights in all of Myanmar. The circular train is also an awesome experience where you can observe the local culture.
Hpa-an
Known as the capital of the Karen state, Hpa-an is a picturesque town surrounded by mountains and limestone mountains. The town itself has a very laid back feel as travelers make it a base to explore the surrounding landscapes that surround it. Mount Zwegabin is a popular attraction so it the Kan Thar Yar lake. For those that want to summit Mount Zwegabin, it takes anything from 2-4 hours. We suggest doing it early in the morning to avoid the intense heat that frequents the area as soon as the sun rises.
If you would like more suggestions on the best places to visit in Myanmar, check out our Myanmar bucket list compilation featuring all the must-see attractions in each area.
---
Looking for more articles on Myanmar? Take a look at our best ones
Inspired? Pin it!