Uluwatu has some of the best beaches in all of Bali, and Melasti Beach is definitely high up on that list.
Nestled in the Ungasan region on the southern tip of Bali, Melasti Beach is a breathtaking paradise waiting to be discovered.

You will hear it being referred to as Pantai Melasti locally, which is its Indonesian name (Pantai is beach in Bahasa).
Melasti Beach is quite easy to get to and you can easily spend a whole day enjoying all it has to offer.
In this post, we're going to share how to make the most of this beautiful beach.
You're in good hands because the founders of this blog have spent some time living in Uluwatu so they're chiming in with a ton of insider tips for visiting Melasti Beach.
Ready? Keep on reading.
Where is Melasti Beach?
First of all, where is Pantai Melasti or Melasti Beach? This hidden paradise is tucked away in the Ungasan region, part of the Uluwatu area, found on the picturesque southern tip of Bali (you can even walk out to the most southern tips while on Melasti Beach).
And, trust me, the journey to get there is just as rewarding as the destination itself as it is one of the best beaches in Uluwatu.
Melasti Beach is quite conveniently located with it only about a 45-minute to an hour drive from Ngurah Rai International Airport.
If you're staying in the bustling town of Kuta or the ever-popular Seminyak, you can reach Melasti Beach in just about 1 hour drive depending on traffic conditions.
Not only is Melasti Beach super accessible, but it's also far enough from the typical tourist spots to feel like your very own slice of paradise.
So, if you're looking for that ideal mix of beach vibes and tranquility, Melasti Beach wins on all fronts. Imagine lounging on the powdery white sands without the usual crowds, and taking in those mesmerizing turquoise waters, all while enjoying a bit of peace and quiet.
✨The 1 Thing We Never Leave Home Without…✨
Coming from someone who has been traveling the world for the last 8 years AND has been in the hospital 2x, travel insurance is something everyone NEEDS to get. Get a quote below!
Best time to visit Melasti Beach
Bali is a tropical paradise, and its weather is divided into two main seasons: the dry season (April to September) and the wet season (October to March).
From April to September, you'll find the sky bright and clear, making it the ideal time to soak up some sun, splash in the water, and snap those Insta-worthy shots. You'll still have sunny and hot days during the wet season, but there will also be an odd downpour of rain.
Whichever season you visit Melasti Beach, make sure to get there early to avoid any crowds and find your spot for the day. Watching the sunset is pretty magical here so it can get quite crowded later in the afternoon.
Check out our Indonesia Travel Guide for full tips on best time to go!
How to get to Pantai Melasti
Melasti Beach is in South Bali, specifically in Ungasan which is part of the Uluwatu area. The nearest airport is Bali's Ngurah Rai International Airport (DPS) which is around a 45 min-1 hour drive depending on traffic.
If you're in Uluwatu, I 100% recommend you rent a scooter and make your way to Melasti Beach.
There are a few options available on how to get to Melasti Beach.
Scooter rental: If you're up for an adventure and excited to navigate Bali's twisty roads, renting a scooter is a thrilling option. Scooter rental starts from 6 USD a day or you can hire a scooter in advance.
This choice lets you roam freely and stumble upon other secret treasures along the way. Safety first, don't forget to wear a helmet and drive with caution.
Private driver: For a more chilled-out experience, think about hiring a personal driver for the day. This choice is ideal if you'd rather kick back and appreciate the scenery while someone else tackles Bali's occasionally hectic traffic.
Group tours: If you're keen on making new friends and discovering Pantai Melasti with a bunch of like-minded explorers, why not join an organized tour?
Tours often include stops at other nearby points of interest, which can be a fantastic way to take in more of Bali's wonders in a single trip!
Ride-hailing services: Providers like Grab, Gojek, and Blue Bird are also easily accessible in Bali. Keep in mind that you can only get dropped off via Grab or Gojek Malesti. Be aware that you can only use these services to get to Melasti Beach as pick-up is banned so plan this in advance.
The ban is in place because of the local taxi mafia! This is a long ongoing struggle in Bali but there are ways around it.
Once you arrive at Melasti Beach and pay your entry fee, you can enjoy the journey down the winding road bordered by majestic limestone cliffs and panoramic views of the beach.
Malesti Beach is surprisingly accessible, unlike many of the beaches in the area you don't have to hike or climb to get to the beach.
Just park your scooter or car in one of the many spaces and it's just a few steps before you can touch that soft white sand.
Psst...Want in on a Secret? 🤫
We've scoured the internet for the best ALL-AROUND travel shoe and Tropicfeel wins by far. We've taken ours through rivers, jungles, and cities and they're still alive and kickin'. Check them out below.
Melasti Beach Entrance Fee
You will have to pay a small entry fee to enjoy this gorgeous beach, the entry fees as of 2023 are:
Entrance Fee (Adults): 10,000 IDR/ 0.70 USD
Car parking fee: 5,000 IDR / 0.35 USD
Scooter parking fee: 2,000 IDR/ 0.15 USD
Melasti Beach is open every day between 7 am and 7 pm. Please note that their prices can easily change so it's best to bring small changes with you when you head here.
Melasti Beach Restaurants & Facilities
Over the recent years, Melasti Beach has grown in popularity which is why they have slowly been adding more facilities.

There are now a few toilets, showers, and changing rooms as well as a local convenience store where you can buy a few beach essentials.
There are several small restaurants or Warungs along the beach if you're feeling peckish and fancy some delicious and budget-friendly local food.
You can enjoy traditional dishes like nasi goreng (fried rice), mie goreng (fried noodles), and sate ayam (chicken satay) while taking in the stunning beach views. Don't forget to try out a refreshing kelapa muda (young coconut) to quench your thirst!
The latest addition to Pantai Melasti or Melasti Beach is the newly built Melasti Kecak arena which has similar iconic oceanside views as the Uluwatu temple.
Beach Clubs in Pantai Melasti
If you're looking for something a little more upscale or if you want to sit back in a cabana and sip a cocktail, there are also a few beach clubs at Melasti Beach:
Pamilla Bali Beach Club is a popular choice. A luxury club with a lively bar and VIP beach services, you'll want to check it out.
It is a trendy and vibrant spot located on the beautiful coast of Uluwatu. This beach club has quickly become a favorite among locals and visitors alike, thanks to its stunning ocean views, relaxing pool area, and delicious food and drinks.
Kick back in style as you lounge on the comfy sunbeds, take a dip in the refreshing pool, or sip on a refreshing cocktail while you gaze out at the sparkling sea.
Tropical Temptation Beach Club offers an impressive bamboo structure just on the beach where you can sip a cocktail and sit back on a daybed. This beach club used to be Cattamaran Beach Club but they have since changed names.
You can relax on the comfy sunbeds or claim a cabana as you soak in the gorgeous views of the beach. Good food, great music, and delicious cocktails, you really can't complain!
Another beach club option in Melasti Beach is Minoo Beach Club. This place is somewhere you can relax during the day while enjoying good food and drinks. They also often have DJ's who play during sunset so stick around for that.
If you're looking for some more dining options, you can venture a little further away from the beach. The nearby area of Ungasan boasts of a variety of restaurants and cafes, catering to different tastes and budgets.
From charming local eateries to upscale fine dining and laid-back cafes, there's something to satisfy every palate.
Whether you're craving a taste of the local flavors or seeking international cuisine, you won't be disappointed with the dining options around Melasti Beach.
More Uluwatu Beaches
Uluwatu, perched on the southwestern tip of Bali's Bukit Peninsula, is a treasure trove of stunning beaches just waiting to be discovered.
You are spoilt for choice for beaches here, there are some truly fantastic beaches in the Uluwatu area to add to your sun-soaked itinerary.
Padang Padang Beach: This beach, known for its sparkling blue waters and soft white sand, gained popularity after being featured in the movie "Eat, Pray, Love."
It's a top spot for surfers, sunbathers, and those seeking the perfect Instagram shot. To access the beach, you'll need to descend a flight of stairs through a narrow, dramatic limestone crevasse.
You can book a private tour that takes you Padang Padang, Jimbaran, and a few other beaches in the area.
Suluban Beach: Also known as Blue Point Beach, Suluban is another surfers' paradise. With its unique cave entrance and stunning rock formations, it's a must-see for adventure-seekers. Visit during low tide to fully appreciate the beauty of this hidden gem.
Bingin Beach: This laid-back beach is a haven for surf enthusiasts and travelers seeking a relaxed atmosphere. Lined with charming beachfront bungalows, cafes, and bars, Bingin Beach is perfect for spending a lazy day sunbathing, swimming, and watching experienced surfers ride the waves.
Balangan Beach: With its picturesque stretch of white sand, lush cliffside greenery, and crystal-clear waters, Balangan Beach is a postcard-worthy spot that's perfect for sunbathing, swimming, and surfing. Enjoy a stunning sunset while dining at one of the local warungs overlooking the ocean.
Dreamland Beach: Another favorite of ours is Dreamland Beach which is sandwiched between Bingin and Balangan. This spot is great for long walks as the coast is quite long!
Nyang Nyang Beach: For those seeking seclusion, Nyang Nyang Beach is a hidden gem that boasts powdery white sand, turquoise waters, and dramatic cliffs. This pristine beach requires a bit of effort to reach, as you'll need to hike down a cliffside path. The serenity and unmatched beauty make the trek worthwhile.
Other beaches like Pandawa Beach are also highly recommended.
Each of these beaches is around 20-30 minutes away from Melasti Beach. Perfect if you have rented your scooter as you can hop between them or you can book a customized tour to enjoy them.
Alternatively, you can also check out this full day tour which takes you to a few of the best Uluwatu beaches plus a kecak dance in Uluwatu temple.
Each of these Uluwatu beaches offers a unique charm and appeal, promising unforgettable memories.
From surfers chasing the perfect wave to sun-seekers looking for their next beach paradise, Uluwatu's captivating shores have something for everyone!
Where to stay in Uluwatu
Uluwatu is a popular place to stay in Bali and it's easy to see why. With its dramatic limestone cliffs, gorgeous clear seas, world-renowned beaches, and some of the best surfing locations, there is plenty to welcome you here.
Uluwatu is the perfect location for relaxing and enjoying all the natural beauty that Bali has to offer.
Uluwatu offers a fantastic range of accommodations to suit every traveler's taste, style, and budget. Below I have listed some great places where you can stay that are close to one of the fantastic beaches.
Here are some hotels where you can enjoy stunning beaches and fantastic stays in Uluwatu:
Splurge:
Enjoy the dramatic views looking over the Indian Ocean from Ungasan Hill. Situated near Karma Beach, Karma Kandara also boasts of an exclusive beach club.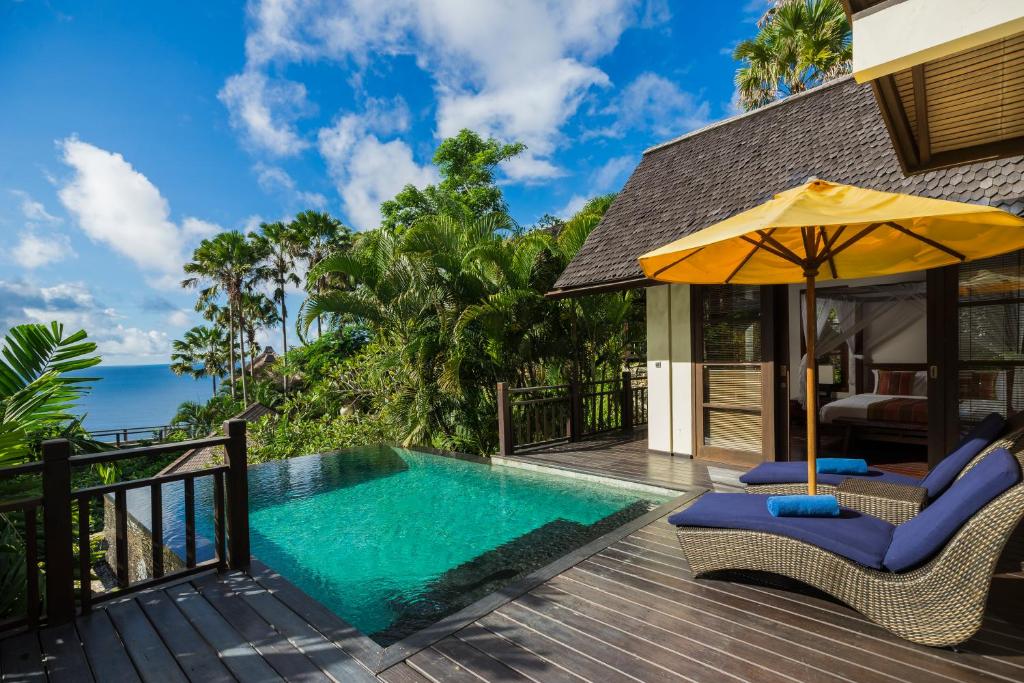 Set just a few steps from Cemongkak Beach and only 100 yards from Bingin Beach, this accommodation is definitely for those looking to relax with the backdrop of stunning beaches.
Mid-range Hotels in Uluwatu:
Only 200 yards from Impossible Beach and close to Bingin Beach and Padang Beach, you can relax on your balcony and are only a stone's throw away from some top beaches.
Only a 5-minute drive from Padang Padang, you can stay at the cliff-top Uluwatu Cottages while overlooking the sea and enjoying the lush landscaped gardens.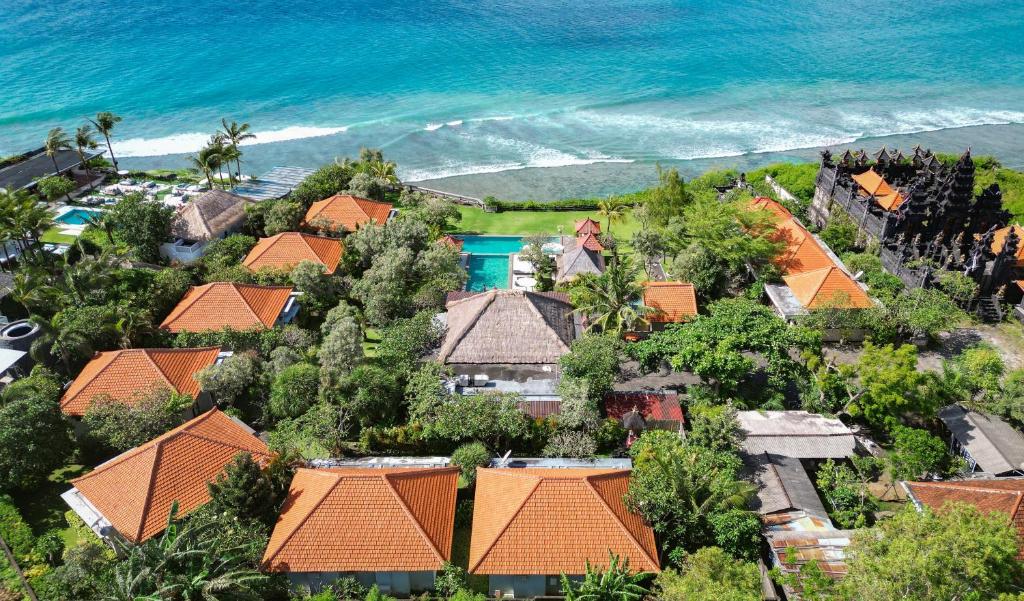 Along with these options, we also have an article on the best villas in Uluwatu.
No matter your preference, Uluwatu's wide variety of accommodations ensures a memorable stay for every type of traveler. This breathtaking region has the perfect place for you to relax and recharge after an exciting day exploring Bali's unforgettable beaches and landscapes.
Hopefully, this complete travel guide to Melasti Beach has helped you plan your trip to this beautiful spot! Happy wandering.
FAQ on Melasti Beach
Can you swim in Melasti Beach?
Yes, you can swim at Melasti Beach, as its clear turquoise waters and gentle waves make it a great spot for swimming. However, always exercise caution and be aware of your surroundings and check for any warnings to ensure a safe and enjoyable experience.
Is Melasti Beach worth visiting?
Melasti Beach is worth visiting for its breathtaking turquoise waters, pristine white sand, and dramatic limestone cliffs that create a picturesque and serene atmosphere. It's an ideal spot for swimming, sunbathing, and simply enjoying Bali's natural beauty.
How much is Melasti Beach ticket?
The entrance fee for Melasti Beach is very affordable, 5,000 IDR/ $0.35 USD per child and 10,000 IDR/ $0.70 USD per adult, depending on the season. 

This small fee helps maintain the beach's pristine condition and facilities. There is also a small parking charge. 
What to do in Melasti Beach?
At Melasti Beach, visitors can enjoy swimming in the clear turquoise waters, sunbathing on the soft white sand, and taking picturesque photos against the backdrop of dramatic limestone cliffs. You can also enjoy local foods or chill out at some beach bars. 
Where is Melasti Beach?
Melasti Beach is located on the southern tip of Bali's Bukit Peninsula in Uluwatu. It's approximately a 45-minute to 1-hour drive from Ngurah Rai International Airport (DPS), Bali's main airport. 
---
For more Bali guide articles check out these posts:
Inspired? Pin it!