This article may contain affiliate / compensated links. For full information, please see our
disclaimer
here.
If you have seen our gear recommendation page or have read any of our other gear reviews, you will see that Osprey is a brand that is featured regularly. If you know the brand, we don't need to tell you that the products are reliable, durable, of high-quality and are incredibly specific to whatever needs you may have on any outdoor adventure. If you don't know the brand, check out our reviews, they'll give you some insight into why their products are awesome.
As I had completely worn out my everyday backpack, the Osprey Tempest 20, which I used for everything from carrying around my trusty laptop for work to weekend city breaks and as my travel carry-on when I traveled hand-luggage only, it was time to look for a replacement.
I had narrowed it down to a few choices but upon contacting Osprey for help with deciding, I ended up with a completely different model altogether: the Osprey Sylva 12. Osprey had never let me down before so I thought I would try it out and here is what I found.
Osprey Sylva 12L
When researching which model was best to replace my previous Osprey bag, I had three needs in mind that it needed to satisfy: the bag needed to be lightweight, it needed to fit my laptop in it, and it needed to be versatile for everyday use and activities such as hiking.
I communicated these when discussing my potential options with Osprey and they recommended Sylva 12, a small, lightweight backpack. When the pack was delivered, I was initially worried about the size as it looked incredibly small, but sure enough, it fit my laptop so I breathed a sigh of relief.
Like all models from Osprey, Sylva looked great, the material is robust and of a high-quality, and it came with all the bells and whistles that I love (not literally, see compartments and features below!).
Sylva 12L Specs:
Weight: 0.74 kg
Maximum Dimensions (cm): 46 (l) x 27 (w) x 23 (d)
Main Fabric: 100D Nylon Honeycomb
Read: The Ultimate Carry-On Packing List
What I love about the Osprey Sylva
After unpacking the Osprey Sylva 12, it wasn't long before I put it to use. Not only do I use it every day as I work online and commute to and from the Google Campus in Warsaw, but I also used it for a road-trip-city-break-venture where I drove from Warsaw to Bologna in Italy as well as a trip home to the UK where I used it as my carry on when flying. After a few months of traveling and using this bag every day, here are a few of the features that I love.
Size and weight: Although initially, the size was a concern for me (as I replaced my 20L day bag with a 12L), it has become a feature that I love. I never thought of myself as an over-packer, especially when it comes to just an everyday backpack, but it's surprising how the weight of things add up and how many things you just don't need to bring with you.
When I'm carrying a heavy bag, I get really bad back pain between my shoulders and because I have carried a lot of weight over the years, this has caused problems with my ribs. With this bag, however, I have had no issues or pain as of yet. I think a large reason for this is that there is just not enough room to load it with unnecessary things. I only carry the essentials that I need now and this together with the fact that the bag is super lightweight has made all the difference.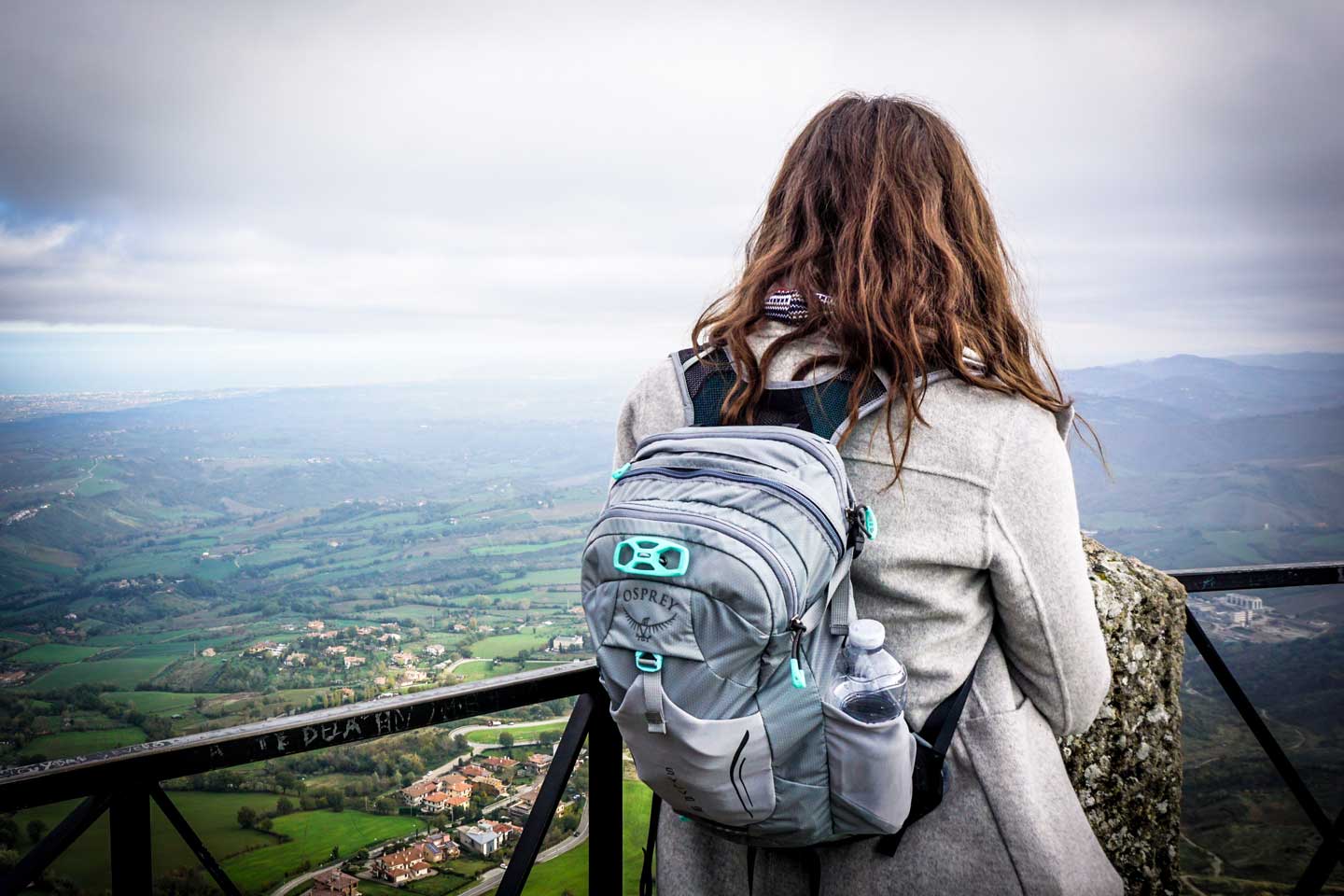 Compartments and features: Like all Osprey products, the Sylva is no exception when it comes to cool features. Firstly, the range of compartments is incredibly useful from the scratch-proof electronics compartment and the laptop compartment to all the other zippers and the main compartment which has mesh pockets to help keep things organised.
As well as this, the bag also boasts a hydration sleeve in the back panel of the bag, an integrated rain cover which is found in its own zip pocket in the underneath of the bag and various attachment points for cycling and other adventure activities.
Back support: The thing I probably love most about Osprey is that their products provide amazing back support combined with the fact that they are made to specifically fit the female form. This outperforms any other backpack that I've ever had when it comes to carrying weight and I think it has a lot to do with these three features: ergonomically shaped harness, yoke and back panel, and the sternum buckle and hip straps. There is so much weight distribution over your whole core that back pain is no more!
Versatility: I like my products to have multiple uses so this is another box of mine that Osprey ticks. The Osprey Sylva 12 has incredible ventilation with its open-yoke style and AirSpeed™ back system making this bag perfect for any trekking or hiking venture that makes you work up a sweat. With its LightWire™ frame and smaller size, I use this bag every day with my work and for my weekend hikes. With both, I always get maximum airflow to my back meaning no sweaty patches on my t-shirts!
Editor's Note: Check out our Packing List for Europe
Overall thoughts on the Sylva
Overall, I can say quite confidently that the Osprey Sylva 12 ticks all the essentials which I need in a backpack and I'd highly recommend it to anyone who doesn't really carry much with them. Although it was ideal for what I wanted, there are two slight improvements that I would like if I was being really picky and those would be:
for the open-yolk function to not be so open (I just don't like the way it looks when I'm just using it every day)
for the side pockets to be a little bigger or to have more stretch (I always carry a bottle of water around with me and I found it difficult to get it in and out especially when wearing the bag).
All in all, though, this bag is made for cycling or hiking activities and for that, it is absolutely perfect. I also use it as a carry on and for work, but this may not be suitable for people who need to carry more or for digital nomads who have bigger equipment than a laptop or a lot of electronics.
Two big major wins for me with this bag is the back support and the female-specific fit, but that is two awesome qualities that are common across most Osprey products. In fact, they have an app where you can input your measurements so you buy the right size which fits you perfectly, so they are truly on it when it comes to comfort! Then, of course, the electronic compartments and various pockets just make me feel so organized and like I'm winning at life.
I'd categorize Sylva 12 as a minimalist hiking/cycling bag and as a minimalist everyday backpack. However, if you needed a bag that is super-minimalist for day adventures or any outside sport that you do where comfort, support, and ventilation are the priority, Osprey also has Sylva 5L.
With so many durable and affordable products to choose from, you really can't go far wrong when buying a bag from Osprey. As for me, I look forward to continuing to use my Osprey Sylva and get the wear out of it that I seem to with all my Osprey products – I'll keep you updated!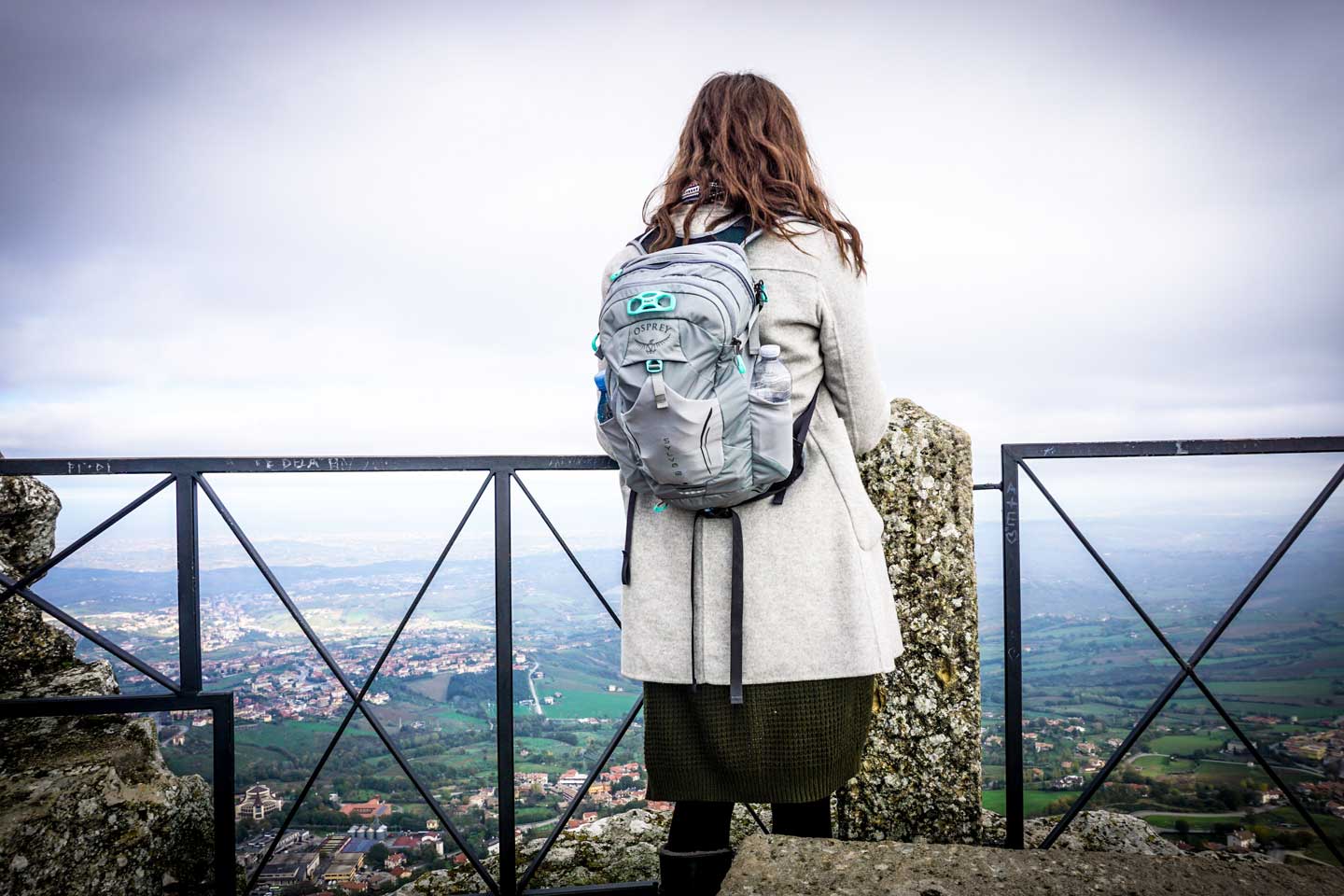 Products Information
Disclaimer: This Osprey bag was sent to us to try out but as always, our opinion is solely ours. We will always be 100% honest with all our reviews.
---
Looking for more gear related articles? Check out some of our other articles
Inspired? Pin it!