When I started planning my two month trip, the most important thing to me was making sure I had a decent day pack or rucksack that I could use everyday. On previous trips, usually the city break guides, carrying a weekend's worth of stuff in my rucksack would give me back pain (pathetic I know). As it wasn't particularly heavy, I put this down to the bag itself as it obviously wasn't appropriate for what I was using it for. Thus started my mission to find a bag that was more supportive so that my physical pain would be no more!
What felt like days of research, I finally came across the Osprey Hiking Packs. At first I was unsure whether they'd be suitable for everyday use (I use my rucksack for literally anything) but upon reading their reviews, I found many women who were praising them for 'curing' their back pain and calling them "everyday bags." Hurrah! They were so highly recommended that I needed to check them out for myself.
Related: Travel Gadgets and Apps that we can't Live Without
Osprey Hiking Packs: Which Ones Did We Get?
To suit our needs, we each chose lightweight, all-rounder packs that we could use for hiking, as a weekend bag for city breaks and as an everyday bag whilst we were living in Malaga. I am using the Tempest 20, a 20L pack designed for females weighing only 0.70 kg, whilst David is using the Talon 22, the 22L male version of the Tempest weighing 0.75 kg. The most important features to us were having a heavy load supported and controlled, and the weight of the bags, as we had different weight restrictions on different flights. When we received them, we were so happy. Not only were they aesthetically impressive, they didn't weigh anything and no matter how much we filled them, they felt the same while on your back as the weight distributes evenly. We actually spent a while loading our bags with various items just to test them out, they were amazing.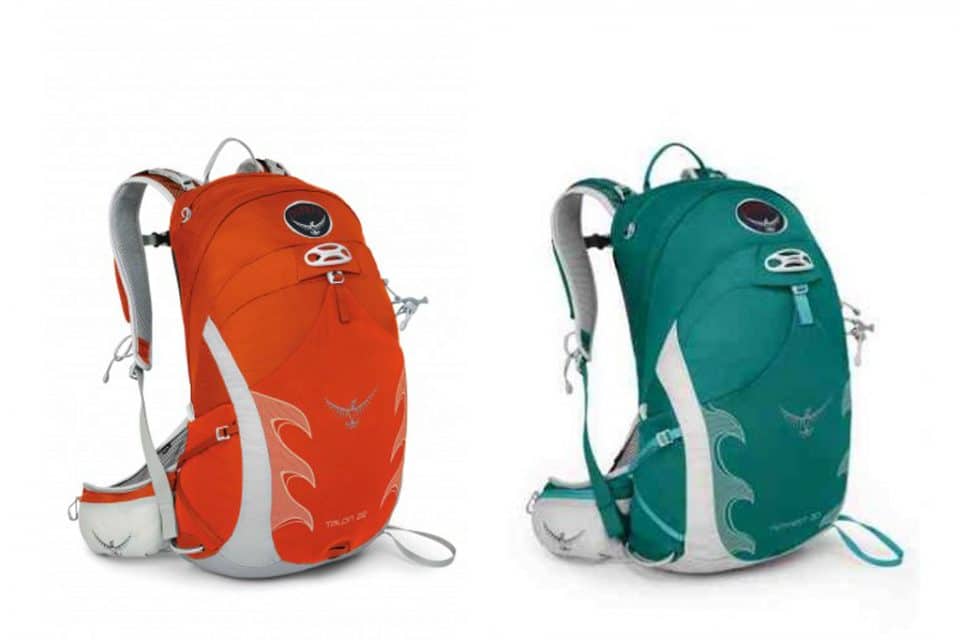 Osprey Hiking Packs: The Common Features
Both bags have so many useful features that you can use them for anything you want, so it really depends on the person and what you use the bag for. On my trip, I found that the AirScape back panel pretty handy. As we were doing a lot of hiking and even just walking around a city, the back panel really helped ventilation between my back and kept my temperature down without soaking my back from sweat. Sounds gross but it really makes a difference after you rest and put a dry bag on instead of a wet one. The other feature that really made a difference was the hip belt pockets and the body straps. This is the genius invention that transforms the bag from dead weight carried on your shoulders to evenly distributed carried on your whole torso.
Features of the Tempest 20 and Talon 22 Packs:
• AirScape™ backpanel with foam ridges for ventilation
• Stretch mesh side pockets with InsideOut™ compression – this is really useful to carry large bottles of water as the straps hold them securely at your side.
• Side compression straps
• LidLock™ bike helmet attachment – very handy for cyclists. I used this to tie my running shoes to the outside of my bag.
• Stow-on-the-Go™ trekking pole attachment
• LED light attachment point
• Single ice axe loop
• Twin zippered hip belt pockets – these really cushion your hips when the bag is heavy.
• Stretch pocket on harness – surprisingly you can fit a lot in this compartment.
• Sternum strap with emergency whistle – I didn't personally use this but many people that hike have said it has saved their lives!
• Zippered panel access


Tempest 20: Women-specific Features
The Tempest 20 is specifically designed to take into account the female bust. This together with the adjustable hip straps ensures a perfect fit for the female form, whatever the measurements.
The top panel, that curves around the bottom of the neck, is narrower on the Tempest to ensure a better fit as a woman's shoulder area tends to be narrower than a mans. This also allows improves the weight distribution further as the bag sits nicely between the shoulder blades.
An opaque inside pocket rather than netted
I love this feature! As women typically have bits that they would rather not share with the world (e.g makeup, we naturally look like this you know!) this pocket is specifically for those hidden items. Although not a major need, little features like this make the bag all the more special.
Osprey Hiking Packs: Our Verdict
Our verdict on whether this is an everyday all-rounder bag? DEFINITELY. We absolutely love our Osprey Hiking Packs and for me specifically, I don't know how I managed before I had it. For the 8 weeks we were traveling around Spain we used our Osprey packs for days out hiking, for activities such as rock climbing, to pack full with our food shopping while living in Malaga (you can get so much in it's really impressive) and we even lived out of them for the last 3 weeks of our trip when our luggage was lost. These are ideal everyday rucksacks which we are really looking forward to using on our future travels and in our every day life. Available in a variety of colours in both models, they are literally made to fit everyone.
Read: Travel Tip: 10 Essential Things to Pack in Your Carry-On Bag
Please note that this article was written in partnership with Osprey but despite this, all opinions are ours and remain completely unbiased.
Osprey Website
Telephone (UK) 44-0-1202-413-920
Email info@ospreyeurope.com