Although Koh Phangan is commonly associated with non-stop crazy parties, what a lot of people don't know is that there is an equally lovely quiet side to the island that is totally underrated. When Tom and I first went, we purposely stayed away from the craziness of the full moon parties and opted to skip it altogether.
Instead, we spent our days exploring in our motorbike, finding hidden beaches and viewpoints. So for those of you who don't want to party like there's no tomorrow, here are 10 awesome things to do in Koh Phangan.
Go Diving
I know that most people associate diving with Koh Phangan's neighboring island, Koh Tao. However, what a lot of people don't realize is that some of the dive sites that you can reach from Koh Tao are the same sites your visit when in Koh Phangan. Dive sites like the Southwest Pinnacle and Sail Rock are half way in the middle and are great sites to explore. For those that are just looking to go snorkeling, checking out some of the beaches in Haad Salad and Haad Ya. In all honesty, Dive Sites in Thailand are all pretty amazing but the ones near Koh Phangan and Koh Tao are pretty noteworthy.
Resources: View Liveaboard Diving in Thailand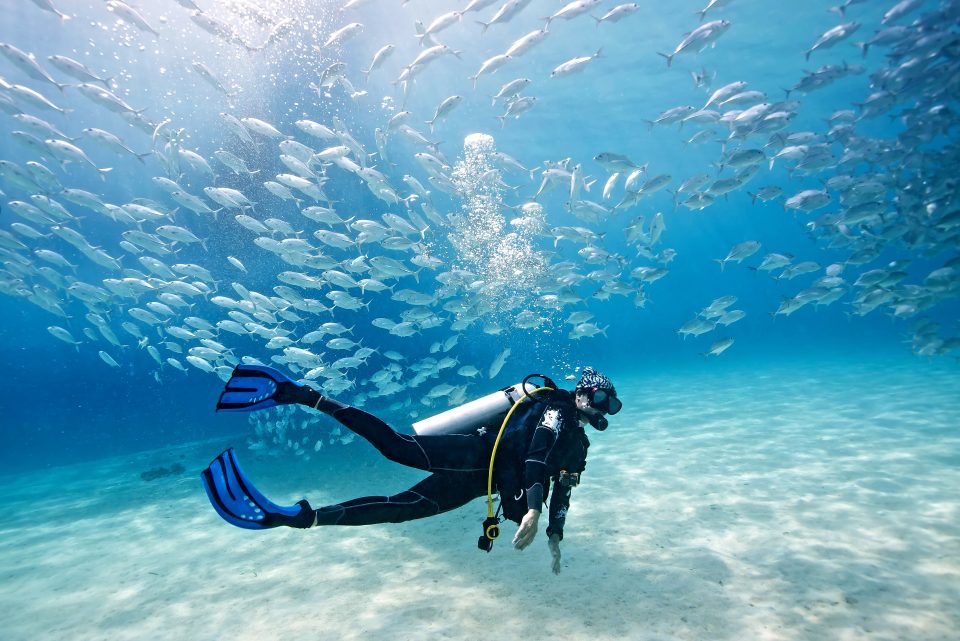 Eat Your Heart out in the Night Market
The Thong Sala Night Market is a must do while you're in Koh Phangan. Unlike most night markets, the one in Thong Sala is full of food (dream come true for me!) The seafood selection is pretty good and the meals always come out so fresh and delicious! You will find anything from traditional Thai meals to sushi rolls, fried potatoes, and many more. Don't let the run down parking lot feel throw you off!
Set off on a Boat Trip
Set aside a day and do yourself a favor and explore the many beautiful beaches near Koh Phangan. From Koh Phangan. You can even reach Ang Thong National Marine Park for a day of swimming and snorkeling. If you want to take it to the next level, you can also include overnight camping in your boating trip for a minimal fee.
There are also boat tours which bring you to the hard to reach places like Thong Nai Pan, Bottle Beach, Ko Ma and Ko Tae. We rented a scooter and tried to reach Bottle Beach whose roads were steep and almost impassable. Although we succeeded, I will forever have that scar on my leg to remember that afternoon by.
If you want to visit Ang Thong Marine Park, we recommend doing it by kayaks as it is one of the best ways to see the place!
Editor's note: To get around the islands, we've found the best way to book tickets for buses and boats are through 12go website. Alternatively, download the Skyscanner App to help you find cheap flights.
Rent a Motorbike and Explore
Although we don't recommend trying to find Bottle Beach via motorbike, we do recommend renting one and taking it around the island for a spin. Riding bikes are the cheapest and best way to see a place! Koh Phangan itself is very steep and hilly so experienced riders are recommended. One of the best viewpoints? A hill with a lovely view of Haad Son. If you're coming from Ai Chaophao, head towards Haad Yao. Keep riding down and soon you will be rewarded with a magnificent view of the island.
Take a Cooking Class
Hi, I am Anna and I love Thai food. In fact, I am almost obsessed with it. It is by far my favorite cuisine within the South East Asian region. Since I love it so much, what better way to spend a couple of hours than by learning how to cook (and eat) delicious Thai food.
Koh Phangan has no shortage of cooking schools but schools like Same Same in Haad Rin, C&M Study Center, as well as Jang's Thai cooking school come well recommended.
Read: What to Eat in Thailand
Go Chasing Waterfalls
Contrary to what TLC told you, do go chasing waterfalls while you're in Koh Phangan (god, I hope you'll got that reference!) There are about 7 different waterfalls in Koh Phangan, all relatively close to the main towns. Please do note that a lot of the waterfalls dry up during the rainy season. However, if you are up for a nature trip, do check out Sramanora waterfalls, Phaeng, Thaan Prapaad, Thaan Sadet, Wangsai, Paradise and Thaan Prawes waterfalls.
Get Active in Koh Phangan
Do you know the TV show wipeout? Well, the Challenge Phangan waterpark allows you to experience exactly that. The course is located in Seetanu and is a combination of fun, adrenaline pumping, and possibly humiliating belly flops and falls. One of our adventure junkies tried this for himself and had a blast! After a few jumps and tries on the obstacle course, you feel invincible-at least before you fall.
Apart from this, you can also enjoy numerous activities such as paddle boarding or even kitesurfing. If kitesurfing is something you've never done, I highly recommend giving it a go as it is loads of fun!
Click Here to View Kitesurfing Tours
Go Trekking in Koh Phangan
If for some reason you are tired of lounging around on the beach, there are some great trekking trails by the Eastern coastline of the island. You can head up to the tallest mountain in Khao Ra or head into the Phaeng Waterfall National Park. If you decided to head up Khao Ra, on a really clear day, you can even see the neighboring island of Koh Tao.
Insider Tip: Only trek by yourself if you are experienced in navigating as it is quite easy to get lost. Also, don't forget to bring snacks and water with you to keep you hydrated. For those that want a guide to accompany them, you can easily find guides by the National Park.
Get Your Ohm On
It's pretty ironic that after a crazy few days of binge drinking, people immediately look for some peace and quiet, opting to spend a couple of days meditating. Due to the hippie vibe that Koh Phangan has, there are many yoga centers and retreats happening on the island. Get your ohm on by attending a few yoga classes. Yoga Retreat is in Haad Salad comes well recommended. If you're looking for something more intense, we've heard great things about the detox programs in The Sanctuary.
Watch the Sunset (Everyday)
Because I naturally gravitate towards the sun, watching sunsets in different parts of the world is sort of like a past time of mine. So believe me when I say that Koh Phangan has no shortage of beautiful sunsets. One of our favorite spots is by Amsterdam Bar by Ao Playlaaem. The view from the restaurant area is out of this world! Relax in their many floor cushions as you enjoy the colors of the sunset unfold in front of you.
There you have it, folks! While there are literally lots more to do while in Koh Phangan, our suggestion is to explore it on your own and find your little slice of heaven where you can relax and unwind.
Koh Phangan to Other Islands
To get to the nearby islands from Koh Phangan, click here to reserve tickets, see the timetable of ferries, and more. We use this company all the time when traveling around Thailand and have had no problems with reserving tickets.
---
Where to Stay in Koh Pha Ngan
Looking for where to stay in Koh Phangan? Here are a few of our personal recommendations on the best places to stay in Koh Pha Ngan. Please take note that the island is HUGE! There are different areas and beaches throughout the whole island so don't forget to consider the location carefully when choosing where to stay. Click the link below if you want to read the full article with all our hotel and hostel recommendations or check out our top picks below.
Read the full article: Where to Stay in Koh Pha Ngan
Budget: Our House Hostel
If you've come to Koh Phanagan to partake in the debauchery, Our House Hostel is the place to stay. Although seemingly crowded, it is the perfect place to meet people to party with. They have 10,12, and 36 bed dorm rooms where you are guaranteed to meet a fun bunch to party with. The hostel provides free paint so you can get in the spirit of partying and is located minutes away from the full moon party beach in Haad Rin. (Prices start at $6 a night for a dorm bed) * Recommended for full moon parties!
To compare prices and read reviews, check: Booking.com  | Hostel World
Other Top Budget Hostels on Hostel World
Mid Range: Little Paradise
For those that really want to be right in the middle of all the action without having to stay in dorm rooms, this place is a good choice for you. The bungalows on top of the hill are a bit further from the madness but the climb up there is quite steep. The rooms are clean and comfortable and the location is unbeatable. They also have a pool which is perfect for lounging about recovering from the night before. (Prices start at $29 a night for two people) * Recommended for full moon parties!
To compare prices and read reviews, check:  Booking.com 
Splurge: Cocohut Village Beach Resort & Spa
This resort and spa is conveniently located on the very tranquil Leela Beach.  Guests are able to enjoy many Thai and international dishes at the onsite restaurant, before heading to the bar for a nightcap.  Leela Beach is one of the most beautiful places in all of Thailand and the resort makes sure that they plan many fun activities for their guests.  The breakfast is noteworthy and the rooms are well maintained, very spacious, and clean. (Prices start at $60 a night for two people)
To compare prices and read reviews, check:  Booking.com 
Luxury: Kupu Kupu Phangan Beach Villas
The stylish villas at Kupu Kupu Phangan give guests the perfect place to unwind and relax during their stay.  There is a private beach for guests as well as a concierge to assist with booking tours.  Guests have plenty of outdoor activities to participate in that include snorkeling, scuba diving and windsurfing.  The rooms are luxurious and the day beds along their pool and beach are amazing. Their breakfasts in the morning is composed of a wide selection and is definitely worth every penny! They also provide a free shuttle to town during the day, but trust me-you really wouldn't want to leave this place! (Prices start at $158 with breakfast)
To compare prices and read reviews, check:  Booking.com 
---
Want more of our awesome things to do guides? Check these out:
Inspired? Pin it!