San Sebastián is a place of Basque country dreams… A long stretch of beach, a glorious historical Old Town, unbeatable shopping and all the pintxos you could ever dream of. I mean, what more can you ask for in a city?
If you're headed to San Sebastián, you'll certainly have a fun-filled vacation and the only way to make it better is by picking out the perfect place to stay.
Whether you're looking for budget accommodations or a luxury hotel, we've got you covered. Check out our complete guide on where to stay in San Sebastián, Spain!
Where to Stay in San Sebastián, Spain: Neighborhood Guide
While San Sebastián isn't terribly big, the city still has distinct neighborhoods, each with a distinct feel to them. The neighborhoods tend to surround the main stretch of beach, making it easy to get between the different barrios when you want a change of scenery.
Old Town / Parte Vieja
San Sebastián's Old Town is a beautiful mix of past and present. Historical sites with cobblestone streets, restaurants with large terraces hidden under umbrellas, and plenty of museums to explore when it's too hot to be outside. There are markets and bars, Gothic churches, monuments, city squares, and more!
This is the place to be if you wish to soak up history and culture on your trip to San Sebastián. There's plenty to do in this area and everything is within easy walking distance from the center of Old Town.
As such, there are plenty of accommodation options available to travelers headed to Old Town. However, these stays tend to be a bit pricey as they're in the center of everything.
Centro
For a taste of everything, make a beeline for Centro, set between Old Town and the beach. Here, you'll have easy access to not only Parte Vieja but La Concha and Gros, as well!
The main draw to Centro are the main shopping streets of San Sebastián, lined with international and Spanish brands, so be sure to leave room in your suitcase for all of your spoils. You'll also find historic attractions like the Good Shepherd of San Sebastián Cathedral and other activities like the funicular which goes up to Mount Igeldo for some of the best views in the city.
You can find lots of accommodation in Centro, ranging from high-end to totally budget.
La Concha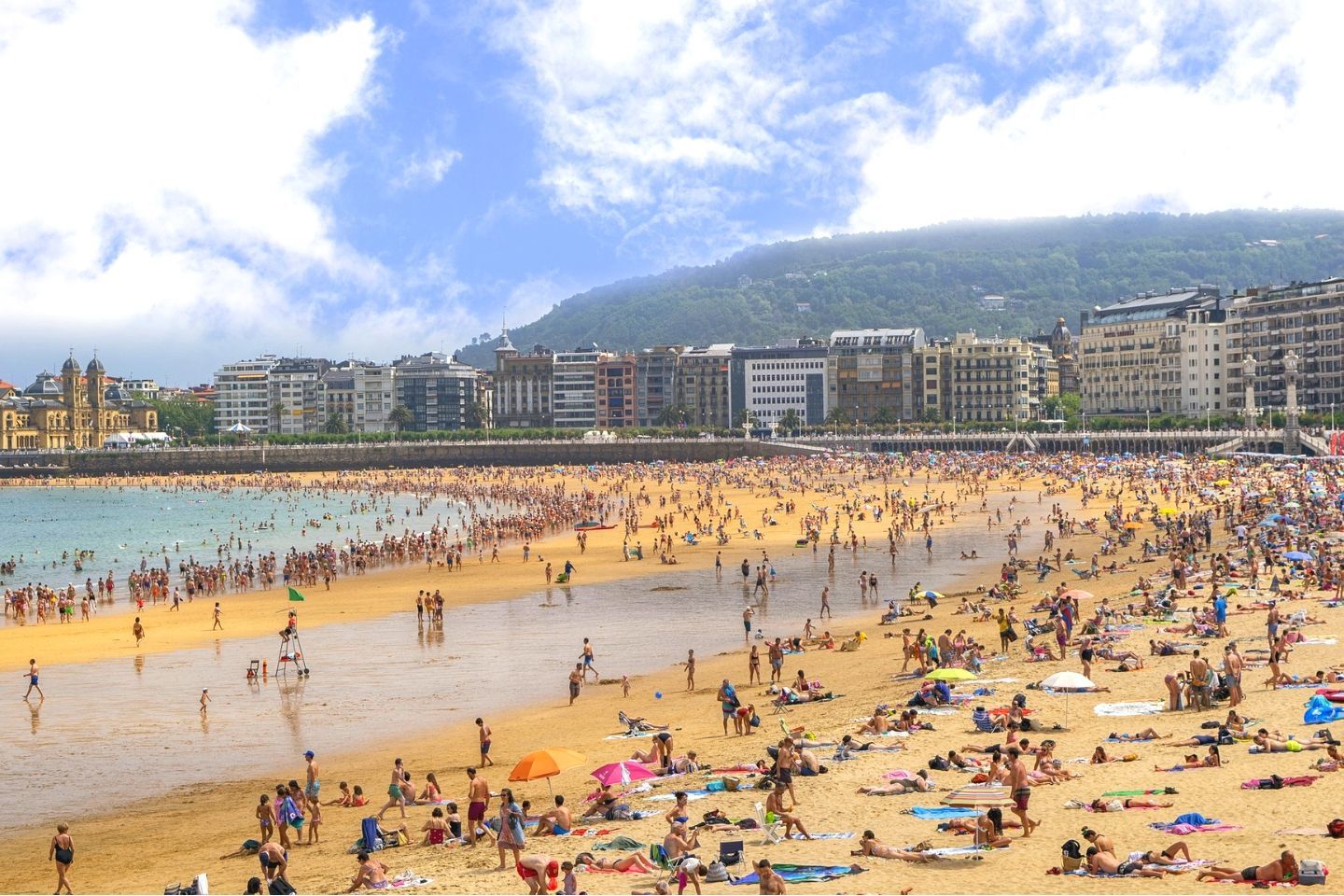 Ah La Concha, San Sebastián's main stretch of beach. It doesn't get much better than this white sand paradise, with warm turquoise waters and an abundance of loungers. La Concha is considered to be one of the best city beaches in all of Europe and with good reason!
The long promenade that runs the length of the beach is one of the best places in San Sebastián for an early morning run or an evening stroll. You'll also find restaurants along the promenade, perfect for a yummy bite to eat while enjoying the views.
You'll find a decent number of apartments for rent around La Concha, as well as plenty of hotels and guesthouses as well. Prices around this area can be a little bit high, but hey, you're paying for the view.
Gros
Another beachy area of San Sebastián, Gros is the hip place to be. During day time, it's a surfer mecca with crowds of people in the water trying to catch a wave. You'll find tourists and locals lining Zurriola Beach, either splashing in the water or basking in the sunshine.
By night, Gros is the premier place for a good party, with loads of nightclubs, bars, and restaurants serving up tall drinks.
Gros is the place to find budget accommodations in San Sebastián, and it's a fun place to stay because it generally caters to a younger crowd.
Antiguo
Finally, Antiguo: set a little bit outside of the city center, but fantastic all the same. Don't be quick to count Antiguo out as it's further away. Instead, go and explore this quieter neighborhood, filled with some of the oldest buildings in San Sebastián.
That being said, the entire area is relatively new, young and trendy, with lots of boutiques, eateries, and places to hang out. It's also near the university and a beach which is much less crowded than the ever famous La Concha.
Antiguo is the place to be if you're after budget accommodations, but you can find apartments for rent and the odd boutique hotel, as well!
What's the Best Area to Stay in San Sebastián, Spain?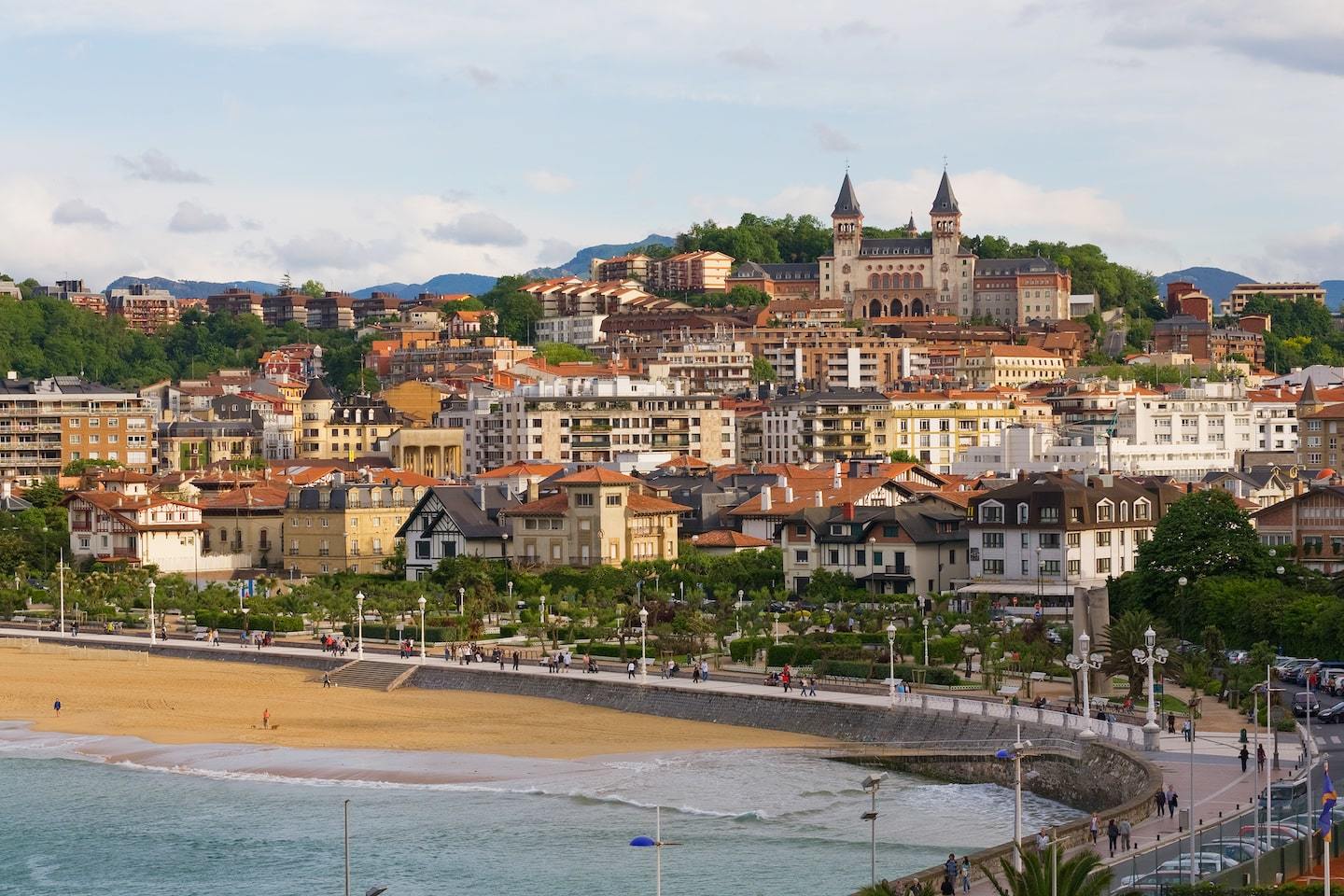 If you're interested in the historical aspects of San Sebastián, definitely stay in the Old Town. This is where you'll be in closest proximity to monuments, museums, and historic sites, without sacrificing fantastic restaurants, lively nightlife, and decently-priced accommodation.
Is the beach the reason you're headed to San Sebastián? Then book a room or rent an apartment around La Concha. From here, you can step right onto the beach in the morning and enjoy ocean views as you fall asleep at night. It's pricey, for sure, but certainly worth it to be right on the water!
To have a bit of it all, Centro is the place to be. From here, you can easily walk to the Old Town and the beach, giving you the best of both worlds. Centro is also the place to be for shopping, so if you want to stock up on your favorite brands, stay here!
Hoping to stay around a younger crowd, soak up rays during the day and hit the clubs at night? Find accommodations in Gros where you can meet other like-minded travelers, drink to your heart's content, and ride some gnarly waves.
Last but not least, if you're rolling on a budget and enjoy a student crowd, Antiguo is a great place to look for accommodations in San Sebastián. There are plenty of hostels as well as hotels, and there's a great deal to see in the area. When you're ready to head into town, you can easily hop in a cab or jump on the bus and you'll be there in a flash.
Travel Must: Want to check out other towns during your stay in San Sebastián? Enjoy the freedom to explore by renting a car. Click here to compare car rental prices. You'll be surprised at how affordable it is!
Best Places to Stay in San Sebastián | Top Hotels At Any Budget
Since San Sebastián is flooded with places to stay, here are our recommendations for some of the best hotels and hostels in the area!
Best Budget Hotels in San Sebastián
San Sebastián accommodation never tends to be too pricey, so it's pretty easy to find a budget room, particularly if you're booking outside of peak season.
Check out our top budget picks, ranging from hostels to private rooms! You'd be surprised at how far $50 goes in this city.
A Room in the City
A Room in the City is exactly what it sounds like. Set in the heart of Centro, this budget-friendly spot within easy walking distance to great shopping, Old Town, and the beach!
With a combination of dorms and private rooms, this hostel offers chic stays at their modern but cozy property. Bunks are beautifully made of wood, each with a shelf, small pouch for belongings, an outlet with a USB port and privacy curtain. The beds also have large, lockable drawers underneath for keeping your things safe.
All the bathrooms have modern appliances and are shared between dorms and private rooms. A big perk with A Room in the City is they even provide guests with towels!
The hostel has a large dining area with a vending machine as well as a large outdoor space where you can catch some sun. You'll also find a games room, a bar, and a 24-hour front desk that's happy to help with your enquiries and store your luggage.
To see prices and read reviews, check: Booking.com | Agoda
Pension Regil
If you want to be close to the beach on a budget, book a room at Pension Regil, a modest guesthouse steps from La Concha. In just a two-minute walk, you'll be right on the promenade and admiring ocean views.
Since Pension Regil is located at the tip of La Concha, it's also next to the Old Town and Centro.
Rooms here are small and simple but reasonably priced, especially considering they're all private. There is basic furniture like nightstands and reading lights, as well as power outlets and private bathrooms. Many of the rooms also have balconies, where you can look out over the bustling Centro.
If you're looking for things to do in the area, Pension Regil has an on-site tour desk as well as friendly staff full of tips about San Sebastián. When you wake up, be sure to head to the cafeteria for a delicious breakfast before setting out for a day of sun and sightseeing!
To see prices and read reviews, check: Booking.com | Agoda
La Galeria
Set in a 19th century French building, La Galeria is a picture of peace and quiet on Ondarreta Beach.
Since it's a ten-minute drive from Old Town and Centro, you'll find that the beach here has far fewer tourists. Plus, there are still plenty of bars and restaurants in the area. La Galeria is also next to large parks and gardens, perfect if you're looking for a nature-centered getaway.
This hotel has rooms simply exuding French charm, each inspired by a different painter, with wooden bed frames, antique furniture, and pastel-colored walls. Some rooms even have a sea view from their own private balconies — unheard of in budget stays!
If you're feeling peckish first thing in the morning, La Galeria has a quaint cafeteria on site. The hotel also offers bike rentals (perfect for cycling into Old Town) and general tourist information.
To see prices and read reviews, check: Booking.com | Agoda
Best Mid-Range Hotels in San Sebastián
If you were impressed by the budget options, wait until you see the mid-range picks in San Sebastián! From chic decor to unbelievable views, here are our recommendations.
Hotel SANSEbay
Smack in the center of Old Town you'll find Hotel SANSEbay, the ultimate choice if you want to be near all the historical sites of San Sebastian. Just next to the hotel you'll find Calle Mayor and Constitucion Plaza, and after a ten-minute walk, you'll find yourself at Kursaal Congress Center!
The beach isn't far either, just a quick stroll across Alderi Eder Park.
The rooms are spacious and bright, with simple furniture, plush beds, and a flat screen TV. If you don't mind a splurge, go for one of the rooms with a sea view or terrace for some fresh ocean air! You'll also love the exceptionally large and clean bathrooms, with everything from fluffy towels to mini toiletries and a hairdryer.
Hotel SANSEbay is a great choice if you're traveling with family or a small group as they offer one and two-bedroom apartments as well as family rooms.
Each morning, order a fresh breakfast made to order or catch up with the super friendly staff who can give you advice on how to spend your day.
To see prices and read reviews, check: Booking.com | Agoda
Boulevart Donostia
Located on the edge of Old Town, a four-minute walk to Zurriola Beach in Gros, Boulevart Donostia has a central location that allows you to see the best of San Sebastian. It's next to the Victoria Eugenia Theater, loads of restaurants and shopping, and Old Town sites like Constitucion Plaza and Saint Vincent's Church. Not to mention all of the vibrant nightlife in Gros!
You'll adore the lovely rooms with modern furniture, wooden floors, and gauzy curtains over the round windows. The rooms are thoughtfully designed with suspended reading lights above the beds, a kettle for tea or coffee, and a desk where you can catch up on work. Many of the rooms also have a mural above the beds depicting water scenes from around the world — how sweet is that?
If you're traveling with several people, consider booking the Studio which can accommodate up to three people.
There's a full kitchen on-site for guest use, and past guests have raved about the host of this hotel who is known to leave treats in the fridges of each room — so thoughtful!
To see prices and read reviews, check: Booking.com | Agoda
Hotel de Londres y de Inglaterra
Situated in a beautiful 19th century building, Hotel de Londres y de Inglaterra overlooks La Concha Bay and is right on the seafront promenade.
The rooms at this hotel are fit for royalty, with elegant furnishings, classic artwork, and marble bathrooms. During booking, choose between a room with a sea or city view, and enjoy looking out over San Sebastian.
For a true splurge, go for the Junior Suite which opens up practically onto the beach or an Attic Room with a terrace so you can get your tan on as soon as you wake up!
If you're hungry, head to the hotel's Brasserie for a traditional Basque meal, or grab a drink at the Swing Bar for cocktails on the seafront terrace.
To see prices and read reviews, check: Booking.com | Agoda
Airbnb Travel Tip: If you prefer to stay in apartments or homes, we recommend Airbnb. Check out our full article on how to get $45 coupon code for your booking or simply click here to get our coupon code to apply on your next booking.
Best Luxury Hotels in San Sebastián
While there aren't really resorts in San Sebastián like in other beach towns, there are still some stellar five-star hotels offering unparalleled luxury stays. If you venture further outside of the city, you'll find some killer spas, as well.
Hotel Boutique Villa Favorita
A stunning five-star hotel on the La Concha promenade, a stay at Hotel Boutique Villa Favorita will be nothing short of luxurious. Besides the beach, it's within easy walking distance to both Old Town and Centro, perfect for shopping and the sights.
You'll feel absolutely pampered during your stay here. Their rooms exude class, with plush grey headboards, velvety furniture, and beautiful prints on the walls. The bathrooms are vintage Hollywood-style with black and marble tile work, massive showers, double vanities, and of course bathrobes to wrap up in.
Many of the rooms have terraces that overlook the ocean, and some suites have two floors with large living areas upstairs and show-stopping views.
Buffet breakfast is offered every morning at the scrumptious on-site restaurant. There's also a bar with a lounge as well as a cafe for guest enjoyment.
To see prices and read reviews, check: Booking.com | Agoda
Hotel Maria Cristina
Just opposite the Victoria Eugenia Theater, you'll find Hotel Maria Cristina, a five-star hotel with views of the Cantabrian Sea on one side and Urumea River on the other. Set right along the river, this luxury hotel a quick walk away from Gros, Old Town, and Centro. In terms of location, it doesn't get much better than this!
The hotel building dates back to 1912 and features stunning architecture. After a long day, you'll feel right at home in your cozy guest room, with a super soft bed, fantastic artwork, and a comfortable seating area. Rooms open out to show the city, garden, or the expansive sea below, with the suites coming with its own private terrace.
The marble bathrooms have a bath and rain shower, cozy slippers, and plush bathrobes. With such nice amenities, it'll be nearly impossible to leave your room!
The hotel has a daily buffet breakfast for guests, as well as a Martini Bar with cocktails and pintxos on the off-chance you don't feel like venturing out. Hotel Maria Cristina is a top pick among celebrities visiting San Sebastián, so you can be sure you'll receive the Hollywood treatment here.
To see prices and read reviews, check: Booking.com | Agoda
Akelarre – Relais & Châteaux
Just three miles outside of Sebastián's center, tucked away in the hills of Akelarre, Relais & Chateaux offers visitors extravagant stays in a stunning setting.
The double rooms at this hotel are massive, each with a big bed, large seating area with a couch, a work desk, and a terrace. Some double rooms even overlook the ocean! The bathrooms are truly special as the tub sits right against the window, allowing you to admire the sea below while you soak.
For the ultimate five-star getaway, splurge on a suite. It comes complete with a balcony, large seating area, walk-in closet, and a private pool. For you and your loved one, there's nothing like splashing around with no one to watch!
If you can ever pull yourself away from your room, head to the Wellness & Spa Center with a hydrotherapy pool, Turkish bath, sauna and a variety of treatments. Or grab a meal at the Michelin-starred restaurant. There's also a more casual restaurant on-site, as well as a wine cellar offering tastings and free shuttles to the city center or beach!
This peaceful property is set away from the tourist crowd, but Relais & Chateaux has cars available for hire so you can make your way into the city or wherever else you wish to go on your own schedule.
Yes, Relais & Chateaux certainly has it all!
To see prices and read reviews, check: Booking.com | Agoda
Travel Must: At the risk of sounding like your parents, make sure you get travel insurance before hitting the road. Trust us, it's one of those things you don't want to leave home without. We recommend either World Nomads or Safety Wing, depending on the type of traveler you are.
After seeing all our tops picks for where to stay in San Sebastián, I hope you feel that much more prepared to have the holiday of a lifetime.
Whether you're visiting Basque country to bask in the sunshine (see what I did there?), explore the deep history rooted in this city or enjoy a romantic seaside getaway, you're sure to find a place to stay that's just right for you!
And don't forget to read our article on the best things to do in San Sebastián!
---
Going to Spain? Our guides can help!
Inspired? Pin It!