Looking for tips on where to stay in Granada? In this article, I will walk you through our top hotel recommendations, including which neighborhoods are best for seeing the city.
Enchanting Granada. There's really nowhere else like it, from the fairytale palace sitting high on the hill to the soaring cathedral and rich, deep history running through the city, electric everywhere you turn.
It's no wonder Granada is one of the best places to visit in Spain and one of the most thrilling destinations in all of Europe.
With its popularity, there are plenty of places to stay throughout the city, catered to every kind of traveler, and more importantly, every kind of budget. Whether you're looking for a quirky hostel full of other young folks or a five-star hotel at the foot of the famed Alhambra, Granada has it all.
Here's everything you need to know about accommodation, from where to stay in Granada by neighborhood to specific recommendations that we would stay in ourselves!
Where to Stay in Granada, Spain: Neighborhood Guide
While Granada isn't a terribly large city, there are still very distinct neighborhoods that vary greatly. Here's a breakdown on some of the most popular areas of the city and what you can expect from each!
El Centro
To be in the thick of it all, book a stay in El Centro, or the historic center of Granada.
Here you can find the Cathedral, plenty of city squares, and loads of restaurants and bars. You can walk pretty much anywhere from El Centro, so it's a great place to stay if you want to be right smack in the middle of the city.
This is also where you can find the majority of Granada's nightlife, so if bar hopping is what you're after, stay in El Centro for sure!
El Centro accommodation ranges greatly in terms of price. You can find pretty reasonable deals for hostels and budget private rooms, as well as hotels at the mid-range and luxury price points. So long as you book early, you should be able to find a pretty good deal.
Recommended Hotels in El Centro Granada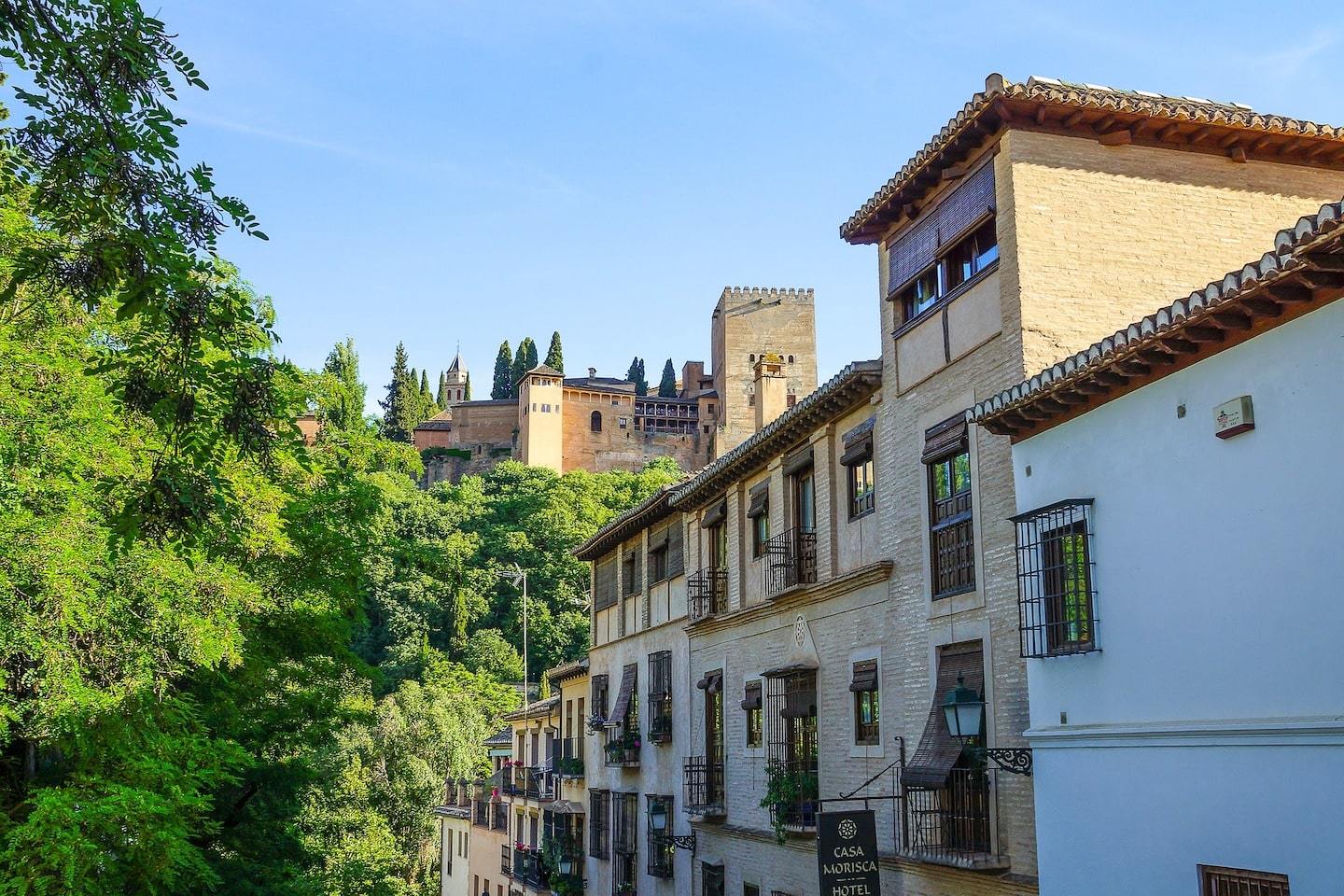 El Realejo
Also centrally located in Granada is El Realejo, the city's famous Jewish quarter.
Here you can find narrow alleys filled with street art and sweet little cafes tucked away from the hustle and bustle of the city. In El Realejo, you're still in close proximity to Granada's finest attractions (the Alhambra is just up the road!), making it ideal for a central stay off the beaten path.
In El Realejo, you'll find some of the best tapas bars in all of Granada, so any true foodie will love a stay in this area.
Accommodation here is also on the pricier side, but there are a few smaller hotels with rooms at an affordable rate.
Recommended Hotels in El Realojo Granada
Granada Five Senses Rooms & Suites
Albaicin
If you plan on staying in Granada longer than just a quick trip, Albaicin is a great place to call home for a short while.
It's a truly magical little neighborhood (Granada's oldest one!), filled with whitewashed houses and narrow cobblestone streets. While it's a little further out from El Centro and some must-see sights in Granada, it has plenty of charm and stellar views of the city to make up for it. Plus, you're just next to the Alhambra!
As a UNESCO World Heritage site, Albaicin is a stunning place to stay, so long as you don't mind being a little further out.
Because it's further from the city center, you can find awesome deals when it comes to places to stay in Albaicin if you book early enough. Otherwise, you may be stuck paying a premium for hotels as it's a popular place for tourists.
Recommended Hotels in Albaicin
Sacromonte
Even further out than Albaicin, you have the glorious, village-like Sacromonte. It's about a 20-minute walk to the center of the city from this neighborhood but is totally worth it if you're seeking some peace and quiet.
In fact, a stay in Sacromonte will make you forget you're in a bustling city entirely. The atmosphere is so calm and remote, with small family homes carved out of the side of cliffs. That being said, if you're looking for some fun, Sacromonte is the place to be for flamenco in Granada, so catching a late night show in a cave is extremely likely.
Accommodation here is generally pretty reasonably priced and ranges a ton in terms of what it looks like. From little hole in the wall B&Bs to fancy hotels, you can find it all in Sacromonte.
Recommended Hotels in Sacromonte
La Chana
Finally, if cheap accommodation is what you're looking for, make a beeline for La Chana, aka student central. This area is around the local university so there's a fun vibe in the air pretty much everywhere you go.
Mostly everything is inexpensive and quirky, with fun nightlife and loads of eateries open late. It's definitely further away from the center of the city, but the area is young, fun, and won't leave a gaping hole in your pocket when it's time to depart.
The best part about La Chana? Since they're so used to students in the area, tapas servings tend to be much larger here, and much less expensive too. Can you say win, or what?
Recommended Hotels in La Chana
Want to Travel the World Forever? ✈️
We've been traveling the world for the last 8 years thanks to our blog!

BUT, here's the thing...not all blogs make money. Tune in to our free workshop where we share HOW we profit from our passions and how you can do the same.
What's the Best Area to Stay in Granada, Spain?
First thing's first: if you're looking for the most inexpensive place to stay in Granada, head to La Chana where you'll find loads of hostels, cheap hotels and plenty of food options well under the prices of the center of the city.
If you want to be in the thick of everything (think walking distance to all of Granada's best attractions and sites), consider booking a room in El Centro. This is also probably the best place to stay if it's your first time in Granada as it will give you a true feel for the city!
To be closest to the Alhambra, Albaicin is the place to be. This is also the best area if you're looking for something a bit quieter than the historic center, but still lively enough to keep you entertained during your stay.
El Realejo is best for cooler stays. Anyone who's interested in art, history and local life will cherish waking up in the old Jewish Quarter! Not to mention it's easy to walk to the center of the city when you feel like doing some sightseeing.
Finally, Sacromonte is the best area to stay in Granada if you're looking for a longer stay or something a bit quieter. As it's set further out from the city center, the vibe of this neighborhood changes completely. It's far more local, with lots of hidden treasures waiting to be uncovered.

The 1 Thing We Never Leave Home Without...🙈
Coming from someone who has been traveling the world for the last 8 years AND has been in the hospital 2x, travel insurance is something everyone NEEDS to get. Click the button below to get a quote from the two companies we recommend.
Best Budget Hotels in Granada
If you're traveling on a tight budget, not to worry — there are plenty of places in Granada where you can have a nice stay without breaking the bank.
Oh! My Hostel
Coming in at just $11 for a bed in a dorm room, Oh! My Hostel is one of our top picks for best places to stay in Granada on a budget.
Located on the edge of the city center, this hostel is just next to the river, perfect if you were hoping for a stroll along the Calle Ribera del Genil. A stay here means a quick walk to the Granada Cathedral, Plaza Nueva, and other historic sites in the area.
The dorms are comfortable, with some bunk beds outfitted with a queen-sized mattress on the bottom and a twin on top. In other dorm rooms, there's storage space below the beds and private bathrooms for each room. If you don't mind spending a little more and want a bit more privacy, Oh! My Hostel also has private rooms with balconies at an unbeatable price.
In true hostel fashion, there's a shared kitchen for guest use in case you don't feel like eating out and a beautiful sun terrace where you can soak up the rays in the summer.
To see prices and read reviews, check: Booking.com
Hotel Cedran
Sitting in the heart of Granada, just steps from the Cathedral, you'll find the charming Hotel Cedran which offers travelers an absolute steal when it comes to their private rooms.
A stay here means you're just a quick walk from Plaza Nueva, the San Nicolas Viewpoint, Alcaiceria Market, and plenty of bars and restaurants, too — an ideal location when it comes to sightseeing.
The rooms here are airy and spacious, perfect for anyone seeking a little privacy without breaking the bank. Each room also has a private bathroom and if you're willing to spend a tad more, some even have balconies as well!
Besides the rooms, the hotel itself is gorgeous as it's housed in a historic building, giving it a traditional appeal and beauty.
What we love most about Hotel Cedran is that even if a terrace room is out of your budget, you'll still have remarkable city views from your window. How sweet is that? The staff is friendly, the beds are comfortable, and when it comes to a budget stay in Granada, you can't ask for much more than that!
To see prices and read reviews, check: Booking.com
Guadalupe
Another killer budget option featuring private rooms and beautiful scenery is Guadalupe, a hotel that prides itself on offering Andalusian-style accommodation.
Sitting up on a hill, Hotel Guadalupe is just 50 meters from the show-stopping Alhambra, giving the property a more nature-driven feel compared to those located in the city center. When you look out your room, you'll see trees and lush greenery instead of busy city streets, which is perfect for a peaceful escape during your stay.
That being said, Granada's historic center is easily accessible, with a bus service running from the Alhambra to the bustling city center every 10 minutes. There's still plenty to do in the area as well, like wandering the Generalife Gardens, visiting the art museum, or taking a stroll around nearby Albaicin.
Rooms are bright, airy and certainly spacious, outfitted with light-colored details from the bed sheets right down to the furniture. All rooms have their own private bathroom and for a few bucks more a night, some have a private terrace, as well.
During a stay at Guadalupe, the 24-hour front desk is happy to help with anything you need, and if you're looking for your next adventure, hit up the on-site tour desk to start organizing it!
To see prices and read reviews, check: Booking.com
Best Mid-Range Hotels in Granada

If you're willing to spend a little more than the bare minimum, you'll find you have a huge array of accommodation options to choose from. Here are our picks for best mid-range stays in Granada.
Casa Bombo
Tucked away in Albaicin is a hidden treasure: Casa Bombo. A beautiful hotel with panoramic views of the Alhambra and Generalife, you'll wake up excited every morning you stay here.
Located just on the fringe of Granada's historic center, there's plenty to do in the surrounding areas, whether you're out for a bite to eat or some sightseeing. You're a quick walk to the major attractions in town (as well as the Alhambra, set further out) and only a stroll away from the super cool neighborhood of Sacromonte.
Casa Bombo is a rustic paradise, with cozy, wood accented rooms. Some rooms are even duplex-style, with a bed and living space upstairs and a private bathroom down below. Besides your room, you also have full access to the common areas of Casa Bombo, including a communal kitchen and a living room outfitted with a fireplace.
The best part of this hotel is the terrace and outdoor swimming pool, where you can sunbathe or soak in the water with views of the Alhambra and surrounding gardens. It truly doesn't get much better than that, especially when you see the price of the rooms!
To see prices and read reviews, check: Booking.com | Agoda
Smart Suites Albaicin
Another Albaicin gem, Smart Suites provides everything you need for a comfortable and slightly luxurious stay in Granada.
This modern apartment offers short-term rentals to eager travelers looking for some extra space during their stay – without draining your bank account. They're designed in a modern style, with neutral-toned furniture and chic wooden accents. Past guests rave about how clean the apartments are and how helpful the on-site staff is!
Each apartment has a full kitchen with modern appliances. Selected apartments even a terrace to enjoy a meal outside, perfect if you're hoping to save money by eating in. Bedrooms come equipped with a large double bed and private bathroom and free toiletries — I mean, who doesn't love those tiny shampoos?
When booking an apartment with Smart Suites, you can choose between one, two and three bedrooms and upgrade for superior options like gorgeous views, a terrace, or a penthouse space. This makes it the perfect pick if you're traveling with family or a small group of friends and don't want to shell out money for separate hotel rooms.
Finally, the location of Smart Suites lures in travelers, with a five-minute walk to the Cathedral and San Nicolas viewpoint and only a 15-minute stroll to the Alhambra. Plus, there are loads of delicious little local spots for food and drink nearby.
To see prices and read reviews, check: Booking.com
Gar Anat Hotel Boutique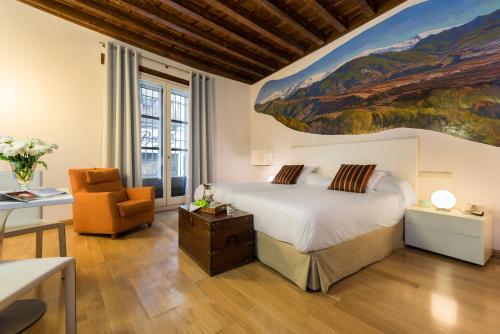 Our final recommended mid-range option is the beautiful Gar Anat, a stunning boutique hotel in the city center. This is the perfect place to stay if you'll be spending most of your time in the historic center, as it's just a stone's throw away from Granada's most famous attractions.
Gar Anat has been around since the 17th century, but has since been restored to retain its original charm with some much-needed modern upgrades. You can still see most of the original architecture (get a look at the wood paneling!) but now the hotel offers stellar amenities for a comfortable stay.
Rooms are big and bright with views of the city below, but what's fun here is that no two rooms are the same! They're all outfitted with a unique style, giving guests a surprise when they first enter through the door. You can choose between a twin, double or triple room, perfect regardless if you're traveling on your own or with some friends.
There are local cafes in the area where you can get a filling breakfast before a long day on your feet. And if you're not sure how to spend your time, the hotel staff are happy to help book a flamenco show or walking tour for you!
A stay here will feel like a real local experience, which is why it's certainly one of the best places to stay in Granada on a mid-range budget.
To see prices and read reviews, check: Booking.com
Best Luxury Hotels in Granada

If you don't mind splurging on your accommodation, you'll find that Granada has some wildly lavish properties, eagerly awaiting guests. Here are the best luxury stays you can find in the city!
Parador de Granada
As far as Granda accommodation goes, it doesn't get much more luxurious than a stay on the actual grounds of the Alhambra.
That's right, at the Parador de Granada, you have the opportunity to spend the night in what was once a 15th century convent, now revamped into a luxury hotel sitting at the doorstep of the city's most famous monument.
When approaching the Parador, it looks so much like part of the Alhambra that you may not recognize it as a hotel. The stone archways have been marvelously maintained, the central courtyard a vision of the past, and the antique furniture is fit for kings and queens. However, the hotel has also undergone vast renovations to bring guests the modern rooms (with a hint of old world charm) that stand today.
Each soundproofed room comes with a stunning view and a private bathroom, sometimes with a spa tub! If you splurge for a suite, you'll wind up with your own personal terrace overlooking the remarkable Alhambra and surrounding gardens.
When not out exploring or enjoying your room, head down to the restaurant for authentic Andalusian fare or chill out on the terrace or enclosed patio for a drink and some views.
A stay in Parador de Granada will definitely be unforgettable!
To see prices and read reviews, check: Booking.com
Hotel Palacio de Santa Paula, Autograph Collection
Sitting right on the Gran Via which runs through the heart of Granada's historic center, you'll find Hotel Palacio de Santa Paula, a stunning accommodation option fit for anyone dreaming of a luxury stay.
Made up of what was once the 14th century Casa Morisco and a 16th century convent, Hotel Palacio has plenty of Old World charm, with a modern day twist. The guest rooms are outfitted with massive beds and wide open windows, a little reading nook with an armchair to curl up in, and a spacious private bathroom with stunning tile work.
Outside of the rooms, guests have access to the hotel's gym, sauna and Turkish bath, perfect for relaxing after a long day. Hotel Palacio also has an amazing restaurant built in what was once the convent's library. While dining on site, you can practically imagine the nuns shushing young girls giggling between stacks of books.
This location is perfect not only for a luxury stay, but for getting around Granada as well. It's a quick walk to the Granada Cathedral and a 10-minute drive to the Alhambra. Even closer, you'll find the Triunfo Gardens and the Archaeological Museum, a five-minute walk away.
To see prices and read reviews, check: Booking.com
Villa Oniria
A last remarkable luxury accommodation option for anyone who doesn't mind splurging on their stay in Granada is Villa Oniria, a cozy hotel set in a 19th century manor house.
Upon first arriving in Villa Oniria, it's easy to tell that this was once a home for a well-off Spanish family. It's much smaller and more intimate than the large hotels that dot the city, giving you a true local feeling.
There are 31 guest rooms and a boatload of attentive staff available to look after you for the duration of your stay. Rooms are extremely cozy, with plush beds and comfortable armchairs and sofas. The deluxe rooms and suites even have terraces so you can look out over the city in the comfort of your pajamas.
Besides the beautiful rooms, the grounds of this hotel are simply marvelous. There's a large garden, filled with aromatic plants and fountains, so you can truly feel like Spanish royalty as you roam the paths. Or grab your book and unwind in the inner patio, where you'll be surrounded by luxury on every side.
Our favorite extras at Villa Oniria are the fitness center, where you can get a good sweat in, and the airport shuttle, available for transportation when it's time to head to your next destination.
To see prices and read reviews, check: Booking.com
Now do you believe me when I say that Granada seriously has it all in terms of accommodation? While Spain and Europe as a whole can be quite pricey when it comes to hotels (and even hostels), it's super easy to find a great deal in Granada.
There's really something for everyone in this city, no matter what you're looking for, leaving you to focus more on what to do in Granada instead of where you'll be resting your head at night!

---
Want more on Spain? Check out some of our best articles
Inspired? Pin It!