A hidden paradise located in a remote part of Indonesia, Raja Ampat is a crown jewel of the region. 
While most people diving in Indonesia head to Gili or Komodo, Raja Ampat is a bit off the beaten path and is far less known than other more popular diving locations. It's hard to get to and can be incredibly pricey, but a trip to these islands means an experience unlike anything else you've had in your life.
However, the remoteness and challenge of getting to Raja Ampat is completely to its advantage as it's left a pristine and untouched area that offers some of the best diving in the entire world.
Keep reading to learn all there is to know about Raja Ampat and why it's worth making the long trip there!
Why Dive in Raja Ampat
It's no surprise that Indonesia is one of the most wondrous places on earth. With more than 17,000 islands in the archipelago, there are places that humans have never set foot. This means untouched nature and wildlife at its purest. 
1,500 of those mysterious islands lie in Indonesia's West Papua province, where you can find Raja Ampat. 
A largely untraveled area of the country, Raja Ampat is a diver's heaven. While diving here, you're able to discover treasures that few have laid eyes on and experience a real paradise when it comes to marine biodiversity. With countless unique dive sites, it's easy to get swept away by all that Raja Ampat has to offer. 
Expect to see more than you could ever imagine, with more than 1,000 species of coral fish, large pelagics, manta rays, and sharks gracing each dive site's presence. There are also WWII shipwrecks, cathedral swim-throughs, and plenty of drift dives, so there's truly something to suit every diver's preference. 
The diversity in diving and the abundant marine life that this location offers makes it a top pick on many avid diver's bucket lists. It's easy to see why because the range of what you're getting in one place is truly remarkable.
✨The 1 Thing We Never Leave Home Without…✨
Coming from someone who has been traveling the world for the last 8 years AND has been in the hospital 2x, travel insurance is something everyone NEEDS to get. Get a quote below!
Liveaboards in Raja Ampat
Because there is so much to see in Raja Ampat, you're going to want to take your time exploring it. That being said, staying in a hotel and taking daily trips to dive sites can be inconvenient and limits the number of dives you can fit into a single day. 
To make the most of your experience, I'd highly recommend hopping on a liveaboard when you arrive so that you can set out to sea and start diving right away.
Due to the fact that you'll be living and diving right off the boat, you have tons of perks that come along with this. 
First, you're able to be the first ones out there. While Raja Ampat is notoriously remote, you can still expect to see some divers coming on day trips. But on a liveaboard, you're able to beat the crowds and dive before they get there or after they leave.
Many liveaboards also offer night dives so you can experience the warm waters in a whole different capacity.
Also, since many of the sites in Raja Ampat are quite secluded, they're too far for day trips. This means that they're only accessible by liveaboard, and are some of the most pristine sites you can visit!
On a liveaboard trip in Raja Ampat, you can expect to dive up to three times a day (sometimes more) at different sites, be fed delicious meals in between, and sleep comfortably aboard a gorgeous ship. Each liveaboard has an attentive crew as well as a divemaster who's there to offer their expertise in the location and diving department. 
A final perk to taking a liveaboard trip is they'll often offer land excursions where you can spend an afternoon exploring the surrounding areas or lounging on the beach. Otherwise, when you're not diving, you can relax on one of the boat's sundecks, watch TV in the air-conditioned lounge, or hop in one of the kayaks to paddle around. 
There are plenty of liveaboards in Raja Ampat, some that are true luxury and others that are on the budget side. No matter what you're looking for, you're bound to find something that suits your price range and preferences.
Search for your perfect Raja Ampat liveaboard here!
Best Time to Dive in Raja Ampat
You can dive in Raja Ampat all-year long as the weather is generally hot and humid which means that the water is nice and warm. 
If you're planning a liveaboard trip, the best time to go is between October to mid-December, but you'll find that boats often run the length of dry season until April.
It gets a little rainy between May and September, so there tends to be fewer liveaboards as there are strong winds and low visibility, so be sure to plan ahead!
One of the major perks of diving at Raja Ampat is that there's no real peak season as it's so remote and difficult to get to. Enjoy diving in an unspoilt paradise whenever you choose to go!
Read More: Raja Ampat Photo Diary
Diving Conditions in Raja Ampat
Conditions in Raja Ampat are generally good but the current is strong, making it best suited for more advanced divers. There are lots of drift dives as well, so having some experience in this area is highly recommended. You should count on bringing along your reef gloves and hook to make sure you aren't swept away!
Visibility is typically pretty decent, between 10 and 30 meters depending on the dive site. That said, no matter where you're diving, you're sure to feast your eyes on the most remarkable underwater sights.
Because conditions can be unpredictable in Raja Ampat, it's important to listen to your divemaster or instructor for the duration of the trip. Not only will they lead you to the finest places, but they'll keep you safe and out of harm's way.
Due to the remote nature of the location, medical facilities are limited while diving in Raja Ampat, making it essential to have both travel and dive insurance for this trip. 
Travel insurance should cover trip cancellation, evacuation, and accidents, and is required by most liveaboards. Meanwhile, dive insurance will give you extra peace of mind for any diving-related incidents — it's a must in our books as well!
Best Dive Sites in Raja Ampat
While you're sure to be amazed at any dive site in Raja Ampat, here are some of the best ones in the area!
Cape Kri
A truly special site that will help you understand why Raja Ampat is so magical, Cape Kri actually holds the world record for most species seen on a single dive. The diversity of marine life here is nothing short of insane and among the reefs, you'll be able to truly experience the untold beauty of the underwater world.
Here, you'll find whole schools of trevally, bannerfish, emperors, and more, as well as barracuda, hawksbill turtles, reef, grey, and whitetip sharks! If you dive to the base of the reef, you'll even find a sunken anchor that dates back long before we were born. 
Cape Kri will not disappoint — in fact, it may be the highlight of your entire trip!
Mioskun
Another dive site that's sure to wow is Mioskun, which surrounds a coral column that stretches down 25 meters. It's an ideal place to dive because of its comfortable depth, as well as generally mild currents. But watch out though, the currents can get strong here as well!
Mioskun is an incredibly active site, full of unexpected surprises at every turn. While diving here, you're likely to see tons of yellow snappers hanging out on the reef, trevallies, groupers, huge clams, seahorses, morayes, and even Wobbegong sharks!
Melissa's Garden
If you're a beginner looking for some unforgettable underwater time in Raja Ampat, Melissa's Garden is a great place to start. There's rarely a current and it's not particularly deep, but there's plenty of marine life to keep your gaze occupied.
A perfect spot for macro, you'll find tons of soft corals and sponges here, along with the renowned Wobbegong sharks. You may even spot a manta or two while hanging out here!
Blue Magic
One of the most famous dive sites in the area, Blue Magic is home to a pinnacle that begins at 7 meters and stretches all the way to a depth of 30 meters. This space is home to many huge fish, as well as smaller critters that are lurking in the depths.
Dive here to see tons of different species including predator fish, pygmy seahorses, and the occasional manta ray as well!
Keen to explore liveaboards in Raja Ampat?
Check out our guide to the best budget and luxury trips!
View Raja Ampat Liveaboards Here
Other Things to Do in Raja Ampat
Once you've done exploring its underwater treasures, it's time to relax on shore. 
Raja Ampat is a perfect getaway for anyone looking for rest and relaxation somewhere remote and near the sea. Check out these other things that you can do, both on land and in the water!
Have a Snorkeling Adventure
I completely get that diving isn't for everyone, but the waters of these beautifully remote islands is just so tempting. Instead of going for an oxygen tank, why not opt for a snorkel instead?
There are plenty of fantastic places to snorkel in Raja Ampat, many nearby shores or off jetties! Simply hop in the water and prepare to be amazed by vibrantly colored corals, active parrotfish, and tiny nemos all swimming around. You may even have the chance to swim among an entire school of fish!
Read More: Best Snorkel Gear
Hike to the Top of Pianemo Island
In terms of touristy attractions in Raja Ampat, the top of Pianemo Island is pretty much it. People visiting Raja Ampat (mostly locals from other parts of Indonesia and the occasional traveler off the beaten path) flock to this location to climb the 300+ stairs to the top for a simply breathtaking view. 
The viewpoint is a wooden platform from which you can see dozens of little islands sitting peacefully in the clear, turquoise waters. Take in the sights of empty beaches, expansive ocean, and greenery that covers it all and you'll realize why Raja Ampat is one of the most miraculous places on earth. 
Walk Along Pasir Timbul
Pasir Timbul translates to "emerging sand" as it's literally just this: a giant sandbar that emerges from the ocean when the water is low enough. 
I know what you're probably thinking… So what? A giant sandbar, what else? 
Well, when Pasir Timbul emerges, it creates the most beautiful, pristine, bright white beach you've ever seen. Only appearing for a few hours every day, your timing must be just right to reach it. Enjoy time lounging around and swimming in the warm tropical waters that surround this slice of paradise.
Trust me, you don't want to miss this! 
Spend the Day at the Beach
If heading out into the open ocean for a sandbar just isn't your thing, Raja Ampat is home to plenty of other beaches that make for a glorious day. 
The sand is warm and white, the water is refreshing and comfortable… and best of all? Most of them are empty! Seriously, what could be better?
Catch an Unreal Sunset (or Sunrise)
One thing that Raja Ampat (and Indonesia in general) is known for is its sunsets. Almost every night, the sky will light up with deep hues of orange, red, pink, purple and blue as the sun sets to reveal the night sky.
There's nothing more special than sitting on the beach and watching the sun sink below the landscape, and best of all, it happens every night! 
If you're an early riser, you could be outside to catch views of the gorgeous sunrises as well. Even if you're not one to wake up early, I suggest setting your alarm one morning so you can check it out too. 
The Raja Ampat sky is truly something special, so watching it is certainly one way to spend your time while there!
Explore Local Villages
Finally, one last suggested thing you can do while visiting Raja Ampat is to explore the local villages. Since Raja Ampat is so remote, the local people live in small, traditional villages and aren't accustomed to seeing many foreigners around. 
On a visit to a village, you'll likely be greeted by some lovely friendly faces, many "hellos!", peace signs, and smiles — and if you're lucky, maybe even a real local meal. The people in Indonesia are some of the most wonderful in the world, so getting to spend some time with them in their village is truly a special experience.
Just remember to always be extra respectful when visiting these places as they aren't another tourist attraction. They're home to many, where real people live, so be sure to treat it as such!
How to Get to Raja Ampat
Getting to Raja Ampat is no easy task, and is in part the reason why this place remains such a pristine paradise. With so few people reaching it, Raja Ampat is practically the garden of Eden, only accessible by those willing to put the work into getting there.
Besides being hard to get to, the journey to Raja Ampat is a long one and is quite pricey as well. Not to scare you, but traveling here isn't for the weak! 
The first step to getting to Raja Ampat is flying into Indonesia. It doesn't matter where you fly to as long as you can get yourself to Sorong afterwards. Sorong is a city also located in the West Papua province, and it's the entrance point to Raja Ampat.
Pro Tip: Use the Skyscanner app to find the best deal on flights. If you have a flexible schedule, you can set the location to anywhere in Indonesia and the date to an entire month so you can find where and when it's cheapest to fly!
There are no direct international flights to Sorong (no direct ones from Bali, either), but there are flights from Jakarta, Makassar, Ambon or Manado. The cost of your flight depends on where you're coming from, but getting to Sorong costs between $400-$600 USD once you're already in Indonesia.
If you're taking a liveaboard, you can save yourself some headache as most start and end in Sorong (talk about convenient!). 
But if you're taking your own diving adventure, you'll have to find your own way to the island.
From the airport in Sorong, you should make your way to the harbor (a taxi takes about 20 minutes) where you can hop on a ferry to Waisai.
Ferries leave twice daily, once at 9.00am and again at 2.00pm, and you're able to buy tickets right on board. They're rather inexpensive, so if you feel like splurging, spring for a VIP ticket which gives you access to air conditioning aboard!
Where to Stay in Raja Ampat
Most hotels, homestays, and guesthouses in Raja Ampat are on the island Waigeo. Similar to getting there, accommodation in this area can be a bit pricey, but there are plenty of options suited to different budgets. 
Methos Homestay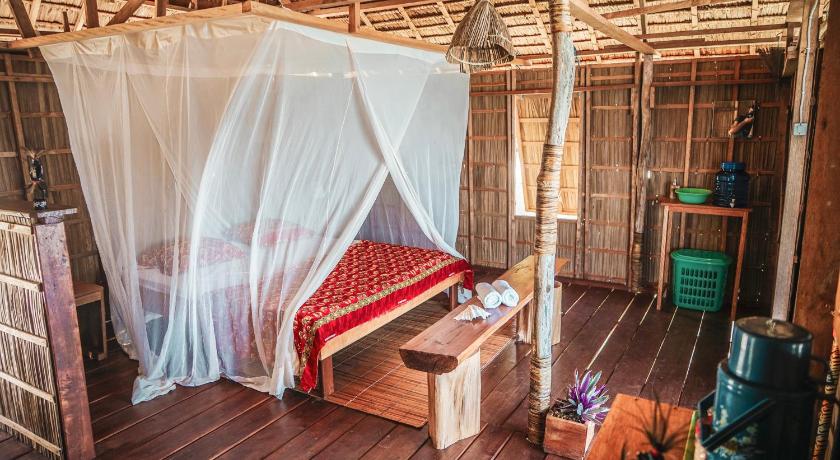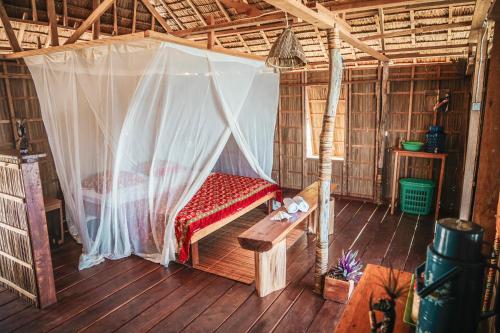 A reasonably priced option, Methos Homestay offers authentic bungalows rising from the sea. Wake up every morning in your comfortable bed, walk outside of your room… and there you are, right at the edge of the ocean!
The food is delicious, the bungalows are beyond comfortable, and there's plenty to do nearby. The staff will help you organize tours and dives as you please, but otherwise you're free to sit back, relax and enjoy a taste of genuine island life. 
Compare prices and check availability: Booking.com | Agoda
Yenbainus Bungalow
Another stellar bungalow option (with a bit of a steeper price tag) is Yenbainus which consistently provides guests with a top-notch experience.
Built right over the water, you'll practically be sleeping on the ocean here — what an experience! The bungalows are cozy and clean, surrounded by clear blue water and more fish than you could ever imagine. There's a reef right on the edge of the property, making it an ideal place for an early morning snorkel before heading out to the nearby dive sites.
A real highlight here is the food, which is said to be absolutely outstanding. Better give it a try for yourself!
Compare prices and check availability: Booking.com | Agoda
Raja Ampat Dive Lodge
Here's a final option for those seeking a bit of luxury in Raja Ampat. The Raja Ampat Dive Lodge is outfitted with swanky furnishings and mosquito nets that rival princess canopies.
The lodge sits right on the ocean, so you'll have sea breezes aplenty, as well as other luxuries you may not find elsewhere. Each room at the resort has air conditioning which can be a real treat after a day spent in the hot and humid weather, as well as a fridge (cold water!) and private bathroom.
The location is one of the best, with the nearest dive site just a five-minute boat ride away. The lodge has its own diving facility at the end of the on-site jetty where you can take day trips and rent gear. 
Compare prices and check availability: Booking.com | Agoda
So what do you think? Is the long and expensive journey worth it? I'd give it a resounding YES! 
Being somewhere that's seen significantly less human traffic than most places in the world is truly life-changing. A trip to Raja Ampat means traveling off of the beaten path and disconnecting for a little while, which is something everyone needs once in a while.
There's nothing like some fresh ocean air, sand between your toes, and a dive mask just waiting to be used, and where better to get all of this than Raja Ampat.
Hopping on a liveaboard is the best way to enjoy the remoteness of Raja Ampat and take in all that the best dive sites have to offer!
Learn more about Raja Ampat Liveaboards
---
Looking for more diving inspiration? We've got you covered!
Inspired? Pin It!