Cambodian food is often overlooked and is commonly stereotyped to be like Vietnamese or Thai. As in most countries, it is just about knowing what to order. I enjoyed my time in Cambodia where eating in the streets was always a vibrant and lively affair. Similar to Vietnamese food, my favorite part of Cambodian cuisine is the variety of fresh herbs and condiments which they readily make available with every meal.
So resist the urge to order a pizza or anything that would remotely remind you of home and treat your taste buds with these delicious dishes. So while you're in Cambodia, check out this list of the best Cambodian food that you need to try.
Fish Amok
Probably the most popular Cambodian dish. This dish is composed of a rich and creamy curry like sauce that is the perfect balance of ginger, lemongrass, turmeric and coconut milk. When cooked correctly, the fish is silky smooth, almost melting in your mouth with each bite. This is usually served wrapped in a banana leaf and isn't too spicy.
Read: What to Do in Cambodia: Things You Shouldn't Miss
Lap Khmer (Lime-marinated Khmer beef salad)
This dish is a take on ceviche as they take thin slices of beef which is marinated in lime juice with lots of shallots, garlic, fish sauce, basil, mint, and bell peppers. The whole thing is then topped with lots of chilies. To those that aren't too big on spice, be warned, this dish almost always comes with a kick! 
Red Tree Ants with Beef
Although it seems that this dish came straight from fear factor, it's not too bad. Essentially, it is a large stir fry using beef, basil, garlic, shallots, ginger, lemongrass, and lots of ants. Yes, you read correctly. Red tree ants of different sizes are mixed with the beef and are topped with chili and served on top of a bowl of white rice. Yum.
Nom Banh Chok
This popular Khmer dish is often eaten during breakfast and is sold in the streets early in the morning. This dish is made up of thin rice noodles topped with a green fish gravy with lots of fresh bean sprouts, banana flowers, cucumbers and a wide array of green vegetables. Although it sounds rather strange, this dish is delicious and is one of the must-try meals while in Cambodia.
Editor's Note: Want to take cooking lessons while in Cambodia? Check out Cookly, a website where you can easily book cooking experiences.
---
Trending Food Tours in Cambodia
---
Khmer Red Curry
Unlike its Thai counterpart, Khmer curry doesn't have the tendency to blow a hole through your mouth. Often made with either chicken, beef or fish, this dish is made with potatoes, coconut milk, lemongrass, and a special Cambodian ingredient, kroeung.

Editor's Note: Planning a trip to Cambodia? Check out our Cambodia Travel Guide featuring the best things to do and where to stay.
Bai Sach Chrouk (Grilled pork and broken rice)
If you're looking for something easy to eat as you ease into Cambodian food, try some bai sach chrouk. This is grilled pork that is marinated in coconut milk and garlic. This dish can be found everywhere on the streets and is served with broken rice along with fresh vegetables. The beef is really flavourful and tender due to the coconut milk. The fresh veggies are also a nice addition to every bite! 
Lok lak (Stir-fried beef in brown sauce)
A typical stir fry, lok lak is a traditional Khmer dish made using thin slices of beef or pork in a brown sauce. This dish is typically served with rice and some green salad. They normally serve this with a dipping sauce consisting of lime, salt, and pepper.
Related: Where to Stay in Cambodia
Kaw
This delicious dish is composed of braised chicken or pork topped with an egg. The sauce is a thick medley of caramelized palm sugar, fish sauce, and pepper. Some varieties include tofu and bamboo shoots. This meal is very similar to the Filipino dish called Humba and is both sweet and savory. Great dish to order for those looking to catch a break from the usual spicy Asian meals.

Ang Dtray-Meuk: Grilled Squid
In Cambodia, you can find almost anything in skewers (even tarantulas!). Now, I won't go too extreme by recommending you to try out spiders, but do try ang dtray-meauk which is basically grilled squid. Often found right by the coastal towns, you will see local vendors carrying small ovens cooking the seafood as they walk along the shore. This is a great snack to have if you're looking for something light.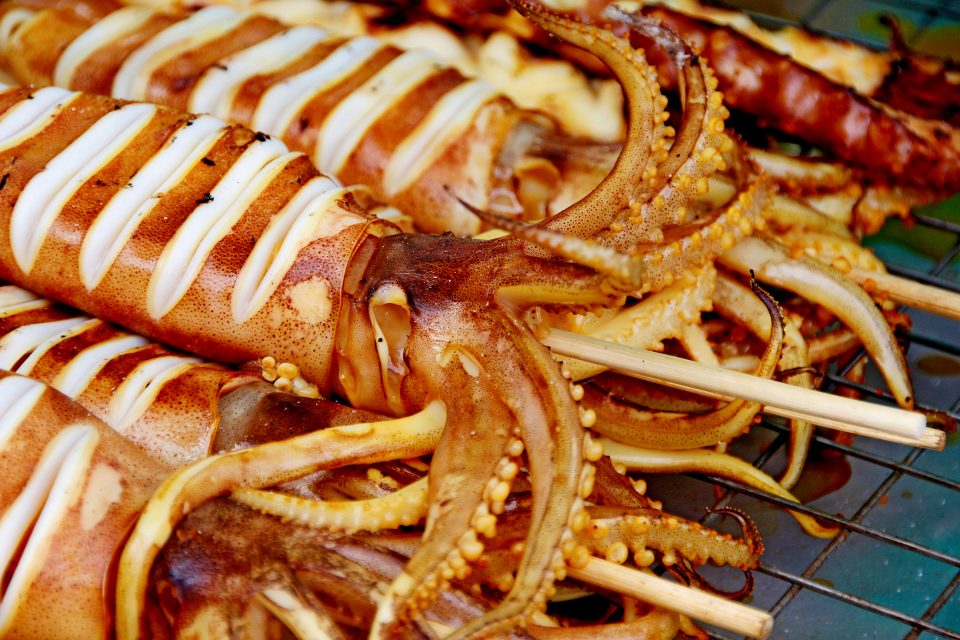 Num Pang Pâté
Similar to Vietnam's Bahn Mi sandwiches, this Cambodian mystery meat sandwich is a refreshing break from the usual ham and cheese sandwich fares that Western places always offer. Filled with various cuts of meat and fresh vegetables, Num Pang Pate is a great palette cleanser.
If you are willing to give Cambodian food a chance without comparing it to its other Asian counterparts, you will find yourself pleasantly surprised with the little distinct flavors that make their food stand out. Like I always say, enjoy, eat local, and try the street food! Happy food trails!
---
Trending Food Tours in Cambodia
---
Transport Around Cambodia
When traveling around the country, we recommend looking into downloading the Skyscanner App which has loads of cheap deals for traveling Asia. To book buses, trains, and flights, check out 12go Asia.
---
Want to check out other food guides?
Inspired? Pin it!