This article may contain affiliate / compensated links. For full information, please see our
disclaimer
here.
Nerja has become our new favourite place in Spain. Although we are staying in Torre Del Mar, Malaga, we have found ourselves going back to Nerja again and again after stumbling upon the little piece of heaven. Once a sleepy fishing village, Nerja has slowly grown into a resort town full of typical Spanish houses, shops and authentic restaurants surrounded by mountains, sandy beaches, and cliff side coves. We have been captivated by this white-washed coastal town and have spent most of our three weeks here, so here are our top things to do that you'd be sorry to miss!
Exploring the Nerja Caves
I have been to a couple of caves before but nothing like Cueva de Nerja. My previous cave experience was you pay a fee, spend 20-30 minutes walking around admiring the views and then move on with your day. Although the Nerja Caves do offer general visits where you have a 45-minute audio-guided tour through the cave chambers, they also offer exclusive tours which is a completely personal while providing a unique experience. Taking place after closing hours, we had our own personal tour of the cave. It was completely silent and eerie as there was no bustling noise from tourists, apart from the odd conversation of the archaeologists which we could hear in the next cavern over from us. That's how quiet it was! How cool is that?
Our guide, Miguel Joven, was amazing. You could tell he was fascinated by the history of these caves and his enthusiasm about everything he was saying had us hanging on by every word. From showing us cave paintings, teaching us about the different rock formations and the stages of discovering each part of the cave, he really made the unfathomable fact 'that this cave is a piece of nature frozen in time' feel real.
At one point he actually stood me in a specific spot where a raindrop from exactly a year ago in 2015 fell on me! What I loved most about this tour was the thought that every tour is different. Each tour will have different people and different questions to steer the conversation in another direction to learn more cool things. One thing is for sure though, this really made me feel like I missed out on some interesting stories about the other caves I have visited.
Price: General Visit – Adults €10 ($11) / Exclusive Tours €15 ($17)
As well as the cave visit, there is also a short hike over the mountains where you are guided by signs that tell you where you are in relation to the cave only a few meters below you. It was unfortunately closed off when we were there but Miguel ensured us that the views of Nerja and Maro from this trail are something not to be missed if you get the chance. You could make a full day of the caves either hiking in the day or taking their own little train around Nerja and finishing with an exclusive tour at night.
Read: Best Places to Stay in Madrid | Top Hotels & Hostels
Cooling Down With a River Walk up the Rio Chillar
Spending the whole day walking and climbing up the River Chillar was such a fun way to spend the day. Not only were we surrounded by stunning scenery and the not-so-rare company of some cheeky lizards and frogs, but it felt like we had the whole river to ourselves. This route is said to be a popular activity for both locals and tourists on the weekends but when we went mid-week, we only shared it with a few other outdoor enthusiasts who passed by so quickly that we barely noticed them. We had heard that after criss-crossing the river many times eventually, you do have to wade through the water. To experience the walk in different ways, I walked in the water from the beginning while David tried to put it off for as long as possible. Long story short, you get wet.
Insider Tip: Do not do this walk if there is a forecast of rain. We were warned about this by a local as there was a week long storm while we were there. We saw what he meant when we did the walk as you are walking up a narrowing valley with gorges and strong currents which would be quite dangerous if the water levels suddenly rose.
Challenge Yourself and Hike From the Nerja Caves to Frigiliana
Okay, so we are fit 22-year-olds used to long walks and outside adventures but this was one tough hike. This 15km (approximately 10 miles) hike might not seem that much in distance but if you take into account the differences of terrain, ascending mountains and the heat in Spain, you won't be walking at your usual 5mph pace, especially when you start to become tired and dehydrated.
Although it was challenging and at some points we seriously thought we couldn't be going the right way, it was good fun. The scenery from the mountain tops was awe-inspiring and whenever we looked back at the valleys we'd climbed and descended we were quite impressed with ourselves. By the end, we were exhausted and still had a 6km walk back to Nerja, so we will be coming back for a day just to explore the quaint village of Frigiliana!
Your Own Walking Tour of Nerja  
Nerja has many side streets and alleyways for you to explore and stumble upon, like we did. Without realizing, we came across the main square dominated by the Church of El Salvador and to our left the Balcon de Europa. One of the top things to see in Nerja, and for good reason, this 360-degree balcony is the most beautiful viewpoint of the landscapes and never-ending sea that surrounds it. A perfect place to have an ice-cream (they have a pretty sweet 'Heladeria' on the corner of the square with every flavor imaginable!) Sit in the sun and go people watching as you admire the views. It really is worth an explore to find the best local eats down busy side streets and secluded beaches.
You may also randomly come across 'El Acuaducto del Aguila,' the Eagle Aqueduct. We spotted the impressive sight on our bus journey to the Nerja caves and took a short walk back to see it. Definitely worth a look and a picture opportunity as it is quite surreal. One day, we also walked to Maro, a very small Spanish town with less of a buzz and more of an 'ahh' relaxed feel.
Read: A Guide to Planning your Dream Trip to Spain
Kayak or Paddleboard the Nerja Coast
Sea kayaking and paddle boarding from the Burriana Beach in Nerja to Maro is the only way you get to explore the coves, sea caves and beaches that are unseen and inaccessible from anywhere else. With its untouched beauty and clear blue waters, it is no wonder that this is one of the best locations in the region for snorkelling and scuba diving as well. These activities are renowned here not only for the experience of discovering waterfalls and being unable to paddle through narrow gorges but for the enthusiastic guys that live to show you this undiscovered coast.
The incredible amount of coastal activities and the fun nature-based activity is probably one of the reasons why we keep traveling from Malaga to Nerja. However, with that being said, there is no shortage of fun things to do in Malaga either! If you're looking for more inspiration on what to do, check out this 24-hour guide to Malaga.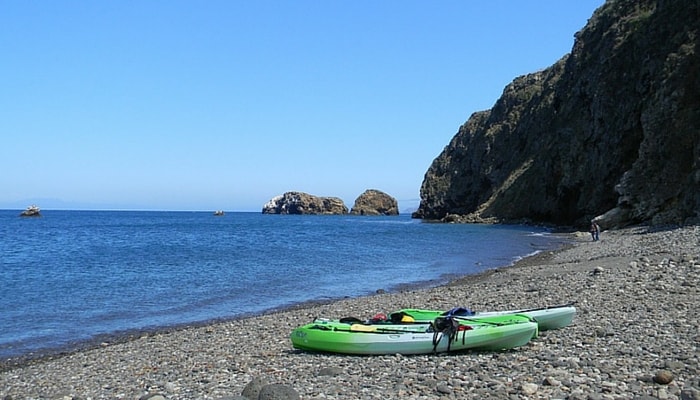 Other activities you can do in Nerja:
Parasailing
Segway Tour
Night Adventure Tour
Although a tourist place, Nerja in no way feels less Spanish. Some people might not feel like there isn't much to do but this is definitely a place that you can make your own experiences. Like I said, we are staying half an hour away but we keep coming back here for hiking, to walk around and just because we love it so much.
Have you been to Nerja? How was your experience?