Disclaimer: Some of the links below (such as Blue Host) are affiliate links, meaning, at no additional cost to you, we will earn a commission if you click through and make a purchase. As always, we only recommend products and services we trust.
Updated: May 2018

Have you always wanted to start a blog but don't know where to begin?
I get it. There's so much information out there and it can get overwhelming. First off, relax, grab a cup of coffee (or a glass of wine) and take a breather. You're in the right place.
I am Anna, the Co-Founder & Editor of this travel blog Adventure In You.
In this step-by-step article, my partner Tom and I, will walk you through the exact steps of how to start a travel blog. That's us below!
We will take it slow and cover everything including how to choose a travel blog name, how to get blog hosting, how to set up WordPress, and lastly in our free course (which you will get access too at the end), tips on how to make money from your travel blog.
Now try not to get overwhelmed. Save this article and come back to it as much as you need to.
To date, we have helped over 2500 people start a blog, so you are in good hands!
We love helping people get started but understand in the beginning it is hard to find the time and there seems like there is so much to do!
So, to give you extra motivation, in this article you are going to get all of the below:
1# A HUGE discount for your blog hosting (63% off)
2# Access to claim your Blogging Success Manual for FREE (normally valued at $30)
3# Free videos showing you how to set up and use WordPress (other blogs charge for this, which we think is crazy)
4# The opportunity to join our FREE "Start a Blog and Make Money" crash course which includes video tutorials and explains how to make money blogging.
5# Lastly, at the very end of this post, you will get the opportunity to join one of the fastest growing "Start a Blog" Facebook groups for FREE. In this group, there are thousands of people just getting started blogging who are open to helping and providing feedback where needed.
Are you excited yet? You should be. So with that coffee (or wine) in hand let's get started!
First things first, lets clear this up…
Why Create a Travel Blog?
Is Travel Blogging Living the Dream?
Five years ago, if someone told me that I would be able to travel the world and earn money, I would have laughed. Fast forward to today, both my partner Tom and I still can't believe that we do what we do and are able to work from anywhere in the world.
Sometimes, we have to pinch ourselves to see if this is real!
When we started our travel blog, Adventure in You, it was a side thought brought about by a wine-fuelled evening.
True story: shortly after we decided we were going to start a blog, Tom goes…"what's a blog?"
What started as a passion project to stay connected to traveling now makes money to support us and our team as we travel around the world.
But before I begin, unlike most "how to start a travel blog" articles out there, I'm going to be real honest with you…
Travel blogging is easy but making money from travel blogging is hard.
However, with the right strategy and mentors, it is possible to start a travel blog and make money. In fact, we grew our blog to a stage where it generates us five figures a month in just under two years.
This has given us the freedom to work and travel wherever we want to.
Since then, we've made it our mission to help others get started. Why? Simply put, we want others to be able to achieve and live this lifestyle that we love so much.
It has really changed our lives and we want it to do the same for others which is why we published this how to start a travel blog guide in the first place (aka travel blogging for beginners!).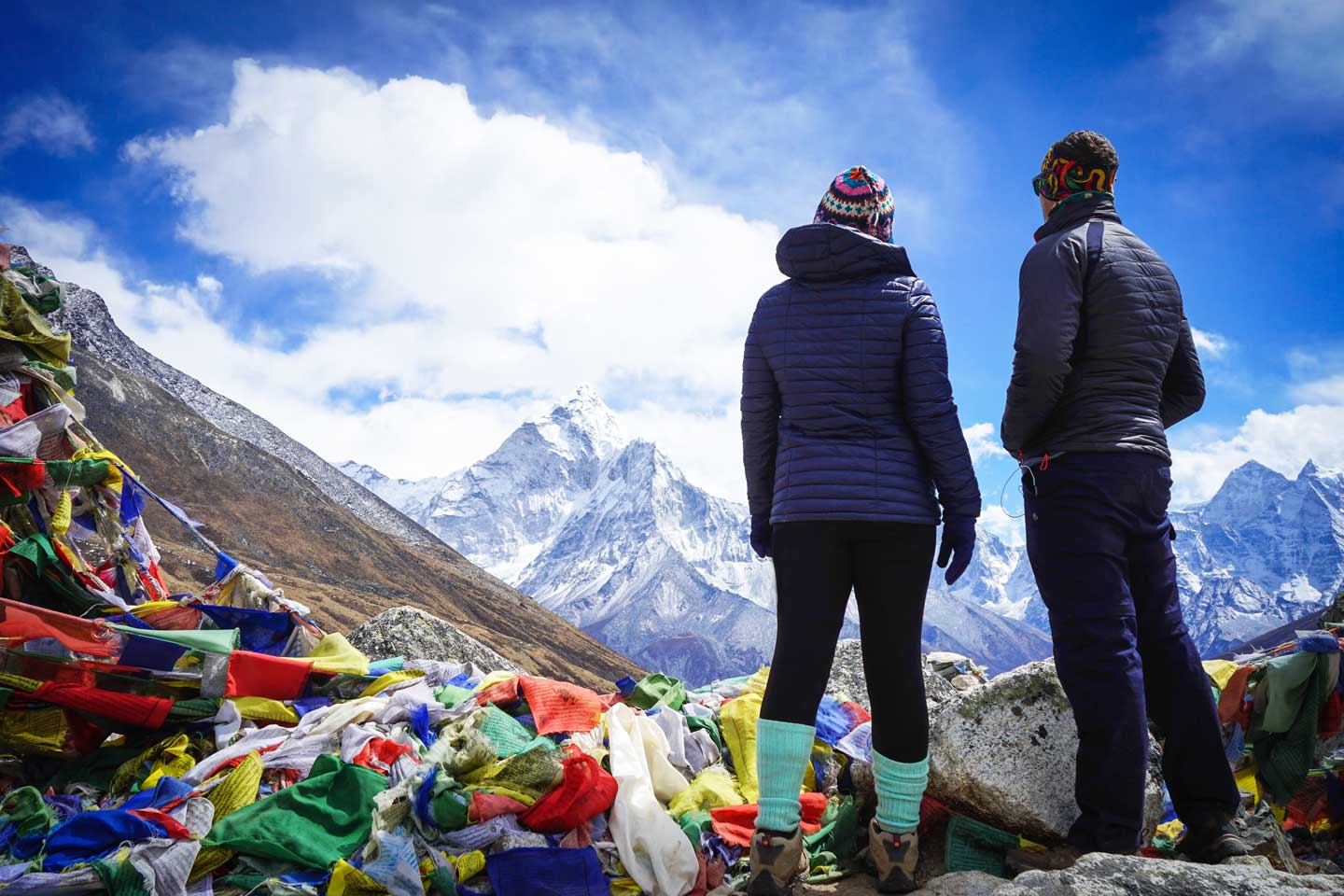 Follow this guide and it will show you exactly how to create your own travel blog.
Here are some reasons why we love our travel blog and why we think we are living the dream life:
We can make money while traveling
We essentially get paid to travel (#dreamjob)
We love getting emails and comments from our readers saying "thank you for inspiring me to travel."
We get to document our travel stories and adventures, which we can look back on later in life
Shortly after we formed our personal travel blog, Adventure in You, it became our mission to "Inspire people to DO MORE".
So whether it's by traveling more, exploring the unknown, and taking risks. The fact that we get to inspire and share a little bit about how beautiful and awesome this world is, makes it all worthwhile. Bottom line is:
Travel blogging has given us the freedom to do what we love, anywhere in the world.
By the way, just so you know, behind all the I-work-from-a-hammock and the look-at-my-office-today photos, is a whole lot of scrambling to get decent WIFI!
After starting our blog, we quickly realized how lucky we are to be living in a generation where we can be location independent, travel as much as we can, and somehow find a way to make money doing what we love. While it's not for everyone, starting a travel blog has been one of the best decisions we have ever made.
Through our travel blog, we've been able to travel across 4 continents throughout the last two years. We've seen the jungles in the Amazon Rainforest, jumped out of planes over the Swiss Alps, gone diving with sharks in Indonesia, and turn it into a full-time business.
The truth is, I could go on and on about why you should start a travel blog but the fact that you're reading this already means that you're interested. So, let's get started!
Disclaimer as of 01/05/2018: I think it is best if we are perfectly honest with you about how our current travel blog performs. That way, you know more about us and understand why you can trust our advice. At the moment, Adventure In You gets over 500,000 visitors and generates around $15,000 USD every month. Also, though our FREE Start a Blog Course, we've helped over 2500 people get started on their blogging journey!
How to Start a Travel Blog
Step One: Picking a Good Travel Blog Name
Deciding what to call your travel blog is one of the most important decisions that you have to make so definitely take your time on this. Before I dish out tips on how to choose a travel blog name, if you're feeling stuck and just want to get started, the hosting provider that we recommend has this awesome feature which lets you choose a name later on.
We know some people who spend ages trying to think of the perfect name but in the end, loses motivation. So if you're really committed to starting a blog, you can skip over this step, get your hosting set up and come back to it later.
Oh, did I mention, our recommended hosting provider, Bluehost also gives you a FREE domain name so you don't have to purchases it separately?
Listed below are a few tips on how to choose a good travel blog name.
Decide What You Want Your Blog to Focus On
One of the most important things when setting up a blog is deciding on a niche. By deciding early on what you want to focus and blog about, you're essentially coming up with keywords that you want your blog to be about.
For us, we were interested in Adventure Travel and wanted to find a way to incorporate that in our name. So before you begin thinking of travel blog names, I suggest making a list of five things you're interested in blogging about and what you want to focus on.
Is it budget travel? Luxury travel? Weekend Getaways? By deciding on a niche and a focus, you're essentially coming up with a theme for your blog which will help you choose a name.
Avoid Putting Yourself in a Box
The blogging world is already saturated enough as it is which is why we recommend people to stay away from cliches when choosing their names. Although it sounds catchy to have a blog called The Broke Wanderer or The Single Backpacker, what happens when you start making five figures a month from your blog?
What happens when you grow tired of hostels or if you even end up getting married? Choose adjectives that won't put you in a box as your travel style will change and grow with you. You also have to think long-term as you envision what type of brands you eventually want to work with. Do you think you can partner up with a luxury hotel when you have the word budget or backpacker in your name?
Avoid Cliches
At the moment, there are already too many blogs which have the words Wandering, Nomadic, Adventurous in it. Although they scream "I am a travel blog", you're shooting yourself in the foot as there are already so many established bloggers with those names that will dominate the search results.
Keep it Memorable
The catchier your name is, the better. This means that you should avoid names that have hyphens, misspellings, or numbers in them.
I once went to a branding seminar which said when choosing what to name your brand, business, or blog, you have to do the mom test. This is when you call up your mom and say:
"Hi mom, I'm starting a blog and it's called 2TravelingLadz.com".

If you have to spell it out and she repeatedly says, "huh? what? what's it called? Let me get a piece of paper to write it down."
If she does any of those things, you know your name isn't memorable. With that in mind, avoid travel blog names which have misspellings, weird punctuation marks, or jargon that isn't easy to understand.
Travel Blog Name Widget
Do you have a few blog name ideas now? Here is a widget to check if the blog name you're considering is still available.

If you're still stuck on choosing a name, you can also check out our full article on how to choose a travel blog name where we go into more detail on how to choose a kickass name plus which ones to avoid.
Step Two: Set Up Your Domain and Hosting
Before I go any further, you might be thinking why do I have to set up and pay for hosting when there are free options like Squarespace, Blogger etc?
Well, the answer is simple. If you have decided you want to make money from travel blogging or at some point you think you might, you should go with a self-hosted travel blog.  WordPress.Org is generally the best self-hosted platform out there and it's totally free. All you need to do is to purchase hosting (which is essentially where your blog will live.)
In this section, we will show you exactly how to get your hosting sorted in under 10 minutes.
We Recommend Bluehost for Hosting and this is why…
Bluehost is the #1 most used and trusted hosting network on the internet and with our discount, it's also cheaper than you'll find anywhere else so it is perfect for beginner bloggers.
The first time we wrote about starting a blog, we actually had our hosting with Siteground but after some terrible customer service experiences and site crashes, we moved to Bluehost.
We don't recommend companies we don't personally use so we made sure Bluehost was as good as everyone says and now couldn't be happier to recommend them.
Perks of Starting a Blog with Bluehost
FREE Domain
24/7 Support
FREE 30-day Money Back Guarantee
One Click WordPress Install
Travel Blog Bluehost Discount
As mentioned, just for our readers, we've negotiated a special deal through Bluehost. You can start a travel blog for only $2.95 a month (instead of $7.99), giving you a massive 63% discount!
This means that for only $106.20, you can keep your blog alive for 3 years. If you're on a budget, you can start your blog for just $47.40 which is good for 1 year.
When you click the Get Started Button below, you'll be getting our special discount, making starting a travel blog even cheaper for you. Can I get a hell yeah? 🙂
Claim Your Blogging Success Manual
BONUS: As an extra motivation to help you get started, if you get your hosting now with our partners Bluehost, we will send you our Blogging Success Manual (valued at $30) for Free!
Just start your blog and then click "Claim Blogging Success Manual" below. Follow the instructions so we know where to send it!
Quick note: We are not sponsored by Bluehost in any way, shape or form. We pay for our hosting like everyone else. We are just happy to recommend them, just like you will be. If that big yellow button doesn't work then click here to get started travel blogging with Bluehost.
How to Set Up Your Hosting (Video Tutorial)
In this section, we have step-by-step instructions on how to set up your hosting with Bluehost or we also have a quick video tutorial. If you're a visual learner, go on ahead and watch this video below to help you get started.
Otherwise, keep on scrolling for more instructions and photos to help you get started on how to set up your blog hosting.
Step-by-Step Hosting Instructions
After you click the "get started now" button, you'll be brought to a new page where you will sign up for hosting.
There are 3 Choices for Packages: Basic, Plus, and Prime
If you are limited on budget, the Basic plan will suit your needs just fine. You can upgrade at any time if you need too.
If you have a little bit of extra budget that you can commit, the Prime plan probably has the best value for the 36-month package. On that package, you get these included: free domain privacy, free SiteBackup Pro, and SpamExperts.
Click "Select" on your preferred plan to move to the next step.
Now it's time to choose your domain name, which can be hard at first but have some fun with it. If you are still stuck on choosing a name, don't worry, Bluehost has an awesome feature which allows you to pick a name later on!
Also as mentioned, you won't be charged extra for your travel blog domain name as it comes free with your Bluehost package.
Editor's Note: As mentioned, if you don't have a name yet, hover your mouse as if you were going to leave the screen and this pop up will appear. Then you can come up with a name later!
Already have a blog name? Then you don't need to use the pop-up above. From the "Sign Up Now" screen (shown below), simply type in your new domain in the left box. I strongly suggest selecting a ".com" name from the drop-down menu.
After you're done with all this, click "next".
Almost done! It's now time to create your account and pay.
I always create accounts or sign in with Google but if you rather just fill in your details in the fields that are below the google button.
Further down the page, you'll have to confirm the package that you chose and select if you want extras.
As I said before, if you are limited on budget, the Basic plan will suit your needs just fine. If you have a little bit of extra budget that you can commit, the Prime plan probably has the best value for the 36-month package.
If you want to start by just paying for 12 months at first, feel free. It's up to you, but you'll spend more per month if you choose a shorter plan.
You will see now that if you sign up through our link, you can save over $180 by using our special discount which we negotiated with Bluehost just for our readers! (Please note the discount varies depending on Bluehost's own promotions)
Also, taxes depend entirely on what country you start your blog in. If you see taxes added to the total amount, it's the local government tax and can't be avoided. Some countries don't charge tax on hosting and some do. That is just the way it is but if it's there it is not usually more than $25.
Now enter your credit card information, tick the "I confirm" box and then click "submit".
Boom, that's the hard part all done!
Step Three: Set Up Your Bluehost Account & Installing WordPress
You will now be prompted by Bluehost to create a password for your account. After you create your password, WordPress will begin installing on your account automatically which is another great thing about Bluehost.
After you create your password and sign in, you will be prompted to select a theme so you can start designing your new travel blog. Finally, you will receive emails from Bluehost with your account and WordPress information.
After that, welcome to your new travel blog!! That wasn't too hard, was it?
Remember: If you signed up through our discounted link, don't forget to claim your FREE Blogging Success Manual. It's going to give you the clarity to help you strategize and stand out as a new blog.
Step Four: Setting Up WordPress
As soon as you have everything configured, it's now time to learn how to use WordPress. While it can seem daunting at first, I promise we will walk you through every step of the way. While WordPress has a steep learning curve, it is the most popular blogging platform for a reason.
To help you with the initial set up here's a quick video showing you how to navigate your way around your WordPress dashboard and how to make sure you have the right default settings.
If you want to explore your WordPress site some more and learn how to add posts, pages and more, take a look at our full article featuring training videos on how to set up a WordPress Blog.
Step Five: Picking a Theme and Designing Your Blog
You've got your domain name, you've got your hosting set up, you've installed WordPress, but now you need to choose a theme. What's a theme I hear you ask? Well, that's what your website looks like when people go to it.
You no longer need to be great at computer coding to make your website look good. These days, you can get away with installing a theme with a few clicks.
Go back to your WordPress dashboard.
Hover over "Appearance" and click on themes.
Activate the WordPress Twenty Seventeen theme if it isn't already, and if you go to "YourDomainName.com" you will see it!
Free vs Premium Themes: What to Use?
Ok, now you are faced with another decision. To use a free theme or invest a bit more money to buy a premium theme. There are thousands of free themes out there so I would suggest googling "Free WordPress Theme" and have a look around first. Use "Live Demo" to preview how some look.
Again the choice is yours but most bloggers start with a free theme and then, later on, end up buying one. The premium themes offer more customization, perform faster, and tend to look better.
Adventure In You uses the Zine theme by Themeforest. We are really happy with it and love the look/feel of our blog. We hope you do too!
If you are not a fan of our theme, that's ok Themeforest has hundreds to choose from. Just head there and for your first time click the "View More Featured Items" or search "Blogs WordPress". Click on each and preview the live demo versions to see what your blog could look like.
Step Six: Installing Required WordPress Plugins
This is one of the things that makes WordPress.org awesome. Plugins! Do you want a Facebook like box in your sidebar? There is a plugin for that.
Do you want people to subscribe to your emails? There is a plugin for that.
If your theme doesn't have the ability to do something, more often than not, there will be a plugin that can do it for you.
There are some essential plugins that you should install on your new blog, here are a few that I recommend that you get.
Tip: To install a plugin, go into your WordPress dashboard, look on the side panel and click "Plugins" then click "Add New" on the page that opens up. Search for the ones listed below on this WordPress screen, click download, and activate. Job done!
Yoast SEO
"SEO" or "search engine optimization", is improving how Google ranks your blog posts in its search results. For example, search "Adventure Quotes" in Google right now. Hopefully (if not this is awkward), you should see an article of ours in the top results. Month on month this brings lovely people to our blog. If you want people to find your blog, install Yoast as it is the first crucial step to making this happen.
WordFence
We were late to install WordFence and man, do I wish we did it earlier on. You might not think it now but at some point, hackers will try to hack your website. Simply put WordFence will stop this from happening or at least do its best by adding a layer of security to your website. It's super easy, just Install WordFence and that is it. It will do the rest.
Monster Insights
Okay, this isn't essential and actually isn't used on Adventure In You (but I wish we had used it), but Monster Insights allows you to easily connect to Google Analytics and track outbound clicks. So if you would like to see how many people are reading your blog posts and what links they click on, this is best.
W3 Total Cache
This is pretty technical to explain but the main thing you need to know is it will speed up your website ie. your site will load faster. For now, that is all you need to know.
Google Analytics
If you want to accurately track your blog growth and how much traffic you get month on month, getting Google Analytics is essential! Installing this allows you to track how many visits you get, where your audience is coming from and what articles they land on.
In case you missed it, check out our article on how to set up a WordPress blog which features a bonus video on how to install Google Analytics.
Join Our Free Start a Blog & Make Money Course
If you're still feeling a bit apprehensive about how to start a travel blog or want to figure out ways on how to make money from your blog we also created this FREE course walking you through the exact steps. We spread out this course across 5 days (but some people have completed it in one!)
In this course, we will walk you through the following:
Day 1: Choosing a Name and Niche
Day 2: Setting up Your Blog and Theme
Day 3: Designing Your Logo and Content
Day 4: Using Social Media and Writing Your First Posts
Day 5: How to Make Money Blogging
Editor's Note: If you've already started your blog here today, feel free to still sign up for the course and go straight to Day 3!
The Next Steps After Starting a Travel Blog
Now, before you leave our travel blog to start working on your own, take 5 minutes to ask yourself, why do you want to write a travel blog?
Is it to make a bit of extra income on the side? Is it to eventually turn it into your main source of income?
A good tip that we've started applying in anything that we do is determining your WHY. Your why will largely affect the type of blog you're going to run and how much work you'll put into it. So think about it long and hard (yeah, I just said that).
Personally speaking, travel blogging has allowed us the freedom to live a lifestyle that I only used to dream about.
Never in my life did I think it was possible to travel the world or do temporary stints living in Bali, Ecuador, or Chiang Mai all while growing our online business.
Like I said earlier, it's not easy to make money travel blogging….but all the things that are worth pursuing never are. My word of advice, if you're passionate about something, go and pursue it.
So now you're all set and ready to start travel blogging. Go to your favorite travel blogs out there and see what type of articles they write. Good travel blogging is a mix of being a great storyteller while still being informative.
The last tip that I have about starting a travel blog is to enjoy the whole process! It's so easy to get overwhelmed with all the information online but as soon as you put your head to it, things will fall into place. If you want more information on blogging tips and resources, keep an eye out for our blogging section.
P.S. Send us the link to your travel blog once you've finished setting it up!
P.S.S Oh, I almost forgot. As promised here is your chance to join our FREE Start a Blog and Make Money Facebook Group! Just click that link and tell us you came from this post, so we can approve you quickly!
Disclaimer: Some of the links below (such as Blue Host) are affiliate links, meaning, at no additional cost to you, we will earn a commission if you click through and make a purchase. As always, we only recommend products and services we trust.
---
If you're still unsure about starting a travel blog, check out these articles for some inspiration
Inspired? Pin it!